As an Amazon Associate I earn from qualifying purchases.
As a big guy, it seems that I have two choices when it comes to backpacks. I can have a little tiny bag that sits at the top of my back, holds nothing, and makes me look like a dork, or I can have a massive bag that gets the classic, "going camping bro?" jokes.
I'm not sure if it's simply because fat guys are supposed to be spending all of their time playing video games in their mom's basement instead of working or traveling (hey, we need to travel to our friend's house with our consoles…) but there is a blatant lack of backpacks for big guys on the market.
As a big and tall guy who spends almost all of his time being big and tall, researching and testing products for big and heavy people, and then writing about them, the chance to check out backpacks was a welcome break. It meant I actually got to leave my computer, pack a bag, and get out and explore!
After spending a bunch of time (and way more money than I expected…) I was able to find the best backpack for big guys. Or, at least, I found one that I still use daily and was able to narrow it down to 4 other options across several categories.
Check them out:
Affiliate links / Images from Amazon Product Advertising API
Obviously, I had a bit of a difficult time narrowing things down to a single option but maybe that's for the best. After all, you may have a much different (better) taste than I do and be in the market for something completely different! Regardless, I feel that each of the above options is among the best backpacks for big guys you can get.
We'll get to why at the end but let's start off by exploring the best backpack I found and I'll tell you why I'm still carrying it every day…even though it doesn't look professional…
4 Best Backpacks For Big Guys
1. Oakley Kitchen Sink – Best Overall Backpack For Big & Tall Guys
If normal backpacks are a bit too bland for your taste and you want something that looks like it was carried by Predator, Oakley has an option for you. Their "Kitchen Sink" backpack has been around literally forever. I remember when the cool kids in high school had these bags and I carried my Walmart Special around.
This generation of Kitchen Sink has preserved the same tactical style elements of the past generations but comes with some refinements to make it a bit more palatable and usable in everyday life. Some of the features that make it a great backpack for fat guys include:
Pressure molded protection and support. The "hard" molding on top and on the back is actually a dense foam that has been subject to immense pressure. This gives it the ability to protect whatever you want to stick in there!
Metal hardware. The metal connectors and attachment points on the front will still be doing their job long after every other backpack on the earth has returned to dirt.
Extreme abrasion resistance. The heavy-duty material used throughout the back along with the double layering will make sure this back survives being shoved under your desk, drug along bus floors, etc.
Built-in shoe pocket. I'm not sure why Oakley decided that a bottom shoe pocket was important enough to include but it is a super cool feature! If you ever have the need to pack shoes it will keep the rest of your stuff clean and separate.
Exterior "Hooks" The front hooks look a bit strange at first until you realize that you can use them to attach a water bottle, a mug, wet shoes, anything stinky, a leash, etc.
All in all, I love this bag. In all honesty…I didn't buy this bag to review it. Because I already owned it. This has been my go-to bag for several years and I have no desire to use anything different.
In fact, after more than 2 years of use, the only noticeable signs of wear are the paint wearing off of the hardware and a few scuffs.
Check it out: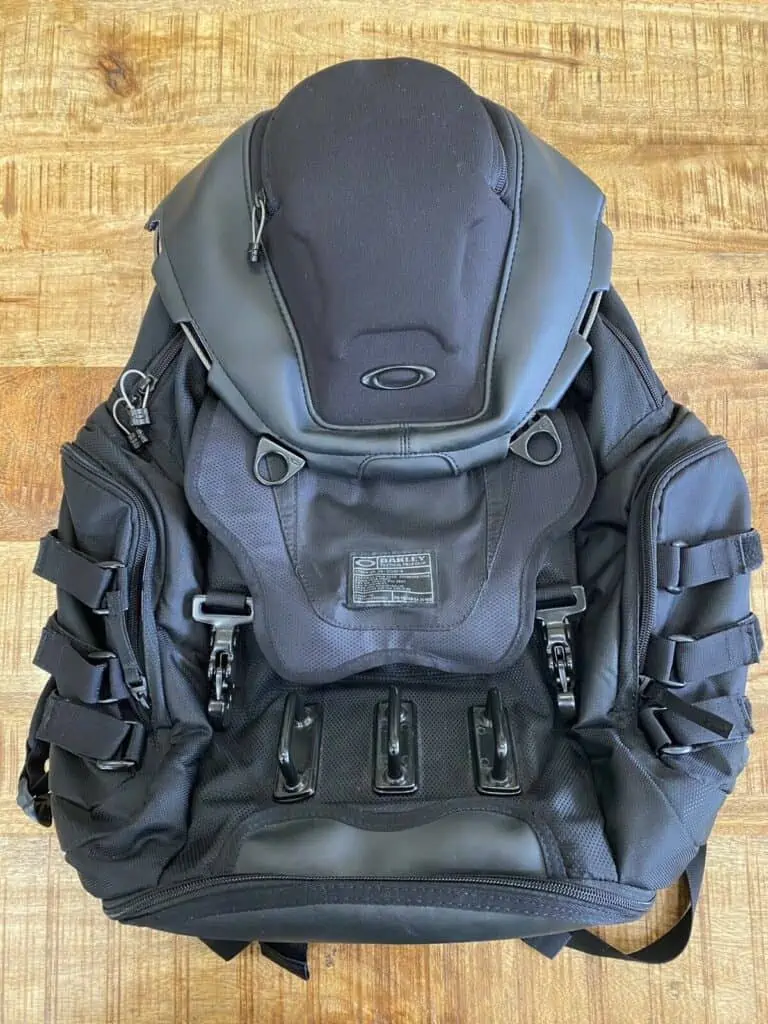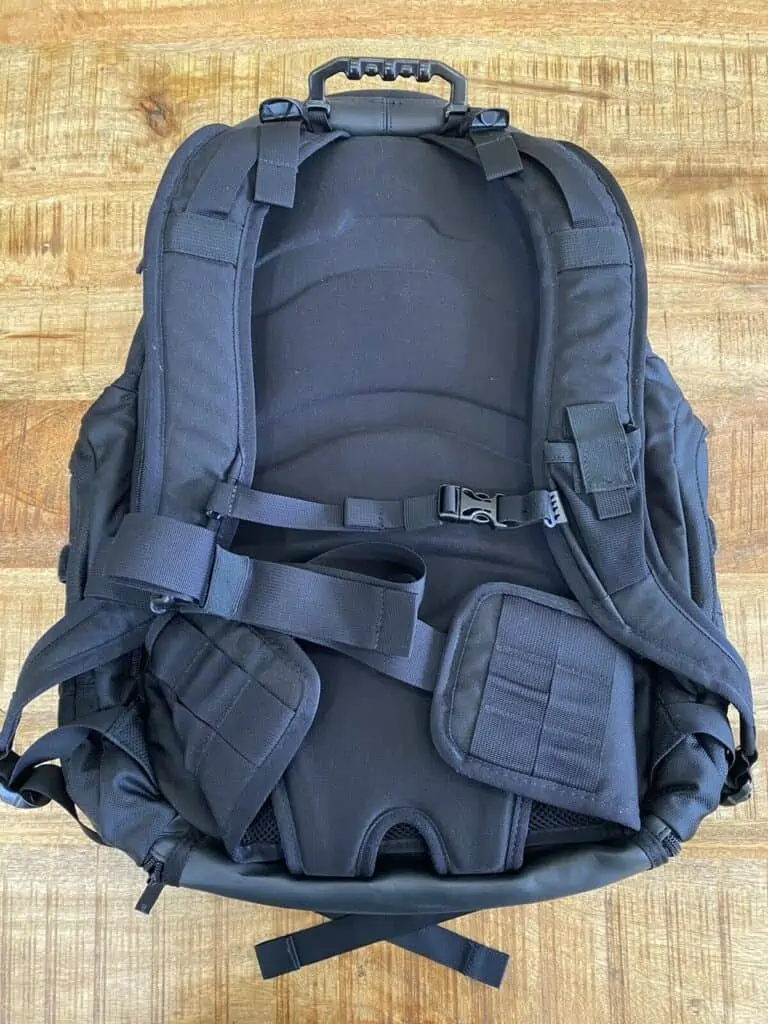 And that is with an international flight, several flights and trips within the U.S., some camping trips, and daily use to and from work.
While I have tested the other bags here, this is the only one I would buy again and keep in my daily rotation.
2. Everki – Best Budget Option For Big Guys
If there is anything to be said about the looks of the Oakley bag, it's that they are unique. Some people hate it, I personally love it. However, if you need something with a little less character for work, or want a travel backpack for big guys then this option might be better.
Everki is typically known for its massive travel backpacks which can fit the biggest gaming laptops, consoles, or an entire library inside. However, the characteristics which make them a great choice for traveling also make them a great backpack choice for big guys. While they offer lots of different models, each with its own perks, the Beacon is by far my favorite model.
The Atlas is specifically designed to be travel-friendly but I must admit I've never used it for that. Its plethora of benefits makes it great for everyday use as well:
180 Degree Opening
Huge Laptop Sleeve
Hip Pockets
Ergonomic Back Design
Mega Durability
If you are in the market for a backpack, can afford a bag of this caliber, and don't think that the Oakley bag is quite the right fit, there is no reason not to pick this one. Some users report that they have used this bag for more than 5 years and it doesn't show much wear!
3. Kroser – Large Business Backpack for Big Men
If you travel for business and aren't paid quite well enough to carry something like a TUMI, then this back might be your option. It is reasonably big (fitting up to a 17″ laptop) fits well on the back, and looks professional.
While this backpack is still very much suited for big guys, it has the least capacity of the bags in this review. In addition, the bag I got seemed to be well made but others have reported quality control issues with pockets, zippers, and stitching.
So how did it make it into the finals? Well, because there's nothing really wrong with it! And maybe you don't want a massive bag. It has a bunch of highly useful pockets, a USB charging port on the side, and it looks really nice! If I was more concerned about my looks I'd probably carry this bag (and lose some weight…which makes it a moot point anyway).
4. Yorepek – Best Option for Casual/Occasional Use
If you've never heard of Yorepek, don't feel bad, neither had I. Or actually, maybe we should both feel bag together. I legitimately thought my Oakley bag was big until I tried this one.
If I needed a backpack or travel, this is probably the one I would pick up. Camping backpacks are too unprofessional and difficult to get through security (this bag opens flat), other bags are too small, and duffels just suck to carry.
So, apart from its massive 54L capacity, what makes this bag great? Well let me tell you:
Great build quality. While it's not quite on the same level as the first two bags I reviewed, the material is solid and the zipper felt sturdy.
External USB. If you need to charge on the go while still using your phone, this is a super cool option. It only works if you connect a power bank inside but this gives you the ability to get as big of a power bank as you need!
It's TSA approved/flight friendly. This bag opens 180 degrees which makes getting through security a breeze.
It has over 20 pockets! While I typically enjoy having fewer, bigger pockets, there is something to be said for being organized and having lots of options!
So if you need the biggest backpack you can find, this is for you. It may be the king of backpacks for big guys based on size alone. The only reason I would recommend against this bag is if you're looking for something to carry to work or school on a daily basis. It will just weigh you down and make you the butt of a million jokes. Otherwise, it's great!
Now that we've hit each of the best backpacks (at least in my opinion) let's talk a bit about what exactly I was looking for and the criteria I used to decide. Yours may or may not be the same but I'm betting it's similar enough that we'll come to the same conclusion.
What Makes The Best Backpack For Big Guys – 3 Things
You are probably already aware, but most things that are meant for average size people won't quite work for big guys. Even if a company is aware of this, they think they can just take the same product, make it a bit bigger, and it'll work for big and heavy guys. Not quite. We are built a bit differently, act a bit differently, and (in general), tend to destroy things because of our size. Knowing this, we need backpacks that stand out in a few different ways:
1. Backpack Size
Whenever my wife packs for a trip, she packs 4 pairs of shoes, 6 pairs of pants, 10 shirts, a swimsuit, all of her toiletries, and a pillow…all in her carry-on. If I put one pair of my shoes in that same size of bag, it's full.
It wasn't any easier when I was in school either. If I took a jacket to campus in the morning I was committing to either wearing it all day or finding a way to bungee cord it to the outside of my pack. There was just no way to stuff a 3XL hoodie into my back with my laptop and books.
So, the best backpack for big guys will have space and lots of it. We need a spot for our personal items, our giant laptop, a water bottle, some snacks, maybe a book or two…you get the picture.
The other reason we need a larger backpack is simply so we look proportional. I want a big and tall backpack that fits the size of my back, not something that perches there and makes me look like a turtle who outgrew his shell.
2. Super Adjustable Straps
Getting my arms into a backpack that's too small is a ridiculous and humiliating experience. In fact, my first college backpack (a gift from my grandma) was so small that, after everyone else left the classroom or apartment, I had to lift the bag over my head (with my arms straight up) and then let it slide down onto my back. The one strap-at-a-time thing just wouldn't work.
3. Overall Bag Quality
Big guys tend to be hard on things. My weight makes me hard on chairs, my heavy opinions make me hard on myself, and my heavy foot makes me hard on cars. You'd think that a backpack that just sits on someone's back wouldn't have many durability problems, but then you'd be wrong.
I tend to stuff my bags pretty full, use them as a pillow when traveling, set them in rugged places, use them while hiking, etc. I need a bag that will provide me with years of service without buckling under pressure.
Add to that the fact that most nice backpacks for big guys tend to be more of an investment rather than chump change and you'll want to find something that will last you more than a year or two.
Three criteria? That's it? Yes, sir! Backpacks aren't overly complex after all. If a backpack fits those criteria then I accepted it into my pool of candidates. Beyond that I narrowed the field through things like design, the number of pockets, capacity, looks, price, etc. But enough of that, let's get into the individual reviews and you'll see what I mean! Starting with the winner:
Conclusion
If you're a big guy, buy a backpack for big guys. It used to be that you had to head to a local store and you'd be at the mercy of whatever was in stock. These days, however, you can do some research (like you did reading this article) find something that is meant specifically for you, and have it delivered directly to your door. So don't accept something that isn't quite right. You can pick your favorite! You're worth it! Happy packing!