As an Amazon Associate I earn from qualifying purchases.
I'm not a runner. Well, I guess I could be considered a runner now.
I'm really just a fat guy who got sick of telling people how healthy & fit I used to be in high school and decided to do something about it.
When I first started running, I couldn't run. I worked my way up from a recumbent exercise bike, to an elliptical, to a treadmill, and then to the road.
During that time I became something of a shoe expert. Or at least I learned that most shoes really don't work well for fat guys who want to get into running. They're too narrow, not high enough volume, don't provide enough cushioning (which hurts my knees and ankles), or provide cushioning via super soft foam which only lasted a couple of runs. The list goes on and on.
The best running shoes for fat guys have a wide fit, stiff midsole, and a thick sole made of medium density material.
Affiliate links / Images from Amazon Product Advertising API
The Secret To Finding The Perfect Running Shoes As A Overweight Guy
If you've read many reviews for running shoes, you'll notice that even shoes with very good overall reviews, you'll find a bunch of 1-star responses from people who say the shoes are the worst thing they've ever bought.
Why?
Well, because the idea isn't to find the perfect running shoes. It doesn't exist.
You want to find a running shoe that is perfect for you.
Just because a shoe doesn't work for you does not mean it's a terrible shoe. Also, just because a shoe is terrible for someone else doesn't mean it won't be great for you.
If we take two equally overweight guys who want to run, one might want a shoe that provides a ton of cushioning to keep his joints from getting sore while the other might need a shoe with less cushioning to avoid shin splints.
It all depends on what you need.
The solution, then, is to try a bunch of different running shoes (at least try them on) and see how they feel. Don't be afraid to buy and return shoes if they aren't going to work for you. Forcing yourself to go run in a pair of shoes you hate is almost impossible.
The shoes that I've included are ones that I've personally had experience with and loved. There are a dozen others that I've tried but chosen not to include and hundreds of others that people just generally consider inferior.
So, while I won't say that this is an exhaustive list of the best shoes for fat guys, all the shoes on it are great options for most people.
The 3 Best Running Shoes For Overweight Guys
1. Best Overall Running Shoes For Big Guys: Brooks Glycerine
One of the main reasons that fat guys have ankle, knee, hip, and back pain from running is because the body is not able to maintain a neutral position. This is especially true if you have a pronated step like most big and heavy people.
Brooks running shoes have a proprietary system to correct this.
Similar to how training wheels keep a bike upright, Brooks shoes have a firm "Guide Rails" of denser foam that runs along the edge of the heel, reducing ankle/foot roll and keeping your joints in a more natural/neutral position.
The Glycerin is one of Brooks' best (in my opinion) street shoes. Not only does it have the Guide Rails system, but it is made to be soft and light enough for most big guys.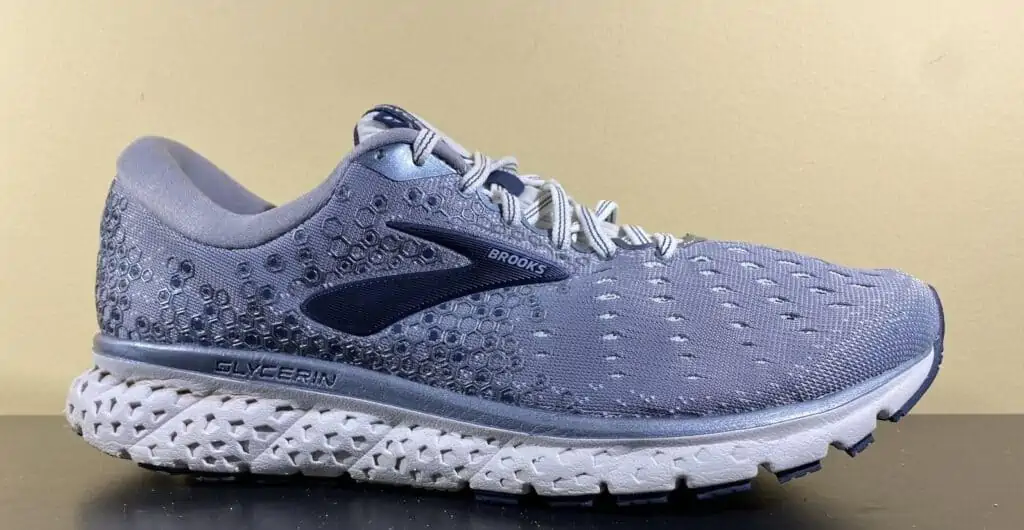 While this shoe isn't the most durable shoe because of its soft padding, many of the people I've talked to don't care. I was told, "Why would I want a shoe that lasts longer but tortures my feet?" The heel of mine is worn out after about 4 months while the uppers till look brand new but I'll gladly get another pair exactly the same for 4 more months of relief.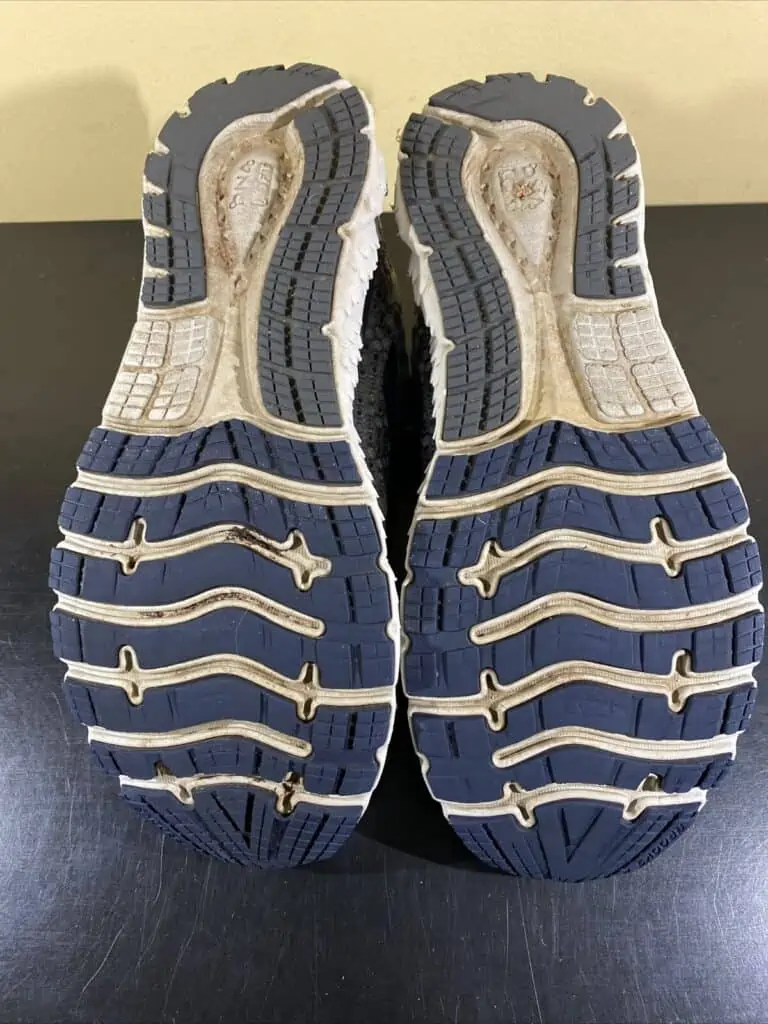 The Glycerin is available in a huge range of sizes and multiple widths so, even if you have hobbit feet as I do, you'll be able to find something that works well for you.
It's worth noting that the Glycerin is a long-time model that gets yearly updates. The updates are usually minor but people almost always have a favorite, mine is the Glycerin 17 which I have linked.
2. Wide Toe Box Option: Altra Torin 4
The Altra Torins were my first pair of "real" running shoes as I was (and still am) completely sold by their marketing.
Altra's schtick is that they have an ultra-wide toe-box which decreases the pressure on the front of your foot and lets your toes naturally splay. This, in theory, allows you to run comfortably for longer and it is more suited to your body's natural running form. But I will tell you that it takes some getting used to.
If you are looking for a brand that will be your go-to, Altras fit that bill. They offer many different models of shoes to fit a variety of terrains and preferences. They are all zero-drop shoes which good amounts of cushioning and the aforementioned toe-box.
The Torin has "heel collar" padding which functions similarly to the Guide Rails in Brooks running shoes to give you a locked-in feeling and reduce unnecessary movement. All-in-all, I feel that the Torins and Glycerins are close enough in performance that it comes down to personal preference and you should try on both.
However, if looks matter to you, I will tell you that my wife won't let me wear my Altras anywhere but the gym or on runs. They pretty much look like paddles on your feet. Many people don't mind the looks however and use Altras exclusively if they're on their feet all day for work, etc.
The Torin is designed as a road shoe and I use it for road running when I feel that I need a bit more cushioning than I get from my other shoes.
3. Midsole Stiffness & Padding: Hoka ONE ONE Bondi 7
I've been intrigued by HOKA ONE ONE's shoes for several years but have honestly never owned a pair. I've just been too content with the shoes I have. However, so many big and heavy people swear by their shoes that I just had to include them here.
The Bondi 7 which is pictured above is the most cushioned shoe in the HOKA line-up. Many people claim that they are life-changing not only for running but for standing, walking, etc.
If you typically have sore feet or joints after being on your feet too long, these might be just what you need.
Running Shoe Fitment For Overweight Guys – 6 Tips
The main problem with running shoes is finding the proper fit. This problem is even more significant with fat guys as our feet tend to be a bit different in shape and size than the stereotypical runner.
However, this is only one of the many issues I've discovered. Luckily, they all have solutions.
Here's what you'll want to look for:
1. Find The Proper Width
One of the largest problems big guys have with running shoes is that most options are too narrow.
First off, this is a significant comfort problem that can also hinder the ability of your feet to get used to running. If you want your feet to adjust to additional miles you have to let them move as naturally as possible (even though they're in a shoe).
Running shoes that are too narrow provide an unstable platform, restrict the blood flow to your feet, and prevent your feet from spreading/splaying properly when they hit the ground.
A wide running shoe will provide additional volume but, if you have high arches or flat feet you may need to consider a high-volume shoe so you don't have pressure on the sides of your feed and on top.
2. Get A Wide Toe Box
Your heel doesn't really move around much when you run. Nearly all of the movement happens when your toes and the ball of your foot "splay" or spread out on the ground during your stride.
Traditional running shoes have a narrow toe box which does not allow your feet to splay naturally. This can slow your progress as it causes foot fatigue and even pain.
There are now many companies on the market which offer a wide toe box that they consider to be a more natural shape for your foot.
It's worth noting that, just because you're a fat guy, doesn't mean you necessarily need a wide running shoe or toe box. You'll just have to find out what works best for you (but your daily shoes are probably a good starting point).
3. Choose A Stiff Midsole
The visible portion of the sole (the part that touches the ground) is only part of a running shoe's construction. The integrity of the shoe is determined, to a large extent, by the stiffness of the midsole, the piece between the shoe and the outer sole (imagine it between the sole and the insole).
A midsole that is too soft allows the show to "wallow around" as you run. This can result in injury to your foot and ankle.
Most heavy guys will want a stiff midsole that will hold up to their weight.
4. Find A Firmly Padded Outer Sole
The type of outsole you want will depend on the miles you put in and the type of terrain you run on. Don't make the mistake of buying the softest most padded running shoes you can find.
Thick soft foam deforms very quickly. Especially if you, like most fat guys, have a pronated stand (your feet/ankles roll inward when you walk or stand).
5. Search Out Comfortable Closures
It blows my mind that most people just used whatever laces come on a pair of shoes without any thought to changing them. In fact, my dad was telling me that he hated a pair of his shoes because of the laces. So change them?
Having laces that are comfortable and stay tied (or stay stretched) can go a long way in keeping your running shoes comfortable if you have high-volume feet.
6. Consider The Terrain
Unless you're training for something specific or have an unusual program you probably only want a single type of shoe. Unfortunately, most shoes do work well across different types of running.
If you are just getting into running I would stick with a well-padded road shoe. Trail shoes tend to wear out quickly on road surfaces and road shoes are not safe for trail surfaces. (road shoes are also the best choice for treadmills and gym time).
Whichever type of shoes you choose, make sure it is well suited to what you will be using it for! Don't worry, you can always switch it up and get another pair when this one wears out. You don't have to make a perfect choice now.
Do Fat Guys Wear Out Running Shoes Faster?
Yes, we do.
You probably knew that though since, if you're anything like me, your shoes tend to pretty much explode off of your feet after a couple of months.
Running shoes typically last up to 500 miles (which is about 6 months for most runners). I wear out my shoes faster but also put miles on them more slowly so it all equals out for me.
I'm currently running around 12 miles per week and my shoes have lasted a bit less than 4 months. They're pretty much done for at this point (although I should note that I also wear them to lift weights)
If you're very concerned about sole wear (so your shoes last longer) here are a couple of tips that can help you out:
Don't shuffle-run. If you're out of shape and just starting to run, you'll probably have a tendency to scuff or shuffle your feet. It just takes too much effort to pick them up. However, picking up your feet in a proper gait will make running easier in the long run (haha), and reserve your shoes in the meantime.
Spend more time on the elliptical. While I think a couch to 5k program is perfect for obese people, if you haven't been doing any physical activity for a while, it may be too much too fast. I spent my first 2 months "running" on an elliptical. It's far easier on your joints and can allow a proper workout with a bit less suffering. This also takes away the tendency to shuffle run and won't compress the sole of your shoes.
Avoid cement, asphalt, and tracks. There are tons of things that are hard on running shoes but, if you want to get a varied workout, you'll probably have to subject your shoes to some or most of them.
If you really want to baby your shoes, stay on asphalt (but not hot asphalt), avoid running tracks, avoid textured cement, and don't step on pointy rocks.
If you're committed to running for any length of time, simply accept that your shoes will wear out eventually. I start shopping for a new pair of shoes the day after I break in a new pair. Not because I need another option, but because it gives me a good length of time to try and find the best deal possible.
I typically replace my shoes based on tread wear and foam compression. There isn't an exact science to it but I err on the side of replacing them sooner rather than later. It keeps my feet happier and gives me new shoes to mow the lawn in.
Conclusion
Let's be honest, if you're a fat guy you can't really expect your feet to be happy when you decide to start running. There will be a period of endurance-building during which your feet will probably hurt. If things don't improve, however, and a shoe change doesn't fix things then there are a few other things you can try.
The most common other option is to try insoles. This is typically an issue of padding but an issue of getting an insole that is more suited to your foot shape. Start with some insoles designed for big and heavy people that will not deform under your weight.
If that doesn't work you may want to get some custom orthotics. Many heavy runners take the insoles out of every new pair of shoes they buy and put in their running orthotics. That way they're almost guaranteed a comfortable running experience.
At the end of the day, finding a great pair of running shoes if you're a big guy might require some trial and error. Just stick it out and don't give up! Once you find something that works for you you'll be amazed at the difference it will make!
So save up so you can buy-once-cry-once and get a pair of shoes that are actually made for you. Happy running!