As an Amazon Associate I earn from qualifying purchases.
Post Summary
In general, people above 250 lbs would benefit from buying a high-weight-capacity sofa. The best options to support heavy people will have a heavy-duty subframe made of metal or wood, short legs, and sturdy upholstery that is attached with rivets. The best example of these attributes is the Modway Engage (below) with a 1700lb capacity.
There's nothing quite like sitting on a friend's couch….and breaking it. Not that I would know…it was a work couch that I broke… (allegedly)
As a big and heavy guy, I've always been hyperaware of where I sit. Not only is it draining to stand for long periods of time but there are also fewer spots that I fit (and will hold my weight) than for an average-size Joe. It's a cruel world.
My size (and the lack of proper seats for people my size) is the reason that, when I take my daughter to her dance class, I choose to sit on the cement stairs for the 30 mins she's in class rather than try my luck on a plastic waiting-rooms chair. It is also the reason I spend a ton of time researching the furniture I have in my own house. Having plus-size furniture that will support me is important for my comfort, my safety, and my pocketbook.
Long ago I decided that, since I probably couldn't be comfortable in many places, I would make the effort necessary to find and purchase the best couches for heavy people so that I (and my family) could relax in comfort.
Couches For Big And Heavy People Comparison Chart
Brand
Signature Design by Ashley
Brand
Signature Design by Ashley
Affiliate links / Images from Amazon Product Advertising API
4 Tips For Choosing A Heavy-Duty Sofa For Heavy People
When shopping for a couch, there really aren't that many things you need to be aware of…it's just a couch after all. However, there are a few things that give a couch a high capacity.
1. Look For A Heavy Duty Couch Frame/Sub-frame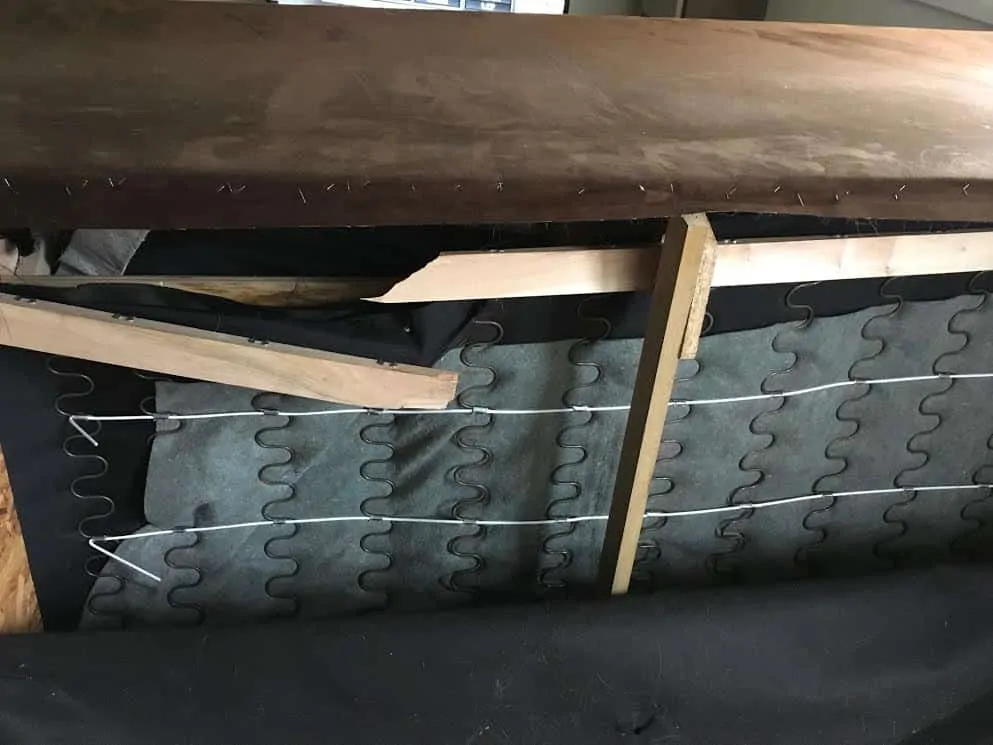 When it comes to the bones of a couch, there are a few different material options, crappy, fine, and good. Avoid pressed or laminate wood frames and look instead for hardwood and steel. It is common that couches for heavy people have a hardwood frame with metal supports, particularly if you're looking for a heavy-duty reclining couch.
2. Choose Short Legs (Or No Legs)
Legs are typically a weak point of designer couches and can easily cause the entire couch to fail. Long and angled legs are typically the opposite of what we want.
Since it's the strength that we're after, look for "husky" legs that keep the bulk of the couch low to the ground.
A better option is to eliminate the leg situation altogether which allows the subframe of the couch to be supported by the floor but this is rarely necessary unless you're going to have 1,000 plus pounds on your couch.
3. Opt For Sturdy Upholstery/Fabric
It probably wasn't the first thing to come to mind, but I have had to fix three different couches I've owned because I was too fat for the fabric!
My above-average weight caused the fabric to pull/stretch farther than it was meant to and ended up either ripping or pulling loose the fabric along the back/top of the couch. While this is pretty easy to staple back in place, it is a better option to get a couch with heavy-duty fabric in the first place.
The best couches for a heavy person will always be made of fabric that will stand up to the additional wear and tear it will face.
4. Get Quality (Dense) Stuffing
When I think of a couch breaking, I typically imagine a spring popping up out of the seat and launching me into the ceiling just like every cartoon I used to watch. However, it is far more likely that a couch becomes unusable because it is stuffed with low-quality foam over poor-quality springs which will slowly sag over time.
Look for a couch that has a good amount of support and rebound qualities. This typically means that you need to deal with a couch that is pretty firm at first but don't worry, it'll loosen up after a while.
The 4 Best Couches For Big & Heavy People
1. Coaster Home Furnishings Weissman – Heavy Duty Option For Plus Size People
If you are just looking for the best couch for a heavy person (that doesn't have to come from a high-end Italian showroom) this is it! It has absolutely everything that a big guy or gal could want in an affordable but heavy-duty couch.
While it's probably not the couch I'd put in a fancy sitting room (if I ever had one….) it has a ton of awesome features that earn it the thumbs up from me:
825-pound weight capacity. This is sufficient for most big and heavy couples. The best way I've found to avoid overloading a couch such as this is to simply limit the number of people on it. For your family, this may actually be a two-person couch rather than a three-person option and that's okay!
Wall-hugging recliner. At this price point, a mechanical reclining system is the most reliable and hard-wearing option. The end seats of this couch both recline and, as an added bonus, their wall-hugging feature means they only need 4″ between the back of the couch and the wall!
Steel bottom frame with minimal legs. The short leg situation means that this is one heavy-duty couch that won't be bowing or bending in the middle no matter how much you weigh.
What more could you need?! A great-looking couch with high weight capacity and reclining functionality. If you are like most people, this is the best option so get it ordered!
2. Stone & Beam Lauren Down-Filled Oversized Sofa – High Weight Capacity
If you're looking for a bit more weight capacity, a bit more stuffing, and a little less reclining, then Stone & Beam (an Amazon company) makes the couch you are looking for!
This classicly styled overstuffed sofa can be at home anywhere from a game/movie room to a more formal sitting area.
Speaking of who can fit on it, it may look like a love seat but this couch measures almost 90″ from end to end, making it an excellent piece of plus-size furniture for those with wide bottoms. If you and your spouse are the types to want your own cushion, you'll be happy with the overstuffed (and very squishy) two-cushion set-up here!
As an added bonus, this is one of the few couches you can order that requires no assembly! This means that you don't have to waste your time figuring out how to put it together or waste your money paying someone else to do it!
If you're looking to outfit an entire room with heavy-duty furniture, this is one of the best options on the list because of the matching chair and ottoman!
3. Signature Design by Ashley Clonmel – Best Reclining Couch Obese People
If you want an extra-wide reclining couch but still want to hold hands with your husband/wife then get in line for this couch! Even though this is the longest couch in our review, Ashley Furniture made the groundbreaking decision to get rid of the strange non-reclining middle island seat and just split this couch into two massive recliners! If you want a heavy-duty recliner in couch form, you got it.
This couch also has all the other hallmarks of being a great couch for a heavy person such as a deep seat, it sits low to the ground, and has durable fabric. Beyond that, you can pick up this couch for less than most recliners, let alone heavy-duty ones.
4. Modway Engage Mid-Century Modern – Highest Capacity Designer Couch For Heavy Users
While this couch might look like it breaks every "best couch for heavy people" rule, it is on this list thanks to its incredible build quality. Not to mention the fact that it looks radically different and gives a fresh option for everyone.
If you need a couch that will handle the heaviest guests (whether in your home or a waiting room) then this is your option. This couch is rated by Modway to hold up to 1700 pounds! That's more than 4 of me! So, in other words, this couch will stand just about anything you can throw at it (or set on it).
This couch is much comfier than it looks but it's still not the kind of couch you'll want to kick back on for a Netflix marathon or to read a book. But for its looks, it's great!
How to Increase the Lifespan of a Heavy-Duty Couch
Couch shopping really isn't that much fun. At least it isn't for me. Even if I had a bunch of money, I wouldn't enjoy finding a couch that matches, getting it delivered (and possibly assembled), disposing of my old couch, etc.
Which leads to the question, after I buy one of the best couches for a heavy person, how do I take care of it so it'll last for years? Well, we've got 3 tips:
1. Keep It Clean
When it comes to keeping a couch for years, keeping it clean should be your number one priority. Obviously, a clean couch looks better and you'll like it for longer, but keeping a couch clean will actually protect the fabric, the foam, the reclining mechanisms, and even the springs!
When dirt (sand, pet hair, etc.) gets worked through the fabric of your couch it thins and tears up the fabric on a microscopic level. Let this go on long enough and your fabric will soon be crusty and more likely to tear. Crud build-up has the same effect on the foam in your couch. Dirt breaks foam down and stops it from rebounding, leaving you with a sunken and uncomfy couch.
So what can you do besides hiring a cleaner? The ultimate solution would be to get a cover (or at least a seat cover) but, if you don't like that idea, the best way to keep your couch clean is to keep dirt from getting on it in the first place. So no pets, no eating on the couch, etc.
2. Have Additional Seating Options
When my wife and I first got married we didn't have a spot for a dining room table. Which meant we ate on the couch. This wasn't great for spending quality time together or for keeping our couch clean. Once we were able to get some heavy-duty dining chairs for mealtimes our "couch health" improved greatly.
Having dining chairs for mealtime, a recliner for relaxing, beanbags for the kids, etc. will diffuse the time spent on your couch which, in turn, will help it last longer.
3. Buy Once, Cry Once
While there's something to be said for getting a great deal, buying the cheapest couch possible shouldn't be your goal if you want durability. I only recommended couches that I felt were very high quality so, unless you want to do a huge amount of research or pay way more money, stick to the options above and you'll get the durability you're looking for!
In Conclusion
Whichever couch you choose, it'll be hard to go wrong with any of our recommendations! While I did my best to bring you the best couches for a heavy person, you'll have to decide which one is right for you! Happy Hunting!