As an Amazon Associate I earn from qualifying purchases.
When I was younger and far more innocent, I had no idea that anything like a heavy-duty gaming chair existed. I sat on our old spinning computer chair with paper-thin padding in our living room until my butt went numb.
It usually took about 15 minutes.
My "computer time" in those days was a max of 2 hours per day, so I would rush through my homework so I could crush Age of Empires 2 (the cheat code "aegis" for fast-build-time really helped….).
Now that I'm older and my computer gaming has evolved a bit (Let's just say that I still spend a lot of time in a computer chair), my needs have changed a bit as well. My back, butt, and neck are no longer happy if they don't get the support they need, and my performance suffers as well.
Add in the fact that I perform real work (the kind that pays money) on my computer as well and it becomes obvious that no wimpy, flimsy gaming chair is going to work for me (and probably you if you're reading this). We need a real man's gaming chair. A big man's gaming chair. Something like the Cadillac of tanks. Well, lucky for us, there are some heavy-duty gaming chairs available that will support 99.9% of gamers out there.
Here's the issue, you can have just about anything you want in this world…if you can pay for it. I can't stomach the idea of spending half of my paycheck on a gaming chair, not to mention the fact that my wife won't let me. This leaves me with chairs that have a slightly lower capacity (usually in the 400lb range). Given my constraints, I decided to find the best chairs that people could actually afford, not just the 500lb capacity gaming chairs that the pros use.
Here's what I came up with:
Best Overall
Best Overall
Affiliate links / Images from Amazon Product Advertising API
4 Things I Looked For In A Heavy Duty Gaming Chair
1. A Heavy Duty Steel Frame
Believe it or not, this is not standard in heavy-duty gaming chairs. The reason that I wanted a full steel frame is this: there is no gaming chair testing board that vets how honest the manufacturers-claimed max weight is. In fact, there is a chair that shall remain unnamed that claims a 600-pound weight limit, but has literally hundreds of bad reviews from 200-pound customers saying that the chair pretty much broke in half on them.
While a steel frame in and of itself is not an indicator of weight capacity, it does tell me that the manufacturer has at least gone through the motions of creating a heavy-duty chair. After all, some of the cheaper chairs on the market are nothing more than plywood bolted to a steel base. Not going to cut it.
I also gravitated toward chairs with a metal base instead of the plastic that is common on so many chairs. I don't need a leg to break off while I'm slaying demons.
2. Removable Pillow & Lumbar Supports
For me, there are two main issues that will stop long stretches of gaming or computer time. Having a sore neck/back, and a tired butt. If you've never had a chair with a built-in pillow, prepare to have your world rocked. A pillow actually improves your posture, gets rid of neck strain, and allows many gamers to avoid headaches associated with a stiff neck!
The lumbar support may take some getting used to if you haven't used a chair with any, but it is useful in the long run for obvious reasons. Your back is pretty important for stuff, after all.
3. Lots Of Heavy Duty Adjustments
Maybe I've just gotten weak, but I want my chair to have lots of heavy-duty adjustments. The more, the better. If adjustments aren't important to you, just go get a giant boulder and put some foam on top. I guarantee that you won't find a more heavy-duty gaming chair for your weight.
If, however, comfort makes you play better (and longer), then check out the type of adjustments I was looking for:
Adjustable Arms. I want to be able to move them up, down, forward, back, in/out, and swivel. If I can move them through time, I'll take that too.
Height Adjustment. I thought, when I first started shopping, that I would need to get a tall gaming chair specifically for my height. Then I learned that 6'3″ is not actually that tall, and most gaming chairs have enough adjustment to fit people up to 6'7″ or so.
Back Angle Adjustment. What can I say, sometimes I just want to be able to recline in my gaming chair.
If there were other readily available adjustments, I would have been looking for them too, but that's really the extent of what can be moved around in a heavy-duty gaming chair. After all, the fewer moving parts there are, the easier it is to make it stronger!
4. Weight Rating 100lbs Over My Level Of Fat
I knew that I wanted a nice chair. However, I didn't want a chair that looked nice and felt nice for a year or two. I wanted a chair that would last me a good 10 years! Because of this, I was focused on budget, yes, but also on finding the absolute best quality that I could afford. Since my budget wasn't huge, one of the ways I hedged my bets was to buy a chair that was rated for significantly more than I weigh, the logic being that there was no way I could break it and it wouldn't wear out as fast. So far my theory is working out, and I would recommend the same for any chair you buy!
The 4 Best (Widest) Gaming Chairs For Overweight People
1. AKRacing Masters Series Max – Extra Wide Gaming Chair
AKRacing is one of the best-known names if you're looking for a really nice gaming chair. This chair, from their heavy-duty "Max" line, supports up to 400 pounds.
As you would expect of a chair at this price point, the AKRacer is meant to last forever and the warranty backs this up. This doesn't only mean that it's made of top-quality materials (it is), but it also has replaceable parts if things break or wear out! The heavy-duty casters are unlikely to break, but if they do, you can replace them or even just upgrade to rollerblade style wheels! The gas shocks are ingenious, utilizing 2 instead of the usual one cylinder, and you can replace them any time you want or need to!
The seat-back is higher than average and flexible, which is designed to provide excellent support for your entire spinal column. I would assume that most chairs support your spinal column, but the manufacturer assures us their superior back design makes things like lumbar pillows superfluous! Less is more!
It's worth noting here that this is a big gaming chair, as are all of these. If you live in a studio apartment or are thinking of trying to weasel one of these into your bedroom, you'll need to be sure you have the space for it beforehand. Otherwise, you might just be better off sitting on your bed.
If you take your gaming seriously enough that you never want to think about your chair again (beyond pondering why it's so awesome), then this is the one for you!
Is It Worth It?
I'll admit, this chair is expensive. Not quite RTX 3080 expensive but it'll set you back quite a bit more than most gaming chairs.
But, if you've been around here for long you'll know that I like to put my money where my mouth is and actually buy the products I recommend. That makes this list more of my personal journey than just desk-jockey research.
So I bought it.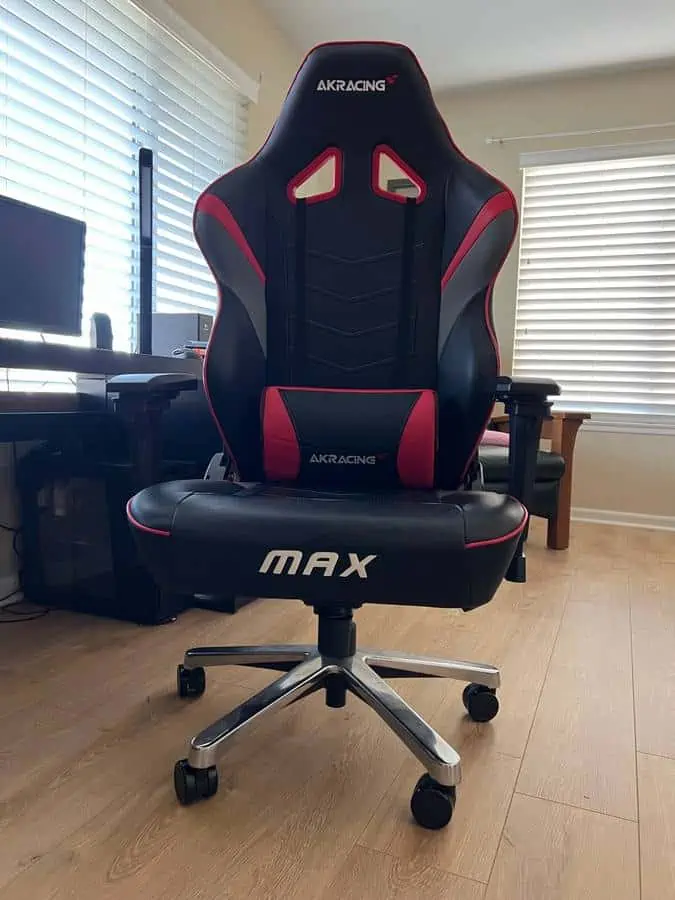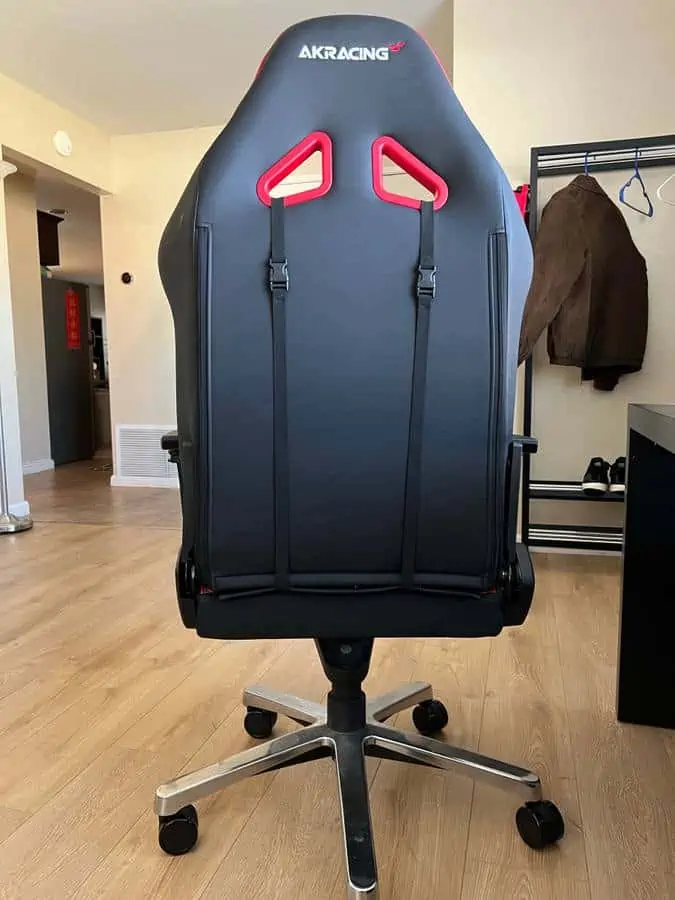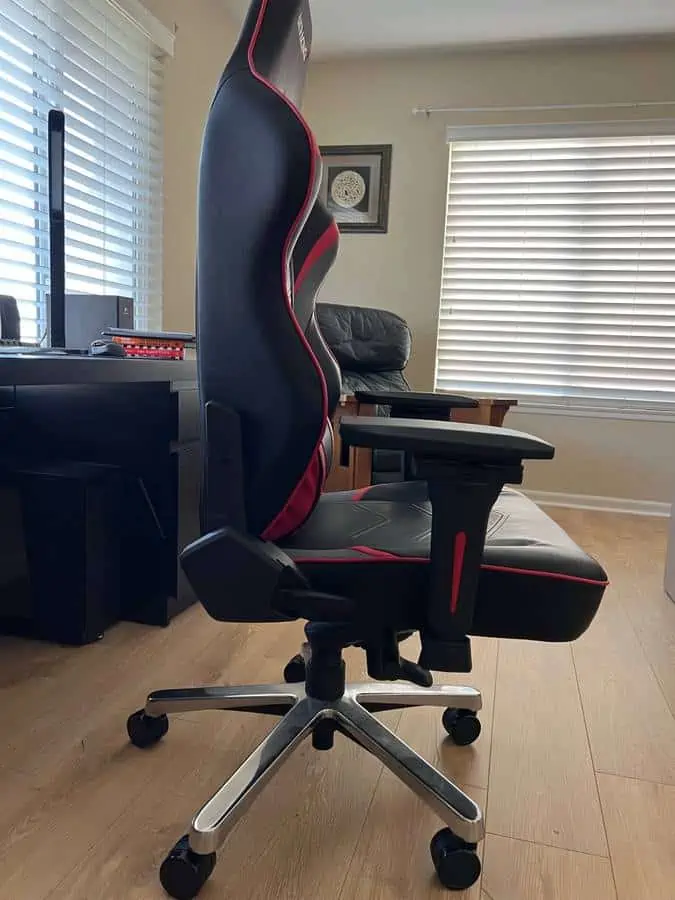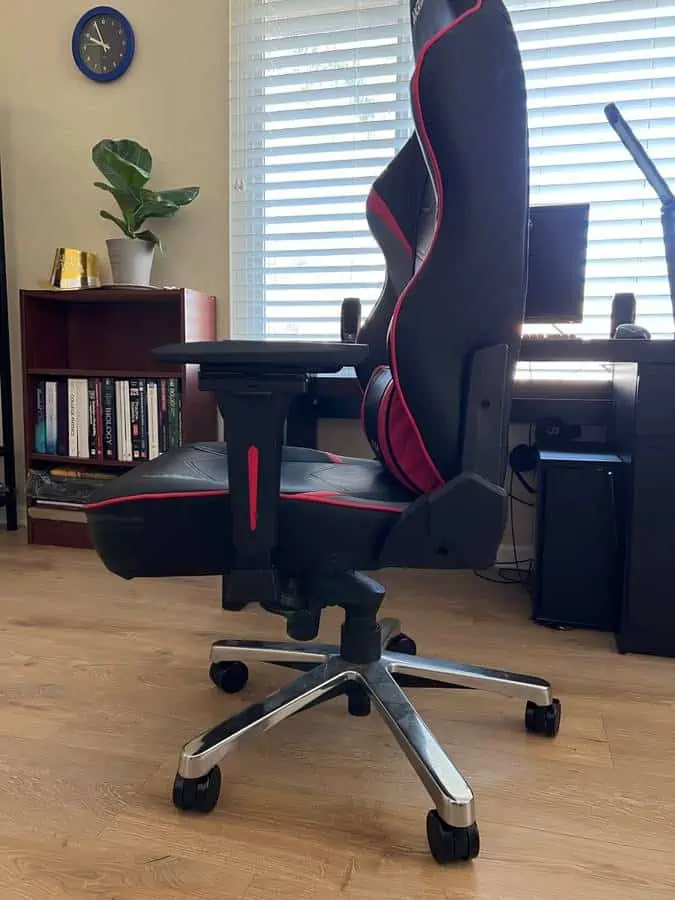 All in all, I do think that this chair is worth it. If your pocketbook is feeling thin you can probably get by with one of the other chairs on this list but I absolutely love this chair.
It is wide, it's comfortable, it reclines well, and best of all, it doesn't feel like it's going to break on me at any moment.
I'll admit that the castors aren't awe-inspiring but I'll probably get around to replacing them with some blade-type wheels at some point.
I have owned this chair for only a couple of months so, while I can't comment on its long-term durability, I do feel comfortable enough with its performance to give anyone who asks the go-ahead to add it to their cart!
2. VonRacer Big & Tall Gaming Chair – 400lb Capacity
VonRacer is relatively well known for producing comfortable and high-quality chairs but I had never realized that they had a 400lb capacity option.
Their big and tall chair not only supports 400lbs but has a flat base, tons of adjustments, and a high-quality covering. What else could you ask for in a heavy-duty gaming chair?
A metal frame and a one-year warranty? Perfect, they have that too!
If I'm being honest there doesn't seem to be a lot that separates this chair from most others on the market apart from its price (it's quite low) and the reviews. I don't personally own this chair but those that do seem to love it.
So if you need something in this price range then don't pass up on this option!
3. FantasyLab Racing Game Chair – 300+ Pound Capacity
When I first saw this chair I was struck by how flat and wide the seat is. Which is exactly what my wide butt needs. A lot of gaming chairs are built with race wings on the side of the seat which leaves no chance of me fitting in it. However, it's not just the extra seating real-estate that makes this seat great.
Other things that make it the best gaming chair for fat guys:
Great ergonomics. The high back, padded headrest, and lumbar cushions ensure that this chair will be comfortable for both tall guys and the short fat dudes among us.
Lots of adjustments. Pretty much every part of this chair is adjustable. You can adjust the height (obviously) but also tilt the backrest and the built-in footrest!
Heavy-duty bones. The quality of this chair is evident in the construction. You get a metal frame, metal base, high-quality castors, and an explosion-proof gas spring that is built to support your weight. (I didn't know that "non-explosion-proof" shocks were a thing but now I'm worried….)
Couple all of those advantages with a great price and a one-year warranty and you have a risk-free purchase! I won't lie and say that there aren't nicer chairs on the market, but if you don't want to pay 2-3x as much as this chair I highly doubt you will do better!
4. GTRACER Big & Tall – Budget Option With Lumbar Support
If you are on a significant budget, you might have to make some concessions when it comes to comfort and overall quality. Unfortunately, for big guys, the weight capacity is not really negotiable if we want a chair to last longer than a few months.
This chair is the best of all worlds if one of your requirements is to spend as little as possible while still getting a decent product.
Some of my favorite features:
Ergonomic features include adjustable height, reclining back (up to 170 degrees), 360-degree swivel, removable headrest, and lumbar cushion, a retractable footrest, and more.
Materials are very high quality, including an easy-to-clean PU covering, heavy-duty castors, 5 point base (much more stable for big guys, and a metal frame.
I'm not going to include the obvious benefit of price in my list. I will just say this: if you head down to your local office supply store you will pay more for a crappier chair. Fat guy gaming chairs just can't be had in local stores. So save yourself some time (and money if you need to) and check this one out!
You now know all you need to know to buy the heavy-duty gaming chair of your dreams!
Your days of sitting on rocks are over and you can finally spend the time grinding you need to! 5 minutes to order, 2 days to get it, and 30 minutes of assembly from now, and you'll be gaming like a pro.
If You're Overweight & Can't Afford A Gaming Chair
Look, I get it, we all want to sit on a throne fit for a gaming king, but sometimes the treasury just isn't brimming with gold coins.
Maybe you've just emptied the vault to buy a new PC and forgot that you need somewhere comfy to sit. Well, no worries my budget-conscious friend, for there's a savvy alternative that might just save your oversized butt and your dollars.
Enter the used commercial computer chair.
That's right, the kind you probably sit in at work.
Commercial chairs are a great option for a few different reasons:
They're designed for long hours of sitting
They are super durable and made to support heavy weight
They can be had dirt cheap if you buy them used
While they may not be super attractive, what they might lack in style, they make up for in function.
Adding the Cushion Magic
Now, a used chair might have some wear and tear (it's probably been in more meetings than it would care to admit), so that's where the cushion comes in. Plop down a nice, thick seat cushion, and you'll transform a tired office chair into a comfortable nest for your gaming escapades.
Memory foam is a great option, as it molds to your body and helps spread your weight evenly, which can make a big difference if you're going to be in the chair for any length of time. Remember, you're after comfort, and not just any cushion will do, so be picky!
Don't forget a mat…
I know I know…my chair above is sitting on my wooden floor. I'll probably get a glass mat one day when I recover from the cost of buying the chair. It works for now.
However, if you have carpet your shiny new chair doesn't belong on a crusty yellow vinyl mat.
We wrote a full article about the best heavy-duty office chair mats, but if you ain't got the time for that, we recommend this mat on Amazon.