As an Amazon Associate I earn from qualifying purchases.
Looking for the best high-end massage chair? Easy…just go buy the most expensive one (find it here). But if you're looking for the best massage chair for big and tall people….things get a bit trickier…
When I was newly married (and stressed out of my mind), I remember going to a friend's wedding. They had decided to have it in the gigantic backyard of a rich family they knew, and needless to say, I was a bit out of my element. Between their full bar and pool table, however, they had something which I had never really experienced, a beautiful full-body massage chair!
In my stressed-out state, I figured it would be just the thing I needed to make it through the day. While it probably would have helped…much to my chagrin, I didn't get to experience it that day. There were half a dozen bratty, snot-nosed kids who insisted on sitting on it and running around it screaming for the entire afternoon. Why they felt the need to monopolize the only big and tall massage chair I don't know. However, I vowed that one day, I would have a massage chair in my house.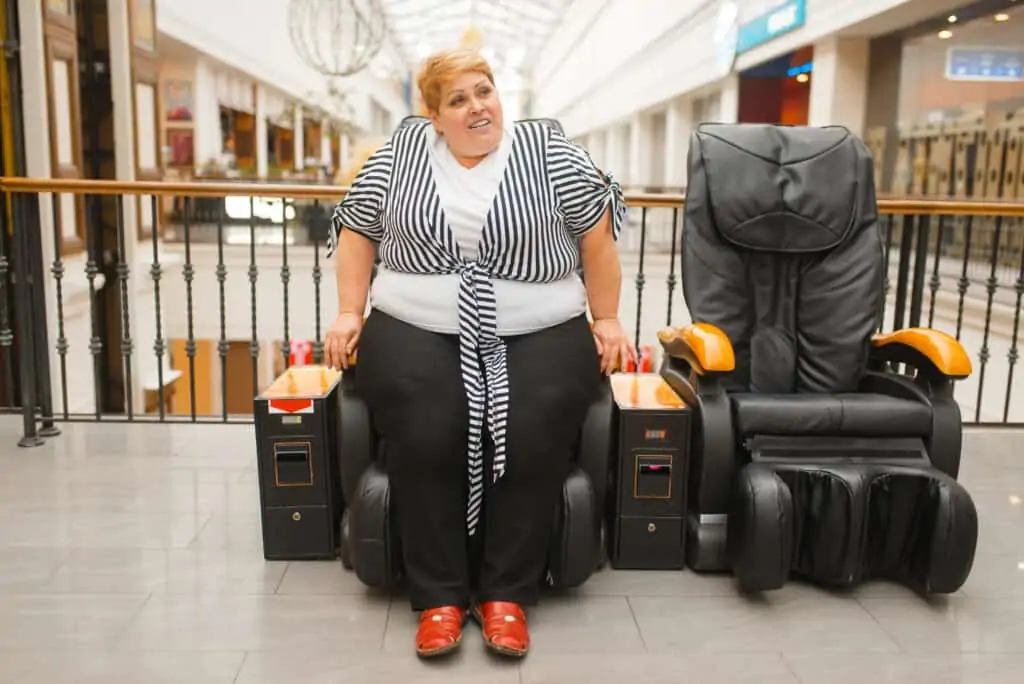 Now, if you're anything like me, you probably burn the candle at both ends. Relaxing doesn't always come easy. I tend to want to tap the bounds of potential I feel are still inside me somewhere, so I spend a ton of time working. However, as disciplined and self-controlled as I seem on the outside, I tend to be worrisome and insecure inside. One of the few ways that I have found to keep myself grounded is by enjoying a regular massage!
Now I may not have a bar and pool table in my house, but I am finally in a position where getting a massage chair is within my ability and is something I consider to be hugely advantageous for my physical and mental well-being. So it needs to be heavy-duty, high quality, and give great massages. Oh, and not crazy expensive. For the purpose of keeping things accessible to everyone, I tried to limit my price range to around $2,000.
Affiliate links / Images from Amazon Product Advertising API
The 3 Best Massage Chairs For Large People (Up To 400lbs)
1. Real Relax Dual-core S Track Recliner – Best 400lb Capacity Massage Chair
Real Relax is a relative newcomer to the massage chair industry but has built a strong presence in the mid-range (under $2000) sector. They offer incredible value for the price and have excellent build quality and durability.
This is one of the flagship chairs, and (in the opinion of myself and everyone that uses it) the best massage chair under $2000! So what makes it so good?
Here are a few highlights:
Zero Gravity Feature. Most reclining massage chairs function in a similar way to old-school recliners: the back simply leans back. This may be fine for comfort, but it means that you need to leave a large amount of space behind the back of the chair. In the case of large chairs, this means that you have to leave as much as 4 feet between it and the wall! Not so with this chair. Due to its ingenious design, you need way less space behind it, making this one of the most space-efficient chairs available!
Fully Adjustable Massage. With 8 neck/back rollers, 50 airbags, adjustable speed and strength, and built-in massagers for your shoulders, hips, calves, arms, feet, and lower back, this chair can be tuned to your precise needs.
Bluetooth Connectivity automatically turns on when you power on the chair, allowing you to quickly and easily connect your phone for a greater level of control
Dual foot rollers underneath each foot provide soothing acupressure and reflexology therapy, which will provide a deeper massage for your feet.
What is a zero-gravity massage chair?
While shopping for massage chairs, you'll probably come across the term "zero gravity." Well, what the heck is that?
"Zero Gravity" refers to a reclined position that puts your body in a neutral position. In this position you feel weightless, hence the name. The position (shown above) is advantageous for several reasons: it is relaxing, it is beneficial for the heart, and it takes the pressure off the back (increasing the effectiveness of the massage).
I could go on, but it should be pretty obvious that this feature-packed chair has me absolutely stoked! Are there better chairs? Maybe…but not unless you're willing to spend 3-4x as much! Go read the reviews on Amazon and you'll see how much people love it! You really don't need to read about the rest. You found the best!
2. SMAGREHO Zero Gravity Recliner – Best For Big & Heavy People
Smaghero makes a very similar chair with one significant difference: it is much cheaper! Now, you don't give up a bit on the overall fit and finish but this is, by far, the cheapest full-body massage chair you can get! Let's talk about the impressive list of features you get in this budget chair:
Space Saving and Zero Gravity. Similar to the chair above! It doesn't take up a ton of extra space when it reclines, and you can tilt it within a range to your perfect angle!
Bluetooth Connectivity. The chair connects to Bluetooth so you can listen to tunes or audiobooks directly through your chair.
Massage and Heat Function. This chair has similar massage functions as the Real Relax with a special emphasis on heated options to relax you and leave your body refreshed.
Adjustable "Air Bags". The chair is lined with several "air bag" cushions that are adjustable to achieve a perfect fit and level of cushioning.
You might wonder what makes this chair our second choice? Well, in all honesty, these chairs are so similar that most of it will come down to personal preference and which one you like the look of better. For me, the Real Relax felt like a higher quality product and, while massage chairs under $2000 can't be perfect, I still wanted to get the best product I could afford within my price range. However, if you need a chair and are super tight on funds, this one will do the job!
3. BestMassage Shiatsu- Best Budget Massage Chair (Under $500)
If you came here looking for the best chair under $2000, perhaps you didn't expect to be spending $1,999.00. So if you're looking for amazing value at a lower sticker price, don't worry, we have you covered.
BestMassage has come to the rescue of everyone who isn't interested in dropping an entire paycheck or two on a massage chair. So what are the features that make this the best value in massage chairs under $1,000?
Fully Adjustable Massages. 7 styles of massage, speed control, width control, and 3 intensity levels. It may take a few tries, but you'll be able to fine-tune this chair to give you the exact massage your body craves!
The airbag system works in combination with heat therapy to increase circulation. This helps reduce pain and inflammation in both your joints and your muscles.
Ironclad guarantee. BestMassage guarantees that you will love this chair! If you don't, you are eligible for a 100% refund! Have no fear though, this chair has excellent reviews and people who buy it absolutely love it.
3 Things To Think About When Buying A Massage Chair For Large People
At the price point that we were looking in, some compromises have to be made. You will obviously have to miss out on digital touchpad controls and probably on real leather. This is especially true of big and tall massage chairs where even more material is needed.
But what about everything else? Do you also have to skimp on quality? Well, let's talk about the things that should be maximized (and a few pitfalls to avoid) when looking for the best massage chair under 2000 dollars:
1. Make Sure You're Getting a Full-Body Massage Chair…if that's what you want…
When I first started looking at massage chairs, I found some that seemed to be very good high-quality machines…until I realized that they didn't actually provide a full-body massage.
They were simply massage chairs with footrests that provided back massages. While this is fine if you're only after a back massage, you'll get the most benefit from a full-body machine. All of the machines we recommended are full-body machines. Check out some of the areas you can hit using our #1 recommendation!
2. Avoid Chairs with too much "tech" built-in.
If manufacturers are building a chair that will sell for less than $2,000, they have a limited budget to spend if they want to remain profitable. Every dollar that is spent on digital readouts, Bluetooth, speakers, etc. is a dollar that is taken away from making the actual massaging part of the chair higher quality.
The ultimate chair (at least in my opinion) would be plain looking and have bare-bones controls. But underneath the surface, it would have extremely high-quality rollers and sophisticated programs to make sure it did the job (actually massaging) as well as possible.
If you want bling, lights, and strange designs, you can find them! Just not in this review…
3. Make sure your chair will fit into your house…
One of the most common complaints about traditional massage chairs is, "I didn't realize how big it is! It takes up my whole room!"
Well, lucky for us, there are options out there that will work in 95% of homes. When I was researching chairs, I looked specifically for options that would fit through doors without too much trouble – and then blend in with whatever room you put them in.
How often should you use your massage chair?
There are actually two questions here: how often is optimal, and how often is too often?
To answer the first question, most manufacturers have recommendations for their chairs – which is twice a day. Morning and night are typically sufficient to get all the benefits of a massage, although if you're lucky enough to have a chair at work, a midday massage can help relieve the tension that builds in your neck and back.
As far as "too often," there isn't really a definitive answer. Overuse of a massage chair can lead to bruising and sores, but most people would stop well before that happened. As long as you aren't trying to get massages all night or throughout a movie marathon, you're unlikely to overdo it.
Are massage chairs useful for big and tall people?
Yes! In fact, if anyone is in need of a massage, it's big and tall people. Being both taller and heavier than average, I can tell you that my joints and muscles are often disgruntled with their daily work.
Being heavy takes a toll on your muscles, and as you add weight, this becomes worse. If you are overweight or even obese, I'm sure you can attest to the fact that your muscles can get sore and cramp up from just performing normal tasks. The solution? Well, we need the best massage chair for big and tall people!
To say that some massage chairs are more suited for big and tall people would be an oversimplification. It would be more accurate to say that some machines are completely unusable for heavy or tall people.
I weigh around 255 pounds, but even at that weight, I am above the weight limit for most massage chairs!
For that reason, I chose only chairs for this review that are suitable for a wide range of weights and heights. Check out the included stats in the chart above, and if you don't find one that will suit your needs, you will probably have to increase your budget to find a suitable option.
In conclusion, get a massage chair!
Hopefully, you now have an idea of the types and caliber of chairs you are looking at within your budget. Actually, it should be more than that, you now know exactly what is the best massage chair under 2000 dollars! Now, all that is left is to buy it!