There is almost nothing as amazing as taking a walk outside, taking a short run, or maybe just sitting in a park to breathe in the smells of nature. Unfortunately, if you are morbidly obese, you may have forgotten just how amazing all of these experiences can truly be.
If you are only starting to look for things to do outside while morbidly obese, a good hobby that will lead to others is simply walking. If you are looking for something slower, you can read books in parks, get a pet, go camping, or even start playing slower games like golf.
There are several things that morbidly obese people can do that will allow them to comfortably enjoy the outdoors. It is not always about exercising or trying to run a mile; sometimes, just the act of getting outside of a building, walking on grass, and being closer to the natural world is enough.
Table of Contents
What Is the Best Activity for Obese People?
We will be listing what we think are the best actual activities in the outdoors that obese people should try to do; however, there are two things we find more important. The struggle of being obese and losing weight is often not tied to the will to lose the weight or the ignorance of it is fine.
Usually, the problem is that there is a sense of shame that comes with being this large, preventing anyone morbidly obese from taking the right steps. This is why it is important to first focus on the actual goal of all of these activities instead of simply listing them down.
Getting Outside
Possibly the biggest reason that you should try outdoor hobbies that are fine for the morbidly obese is to be outside of your house. You will need to start walking, seeing the world, and experiencing new things that you may not have experienced before while becoming more active.
Simply being outside, even if you aren't doing a lot while outside, will help to build confidence, helping you to meet new people and become more active. Many times, the problem that obese people fight is the internal fight that they may be judged for their size when this is not true.
Trying New Things
It sounds extremely cliché, but the more you try, the more likely you are to discover something you may have always loved. Just the act of looking for new things to try, even if they seem like something you may not like, will allow you to get a bit more active.
Seeing how things work, how people interact, or how to truly enjoy yourself while being alone is a way towards being better. Sometimes it takes just seeing what the world is like outside to realize that not only does nobody else care about what you look like, many will join you in your activity.
Best Hobbies To Get A Start On Physical Activity
If you are morbidly obese, the chances are extremely high that you have been told to start doing outdoor hobbies because you need to become more active. It may be the start of your weight loss journey, or it may even be that you are working towards a much-needed surgery.
Either way, you will need to find things to do outdoors that are not simply being outdoors but are actively burning your calories. We highly recommend that you do one of the following three to ensure that you lose some calories while you are outside and being active.
Walking And Exploring
Walking is by far the easiest and most effective (not to mention fun) hobby that you can do outdoors to facilitate losing some weight. However, we recommend starting extremely slowly, just walking down the block from your apartment, house, or flat is already a fantastic starting point.
The chances are high that your muscles may not be strong enough at the start to support it, and after the first few walks that you do, it will hurt. However, if you continue to go, your muscles will become stronger, and if you take it slow, you will not hurt yourself; slow and steady are wildly more important than fast and intense.
Water Fun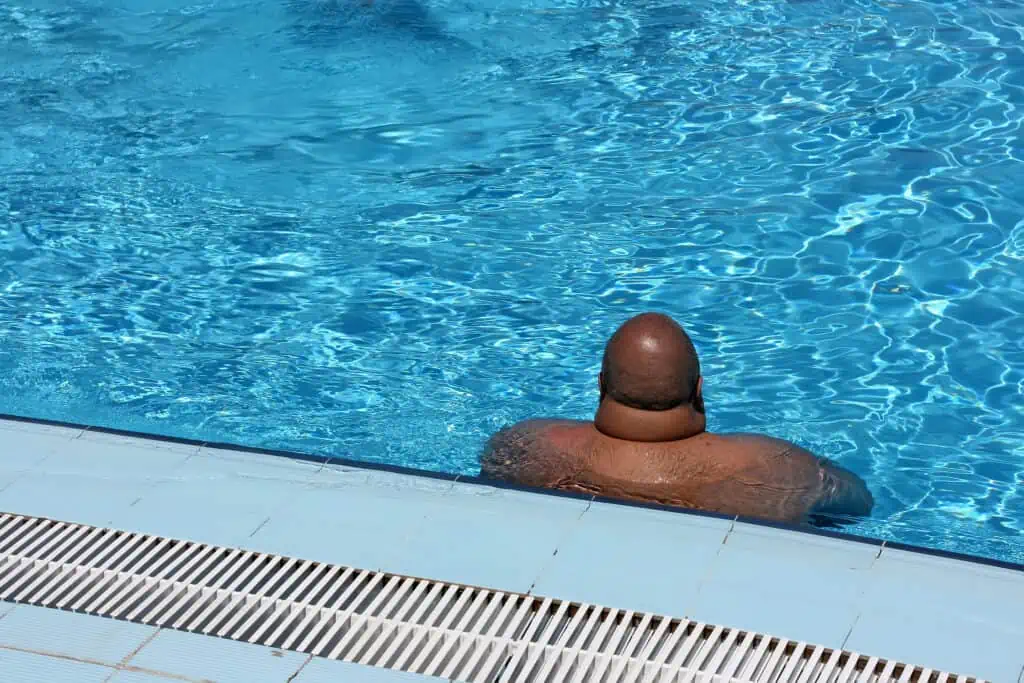 For those who are completely and hopelessly morbidly obese, there is no better activity outside than swimming. Even just moving around a small pool is enough to help you become more active, burning through your calories and working on losing weight.
Because the water lightens your entire load, it is safer to do these exercises, as your leg muscles, heart, and other parts will not be as taxed. Allowing you to be outside, to experience the world around us without having to be afraid of damaging yourself or your internal organs.
Yoga
Yoga can technically be done anywhere on earth, even on your bed or couch, but there is a profound joy that can be found in doing it outside. Doing yoga on a mat in the middle of your garden, a park, or the woods as far away from everyone as possible is a fantastic way to start becoming much more active.
Doing yoga helps strengthen and flex the muscles in your body, causing a healthy increase in your heart rate and ensuring that you are slowly becoming stronger. We always recommend that plus-size people start yoga as it is a fantastic introduction to the world of being active.
8 Additional Activities For Obese People
Outdoor Activities
Now that we have the outdoor hobbies that will see you becoming more active as an obese person, we need to look at a few that will see you just being outdoors. These hobbies may seem strange or strangely alien but doing them outside is extremely fun.
Each of these is wildly different and will deliver an experience to see you having a relaxing time or discovering new places and things. We recommend that you try each one to see how amazing it can be to experience things you may never have thought of before.
Golf: Golf is a sport that is both relaxing and low effort and can have you go to many new places while seeing some truly unique things. Further, with special golf clubs, it is possible to play the game without having to stress about your size negatively affecting you.
Outdoor Reading: We recommend this to anyone, regardless of your size, as it is simply one of the most effective ways to relax. You don't have to read books, magazines, instruction manuals, or manga; even the back of your shampoo bottle will do. The point is to do it outside.
Bird Watching: One of those activities seems almost stupid from the outside, but once you actively start looking for the birds around you, it can be amazing. Many people have found themselves suddenly willing to drive around their country trying to see every single bird they can find.
Getting A Pet: A cat, a lizard, a marmoset, or even just man's best friend, the dog, all of these pets love being able to go outside. Having a pet is both a hobby and a complete joy and will have you becoming much more healthy for the simple fact of keeping your new furry friend as happy as possible.
Camping: We know what everyone is thinking, and we will still say that camping is possibly the best thing to do when you are morbidly obese. Even if all you do is drive to the campsites and then back, it will help to return you to nature and provide complete and total motivation to change. Just don't forget the oversized sleeping cot and high-capacity camp chairs!
Indoor Activities
While there's a lot to be said about enjoying the great outdoors, there are also a number of indoor activities that can keep you physically active and engaged while being comfortable in your own environment. The key to these activities is to focus on what you enjoy doing, rather than what you think you "should" be doing. Physical activity should be enjoyable and sustainable, not just a form of punishment or obligation.
Gaming (With a Twist): Video games are usually seen as a sedentary activity, but modern gaming has changed this perception. There are a variety of active video games that incorporate movement and physical activity into the gaming experience. Systems like the Nintendo Switch have a range of fitness-focused games, such as Ring Fit Adventure, which combines traditional RPG elements with exercise, or Just Dance, which turns your living room into a dance floor.
Virtual reality (VR) is another fantastic option for creating an immersive gaming experience that can also get you moving. Many VR games encourage physical movement, whether it's through boxing, dancing, or even virtual tennis.
Remember, the most important thing is to find a game that you enjoy. The more fun you have, the more likely you are to stick with it.
Indoor Gardening: Gardening is a great activity that combines movement with the therapeutic benefits of caring for plants. For those who are obese, bending, squatting, and reaching in an outdoor garden may be a challenge. However, with indoor gardening, you can adjust the environment to your needs. Vertical gardens, for instance, can be placed at a comfortable height, eliminating the need for bending or kneeling.
Indoor gardening also offers the opportunity to grow your own healthy food. Herbs, leafy greens, and even certain fruits can be grown inside, providing a bounty of fresh produce and the satisfaction of growing your own food.
Yoga and Pilates: Both yoga and Pilates are forms of low-impact exercise that focus on stretching, flexibility, and core strength. They are ideal for people who are obese as they can be modified to suit any fitness level and can be done in the privacy of your own home. There are numerous online classes or DVDs available that can guide you through the poses and sequences.
One important thing to note is the importance of having the right equipment. Using a thicker yoga mat can provide better support and cushioning, while props such as yoga blocks and straps can help with balance and flexibility.
Conclusion
If you are morbidly obese, you will naturally think that there is absolutely nothing for you to do outside of your own house. However, this is not only factually wrong; it is a lie that many tell themselves to hide their insecurity.
Remember, everyone out there is so focused on themselves that they won't even notice you until you are long gone!