As an Amazon Associate I earn from qualifying purchases.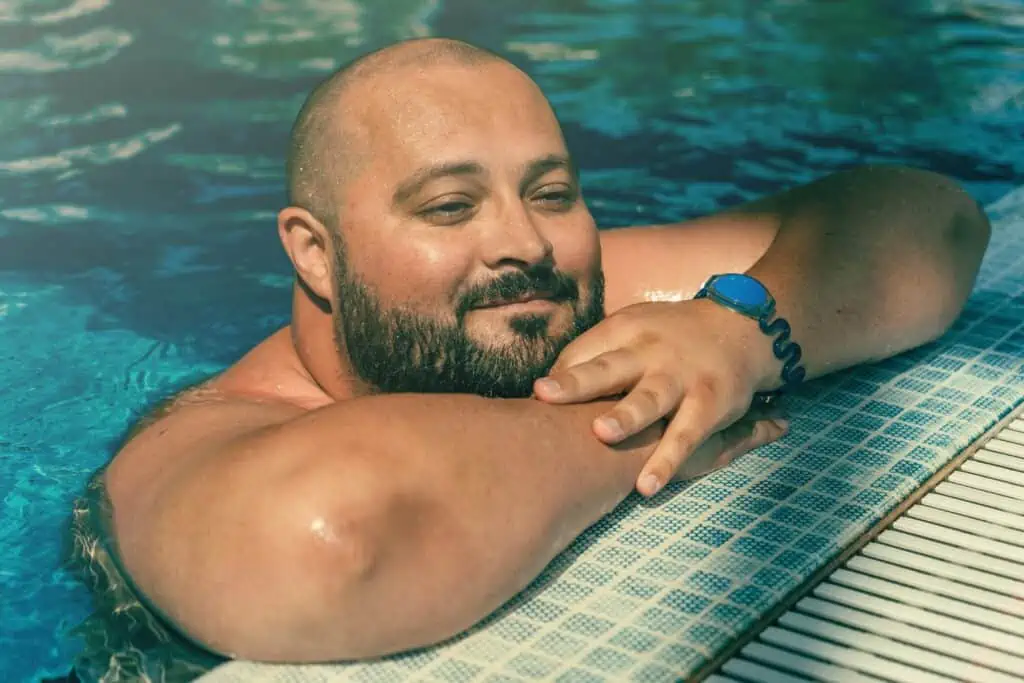 Finding a swimsuit as a fat guy really isn't that hard. Just go to Walmart and buy a 5XL pair of swim trunks.
You'll fit in perfectly with every other fat guy on the beach who buys cheap, ill-fitting, rash-inducing, slow-drying shorts to swim in.
A few years ago I decided that that was no longer going to be me. If I'm going to be the fat guy at the beach I certainly wasn't going to give people another reason to think poorly of me. I was going to wear a swimsuit that either looked nice or was so expensive that no one would dare make fun of it.
Luckily, the price of a swimsuit isn't directly related to its quality. There are plenty of awesome swimsuits for big guys that fit well and do the job without a hitch that can be had for fairly cheap.
So if you're in the fat camp as well (not literally…there's no swimming at fat camp…) and want a decent bathing suit this summer for pool, lake, or beach time, I've got you covered.
I was able to find a bunch of options that are not only available in a wide range of sizes but are actually comfortable, function well, and (almost) flattering.
Now, I bet you'll hate at least one of these, but I did my best to include a variety of options. I've seen other guys write articles like this and every single option is the same thing from a different brand. I won't waste your time like that. So here are the 7 distinct options.
7 Best Swim Suits For Fat Guys
1. O'Neill GI Jack Hyperfreak Boardshorts – Best Overall Swim Trunks For Big Guys
O'Neill has been producing killer surf products for more than 70 years and swimsuits for almost as long.
This suit is an extended-size version (with American flag patches) of the Hyperfreak, one of their most popular men's swimsuits.
It is made out of O'Neill's proprietary Hyperfreak material which is a stretchy amalgamation of 91% polyester and 9% elastane. It's comfortable, durable, and holds its color well.
I've had this suit for about two years and it's showing very little wear.
It's a bit longer than most suits I recommend (21″ outseam) but has a flattering semi-slim leg fit.
The addition of a zipper pocket and key loop round out all the features you could possibly need in this suit.
Except for the fit.
I wish it came in bigger sizes but O'neill's extended line only goes up to 52″ in 1-2″ increments. It fits fairly true to size so, within that range, you're golden!
Oh, and it has no net. They are true board shorts which means you should (definitely) get some undies to wear underneath them.
While you've probably never spent this much on swim trunks you've also never had a suit this nice. So suck it up and order one!
2. Kanu Surf Men's Infinite – Best Budget Swimsuit For Fat Guys
If you like the O'Neill shorts but just can't commit to the price, Kanu Surf might have what you need.
Their suit has a bit less stretch and, in my opinion, isn't quite as comfortable but it checks almost all the other boxes.
This is a lined suit (mesh liner) that is made of quick-dry microfiber (UPF rating of 50+) and is quick-drying.
Its triple-needle side seams mean that you won't be busting out of them any time soon, even with huge thighs.
So if you need a good solid swimsuit (that comes in 44 different colors) then this is a great choice.
As long as you need a size bigger than 5X.
3. Falcon Bay Big & Tall – Best Swim Suit For Obese Guys (Up to 8X)
If you're a really big guy that wants a retro look, here it is, in all of its chevron glory. Even if you hate the colorway this is the biggest suit on the market, available in sizes up to 8X (and yes, it fits true to size).
It is made of quick-drying microfiber polyester which has the added benefit of being super soft for your skin.
The best part is that it's actually made for tall guys. Many big & tall items are actually just supersized versions of the regular item and don't take into account that big guys are built differently.
Otherwise, this suit featured all the normal swimsuit features: two front pockets, a rear velcro pocket, and an elastic and drawstring waist.
While it's quite basic, its major benefit is the extended sizes it's available in so if you're in need of a suit bigger than 6X, this is probably your best bet!
4. AERO|TECH|DESIGNS – Best Swim Jammers For Big Guys
If you're a big guy that is swimming for fitness or needs a jammer to wear under scuba gear, this is one of the few options available in large sizes.
It does fit slightly small but comes in sizes up to 6X and is of decent quality for the price.
If you need a big man's swim jammer, these options are few and far between so pick this one up!
5. HUK Next Level – Best Swim Shorts For Swimming, Boating, Fishing, etc.
If you're going to be spending the day at the lake or on a boat you probably don't want to wear a swimsuit the entire time. Regular shorts are just more comfortable and functional.
Huk makes really gear water/fishing gear and these shorts are no exception.
They are quick-drying, have a ton of pockets, fall to the knee (preventing those nasty knee sunburns), and are available in sizes up to 3XL (48″ waist). So if you're going to be in/around water and don't feel like wearing a swimsuit, try out a pair (or more) of these!
6. Tommy Hilfiger Big & Tall 7" – Best Short Bathing Suit For Big Guys
You might be surprised to see a mall brand like Tommy Hilfiger on the list but, the reality is, that they make a ton of their clothing in plus sizes. This pair of shorts, for example, is available in big & tall sizes up to 6X.
But that's not all it's got going for it. It's well fitted, has a 7″ inseam, and I personally love the color block pattern.
So if you're looking for something a bit more brand and fashion-conscious, Tommy Hilfiger is calling your name.
7. Chubbies Stretch Swimming Board Shorts, 5.5" – Best Swim Trunks For Big Guys With Big Thighs
You've probably never considered a "bro" swimsuit like chubbies if you're a fat guy but, in my opinion, they're a solid option.
If you're a big guy with bigger thighs them chubbies can be a great look. You don't have to be a muscle-head to get away with wearing them either.
The unfortunate part is that they're only available in sizes up to 2XL but, if they fit, they are a premium bathing suit that looks and feels great. Or at least they do from what I remember since I outgrew mine about 60lbs ago.
What Makes A Good Swim Suit For Big Guys
If you are a fat guy, I'm sorry, but no swimsuit is going to cover up your belly. There's no way to make people think you're less fat than you are (I use a swim shirt for that).
However, a well-fitting swimsuit will do wonders for how you present yourself overall.
A high-quality pair of swim trunks that is well cut will not go up in the middle (like shorts do on everyone that's fat), won't show your butt crack to the world, won't cling to your legs in the front when wet, won't stretch over your big thighs, and more.
In other words, a quality swimsuit makes me feel like a fat guy wearing a swimsuit rather that an obese guy in a sausage casing.
So if you're obese, here's what makes a good suit. It's more than just size.
1. Material/Fabric
I'll be the first person to admit that I don't know how fabric works. I don't know how one pair of nylon swim trunks can feel like a paper bag, another one can feel like a WW2 parachute, and another can be soft and comfortable.
What I do know is that the overall feel and function of the material is the most important thing in a swimsuit.
So while I am not knowledgeable to recommend a specific material, I found options that dried fast, were comfortable and had a bit of stretch to them.
If you're a big guy, a bit of stretch will make all the difference in how your clothing (not just swim trunks) fit and how long they last.
Unfortunately, premium materials command a premium price but it's just the cost of being comfortable and "fashionable" I'm afraid.
2. Pattern
Somehow nobody ever has fashion advice for fat guys beyond "don't wear stripes."
While that's decent advice I'll take it a bit further.
Go for dark solid colors without any significant patterns. Avoid anything red, orange, yellow, or white that could just make you look like a big flesh-colored blog.
My personal preference is solid black but you'll do just as well with grays, dark blue, etc.
3. Net (or not)
In general, I advise guys to get board shorts and wear boxers underneath. It's more slimming, you have less of a chance to show your butt crack to the world, you'll be more comfortable, and there's less of a chance you are the fat guy with an awkward "front lump."
4. Type Of Closure
While the type of closure is mainly down to personal preference I will give you two types to avoid. If a swimsuit has either a velcro-only closure or a faux drawstring (that doesn't go all the way around) then you'll want to pass on it.
If you want your suit to stay up you'll need a full draw-string. This usually comes in conjunction with velcro, a button, or snap, all of which are just fine.
5. Length
Most big guys want to cover up as much of their bodies as possible and end up doing themselves a disservice.
One of the worst things you can do is get a pair of swim trunks that are way too long. If your trunks fall a couple of inches past your knee it's incredibly unflattering.
A too-long swimsuit gives the impression that you are a marshmallow on legs. People see your big belly and upper body and then see nothing until your calves, the skinniest part of your legs.
It's far better to wear a slighter shorter suit that will give your body a more proportional look.
While you don't need to go back to the 80s and borrow John Stockton's shorts, shorts that fall about an inch above your knee cap tend to be the most flattering. For most guys, this is a 7″ or 9″ inseam (depending on the rise).
In conjunction with length, look for legs that are slightly tapered. You don't want a flappy swimsuit that gives the impression of chicken legs underneath. Even if you have big thighs, a slimmer-fitting suit that falls above the knee will typically look the best.
Just don't forget that the fabric needs to have some stretch so you can still walk around!
3 Quick Tips To Look Better At The Pool, Lake, or Beach
Even if you have a nice swimsuit you can still mess things up. Who knew that wearing a swimsuit could be so complex?
Well, hopefully, most of these are common sense and you should know them already. But if you don't, a bit of course correction could make you more confident.
Wear your swimsuit under your belly. Pants should go on your belly (to avoid short-leg syndrome) but a swimsuit should go underneath or toward the bottom. Avoid the old-man Elmer Fudd situation of placing your swimsuit right around the middle of your belly.
Don't wear an overly short suit. Wearing too short of a short suit will probably make you a bit more of a spectacle than you'd like. While I'd stick with a long suit, most of this is honestly just preference. If you want to wear a speedo, go for it. Just make sure it doesn't disappear under your belly or you'll have neighborhood moms calling the cops. Or so I hear.
Practice good hygiene and grooming. I hate to say it, but many of the things I do as a fat guy are to avoid standing out. This includes having great hygiene. Nobody wants to be the fat guy that also has bad hair, who also sweats a lot, who also has shoulder hair, etc. So get a haircut, trim your body hair, etc. These are things that have nothing to do with your size that can improve your looks.
Conclusion
Now, I know I probably went a bit overboard.
If you read through this and you're like, "What the hell man? I just wanted a 5XL swimsuit, not a dissertation of fabric and fashion" then I'm sorry. Just scroll back up and get the first option on the list.
But as a fat guy, I tend to overthink things, and making better choices hasn't hurt me yet!
So choose whatever suit your want and put the rest of what I talked about out of your head afterward. You'll be so comfortable and stylish you won't need it anyway. Have fun!