As an Amazon Associate I earn from qualifying purchases.
Best Topper For Heavy People – Quick Look
The best mattress topper for heavy people will be at least 3″ thick and made of high-density material. Unless you have specific support needs or temperature regulation issues a memory foam topper will be the best choice.
Available Sizes
Twin, Twin XL, Full, Queen, King
Twin, Twin XL, Full, Short Queen, Queen, King
Twin, Twin XL, Full, Queen, King, California King
Twin, Twin XL, Full, Short Queen, Queen, Super Queen, RV King, King, California King
Available Sizes
Twin, Twin XL, Full, Queen, King
Available Sizes
Twin, Twin XL, Full, Short Queen, Queen, King
Available Sizes
Twin, Twin XL, Full, Queen, King, California King
Available Sizes
Twin, Twin XL, Full, Short Queen, Queen, Super Queen, RV King, King, California King
Affiliate links / Images from Amazon Product Advertising API
When my wife and I were first married we spent way too much money on a mattress. While an $800 mattress isn't at all expensive in the world of premium mattresses, it was a large investment for us. If the mattress was amazing, I would have no regrets…but it wasn't.
The reason that I say we overspent is that, within the first few months, something gave way inside the mattress while I was sitting on the edge putting on my socks. Since money was tight and we couldn't afford a new mattress, I spent the next two years with my backbone being slowly shaped into a banana, courtesy of my mattress.
By the end of those two years, I was sleep-deprived, had back pain, and had developed the beginnings of sciatica.
It may seem overly dramatic to you for me to attribute all of those issues to a mattress but I don't think it is. In fact, there is nowhere that a person spends as much time as their mattress! Especially not such a long chunk of time without a break.
Most people spend about 1/3 of their day asleep so, even if you watch 6 hours of TV in your recliner or spend 7 hours in your desk chair at work, your mattress is more influential on your health and well-being.
Had I known that there was a simple fix for my pain and sleep issues (as well as my wife's temperature regulation issues while sleeping…) I would have all over it in a second! But, being busy with school and two jobs, neither of us had much time to delve into the world of mattress toppers!
Must Know – How Do Mattress Topper Density Ratings Work?
Before we get started, it's crucial that we talk about foam density. While normal sized people can get away without understanding this, big and heavy people can't.
So let's give it a quick rundown.
Contrary to popular belief, the density ratings you see for mattresses do not actually tell you how firm a mattress is. While firmness and density are related, it is common for two mattresses of the same density to have different firmness levels. So which mattress topper density is best for a heavy person?
If you're really into figuring out how they two differ, you can read a great (but lengthy) explanation here. If you don't really care and just want a product meant for you, read on!
A quick explanation:
Mattress density measures the mass of a cubic foot (a 12″x12″ block) of foam.
Imagine there are two different mattresses. One has a 2.5-pound density, and the other has a 5-pound density. The 5-pound density mattress topper has twice as many "foam cells" per cubic foot as the less dense mattress. However, these could be hard or squishy foam cells. This dictates how firm (or not) the topper will be. Now, every time you lay on your mattress/mattress topper, some of those cells break down and the topper will eventually start to sag. In the 5lb density mattress, way more foam cells can break down before the foam loses its structure and can't rebound.
So unless your weight is below average, you want a high-density mattress topper with a medium or firm feel. The increased firmness will provide better support to your pressure points and the higher density will ensure that your mattress lasts longer.
| | | | | |
| --- | --- | --- | --- | --- |
| Mattress Density | Weight | Recommended Weight | Average Lifespan | Who It's Meant For |
| Low | <3lb/ft3 | <150lbs | 2-3 Years | Very light sleepers, people that sleep hot, shoppers on a budget, people who need minimal padding/support |
| Medium | 3-5lb/ft3 | <200lbs | 3-5 Years | Light/average-size sleepers, though with occasional back or hip pain, side sleepers |
| High | >5lb/ft3 | >200lbs | 5+ Years | Average and heavy users, those who suffer from regular back/hip pain, side/back/stomach sleepers, seniors |
Mattress Topper Density Chart for Heavy People
The one last characteristic of a great mattress topper for heavy people that I will mention is depth. No matter how firm/dense your mattress topper is, if you are heavy, you will sink deeper into the foam than the average person. For this reason, I would never recommend a topper that is less than 3″ to a big and heavy person. Even an average person will often sink all the way through a 1-2″ mattress topper without receiving many benefits.
As density is to longevity, thickness is to comfort. Unless you have an extremely expensive mattress, a mattress topper will increase your comfort. So, you should do your best to get the thickest option available. At least that was my plan because I wanted to cover up my old mattress as much as possible. However, if you're a heavy person, you'll get more benefits from a thick option regardless.
So repeat after me: firm, dense, and thick!
With that in mind, let's take a look at some of the best options.
The Best Mattress Toppers For Big & Heavy People
1. PERLECARE Gel Memory Foam Mattress Topper – Best Overall
If you've never slept on a memory foam mattress you might not understand why they get so much attention. Well, let me tell you this, memory foam is the reason that many people (myself included) are able to sleep soundly through the night and wake up pain-free in the morning!
However, memory foam mattresses can be expensive and, just because it's memory foam, doesn't mean that they will be comfortable and supportive. In fact, I have had several friends complain to me after buying a memory foam mattress saying that they are sleeping worse than they did before!
To those friends, you, and anyone else looking to greatly improve the comfort of their mattress I say the same thing, get the Sweetnight mattress topper for heavy people!
This mattress topper is made of extremely high-quality (meaning it's very dense) memory foam which will reduce your pressure points and transform your current mattress. Not only does it optimize firmness (and reduce sagging if your mattress is wearing out) but it can regulate your body temperature, reduce hip/back pain, and leave you feeling rested in the morning!
Two other great things about this topper (they both excited my wife more than me but I still think that they're cool): are that it has a machine-washable cover and straps to hold it in place: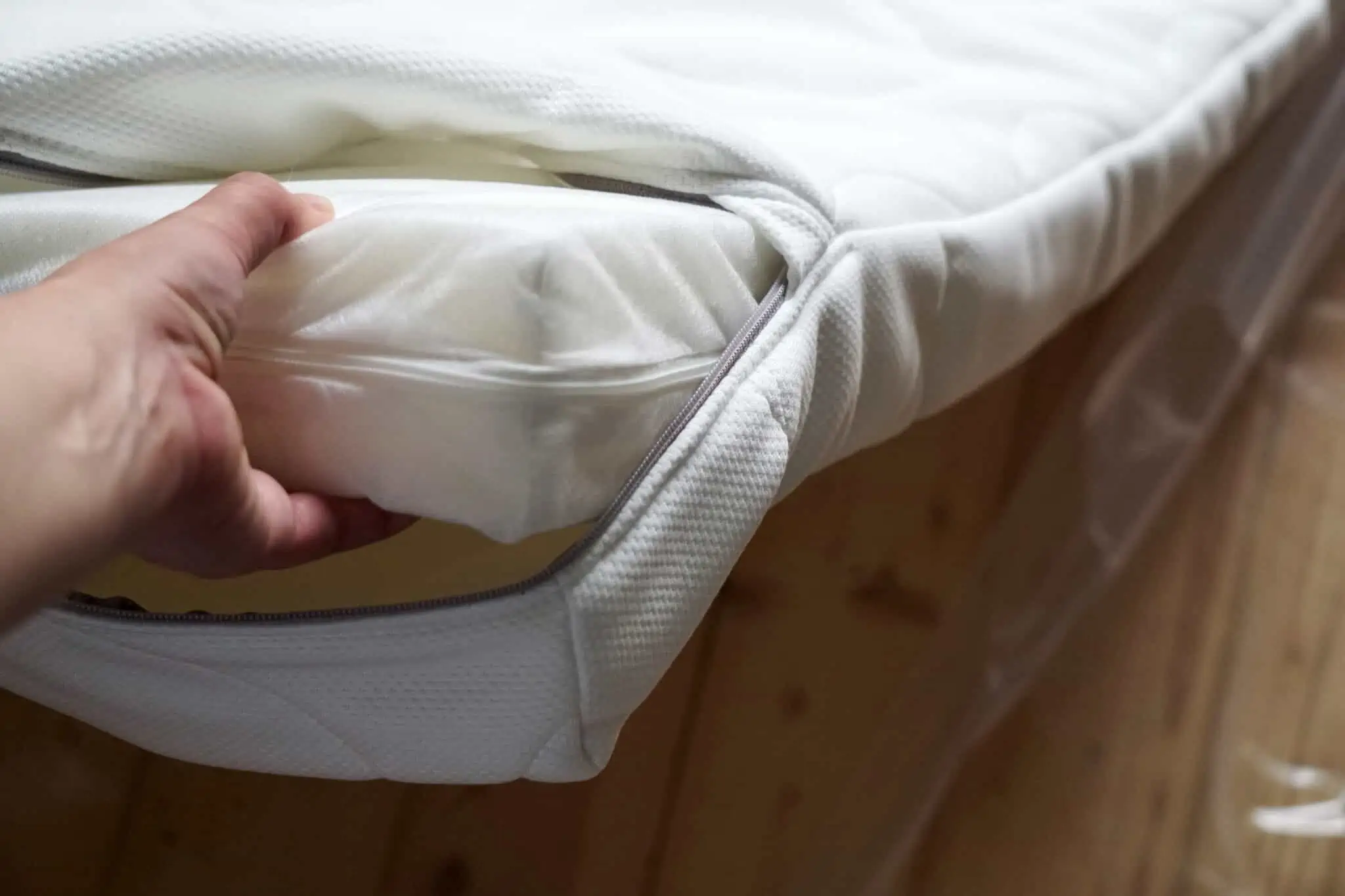 Because it is so dense, this topper should give us many years of comfortable sleep. In fact, we're expecting it to outlast our mattress. If getting a good night's sleep, waking up more rested and happy, and being more productive during the day isn't worth a dime a night you're probably in the wrong place!
If it is worth it to you, however, get one today and start sleeping better!
2. Mellow Ventilated Memory Foam Mattress Topper
This topper is very similar to the first option, but what makes it possibly even better for a fat guy like me is that is has cooling channels built into it.
If there's one criticism of memory foam it's that you sink into it and sleep hot.
While I won't claim that the holes totally fix this, it's better that a kick in the face.
If you are obese, this may not provide adequate support for your needs but, for the rest of the population, it is an excellent option! It comes in multiple thicknesses for about every size of mattress you could possible need and, what's more, it's imbued with a light lavender scent (hence the purple)!
If you hate lavender (like I do) don't worry, it's not strong and fades over time.
3. ViscoSoft 4 Inch Pillow Top Memory Foam Mattress Topper
This mattress topper made by Sure2Sleep has two distinct differences from the above options: first of all, it's way cheaper. Secondly, its main purpose is to keep you cooler (while cushioning of course).
It is made with cool gel-infused memory foam so that you, in theory, get all of the benefits of a memory foam topper with the cooling effect of the gel.
So if money is tight, this is the best option, hands down. Not only is it significantly cheaper, but it comes with Sure2Sleep's 30-Night-No-Risk Trial. Meaning that if you're not fully satisfied within that time frame you can return it for a no questions asked complete refund.
And if you decide to keep it? Well, then you'll be covered by their full 3-year warranty to make sure that your topper keeps cushioning at full capacity for its full life!
4. EASELAND Pillow Top Mattress Cover Pad
Okay, I had to sneak this one here at the end even though it's not actually a topper.
Many big and heavy people don't actually know what they need to improve their sleep and I was one of them when I started shopping.
The main things you'll have to decide is if you need additional support or if you just want comfort. If you need the support, any of the above options will get the job done.
However, if you want to avoid the risk of raising your sleeping temperature (fat people sweat more anyway, ya know?) then maybe you just need a topper.
If that's the case, this down-alternative topper will add some comfort to your existing mattress without adding too much bulk (which makes fitting sheets difficult) or costing an arm and a leg.
4 Ways A Mattress Topper Improves Sleep
I already mentioned several of the benefits that I received from a mattress topper. However, some people have an even more life-changing experience when they fix their sleep. Here are a few of my favorites that people talk about:
1. They Can Regular Your Temperature
As a big guy, I have never had a problem staying warm at night. In fact, it's quite the opposite. Most mattresses "sleep" way too hot for me and some of them (typically soft memory foam ones) are completely unusable because I'll just sink into a pool of my own sweat. Yuck.
2. They Extend The Life Of Your Mattress
Bought a mattress that's too soft? Get a mattress topper for a heavy person. Bought a mattress that's too hard? Get a mattress topper for a heavy person. Worried about your expensive mattress wearing out? Try a mattress topper! Trying to avoid buying a new mattress? Buy a….well, you get the idea.
3. They Can Reduce Pain And Soreness
A memory foam mattress topper can help decrease pain and soreness upon waking for those of us with higher body weight by providing additional support and comfort.
While I can't say that I'm a totally new man (although some people experience changes that significant) I can say that I've experienced all of the following:
Pressure point relief: Memory foam is designed to mold to the shape of the body and distribute weight evenly across the surface. This helps to alleviate pressure on specific points, such as the hips, shoulders, and lower back, which are often sources of pain and discomfort for heavier individuals.
Spinal alignment: Proper spinal alignment is crucial for preventing pain and discomfort while sleeping. Memory foam mattress toppers can adapt to the body's unique contours and support the natural curvature of the spine, promoting a healthier sleeping posture.
Motion isolation: Memory foam has excellent motion isolation properties, meaning it absorbs movement and prevents it from transferring across the bed. This can be particularly helpful for heavier individuals who may experience more motion during sleep, as it can minimize disruptions and improve overall sleep quality.
4. They Can Increase Your Focus, Memory, Sex-Drive, and Mood
Wait, what the heck? Are they magical? Well, yes and no. A mattress topper that fits your weight will do all those things and more because it will improve the quality of your sleep.
If you need some more sleep tips, check out our article on the Best Sleep Tips For Obese People!
What if you have hip pain, shoulder pain, or back pain?
If you are a side or back sleeper, you have probably experienced hip and/or shoulder pain. Whenever we visit my wife's family we spend our nights on a roll-out bed from IKEA which…isn't terrible. But as a big and heavy guy, my shoulder and hip are aching by the second night. So, while I can't take a mattress topper with me (my wife says so….) I can surely have the best mattress topper for hip pain ready to relieve my aches when I get back home! So what characteristics should we be looking for?
Thickness: The best mattress topper for resolving hip pain issues is one that allows the "low points" of your body to sink far enough that they don't have to support your body's entire weight. Typically, this means 3-4″ which just so happens to be the perfect height for heavy people as well!
Density: If you read the above description, you'll know that, for the sake of durability, you should get the densest mattress topper possible. However, if we are talking about firmness, don't get a mattress topper that is too soft. You might think that you need something softer so as to cushion your pressure points but you'd be wrong. A medium firmness topper (or firm if you're heavy) will do a much better job at supporting your torso and the rest of your body, taking the pressure off of your hip and shoulder.
Material: When it comes to mattress topper material, despite what marketers would have you believe, it largely comes down to preference. Some individual mattresses sleep cooler, some are softer, some are more supportive but, in the interest of money and availability, I typically recommend that people get a memory foam topper unless they have a specific aversion to them.
Temperature: While your sleeping temperature does not directly affect hip or other joint pain, sleeping too hot can make you roll around and end up in awkward positions. Getting a topper that will allow you to maintain the proper temperature throughout the night will ensure you are able to stay in the most comfortable position possible and sleep through the night.
All things considered, if you find a mattress topper that is suited to your weight and sleeping style, it will be the best mattress topper for comfort, joint pain, and your overall sleep experience. So, in my case, the best mattress topper for a heavy person is also the best mattress topper for hip pain!
One last thing before you drift off, be sure to get yourself some sheets that will fit over your topper (since your mattress will be taller) and some straps to hold them in place. Goodnight!