As an Amazon Associate I earn from qualifying purchases.
When I was a young guy I was looking for the easiest way to pack on some muscle and lose fat. I found an old rowing machine in my basement and, once I figured out that it wasn't a weird old bench press machine, hopped on to get a workout.
It seemed way too easy to row (I didn't realize it was supposed to be a cardio workout, not a max effort) so I tightened the little screw-clamps all the way down, jumped back on, and bent the rowing arms right in half.
I had never considered myself particularly strong but I quickly learned that normal rowing machines aren't heavy-duty. They're just not meant for big guys. In retrospect, I guess it would have been pretty shocking if the best heavy-duty rowing machine was whatever you found in your parent's basement.
So what makes a rowing machine heavy-duty? Besides the obvious requirement of weight capacity, there are a bunch of things to look for that will help us in making a decision. So let's get to it!
Best Rowing Machines For Big & Heavy People
Affiliate links / Images from Amazon Product Advertising API
If you have a bit more time and are interested in the pros and cons of each machine (as well as what to look for if you want to look at others on the market) then keep reading!
1. Concept2 – Best Rowing Machine For Big & Heavy People
When it comes to rowing machines, there is the Concept2 and then there's everything else. If you are looking for a rowing machine, most people will recommend that you are better off not buying or using one at all until you can save up for this option.
Not only do these machines last forever, but they are repairable, have varied resistance (because they are fan-based, not water or magnetic), and are easy to use.
Many gyms (and all serious gyms) have the Concept2 as their machine of choice. This means that many people (such as myself) who are used to using one at their gym and then try another model at home are extremely disappointed.
Now, the quality doesn't come cheap, I understand that. I would never join the camp of "Concept2 or nothing" because I feel like that only applies to serious athletes who want to improve their rowing performance.
If you're a big guy that wants to get fit via rowing the Concept2 is by far the best option (and has some killer electronics to help you). But there are other options!
I must admit that when I first saw a C2 machine I was convinced that it would break in half when I sat on it. I was wrong. In fact, this machine not only has a 500lb capacity, but it is the machine that gyms throughout the country rely on for their rowing classes. This machine is meant to be used and abused by soccer moms, overweight businessmen, obese patrons, and huge meatheads. Needless to say, if you have it in your house and care for it properly, it will last a lifetime!
In addition to its impeccable build quality, here are the other things I love about this machine:
Industry Leading Workout Control: air resistance is responsive to every stroke and provides even resistance. Also, the level of resistance can be easily adjusted with the damper which has 10 different settings.
Comprehensive Technology Integration and Fitness Tracking: The digital readout records every stroke and workout, includes time and distance, is Bluetooth compatible, connects with most fitness apps, and integrates heart rate data.
Easy assembly and storage: Unlike most heavy-duty rowing machines, this rower is assembled with only 8 screws. This doesn't mean it's simple, it is just a testament to how Concept2 has its users in mind while designing! When it comes to storage, your machine splits easily in half and can be stuck in a closet or basement corner.
Without a doubt, this is the best rowing machine for a heavy person available at this price range. If you have really deep pockets you might do slightly better but, for 99.9% of the population, this is the one you want!
Buying A Used Concept2
When I first started shopping for a rowing machine I knew that a Concept2 would be my eventual goal. After seeing how expensive other brands of (inferior) rowers were, I decided that I would keep my eyes open and pick up a used Concept2.
Keep in mind that these machines hold their value extremely well. It's not unusual to find used machines that are priced within 20% of the price of a new machine. It took me the better part of a year and I finally settled for a machine with about a million meters on it with older electronics.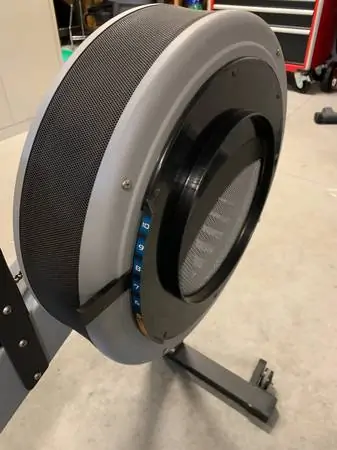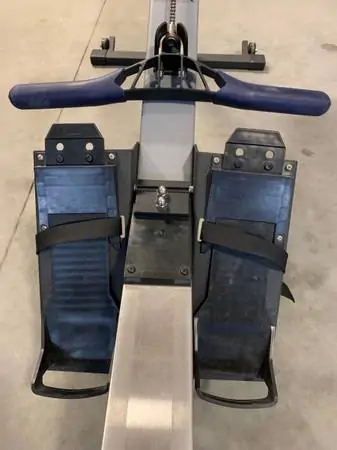 Overall I'm very happy with the machine and have lost a bit over 30 pounds while using it. When I started using it I weighed a bit over 300lbs and it never gave any groans or complaints.
My biggest takeaway is that the Concept2 is such a solid machine that you should never fear buying it used. However, you don't have to jump in at the top of the food chain as I did. After a year of use, I still can't row well enough to tax this machine. So if saving money is a concern let's check out some other options that I considered!
2. BATTIFE – Best Water Rower With a 350lb Capacity
When it comes to a rowing machine, you may have to choose between having the highest capacity rower and having the most natural rowing experience. BATTIFE's water rower provides an amazing experience and would be my top choice if I was under the 350-pound capacity.
Top Features:
The top feature is an obvious one: this is a legitimate water wheel rowing machine. Because of this, it mimics the feel of actual rowing much more closely. If you are not a rower, this may or may not be much of an advantage as you can get an excellent workout either way.
Readout and workout tracking is both highly advanced and user-friendly. Never wonder about intensity, heart rate, duration, strokes, etc. as they're all recorded for you!
This machine can be stored standing on its end for maximum space efficiency.
While this quality doesn't come cheap, if you are a big guy but don't need a rowing machine with a 350 lb capacity, then this may be the best option on the market!
3. Xterra ERG700 – Best Rowing Machine For Big Guys On A Budget
When I wanted first wanted a rowing machine, I couldn't even afford a used Concept2. Not only was it out of my price range, but I wasn't even sure how much I'd actually get out of it. Luckily, there are some cheaper options that are "just about" as good.
In fact, if you are in the 300 lb weight capacity range, several cheaper options for rowers are open to you. Namely, the XTERRA ERG700 which is a steal of a deal. It uses a combination of magnetic and air resistance to provide 16 different levels of resistance, all controlled and easily visible on the state-of-the-art digital readout display.
In fact, the XTERRA performance monitor is probably the best one in our review and clearly displays time, distance, strokes/min, count, calories, heart rate, watts, level, and a graphic showing resistance over time. In addition to all the information, it has 10 pre-loaded and highly effective workouts that will help you target anything from strength to weight loss, to cardio.
With a weight capacity of 350 pounds, this rower is a bit less heavy-duty than the above two options but, being less hefty, it can take up a bit less space in storage (it folds in half). So if you need a rower with more than a 300-pound capacity, check out this awesome mid-range option!
4. Sunny Health & Fitness – Beginner Rowing Machine For Heavy People (350lb Capacity)
If you are very tight on space, funds, or are simply unsure whether or not rowing is for you then this is an entry-level option that will get the job done for big guys.
One advantage that this rower actually has over the others is its impressive level of incline. At its highest level, this can make for an intense lower-body workout in addition to regular rowing.
At this price point, you don't get a readout or digital adjustments but, if you are a big and heavy person just looking for a workout, neither of those things is necessary. If you're looking for all the benefits of rowing (or at least most of them) then you can get them here at a price that won't break the bank!
7 Things To Look For In A High-Capacity Rowing Machine
If none of the above options are quite right for you, let's talk about some criteria that you'll want to think about when you're looking at other rowing machines for heavy people and making your decision.
1. Weight Capacity
Unlike most pieces of exercise equipment, the capacity ratings of rowing machines tend to be fairly accurate. On a treadmill, every step puts much more force on the mat than just your weight. With a rowing machine, your weight is supported by a seat on rollers while the main part of the machine only takes the force of rowing (much less than your weight).
2. Incline
Having an incline function on the rails changes the muscles targeted and allows you greater control over your workout. Putting a lot of incline in the machine is a departure from typical rowing posture so, if you're training for rowing, you might not want the added complexity of adjust-ability.
3. Readout
Most rowing machines come with a digital readout that records strokes, distance, resistance, etc. If you are looking for specific metrics or specific app compatibility be sure to check before purchasing.
4. Track Length
While most heavy-duty rowing machines take user size into account, several of the more budget options cut costs wherever they can. If you are big and tall this may result in your having inadequate space for good form and full extension. The track length is almost always included in the description so be sure to check for it.
5. Resistance System
If you are going to be using your machine for a significant amount of time, limit yourself to air resistance, water resistance, magnetic resistance, or a combination of those. Hydraulic pistons are a poor option as they generate heat and can only be used for 20 mins or so before needing to cool.
6. Single or Dual Handles
While separate handles more closely mimic a real rowing experience, most high-end rowing machines use a single bar which is preferable to most users.
7. Maintenance
All rowing machines require some level of maintenance so, if that sounds disagreeable, look for options that require oiling and maintenance once a month or less.
Can A Rowing Machine Help Me Lose Weight?
If this question is on your mind, let's get it out of the way right up front. The short answer to this question is, yes. The slightly longer answer is, yes, it's probably the best cardio option if you want to lose some fat, recruit the most muscle fibers (on a cardio machine), and get fit in the process.
When it comes to fitness and exercise, the more parts of your body that a workout uses, the better. A quick way to tell how effective an exercise will be is to count how many joints it includes. A single-joint exercise (like dumbbell curls) will obviously be far inferior to a multi-joint exercise such as squats.
This law holds true when it comes to cardio and, if you can use nearly every joint in your body, you will be far ahead in increasing your health. Rowing is one of the best full-body types of exercise that you can do. Whether you are looking to increase your fitness, lose weight, or build some lean body mass, rowing is an excellent option.
Heavy Duty Rowing Machine vs Elliptical
If you are facing a decision between a high-capacity rowing machine or an elliptical, let me make it easy for you. Get the rowing machine.
While I personally love rowing (so I may be a bit biased) rowing has many advantages over cardio bunny elliptical use.
Rowing recruits more joints and, therefore, more muscle fibers.
Rowing is more versatile. You can get a cardio workout or a strength workout depending on your adjustments. Because of an elliptical's motions, it doesn't let you move in a way that uses your leg or arm strength.
Rowing is a more functional movement. The rowing motion, in addition to increasing your fitness, can make you better at lifting (with your arms and back), squatting down, picking things up, etc.
Elliptical machines are ineffective for many people because they have an unnatural gait. In extreme cases, this can even lead to hip pain as your stride is out of its normal rhythm.
So, long story short, a rowing machine is best but, if you have the space, both could serve a function in your fitness arsenal. If you really want an alternative to a rowing machine, check out our article about The Best Treadmills for Big Guys.
Conclusion
A the end of the day, the best rowing machine for a heavy person is the one that you will use most often. Whether you need a heavy-duty rowing machine with a 300, 350, 400, or 1,000-pound capacity, choose one that won't gather dust in a closet or corner.
As with every type of exercise, don't simply choose something that is the most effective option on paper. Do what you love and the results will follow. So get out there, find yourself a rowing machine and get paddling!