As an Amazon Associate I earn from qualifying purchases.
If shoes make the man, then I have always struggled to find my manhood.
In the past, when I have found a pair of dress shoes that actually fit, I wear them until they literally fall off my feet, or the soles are so full of holes I might as well be wearing sandals or going barefoot.
Which brings up another problem, why do my shoes wear out so dang fast?!
Finding shoes as a fat guy can be difficult, especially when you want something other than sandals, loafers, or velcro athletic shoes. Add that to the fact that the best shoes for fat guys are normally off-the-charts expensive (or just funny looking), and you have a recipe for wearing poor-quality shoes that hurt your feet.
On the off chance that you do find a well-fitting shoe, what are the odds that it is in your price range, and more importantly, made well enough to last more than a few months?
Pretty low apparently.
Well, don't worry! I have beat the streets and put in the footwork (haha) necessary to make this article happen: to find the best pair of dress shoes for big guys that will both look awesome and stand the test of time.
My Conclusion – Overall Best Dress Shoe For Big Guys
Neil M Men's Wynne Oxford
Removable footbed provides superior cushioning
Poron insole provides additional cushioning to every step while gel impact dampener softens heel strike and...
Leather and Drilex lining for breathable comfort
Durable and comfortable latex outsole
Affiliate links / Images from Amazon Product Advertising API
Here's my pair after 4 years of nearly daily wear: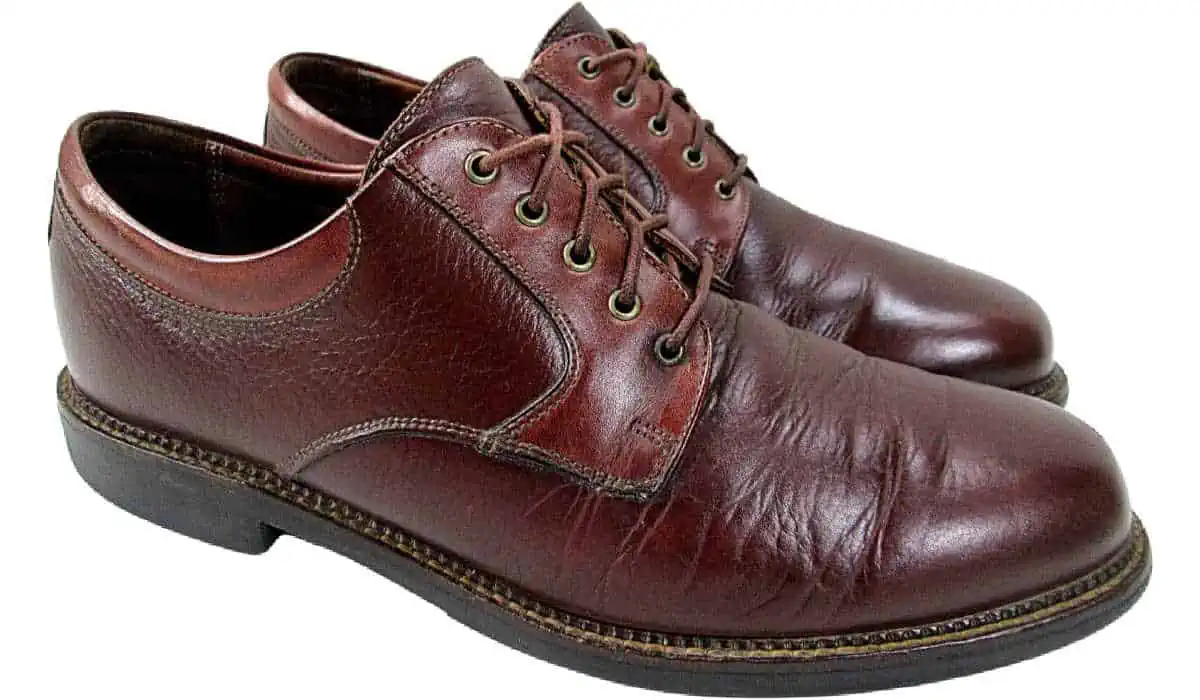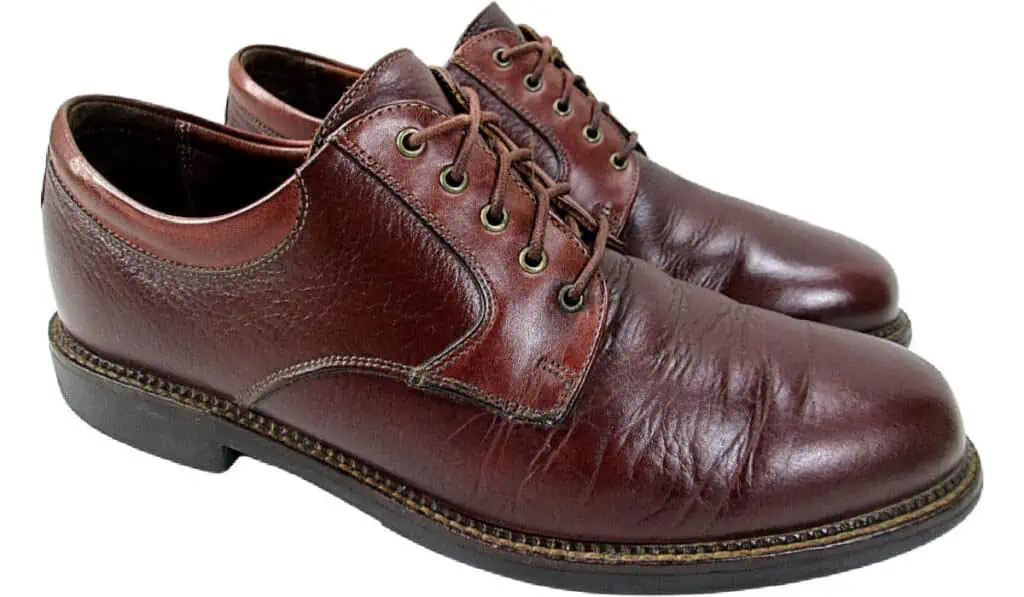 And the most important parts? Still holding in there…


Most of my time is spent at a desk but I do my best to walk at lunch and get in a few thousand steps every day.
While they are obviously worn, they have lasted longer (and have been more comfortable) than any other pair of dress shoes I've owned.
Now, before we get to the rest of the shoes, we have a few issues to address to bring you up to speed. I wasn't able to find a decent pair of dress shoes until I understood these things.
Why Do Your Shoes Wear Out So Fast? (3 Main Reasons)
All of my research has come up with three real reasons that I was unable to keep my shoes from wearing out within a couple of months.
I assume it's the same for other fat guys. While I'm sure there are other contributing factors, most of them can be boiled down to improper fit and inferior shoe quality. Sound simplistic? It should be.
The average shoemaker makes shoes for the *gasp* average person. Since the average man in the U.S. weighs 197.9 lbs, it's no surprise that I wear out my shoes roughly twice as fast as the average guy.
However, there are some additional issues that can exacerbate the problem. So let's take a closer look and see why these issues even exist:
Improper Fit
If you are a bigger guy, odds are that you also have wide (or extra wide) feet.
Most guys who struggle to find shoes that are actually comfortable end up settling for a typical "wide width" shoe from a generic supplier, never realizing that shoe widths vary wildly from maker to maker – and that choosing the wrong width is bad for both your feet and your shoes.
If a shoe is too narrow, you stress all the seams in the shoe, which typically ends up causing either a seam to come unstitched or the sole to come off of the upper.
Not only that but the shoe/sole that is too narrow for your foot can cause you to have an uneven gait and wear through heels extremely quickly. Luckily, almost all of this is corrected with the proper fit.
As a side note, I fall into the camp of getting lazy and buying shoes that are too narrow for me instead of actual shoes for fat guys like myself. My real shoe size is a 12W, but I normally end up buying a size 13 because it's so much easier to find. Don't be me.
Poor Shoe Quality
As my grandpa used to say, "they sure don't make things like they used to!" Typically this is actually a good thing, but in the case of shoes, it can cause serious issues.
These days, "affordable shoes" are typically made of poor-quality leather and held together mostly by glue. I used to be of the opinion that, since I wear out shoes so quickly, I should probably just buy cheaper shoes more often. That was a mistake.
If you wear out shoes more quickly, the answer is actually to buy a more expensive shoe!
The "Cheap Shoe" Trap
Expensive, high-quality shoes have two main advantages: they are made of better materials so they last longer out of the box, and they can be repaired!
I have a pair of Allen Edmonds that is now 6 years old and just looks better with age. During that time, I have had 2 new heels put on by a cobbler and 1 seam restitched when it came undone. My $300 pair of shoes have ended up lasting me 6 times as long as the shoes I used to buy, and have looked better doing it! (If you are curious about the price differences between repairing and buying, check out this article on BespokeUnit).
So now that we know of the general problems which plague plus-size men and their shoes, let's look at some that will solve these problems!
The 5 Best Dress Shoes For Big Guys (In My Opinion)
Best Choice
Best Price
Best Choice
Best Price
Affiliate links / Images from Amazon Product Advertising API
1. Neil M. Wynne Oxford – Best Overall Dress Shoe for Big Guys
The number one shoe we recommend for big guys is the Wynne Oxford. Well, we actually recommend most shoes from Neil M, but these are the nicest and best looking! My pair has been hanging around for more than 4 years now, but most guys of 350 pounds or more are getting at least 5 years of wear out of them!
Put simply, this is the best shoe available for big men and, lucky for us, it costs less than half of what most high-end shoes cost!
Yes, they may set you back a bit, but imagine having the most comfortable pair of dress shoes that you've ever had, and not needing to worry about them for the next 5+ years! In fact, if you resole and care for them well I would not be surprised if you didn't have to worry about shoes for the next decade or more.
What I love about this shoe:
It is made from waterproofed 100% bison leather, some of the toughest shoe leather there is!
It has a removable footbed with gel dampening, get ready to walk on clouds…
It has a leather and Drilex lining. This does two things: it keeps the shoes breathable so you don't have stinky, sweaty feet, and provides a comfortable, but hard-wearing inner surface.
They have a rubber sole that is firm, grippy, long-lasting, and cheap to get replaced.
If you haven't noticed, I'm a major fanboy of these shoes. But don't judge me too hard until you've tried them for yourself, I can guarantee that they will be pleasing to the snobbiest of shoe snobs.
---
2. Florsheim Midtown Cap Toe – Best Fancy Dress Shoe
If you want a shoe that is a bit shinier and easier to dress up than the Neil M's, then you should check out Florsheim. Specifically, their Midtown Plain Toe Oxford. It is an absolutely beautiful shoe that can elevate almost any outfit. The well-cushioned and removable footbed will keep you comfortable no matter how long you are on your feet during the day.
While this shoe is not quite as durable as our #1 recommendation, it is a very nice shoe that can last for several years.
3. Hush Puppies Leverage – Best Slip-On Option
If you are a big guy, you should always have at least one high-quality pair of slip-on dress shoes ready to roll. They are much easier to put on, are super comfortable, and can look great if they're styled correctly!
With that being said, if you wear slip-ons, you have to be careful not to end up looking like a lazy fat guy. I have seen sad, overweight fellows who have had to cut all the way down the elastic stretch panels to try and get normal-width shoes to fit their fat feet. Be sure to find a wide version if you have wide feet.
Hush Puppy is well known for making comfortable shoes and these are a perfect example of that. Not to mention that they are among the best-looking slip-ons on the market!
4. Allen Edmonds McTavish – Best High-End Dress Shoe
It isn't possible to have a "best of" any type of dress shoe without at least one pair of Allen Edmonds making it onto the list. While their cost puts them out of reach for most casual work goers, those who are serious about either foot fashion or foot comfort should definitely look at this shoe.
The Allen Edmonds McTavish Oxford is literally one of the best and longest-lasting dress shoes that you can buy, no matter your size. Their expansive range of sizes and widths makes sure that your foot will be comfortable and your shoe will be long-lasting. Very high-quality leather that is crafted into shoe-shape right here in the USA should seal the deal if you want the best.
If you are a big guy that wants instant clout, then investing in your image (by buying this shoe) is a bold move.
Now, if you are looking for a shoe to put lots of miles of and stand in for long periods of time, this probably isn't it. However, if you want to look amazing and have some wiggle room for your toes while you sit behind a manager's desk, then get yourself a pair!
5. Rockport Marshall – Trendy Budget Option For Big Guys
In this line-up, there's really nothing special about this shoe. Except that I absolutely love its look
The contrast sole on an above-average quality shoe that looks great and will be comfortable for years is a win in my book. I decided to include these shoes on the list mainly because I own them. Thanks to their genuine leather exterior and moisture-wicking inside, these shoes see the outside world every time the weather turns nasty and I want to keep my shiny shoes in the garage.
---
What Makes a Great Dress Shoe For Big Guys?
While we have given you our top suggestions, maybe none of these were quite what you were looking for. In that case, you may be wondering what you should look for in a good dress shoe for plus-size guys.
Well, here are 4 tips that will help ensure that you get a high(er) quality shoe:
Avoid Synthetic Leather. Leather comes in various grades (and corresponding prices). As you go further down the spectrum of quality, you get a shoe that has thinner material, is typically less soft and comfortable and will wear out faster. Look for Full Grain leather as it is made from the top (toughest) part of the cowhide. This is the only type of leather that isn't sanded to remove imperfections, so the shoe-maker typically chooses cow hides with fewer imperfections to begin with for this type of shoe. Next up in the quality line-up is Top Grain leather, followed by Genuine Leather.
Look For Stitched Soles. There are only two ways that soles are connected to the uppers: stitching or cement (glue). Stitched soles (usually used in combination with glue) are typically much stronger and a sign of higher quality shoes. If you cram overly wide feet into a pair of glued shoes day after day, the stretching and twisting will eventually cause the sole to break away from the uppers.
Look For Replaceable Heels. If you buy a high-quality shoe, there isn't much a cobbler can't fix on it. He can replace heels, put on entirely new soles, replace insoles, restitch, polish, condition, etc. If you tend to wear through heels quickly or unevenly, look for shoes that have a sole that could be replaced independently on the entire sole. Also, look for shoes that have a "normal" sole and not a proprietarily shaped sole that is integrated into the shoe: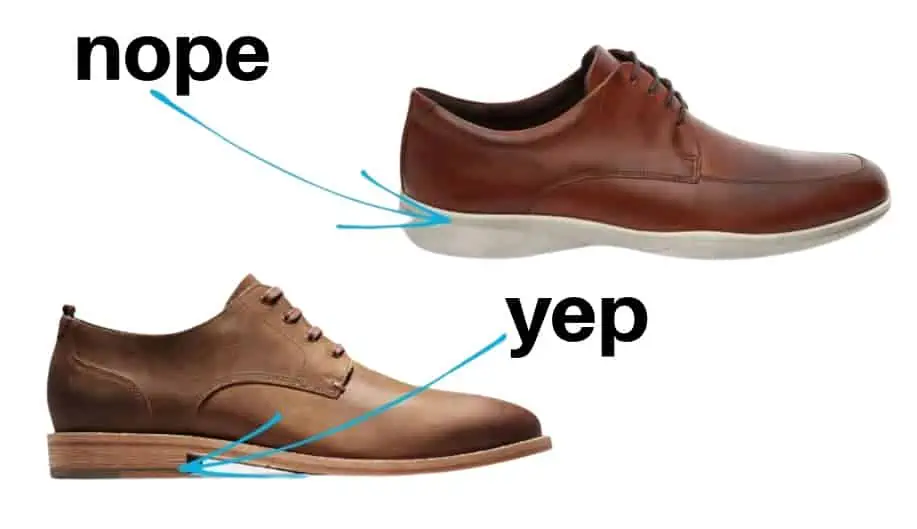 People who claim to have the best dress shoes for fat guys really like to have a "specially shaped sole" or a uniquely shaped heel which really does only one thing: prevent you from repairing the shoe so you have no choice but to buy another when they wear out!
Choose a Shoe that is Easy to Polish/Condition. The easier it is to polish/condition the leather on your shoes, the more likely it is that you will do it on a regular basis. And the more regularly you care for your shoes, the better they will look and the longer they will last. Smooth-toe shoes with few seams and brogue detailing (such as our first recommendation) are the easiest to condition and slap a layer of polish on.
Find a shoe that comes in multiple widths. Makers of high-quality shoes are much more concerned with a proper fit than those who crank out shoes on a budget. For this reason, they are likely to offer more than one (and hopefully several) widths. Because styles and brands vary in width, you might need a medium width in one shoe and a wide or extra wide in another. Don't be afraid to try several widths and return a pair of shoes that isn't quite right for you.
How Can Big Guys Make Their Dress Shoes Last Longer?
As with choosing an easy-to-care-for shoe, we'll try and make your overall shoe care something that you can do quickly and easily. In something is more onerous or time-consuming it *might* be better, but it's also less likely that it will actually happen. So let's choose 2 quick care items that are simple to do (and will keep your shoes alive):
Buy shoe forms. While shoe forms may seem to be for snobby, rich people – the snobby, rich people have it right. Shoe forms serve two crucial functions for your shoes: they maintain the shoe's shape, and they soak up leftover foot moisture. Those two functions will help your shoes last longer, look better, and not smell terrible. We recommend that you get yourself a good quality (don't go overboard, wood is wood) pair of cedar shoe forms.
Polish your shoes. Spending 10 mins on your shoes once or twice a week will keep the leather clean (dirt kills) and will prevent it from drying out. Hopefully, you know how to polish your shoes. If not, The Art of Manliness has a good guide. Just grab some quality (but budget) polish and buff it out!
My Recommended Price-Conscious Shoe Shine Kit
FootFitter Everyday Shoe Shine Detailing Set – Shoe Shine Brushes, Shoe Creams & Shine Cloths....
SHOE CARE & SHINE GIFT SET: The Everyday Shoe Shine Detailing kit includes: (1) Horsehair Shoe Shine Brush, (2)...
HORSEHAIR BRUSHES: Set includes (1) Horsehair Shine Brushe and (2) Horsehair Daubers, both made in Germany. Both...
SHOE CREAMS: These are highly pigmented for color restoration and can fill scuffs and scratches while conditioning...
BUFFING CLOTH & SHOEHORN: The extremely fine microfiber, low pile threads and lint free is key to a perfect buffing...
Affiliate links / Images from Amazon Product Advertising API
Plus Size Men Dress Shoes Fashion Tips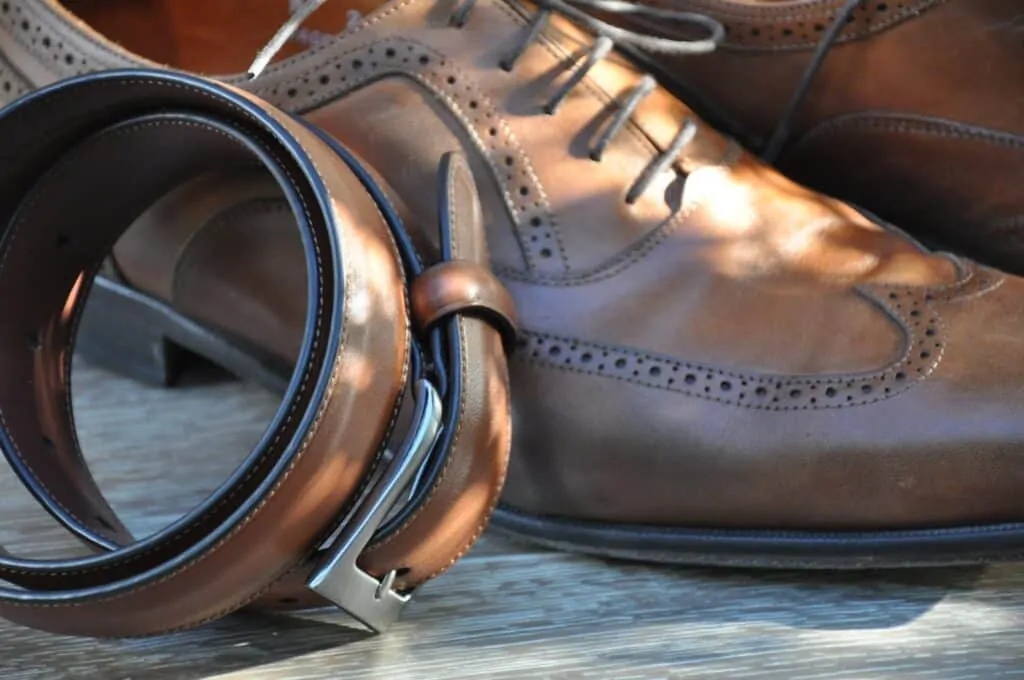 Choosing the color of dress shoes shouldn't be a daunting task. I'll simplify it for you, get both a brown and black pair. Your shoes will last much longer if you rotate them, and you'll always be able to match them up with what you're wearing. I would advise against buying any different or unusual colors until you have both brown and black shoes in your high-quality arsenal.
Once you've found your shoe and picked a color, repeat the following mantra with me: "Shoes to belt, pants to socks."
When I was much younger, I wore a hand-me-down black belt to church every week. That was fine when I only had a pair of black shoes, but when I grew out of those and started on a pair of hand-me-down brown loafers, my bishop pulled me aside and gave me a quick lesson in how to dress.
Wearing socks that match your pants can help make your legs look longer (a plus if you're plus-size…) and looks much more professional. A comfortable belt that matches the color and tone of your shoes will pull your entire outfit together and make it look much more cohesive.
If you are thinking about pairing your dress shoes with denim, go for it! Just be aware that most shoes for fat guys are unfashionable so get a pair above and be sure to check out our tips for choosing denim as a fat guy and finding jeans for big thighs as well as general fashion tips.
How To Get Measured For Dress Shoes (For Fat Guys)
I'm going to go out on a limb here and assume that my childhood shoe experience was fairly normal. When it came time to get new school shoes we would head to the store, I would try on a pair that was roughly my size, and my mom would poke/pinch the end of the shoe to see where my toes were.
This usually worked okay…but now that I'm an adult and my feet have stopped growing, I figured I would like to know what my actual shoe size is. Not only that but there isn't really a "pinch test" to find out if a shoe is too narrow.
Luckily there is a simple method you can use at home to figure out your shoe size and with. Check it out on WikiHow.
If you've gone through the effort to find out your shoe size/width and read some reviews, I would never be scared of ordering shoes online. Reputable retailers (such as Amazon) typically have a "no questions asked" return policy, so get your shoes, wear them around your house, and return them if they aren't going to work out!
Just remember, high-quality leather shoes can stretch half a size or so, so if they're close, keep them and let them shape themselves to your feet! All in all, it's just easier to find dress shoes for big guys online than in-store.
p.s. No matter how nice the dress shoe is, your foot type might need some extra cushioning or support. Check out our new article: The Best Insoles For Overweight Guys and Gals
Conclusion
You now have all the information you need to get yourself an amazing pair of shoes that will look better, feel better, and last longer than any pair you've had before. Hopefully, if you scroll back up to our list, you can find yourself the best dress shoes for fat guys that the internet has to offer! Happy shopping!