As an Amazon Associate I earn from qualifying purchases.
There's nothing I love more than tromping around in wet weather (a good thing since I grew up in western Washington). At least, there's nothing I love more than tromping in puddles and wet weather if I'm prepared for it: meaning a sweater and waterproof boots.
Being able to nestle my toes inside a pair of boots that keep my feet dry through puddles, wet leaves, mud, etc is a great feeling. At least it is until my feet fall asleep.
As far back as I can remember I have struggled to wear boots that came up higher than my ankle. My calves are simply too big. Taking off my boots to have a zipper imprint on the side of my leg isn't great. Rainboots can be even worse as they squeeze and chafe my wide calves.
Up until recently, there weren't any true wide-calf rain boots on the market. The most that someone who wanted plus-size rain boots could do was head to the store and try on every option, hoping for the best. These days, however, there are a couple of options from wide and extra-wide calves that will work for even the biggest ladies!
If you've been holding off buying rain boots because you couldn't find a well-fitting option, now is the time to add a pair to your closet. Rain boots are so versatile – stomping around on a farm in the mud is hardly the only time to wear them.
They can be chic with so many fall/winter or spring outfits, whether you're out for a stroll, running errands, or trudging around campus. Rain boots for plus-size women can be especially effective in pulling an outfit together! So if you need a pair of extra wide-calf rain boots that actually fit you, look no further!
I own 3 of the 5 I've recommended and included the other two based on reviews, look, price, and recommendations from friends. So enjoy!
Best Plus Size Rain Boots – 5 Options
Affiliate links / Images from Amazon Product Advertising API
Jileon: The Best Plus Size Rain Boots For Big Calves
I actually own several pairs of Jileon boots (too many according to my husband) in different colors and can attest to the fact that they fit great and are durable. If I'm honest, I wish they had better patterns. The polka dot options are a bit juvenile but luckily there are some solid options that will go well with a wide variety of outfits.
Jileon advertises themselves as having "the widest fitting rain boots in the US," fitting up to 23-inch calves! I would say that those qualify as plus-size rain boots! This is your absolute best place to go for pretty much any extra-wide calf (or wide foot) boot. They have boots that are wide in the calf AND the ankle AND the feet – so if you need extra wide-fit rain boots, they have you covered!
And if you need some extra motivation to pick up a pair of these? Just listen to this guy call them "wellies" a few times and you'll just have to have them! Or at least that worked for me…
Wide Calf Hunter Rain Boots
While Hunter boots do not have a real "wide calf" rain boot option, they maintain a cult-like following because they are classic and stylish, as well as functional. Unfortunately, their classic style is notorious for fitting very slim in the calf.
If you really want to hop aboard the Hunter boot train, though, this short height is for you! With a 10.5-inch shaft height, you most likely won't need to worry about the widest part of your calves! They have an adjustable opening that is about 15″ around – but will fit calves much larger due to the short height. They have great reviews from wide-calved ladies, so these might be your newfound love!
Kamik: Functional Plus Size Rain Boots
These boots are a very utilitarian but functional option. They aren't as wide in the calves as some others, so if you need extra wide, the Jileon boots above are a better choice. However, these have their place for anyone who needs a boot that will see hard use. They have a 12-inch shaft height with a 16-inch opening that isn't adjustable. Reviewers say they are very hard-wearing and will last you a long time! While I wouldn't consider them to be extra wide calf rain boots, they are several inches wider than average.
Should I be wearing extra wide calf rain boots?
Measuring To Ensure Proper Fit On Your Foot & Calf
How do you know if your calves qualify as "wide"? If your calf measures more than 15 inches, you're going to be most comfortable in a wide-calf style. Try measuring your calves where they have the biggest circumference, or you can also grab a pair of well-fitting boots you already have that fit and find the INSIDE measurement of the widest part. This will help you figure out if your new purchases will fit you! (Also, here's a tip – if your calves are stopping you from fitting in rain boots, find an ankle boot in your regular shoe size. You won't have to worry about your calves!)
How to measure your calves for rain boots:
It's easiest to measure while seated – and make sure your feet are flat on the floor.
Wrap a tape measure around the part of your calf that is the widest, try to get the measurement as accurate as possible.
Use this measurement to gauge whether or not a boot will fit!
Keep in mind, the height of your boot will affect the fit of the boot on your calf. Keep these steps in mind when you're looking for rain boots:
You'll want to figure out the height you're looking for and find boots to match, or check the height of the boots you'd like to buy. These measurements should always be in the product description online – the "shaft height" is the measurement from the bottom of your foot to the top of the boot.
Next, you'll need to find what the measurement is at this height on your leg. To do this, sit down with your feet flat on the floor again, and make sure your knee is bent at a 90-degree angle.
Place the end of the measuring tape on the ground at the base of your heel, and measure straight up the back of your leg to where the boot would hit.
Now measure around your leg at that point. If you look for the "boot opening" measurement in the product details of the boot you're looking at buying, you'll have a good idea of whether or not it will fit you!
How To Clean White Powdery Stuff On Rain Boots
Have you ever seen shiny rain boots that are less than shiny after a while? And kinda white-ish? That's called "blooming" and it looks something like this: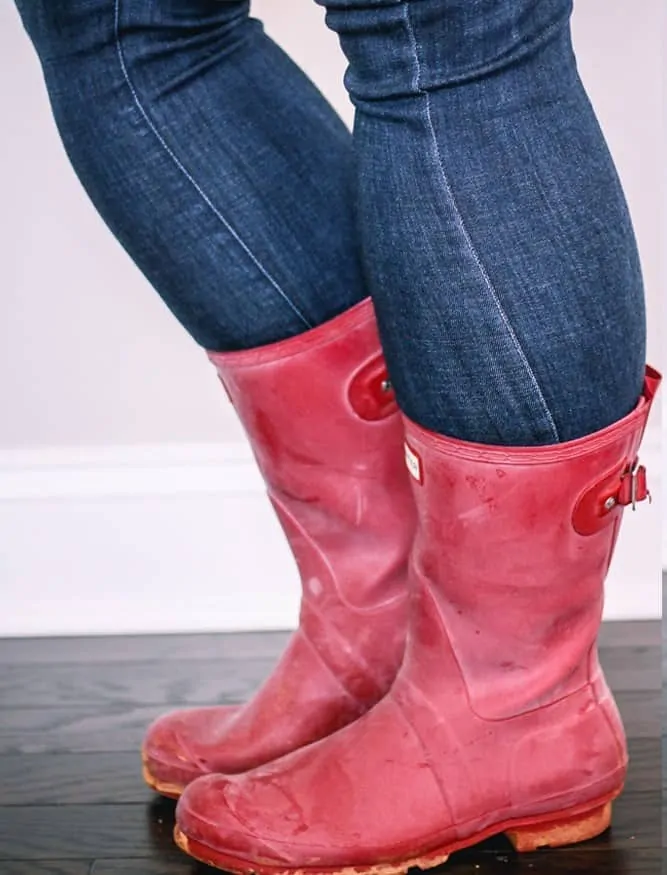 On the Hunter website, it says: "Occasionally, you may notice a white powdery "bloom" on your Hunter rubber wellington boots. This is because rubber is a natural product and in certain conditions, insoluble particles may rise to the surface. This is a common process, characteristic of high quality, natural rubber, and nothing to worry about. It will not affect the performance or durability of your boots."
Calves of all sizes want to be in boots that look nice and clean and shiny! While this can happen on all-natural rubber items and boots, Hunter boots are an easy example.
The Hunter website officially recommends their Hunter Boot Buffer or Instant Boot Shine. This is a great option to protect your boot investment because it works, and Hunter has obviously spent the time creating a safe, useful product. However, if you don't mind risking it, there are a couple of options out there for "homemade" or alternative remedies/products.
Alternative product options:
The first option you can try is a small amount of olive oil on a cloth (perhaps a teaspoon) and buff it into clean boots to remove the blooming. Some people report great results, and others say that the blooming returns after a day or so.
Armor-All spray or wipes (in the car care department at Walmart or another big box store) that are made for tire cleaning are another option that many people have great results with. Gently buffing your boots with this product can restore a nice bloom-free shine.
Finally, a product called M Essentials UV Tech (Amazon link) is recommended by many. The product is designed to protect many different materials from the elements and restore a nice shine. People rave about this product for Hunter boots and natural rubber products, but it is also a great multipurpose protectant for other items and gear.
In addition to treating blooming, you'll want to take regular care of your boots! The Hunter website says: "To ensure a long and healthy lifespan for your boots, wipe clean and leave to dry naturally, away from direct sunlight or artificial heat sources. Only use cold, soapy water to clean your boots. Do not use solvents. Do not store boots whilst damp, folded, or creased. Keep in a cool, dry location."
This is pretty self-explanatory, but just make sure to treat your rain boots nicely if you want them to last! Don't let them stay wet forever, don't bend them unnecessarily, and don't clean them with harsh chemicals.
Well there you have it, the joy of tromping in the rain is completely attainable with any of our recommended rain boots for plus-size women. Never again will you have to be disappointed with ordering yet another pair of rain boots that won't fit your feet or will scrunch under your calves.
As long as you measure your calves accurately and keep shaft height in mind, you should be able to find a pair of extra-wide calf boots to fit your needs. Hopefully, you will be slogging through mud puddles soon!
DON'T FORGET! Most rain boots are not meant for long walks (especially when you're plus size) so if you're going to be on your feet for much time, be sure to get yourself a high-quality pair of insoles!