As an Amazon Associate I earn from qualifying purchases.
Whenever anyone asks me for a product recommendation, I tell them to buy a product meant specifically for big and heavy people. Why? Because they are typically overbuilt and use much higher quality materials than the average item. Heavy-duty bar stools are no different. Whether you are heavy or not, getting bar stools that support 300 lbs or more will ensure that they last much longer before they start showing wear.
When I was younger, we had an island in the middle of our kitchen which we sat at for most of our casual meals. I don't know where my mom found the bar stools we used but they were all-wooden construction with a seat that wasn't even comfortable for my 14-year-old behind. They were narrow, they were hard, and they were uncomfortable.
Now that I am much larger (and in charge of putting bar stools at my own bar) I told myself that nothing but heavy-duty bar stools would cut it. I demand stability and comfort! Lucky for me, I found lots of options:
Affiliate links / Images from Amazon Product Advertising API
Best Height Of Bar Stool
Since you're already shopping for a sturdy bar stool set, you're probably aware that you need something that's a different height than a chair. However, it does lead to the question, "what height do you need?" Well, it depends on where you're sticking them!

Generally speaking, there are stools meant for counters and stools meant for bars. While chairs in the 30″ range can often be used for either, if you are particularly tall or short you'll want to take special notice of the height of whatever heavy duty bar stools you pick up.
What Makes The Perfect Bar Stool For Big Guys?
Whether you're big and heavy or just want heavy duty bar stools, there are a few characteristics that make them more comfortable, versatile, and useful:
Weight Capacity. This is the first and most obvious hallmark of heavy-duty bar stools. Any bar stools for heavyweight will be made of higher quality materials than the average chairs and will last longer for every user. So if you want them to last longer, get high-weight-capacity bar stools.
No Arm Rests. Armrests see very little use on barstools but come with several problems. One of the main problems with armrests is that they limit width. If you are plus size, you want a plus size stool with a wide seat and no barriers to squeeze between. Also, armed bar stools/chairs tend to be more expensive than the average stool.
Wide Seat. Typical bar stool seats range from 15-21″ in width. If you have a large bottom, a wider stool top will be far more comfortable.
Foot Rest. Having a footrest on a barstool gives everyone a spot to rest their feet, no matter their height. If you're heavy and short, sitting on a tall bar stool can be very uncomfortable and cut into the back of your legs. We chose chairs with at least one footrest height to cater to a greater variety of people.
Non-pointed Feet. Some "heavy-duty bar stools" have legs that taper down into nearly pointed ends. While such feet might work for average people, if you weigh over 300lbs, you'll find those tiny feet have a far greater tendency to damage floors, especially if you have hardwood. We looked for stools with larger and more stable feet.
And that's it! Beyond those characteristics, the type of bar stool you want is largely based on personal preference. You might need padding, a back to rest against, a weight capacity of 500lbs, etc. We found 5 high-weight-capacity bar stools with very different styles and features so, odds are, you'll find one you love among them! Let's check them out!
5 Barstools For Big Guys (Up To 500lb Capacity)
1. FDW Barstools: High Capacity On A Budget
If you need a basic set of bar stools that will support over 300 pounds, these are for you. Their all-metal construction with x-braces and angled legs combine to give these stools a weight rating of 330lbs!
In addition to the great price and high weight capacity, these bar stools these stools have some killer characteristics which make them our number one choice: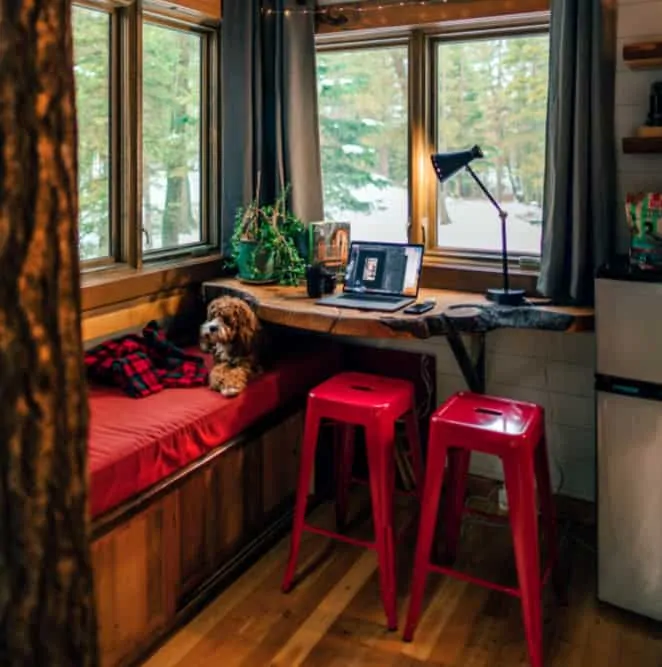 The rust and scratch-resistant coating will keep these chairs looking awesome for years whether you use them inside or out.
Unlike the other bar stools on this list, these stack for storage so, if you need bar seating for guests or only on special occasions, these will take up the least amount of space when not in use.
While the legs are pretty pointy, they are all capped with non-slip rubber feet which keep the stool from moving around while also protecting your floors.
These stools ship from Amazon completely assembled so you can start using and enjoying them right when they're delivered!
The only con of this chair (in my opinion) is that they don't have a backrest. Otherwise, they go well with almost any design aesthetic and are extremely sturdy.
2. Costway: Cafe-height Barstools With Wood Seat
If you love everything about the above stools but really like the idea of having a back, this set from Costway will be a great fit! They have the same 330lb capacity and a 24″ height so you'll never have to worry about whether they're high capacity enough!
In addition to the weight capacity, these stools have footrests and soft foot covers which will make them at home no matter where you put them! Although, unless you plan on painting or refinishing them in the future I wouldn't keep them outdoors.
The only drawback to these stools is their very average seat width. If you have an extra-wide rear end, you might want to look for something a bit wider and more supportive.
3. Flash Furniture Chrome Barstools (500lb Capacity)
If you are looking for a classic heavy-duty bar stool in a mechanic's-store style, these will fit the bill! The two rings provide an ultra-strong and rigid base that will support up to 500 pounds!
In addition to the high capacity, these ultra-thick cushions are made of high-quality foam which will not break down over time while remaining soft and comfortable. And the seat? Yes, it swivels. Finding stools of this style that will swivel while supporting 500lbs is extremely difficult and Flash Furniture is one of the few companies that has the ability to do create them.
4. Hercules: High Weight Capacity Bar Seats (Padded)
High-capacity bar stool? Check. Plush seat covered in durable vinyl? Check. Swiveling base with backrest? Double-check!
If you don't consider these to be bar stools for heavyweight then we aren't on the same page. These are capable of supporting 500 pounds while remaining comfortable and stable. While the backrests aren't for every style, they sure do make sitting at a bar more comfortable (and safer, depending on what kind of drinks you're serving…)
These are the most cost-effective 500lb capacity swiveling bar stools with backs that we know of! Flash Furniture knocked it out of the park again!
The only con with these stools is that they measure a full 32″ to the seat, meaning they might not work for you if your bar or counter is too short. If you have a normal height bar though, these are great in every way!
5. Holland Bar Stool Co. Padded Swivel Stool
If you are looking for high-capacity bar stools for an outdoor area, this is the strongest and most durable swivel option on the market! Capable of supporting up to 550 pounds, this metal-framed chair can be used with impunity. The trade-off for this high level of durability is that you only get a bit of cushioning but, if you're anything like me, you have a good amount of cushion on your backside already.
As an added bonus, the all-welded frame with a rust-resistant coating is made to literally last a lifetime. So, if you need a high-capacity bar stool with a backrest, pick up a couple of these!
Hopefully, you found what you were looking for! Finding bar stools that support 300 pounds really isn't that hard, but finding bar stools that support 300 pounds or more while swiveling, remaining comfortable, and not ruining your floor is a bit harder. This is why we literally spent a dozen hours researching and testing chairs so we could recommend the best 5 to you! Best of luck!