Summary
The feeling of "roominess" in an SUV is a combination of legroom and headroom. The best SUV for big guys is the Chevy Tahoe which is significantly more roomy than other options in the class including the Lincoln Navigator and the Nissan Pathfinder SL.
When I was 14 years old, I was sitting in my room when I heard a loud noise (and lots of angry words) coming from my neighbor's yard. I looked out my window and saw him in his driveway, saw in hand, hacking the roof off of his Mazda Miata.
As it turns out, he wasn't really hacking the whole roof off of his car. He was just cutting out the sunroof. Now, he was a big guy and we'd made jokes about him driving a little tiny car for a while, but what happened to him wasn't all that funny.
He was trying to change lanes, turned around the check his blind spot, and smashed the top of his head (which was already brushing the car's roof) against the lip of the sunroof! He was able to get pulled over without any real issues besides a headache and boiling rage but, looking back, things could have been much worse.
All in all, I can't really blame him for chopping the sunroof out. He actually did a pretty good job (for an optometrist) of patching up his roof and continued to drive his little car for a few more years.
Now, maybe I'm a bit more vain (or just value comfort more) but I can't imagine squeezing myself into a Miata. In fact, I can't even fit in a Subaru or most other regular sedans. As a big guy, I like to have a spacious car, especially if I'm doing anything more than cruising down to the store.
A few years ago this put me on the trail to find the perfect car. While I can't say that I've succeeded, I have found a few things along the way that have helped me identify the best vehicle for big guys:
Usually (but not always) the bigger the car, the roomier it will be.
Sedans tend to be the least roomy as they try and maximize the backseat and trunk space.
Trucks have very similar head/legroom if compared to a sedan. Bigger trucks are not much roomier inside.
A car feeling big and roomy inside is just as important as the physical space available.
SUVs and Vans tend to have the greatest amount of space available (headroom + legroom)
What it boiled down to, is that I needed to get either a mini-van or an SUV. So, obviously, I needed an SUV. However, the best SUV for big guys needs to have some pretty specific characteristics if it's going to find its way into my garage in 2021.
SUV Headroom & Legroom: The Real Test
There are a ton of things that can make an SUV feel roomier for big guys. Wide seats, large windows, no console, etc. all play some part in leaving the most space possible available for sitting. However, when it comes down to it, numbers don't lie and the two numbers that make the most difference are the amount of headroom and legroom available. The more of both there is, the roomier it will be and, it follows, that the best SUV for big guys will be the one with the most leg/headroom.
How We Measured:
Head Room: The measurement was taken from the lowest part of the seat to the roof. The headroom is, in my opinion, the most important measurement for tall/big guys to be aware of. It's one thing to have your legs not fully extended but it's another matter entirely to have to slouch down or cock your head to the side to be able to sit in a car.
Leg Room: There are two ways to measure leg room: with the seat fully forward and the seat fully back. As a big guy, you're probably going to have the seat all the way back so that's how we measured. From the front of the seat to the pedals.
For a point of reference, here are the "Roominess Measurements" for 5 of the best selling vehicles of 2021
| Vehicle | Head Room | Leg Room | Total Room |
| --- | --- | --- | --- |
| Chevy Silverado | 43.1″ | 45.5″ | 86.6″ |
| Toyota Rav4 | 40″ | 41″ | 81″ |
| Toyota Camry | 38.3″ | 42.1″ | 80.4″ |
| Honda Civic | 39.3″ | 42.3″ | 81.6″ |
| Jeep Grand Cherokee | 40″ | 40.3″ | 80.3″ |
| Subaru Outback | 41″ | 42.9″ | 83.9″ |
As you can see, there isn't really a huge difference in the amount of room available. However, the small differences can make a huge change in how it feels when you actually sit in a car. A difference of 1.5″ in headroom (between a Tahoe and the Atlas) can mean the difference between your head resting solidly on the roof you actually being able to do your hair without the ceiling messing it up.
To get a feel for how the above cars compare, you can either head to a dealership and sit in some (you should do that, it's free) or you can go out and measure your current car. Measuring your current car is also free and will, of course, give you some idea. However, cars are so different from each other that you should really go sit in them and get a seat-of-the-pants impression!
To further help, we've averaged the leg and headroom measurements of the best selling vehicles, compared to the roomiest vehicles, and come up with a semi-scientific score which we call the "Roominess Score". Each vehicle that we sat in and decided to recommend received a Roominess Score out of 100 based on how we felt it compared to the best vehicles for big guys available (not just SUVs).
Now that we have some basis for comparison and we know what's normal, let's take a look at, what I feel, is the best option in each class. I'm basis the majority of my decision on my impressions on sitting in new versions of the cars but I'll also include a good used SUV for big guys option if that's your market instead.
So, starting with luxury, let's go!
The Best Luxury SUV for Big Guys: Lincoln Navigator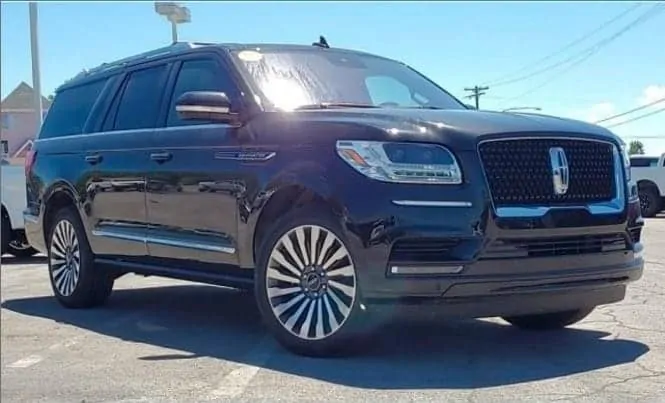 | Head Room | Leg Room | Total Room | "Roominess Score" |
| --- | --- | --- | --- |
| 40″ | 43.9″ | 83.9″ | 87/100 |
The Lincoln Navigator is the longstanding king of full-size SUVs. Lincoln has a reputation for luxury and quality and the Navigator is, in my opinion, the most interesting and functional vehicle they provide for daily driving!
While the 2020 version didn't get a ton of updates over 2019, there are enough upgrades that make it worth looking at a new model.
Some of the Navigator's outstanding features include:
450hp turbocharged V6 engine
Up to 8,600lb towing capacity
Excellent safety features including Forward Collision Mitigation and Lane-Assist
Intuitive tech interface includes helpful features such as wireless device charging
Huge amounts of cargo room
18-19mpg (yes that's a plus for an SUV this size)
The main drawback for many buys when it comes to the Navigator is its sheer size. It is both taller and longer than its closest competitor, the Cadillac Escalade. However, as a big guy looking for an SUV, "too big" probably isn't part of your vocabulary. Just make sure it'll fit in your garage!
So, if you're a big guy and want a luxury SUV, the Navigator is hands down, the best option on the market.
2020 Lincoln Navigator Video Tour and Review
If you really dislike the Navigator for any reason, the other large luxury SUV's that round out the top three are:
The Best Mid-Range SUV for Big Guys: Chevy Tahoe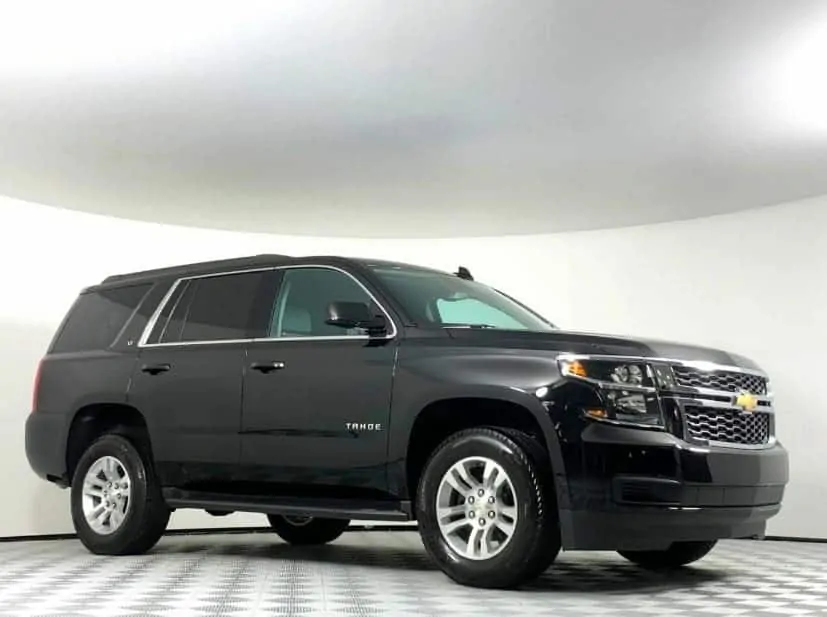 | Head Room | Leg Room | Total Room | Roominess Score |
| --- | --- | --- | --- |
| 42.8″ | 45.3″ | 88.1″ | 98/100 |
If the choices of soccer moms everywhere are to be trusted, the ultimate SUV showdown would come down to a shootout between the Toyota 4Runner and the Chevy Tahoe. For our purposes, however, don't bother driving both. The Tahoe is the absolute king of roominess, offering almost 3″ more headroom and 4″ more front legroom over the 4Runner.
In addition to the massive amount of real estate in the driver's area, the 2020 Tahoe has lots to love, including:
Standard V8 engine (providing up to 420hp)
8,600lb towing capacity thanks to its body-on-frame construction
Roomy seating for up to 9 passengers
More driver room than any other SUV on the market
Integrates with Apple or Android phones, optional 4G LTE Wi-Fi and up to 14 charging ports
Excellent safety features (such as vibrating seats when you drift out of your lane and a backup camera) keep you safe on the road
While there's obviously lots to love about the 2020 Chevy Tahoe, there are a few areas where it falls short. This isn't surprising since we're looking at mid-range SUVs here and will have to make a few concessions.
Some notable ones are:
The cost-saving solid rear axle also results in less legroom for the 3rd row and an unusually high rear load floor (not a problem if you're a big guy that will just be driving)
Maneuverability. Like any large SUV, you're not going to turn (or stop) this thing on a dime
As the 6th year of this generation of Tahoe, some people feel that the design is starting to show its age
All-in-all, the Chevy Tahoe is my pick as the best SUV for big guys. It doesn't have quite the luxury appeal or ride-quality of the Navigator but it is roomier and way cheaper. If I was an auto salesman, this is where I'd take you first!
The Best Small SUV for Big Guys: Nissan Pathfinder SL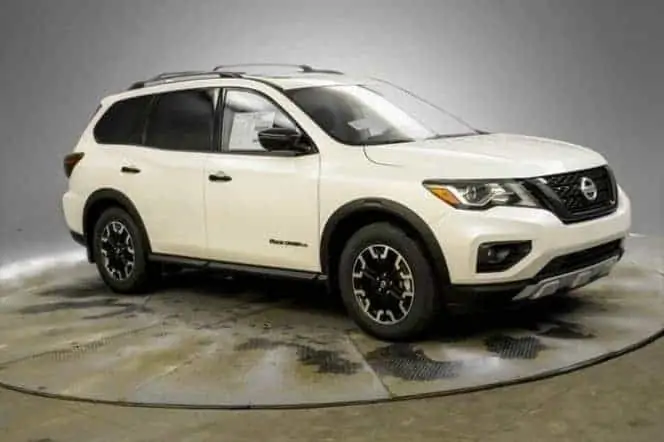 | Head Room | Leg Room | Total Room | Roominess Score |
| --- | --- | --- | --- |
| 42.2″ | 42.2″ | 84.4″ | 91/100 |
When I was in high school, the Nissan Pathfinder is one of the SUVs that everyone wanted to go mudding and offroading in. While the current version is probably not one I'd take off-roading, its design has come a long way and has morphed it into the best small SUV for big guys!
While the Pathfinder may appear smaller on the outside (because it is) it still provides a respectable amount of space, being on par with most full-size sedans. This is particularly impressive since the Pathfinder is the only option on our list which is not technically a Full-size SUV. While it does have 3 rows, those looking for a mid-size or crossover SUV will be happiest with it.
In addition to the space, you get:
6,000lb towing capacity
Standard safety features such as automatic emergency braking and rear parking sensors
V6 engine provides excellent fuel economy (up to 27 mp) but a snooze-inspiring 284hp
Seating for 7
Several color, trim, and outfitting options provide an option for everyone (be sure to to check out the Rock Creek model if you're the outdoor type)
As a bonus note, I will say that the 2020 Pathfinder is virtually unchanged from the previous year. If you're looking to save some change you can probably find an awesome close-out deal on an older model!
As far as the negative attributes of the Pathfinder go, there aren't many glaring issues. There are the normal things you'd expect from an SUV in this price range such as a dated interior design, inferior tech, etc. but nothing too egregious. Perhaps this is the reason that edmunds has called this version of the Pathfinder "forgettable." However, an SUV's job is to reliable transport you from place to place, which it does. My microwave is pretty "forgettable" but it does its job!
At the end of the day, the Nissan Pathfinder is just what it looks to be, a nice small SUV at a great price that is suitable for big guys. At this price range, you can't really ask for more!
With that, our round-up is finished! Those are the top 3 SUV options for big guys. If you want the roomiest SUV around, save yourself the hassle and time and go drive a Tahoe. Otherwise, give the other a second look.
What if none of the above options are big enough?
If you are exceptionally tall or morbidly obese, it's possible that none of the above options will work for you. In this case, there are a few things you can do short of having a car customized:
Look for a car without armrests or a center console. This will allow you to expand into as much space as possible. You can also look for a bench seat up front but your chances of finding a newer model vehicle with a bench seat aren't great.
Get a "boxy" car. The more streamlined and rounded a body style is, the more limited your headroom will be.
Consider a vehicle with a removable/replaceable door. An option like a Jeep Wrangler or Rubicon with a bar-door can grant you a little extra width.
If it does come down to getting your car outfitted specifically for your needs, you can find a local shop that should be capable of all of the following:
Change the seat mount height or location (for more head room and/or leg room respectively)
Customize seats. A seat with less padding may be less comfortable, but it would probably be better than craning your neck to the side to fit in your car
Remove or modify the headliner or roof-mounted devices
Just be aware that, if you have recently bought your car, significant modifications to it (even if they're done by a shop) will probably void your warranty.
So go for a drive!
The absolute best way to figure out the best SUV for your specific situation is to head to a dealership and drive as many as you can.
In fact, here's a better idea: head to a rental car place and rent a car that you're thinking about driving for a week or so. This may seem expensive but, with the payments on a new SUV rivaling mortgage payments, you'd better be sure of what you're buying!
Whatever you choose, I hope that this article was helpful in pointing you in the direction of the best SUV for big guys. Drive safe!