As an Amazon Associate I earn from qualifying purchases.
Typically when I write an article about outdoor gear for big guys it's because that item is hard to find. When I wrote about the best plus-size kayaks, for example, I spent hours and hours finding any options at all!
This time, however, was much different.
There are literally hundreds of sleeping bags on the market that are meant specifically for big guys. In fact, you could probably head right down to your local Walmart and find something that calls itself a "Big Man's Sleeping Bag."
The problem comes when you want something specific or something that actually is good at what it does. The lighter you want that you want your bag, the harder it becomes to find it and the more you can expect to pay for it.
So the question is no longer, where can I get a fat guy sleeping bag, but, where can I find the best sleeping bags for big & fat guys?
Well, we narrowed it down to four options, depending on what exactly you'll be doing. Check them out:
Affiliate links / Images from Amazon Product Advertising API
The nights that I spend in a sleeping bag are usually while hunting, on a backpacking trip, or car camping (to avoid paying for hotels…). While you don't need a different sleeping bag for each situation, you probably don't want to take your 9lb car camping bag on the trail with you.
For that reason, we have four choices: the best overall sleeping bag for big guys, the best backpacking bag, the best ultralight option, and a budget bag for people who just need something to get by. Click through to any of the above options to see reviews and more specs on Amazon or keep reading to see our complete reviews and write-up of each one!
Before we get to our individual tests, however, we have a few things we need to hammer out so that you can get exactly what you need. Nothing sucks worse than paying for something and realizing it's not what you wanted anyway. So let's straighten a few things out…
4 Best Sleeping Bags for Big, Wide, and Tall Guys
1. Teton Sports Deer Hunter – Best For Tall Guys
If "best sleeping bags for big guys" makes you think of an absolutely huge bag with red flannel lining, canvas interior, and tons of warm/comfy insulation, then you're in the right place.
TETON Sports has created a bag that is suitable for a person up to 7′ tall! Not only is this bag incredibly long, but at 39″ it is twice as wide as most slim mummy bags and will be comfortable for the biggest guys and the craziest sleepers.
Apart from its size, this bag has several other awesome things going for it:
The full canvas exterior is the most durable covering for any sleeping bag I've seen and will last for many years.
Built-in roll straps mean you'll never lose a stuff sack.
This bag connects easily to another bag to make an immense sleeping space.
At 8.5 pounds, this bag weighs less than I would expect for its size and comfort level.
You have the choice between a right or left zipper and a temperature rating of either 0 or -35 degrees.
Now, remember that we are trying to find the best sleeping bags for big guys, not just the biggest sleeping bag in the world so there are bigger options out there. Outside of double sleeping bags, TETON Sports offers a bigger brother to the Deer Hunter bag which might just be the biggest option on the market! You can check it out here on Amazon, but just remember, it weighs 20 pounds and is good to -35 degrees!
So if you are not planning on carrying it far, the TETON Sports Deer Hunter should be your #1 choice of a sleeping bag (assuming you're a big fella). It is warm, comfortable, and roomy as heck. Unless you're backpacking, get one!
2. Nemo Disco – Best Ultralight Sleeping Bag For Big Guys
If you're interested in doing a bit of backpacking, an ultralight sleeping bag for big guys might be just what the doctor ordered. These bags have the added bonus of being usable for casual camping and overnights as well.
The problem with most lightweight bags is the way that manufacturers choose to make them lighter. They simply remove material. So what you end up with is either summer-weight or a very slim fit bag that is a chore to get into and sleep in. So, for big guys, we need a compromise.
There are high-end companies such as Western Mountaineering that have made ultralight down bags for tall guys for years but most big guys will still find them challenging to fit in. So what do we need? A hybrid bag!
The Disco 30 from Nemo is a hybrid with several innovative features that make it one of the best sleeping bags for big men that you can get! They used a special shape, material, and custom sizing to get things to fit perfectly. At least that's what they claim.
I did end up buying this bag and have used it several times. Long story short…I recommend it. However, while it might be the best lightweight option available it's still not overly comfy.
I got the tall version which is long enough for me but I still don't have enough room to move around like I'd prefer. Although I should probably just learn to sleep on my back so that's a moot point.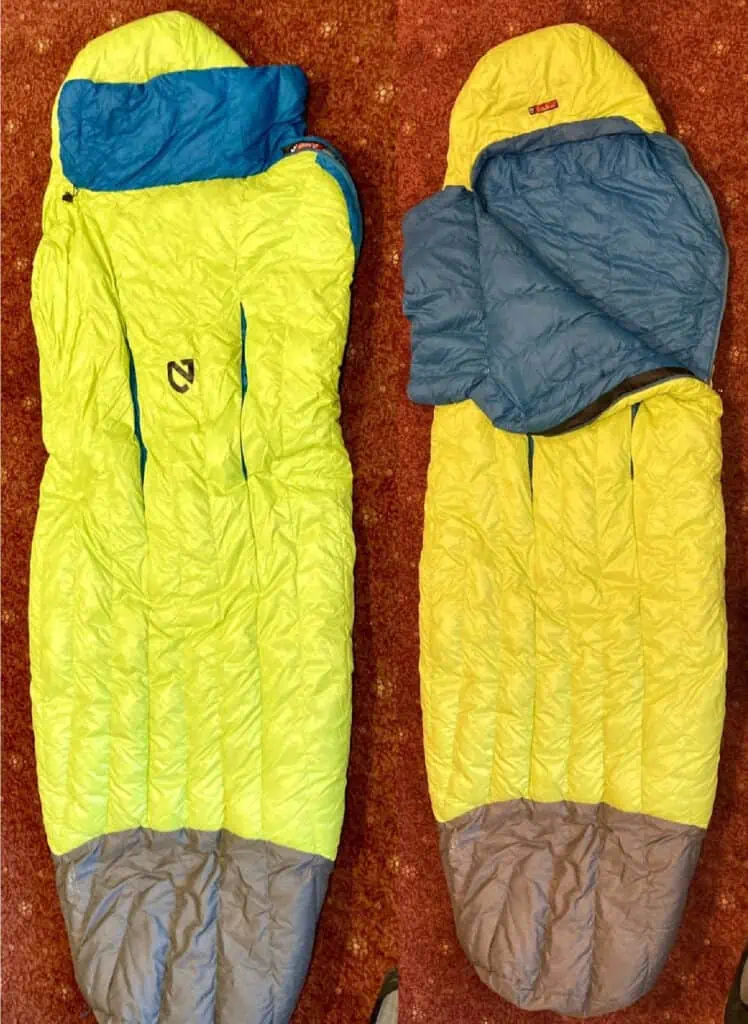 At under 3 pounds, this bag has been a joy on longer trips where I was carrying a pack. I typically don't do more than a couple of miles (any longer and my feet will rebel) but's nice not to be more weighed down than unusual.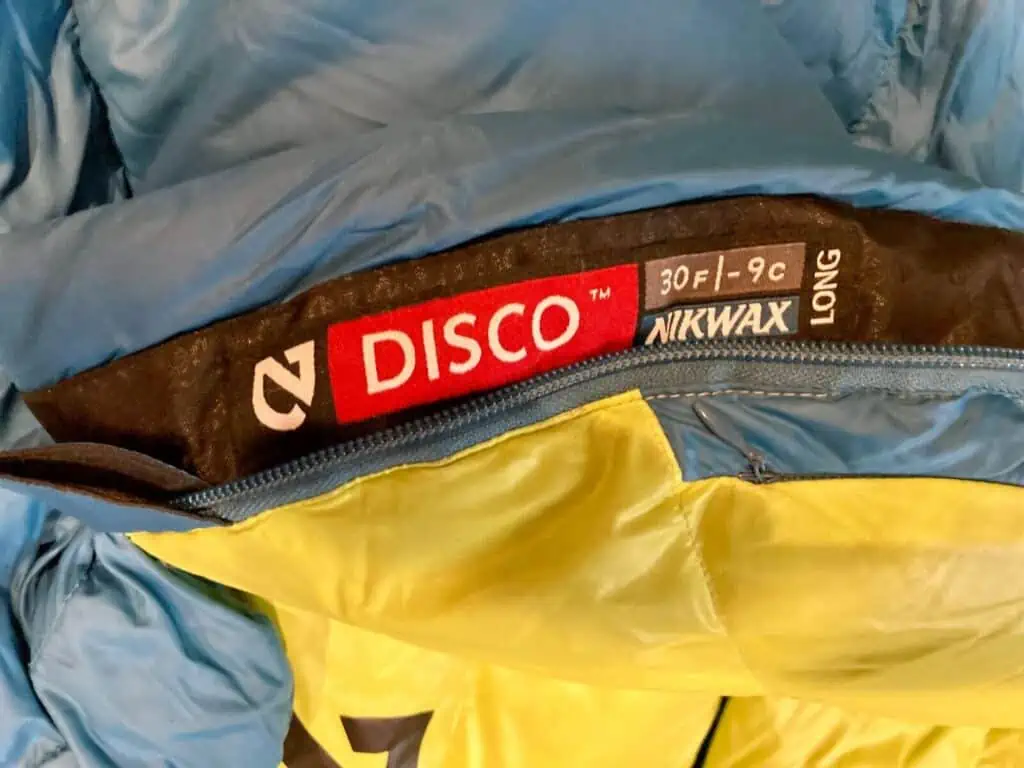 So if you need a great all-around that you can take on pack trips, pick this one up!
3. Rumpl Down Quilt- Not Technically A Sleeping Bag…
When it comes to removing material to save weight, one train of thought goes to the extreme and removes the entire bottom of the bag! In other words, the bag simply becomes a down quilt. This is especially useful for big guys as you have the option of buying a larger quilt (such as a queen or king size) to make sure you're covered.
Of the down quilts on the market, there are a few that are suitable for big guys who want to want to keep the weight down but avoid freezing to death. Rumpl is one of the original makers of such a quilt.
The 2 person Rumple Down blanket is (obviously) for two people but, in my experience, is perfectly suited for one big guy.
At 80×84″ this quilt is right about the same size as a queen-sized blanket. The main draw is that, even at that size, it is more compressible and almost a pound lighter than bags with a similar temperature rating.
The main problem with this setup is that it typically requires you to carry a sleeping mat to insulate you from the ground. I've seen guys just dress in all their clothes or sleep in a heavy-duty hammock to try and keep the ground's cold at bay but you'll be warmer and more comfortable if you just pony up and get a compatible extra wide sleeping pad.
While there are some great down-alternatives out there, none of them can yet compete with the real thing. This quilt uses 600 fill power down which has been treated with Nikwax to keep it safe from water.
So, if you're up for an adventure and are trying to save weight, a quilt might be a better option for you than a bag!
4. Coleman Big Basin – Best Budget Sleeping Bag for Fat Guys
If you need a big guy's sleeping bag, the Coleman Big Basin is one the biggest bags I've seen!
For reference, a queen mattress is 60″ x 80″ and this bag measures 92″ x 39″. If you are 7′ tall and weigh 500 pounds, you will still fit in this bag. In fact, one of the people I heard of who uses this bag has a 56″ waist and reports having 8-10″ to spare! Now that's roomy!
As with any dedicated product you can expect some compromises but temperature rating isn't one of them here! This bag weighs only 7.5 lbs but has a 15-degree rating which is adequate for most 3-season camping expeditions.
While the built quality isn't on par with any of the above bags, if you need sleeping space, it's a great option that will last you a couple of seasons!
If you are a big guy that struggles to get down onto the ground and stand up again, maybe you should consider a heavy-duty air mattress for the ultimate car camping sleep experience!
What Kind Of Sleeping Bag Do You Need?
Figuring out exactly what you're going to do with a sleeping bag is one of the most crucial things to decide right off the bat. Most bags are pretty good at multi-purposing, with one exception. If you plan on backpacking or thru-hiking you need a sleeping bag specifically for that. You don't want to be carrying a bag that's comfortable to sleep in but misery to pack and carry. We split our search for bags into two categories: car camping and backpacking.
Car Camping
For car camping, the size and weight of your bag really don't matter. Comfort is king because you can get away with just about anything. If fact, you might as well add a heavy-duty cot and memory foam mattress topper for the ultimate in camp luxury! Car-camping sleeping bags are also great for hunting, cabin camping, base camps, backyards, and short jaunts to campsites. Unless you plan on lugging your bag for several miles, save yourself some coin and get a car-camping bag.
Backpacking
If weight and space are at a premium in your situation, cutting ounces (or several pounds) off your sleeping system is one of the easiest ways to get ahead. These bags tend to be slightly smaller, less comfortable, and significantly more expensive.
Backpacking bags are also suited to cycling, motorcycle trips, canoeing/kayaking, and fooling people into thinking that you're outdoorsy. These are the best ultralight sleeping bags for big guys and what most people think of when they think of the best extra-large sleeping bags.
If you're pretty confident that you know what your bag will be used for, let's hit a few other things that you'll need to think about when choosing a big man's sleeping bag:
Weight: If you're going to be lugging your bag, lighter is obviously better. Under 3 pounds is a good target for an extra-large sleeping bag. Going lighter gives you the added benefit of leaving some room in your pack for a comfy sleeping pad.
Temperature Range: While we won't get too far into it here (we will below) temperature range is extremely important when choosing a bag, particularly if it's ultralight and you'll be using it far from home and a vehicle. I recommend erring on the side of caution and looking for a bag that is at least 10 degrees warmer than what you think you'll be facing.
Packability: Most big man bags are still pretty big when they pack down. If your space is at a premium, look for bags made of compressible material (down is best) and a thin shell.
Shape: I can't sleep in a traditional mummy bag. I move around too much. No matter how comfortable I am when I go to sleep, I wake up with the sleeping bag wrapped around me like a boa constrictor, my face resting on the zipper, and my pillow on top of my head. Most big guys will be happiest in a rectangular bag or some sort of hybrid shape.
Your Ground Insulation: If you are using a quality pad, you can count on being more comfortable and sleeping much warmer. Some bags on the market (and one on our list) are meant to be used only with a sleeping pad and won't be much good without one. I'd always recommend using a pad but, if you aren't going to, be sure to get a fluffy bag!
With those characteristics out of the way, let's get down to it! While your personal preference and budget will obviously come into play, finding the best sleeping bags for big guys should now be child's play!
How Sleeping Bag Temperature Range Works
Here's a scenario:
You decide to go on a weekend campout with friends even though it's going to get down to 30 degrees at night. No problem, your bag is rated down to 15 degrees! So, after a night of fun and drinks, you pull off your clothes, slip into your sleeping bag, and promptly freeze to death.
Well, maybe not to death. But it may surprise you to know that very few sleeping bags are warm down to the temperature number they claim on the hangtag. After all, the number given is typically the Lower Limit, meaning the lowest temperature at which a man can sleep comfortably in the bag (men sleep warmer than women).
What's more, that number assumes that the sleeper is wearing a synthetic baselayer on both top and bottom, using a warm hat, and sleeping on an insulating closed-cell foam sleeping pad. So, if you want to sleep warm, take the temperature rating with a grain of salt!
Otherwise, I hope this article has been informative and that you were able to find an option among the best sleeping bags for big guys that will work for you and your specific situation!
Happy camping!