As an Amazon Associate I earn from qualifying purchases.
If you have purchased a bariatric rollator before you may have been suckered into the sales pitch: One Size Fits All!
Truth be told, one size rarely fits all, and one size never fits all when it comes to your health and mobility. If you fell for the sales pitch and purchased a generic walker you're probably back in the market and looking for a heavy-duty rollator more suited to your weight or needs.
A Bariatric Rollator with a 500lb capacity will have a heavy-duty steel frame, significant adjustability, and a seat wider than 18″ to accommodate larger users.
Our top choice is Days' Heavy Duty Steel Rollator exceeds the 700lb capacity rollator requirement and is one of the highest capacity rollators on the market today. However, it is rarely in stock so, if you're buying it, be sure you're getting the "Heavy Duty" version.
When my Aunt J had surgery she struggled to find a bariatric rollator that would support 600 pounds and, by the time she found one, she had lost some of her mobility and independence.
Long story short, you need a rollator that fits your specific needs. For some reason, obese people who often struggle to get around have a very difficult time finding a rollator that suits their needs. For that reason, we'll be focusing on the best bariatric rollators (wheeled walkers) that you can get. At least for people who weigh up to 600 lbs.
If you have had a rollator before, you are probably well aware of what you like and don't like. If you know what you're after and don't need to see the complete write up I'll make it easy for you. These are the best heavy-duty rollators that support 500, 600, and even 700 lbs:
Affiliate links / Images from Amazon Product Advertising API
What To Look for In a Bariatric Rollator – 7 Things
When looking at a bariatric rollator, the weight limit is only part of the equation. It is totally possible to get a device that supports you but is absolutely unusable for a host of other reasons.
Here is the list of things that I made sure to check when I was researching the best 600lb capacity rollators for this article. We'll start with the obvious.
1. Weight Capacity
The most obvious feature to look for in a bariatric rollator is the weight capacity. However, it's a bit more complex than simply comparing your weight to the number stated by the manufacturer.
You'll also want to consider the extra weight you put on the rollator when dropping into a sitting position as it can be as much as 1.5x your body weight.
Personally, I also recommend giving yourself a bit of a cushion (when possible) so that you aren't maxing out the weight capacity of your rollator.
2. Handle Height
The height of the handholds is possibly the most variable and important measurement that you need to know. Most rollators have adjustable handles but, unless you are of average height, you'll want to be sure that the handles are within a range that will be useful to you. In addition to your weight, the way that you intend to use your rollator also affects what the handle height should be.
If you simply need some balancing help the handles can be set much higher than if you need them to help support your weight. Only you can answer what the right height is for you but we chose options that will be a good fit for the majority of people.
3. Seat Height
Seat height is another important thing to consider when purchasing a heavy-duty walker with wheels. If the seat is too high your feet will not touch the ground easily and you can cut off the circulation to your legs. If it's too low it can be a struggle to sit down and stand up again. Measure a chair you have access to (such as a dining room chair) to find out what is comfortable for you.
4. Extra Wide Frame
Half of the purpose to use a rollator is so that you have a spot to sit down when you need it. However, it doesn't matter if your rollator supports 1,000 pounds if your hip size prevents you from fitting between the frame and sitting down. The widest of these walkers will typically fit up to a 70″ circumference hip and, if you are larger than that, you may need to ask for a recommendation from your doctor.
5. Overall Size
The overall size of your rollator may or may not be a concern for you depending on the type of use it will see. If you live in a place with narrow halls or tight areas you'll have to turn around in, you need a walker that is capable of handling such small spaces. Similarly, if you are going to be stowing your walker in your car's trunk, knowing the folded size beforehand will help you to know if you'll be able to fit it in.
6. Weight
Again, this may or may not be a matter of great concern to you. If you do not have good balance or arm strength, navigating with a heavy walker will be difficult. With that being said, almost any bariatric walker will be heavier than average simply because they have to be built heavy-duty to hold up to your weight.
7. Wheel Size
While wheel size isn't a huge concern, larger wheels roll easier and are less likely to be held up by bumps, cracks, small rocks, etc.
Now that we know what we're looking for, let's go in-depth and talk about some of the best options available!
3 Best Bariatric Rollators (Up To 500 lb Capacity)
1. NOVA Mighty Mack – Best High Capacity Rollator
If you are simply looking for a heavy-duty option with an extra-wide seat, then we have the best option for you right here! The NOVA Might Mack is a hardy rollator that is meant for both indoor and outdoor use. While it isn't a 600-pound capacity rollator, it does boast an impressive 500 lb sitting capacity and provides a seating width of 24″!
Some of the other features you'll love include:
Lots of height adjustability. Most heavy-duty walkers are meant for a user who is both heavy and tall. So the Mighty Mack is a breath of fresh air in that the handles adjust down fair enough for a person 5'5″ to use comfortably.
The extra-wide seat has a removable cushion and you can attach an optional food tray in its place! Now you can transport your food while using your rollator!
If the option for a food tray wasn't enough, I'm sure you noticed the large-capacity wire basket where you can store all of your goodies.
The brakes on this machine are built with purpose. They are designed specifically so that someone with limited hand strength is able to fully compress them and safely control their speed. All brake parts have a 5-year warranty! In fact, NOVA is so confident in the quality of their device that they provide the best warranty we have seen for any rollator! They "build them for life" and offer a lifetime warranty on the frame and a limited lifetime warranty on the brakes.
I would be remiss if I didn't mention that this is the most expensive rollator in our review. While this doesn't matter as much if some or most of it is covered for you, just remember, quality doesn't come cheap! Order it and reclaim your independence!
2. Invacare Bariatric Rollator – Best Small Form Factor For Heavy People
If you have a limited budget and need a high-quality rollator that will support up to 500 pounds and last you for years to come, then Invcare might be your go-to company!
This is their standard bariatric rollator and will support up to a 500-pound user. It is just a bit wider than your typical rolling walker and will give you not only the walking stability you need but a sturdy place to rest if you lock the brakes.
The 500 lbs weight capacity, steel frame, oversize wheels, and easy height adjustment make this rollator a solid option for any bariatric patient within its weight capacity. If it fits in your budget, get one and try it out today!
3. ELENKER HD Rollator – Best Budget Option For Obese People
If you weigh 400 pounds or more, there are very limited options on the market for bariatric rollators. What's more, I don't personally trust companies to be completely honest about the actual capacity. Because I always recommend people buy something that will support more than their weight (so they have a buffer) this is the only "cheap" rollator on the market that I will recommend to a person who weighs over 500 pounds.
While the weight capacity alone makes this rollator the best option for many bariatric people, it has a host of other features that sweeten the deal.
My Favorite Features:
Handlebars adjust to fit users from 4'7" to 6'2". They are sturdy, easy to hold on to and provide easy access to the brakes. And speaking of the brakes, they are smooth and powerful so you never have to worry about losing your feet on hills or slopes.
The seat is sufficiently wide for most users but even those with extra-wide hips will be able to fit comfortably between the handles. However, the overall walker is only 33″ wide so you should still be able to easily navigate your home and pass through doors.
It comes with a convenient nylon storage basket under the seat so you have a place to keep a water bottle, a book, or anything else you need to keep yourself healthy and entertained no matter where you're sitting.
While this brand hasn't been around as long as the others on our list, it is a solid option for those who are on a budget. So if you are in the market for the highest-capacity bariatric rollator that you can get on a budget, you just found it.
Rollators, Walkers, or Wheelchairs – Which Is Best?
When it comes to mobility devices, the best option for you is the one that will let you retain the most freedom in the safest manner. For the majority of people, this is a rollator.
Walkers are often ungainly and are not a good fit for people with balance issues as they force you to either pick the device up or slide it along the ground. While walkers do have their place, for the majority of people they have none of the excellent advantages (ease of mobility, braking, a sitting surface, etc.) that you're going to get with a wheeled option.
A wheelchair, on the other hand, is an excellent option if you do not have the necessary physical strength or health to use a walker or rollator. If you can, however, it is almost always a good idea to exercise and maintain as much mobility as possible.
So, long story short, consult your doctor and get a bariatric rollator if you can!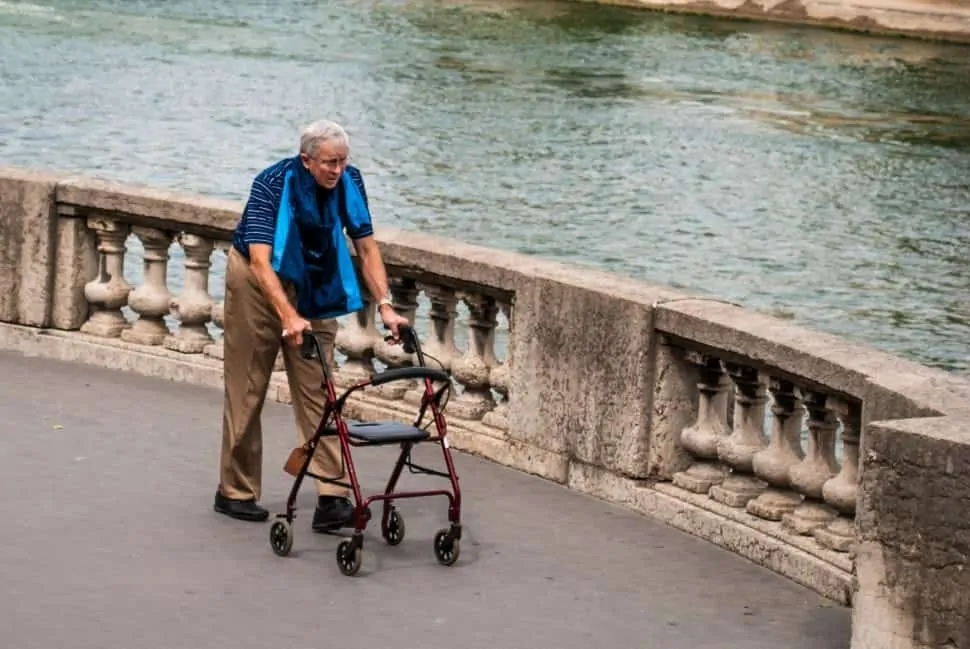 Bariatric Rollator FAQs
Can I get reimbursed for a rollator?
While I don't know your specific situation I can tell you that, yes, insurance (including medicare) can help cover the cost of a walker or rollator. If you are interested in a rollator, you may want to have your doctor write a prescription with specific language (for example: bariatric rollator 600 lbs capacity) because medicare will only pay for the "cheapest necessary" item. Unless you want something cheap and flimsy you may still need to cover part of the cost yourself.
What is the Medicare code for a rollator?
For info on the Medicare codes to use for a rollator or wheeled walker check out this page.
How to measure for a rollator?
One of the most important things you can do to ensure a comfortable rollator experience is to measure beforehand to make sure you are getting the right size. While most rolling walkers and rollators are adjustable, here's how to get the measurements you need:
Stand up straight on a flat surface. If you are typically going to use the rollator wearing shoes, be sure you wear them, If you typically use if wearing slippers, wear slippers, etc.
With your hands hanging naturally at your sides have a family member or friend measure from the crease of your wrist to the floor.
That measurement is the approximate height you need the handles on your rollator to be.
Are bariatric rollators good for outdoor use?
The truest answer here is: not all rollators are good for outdoor use. If you plan on going for walks outside or using your rollator outside of stores or your home there are a few things that will make it better.
First of all, make sure that you have a heavy-duty wheeled walker. Bariatric rollators are typically made more heavy duty so we should have that box checked already! Second, get the biggest wheels possible (8″) and make sure that the brakes are capable of both slowing you down while walking and keeping the chair in place while you sit. As long as you are careful, there is no reason that you cannot use your new device to enjoy time outdoors!
If you are going to be walking, be sure you have a good pair of Walking Shoes for Obese People so support your feet and keep you upright.
How do I get my rollator fixed?
Since medicare and most insurance companies will only pay for a rollator every 5 years or so, it may become necessary to have your device fixed or repaired. The best way to go about this is to simply contact the company that made yours and ask what they recommend. Many manufacturers offer repairs or at least replacement parts. If you strike out there, most local medical supply stores can recommend a local shop that can do the work you require.
Will my rollator fit in my car?
It depends. How big is your car and how big is your rollator? If you plan on taking your walker with you, be sure to check the folded size before you purchase so you can ensure it will fit wherever you want to stick it.
In conclusion
I hope that this article was helpful and you were able to find what you needed! A 600lb capacity rollator isn't easy to come by but I hope the ones we found are a good fit for your needs!
No matter your weight, a heavy-duty rolling walker with a seat will help to increase your walking stability and make long trips more comfortable (because you'll have a seat with you!) I'm very grateful that my aunt was able to keep going on outings with me and my family as she aged and decreased in mobility. Don't lose time, order now!