As an Amazon Associate I earn from qualifying purchases.
When I first started getting into lifting weights I didn't realize that I didn't need to eat the entire McDonald's menu to gain "muscle".
Within two years of discovering the high school weight room, I had worked my way up to 265 pounds. Not the best idea.
At this same time, I was also going through a skinny jeans phase and used to split the crotch out of my jeans within a few months of owning them. We didn't have much money so I usually only had one or two pairs of jeans to my name at a time so, long story short, I ended up wearing a pair of mustard-gold sweats to school most of the time.
I needed to rethink my life.
I've since thinned out to about 240 pounds but my thighs have done anything but shrink which has posed some additional problems. Losing some weight was a bit of a challenge, but not nearly as challenging as finding jeans that fit my stupidly big thighs. I'm now grown up enough that I need to wear jeans on a regular basis (instead of sweats) so I needed to figure out what kind of jeans work for big thighs, where to get them, and how to style them.
My #1 Choice
Best Slim Fit
My #1 Choice
Best Slim Fit
Affiliate links / Images from Amazon Product Advertising API
Now, if you don't lift weights, don't worry. Jean for men with big thighs don't know what your thighs are made of. If you have muscular thighs or fat thighs you'll get the same mileage out of some great jeans.
4 Best Jeans For Guys With Big Legs
1. Lucky 221 – Slim Straight Jeans That Fit Big Thighs
Lucky Brand Jeans have been around forever and, in that time, have been a top choice when it comes to jeans for men with big thighs. This "original straight leg" fit is roomy and has allowed me to avoid splitting out the crotch of my pair for 18 months and counting!
The stretch factor not only means that these are some of the most comfortable jeans I've ever owned, but I can stay active in them even though they are fairly slim over my thighs. While they don't fit like skinny jeans for big-thighs-men they are a bit on the slim side if you are into that sort of thing.
If you are also one of those guys who finds a pair of jeans they like and buys 5 different pairs to avoid shopping for the next year, you'll find your happy place in these jeans.
2. Levi's 559 – Relaxed Straight Fit Jeans for Huge Thigh Comfort
If you drink your coffee black and still have The Clash tapes in your truck, you probably didn't buy into the whole "fashions change" thing I mentioned above. Well, you're in luck. Even though I said I wouldn't include jeans that everyone would love, you'll be very at home in Levi's 559 Relaxed Straight Jeans.
These jeans have the largest and most relaxed fit of any jeans on this list and fit like a slightly updated version of the classic Levi 501. Even the jeans with only a 32″ waist (for muscular legs and a small waist) sport an 18″ leg opening that provides up to 36″ of thigh room. And if you're a big guy with massive thighs? Larger waist sizes have even more thigh and butt room.
The one update that these jeans did get was the inclusion of 1% elastane to make these a bit more stretchy and way more comfortable. Not only will the thighs fit better but the waist will pinch you less than regular jeans would. Oh, and about the waist, it sits low enough that it won't be cutting into any gut that you might have.
So, if you're old school (or just need jeans for muscular legs) these will be a great fit for you!
3. Levi's 513 – Skinny (ish) Jeans for Men with Big Thighs
First off, I have to say, there's nothing wrong with a big guy wearing skinny jeans. There are lots of options for skinny jeans if you're a man with big thighs. However, you'll probably get over them eventually. When I finally got the skinny-jean-bug out of my system these Levi 513s were some of the first jeans I bought. They are slim-fit straight-leg jeans which (in darker colors) work very well with dress shoes for big men and made me look a bit more work-ready than my old skinny jeans.
If you have really big thighs (or a huge butt) these jeans probably won't work for you but for most big guys with an athletic level of muscular thighs, these are a great option.
Even though these have 1% spandex mixed in with the cotton they feel just like normal jeans. Even to the point where I ended up splitting out the crotch and tearing the butt after a year or so of wearing them several times a week. Did I still recommend them? Well, I have since bought two more pairs, so yes, I do.
4. Lee Extreme Motion – Best Budget Jeans for Active Guys with Big Quads
This last pair of jeans is a bit of a unicorn that really impressed me. The pair I first got was actually a Christmas present from my brother who said they were "great hiking pants!" Now, my brother is super fit but, since I could floss my teeth with his thighs, I was skeptical. Much to my surprise, these jeans not only were as comfy as sweats, but they also fit amazingly well!
LEE is a brand that I never would have looked at during my snooty early 20s but I would have missed out. This straight-leg fit is sharp looking while still leaving room for my large thighs and the rest of my manhood.
So if you ever feel restricted in jeans, check these ones out. They have both elastane and polyester mixed with cotton to increase the stretch and comfort level beyond anything else on this list. They aren't quite as roomy in the thigh but they should fit most fat guys, pretty much all muscular guys, and about everyone else in between.
What if none of these work for you?
If none of the options are quite right for you or you have thighs that won't fit in any of the above pants, here's the option: get a pair of jeans that fit your thighs and get the waist and rest of the leg tailored.
In the U.S. clothing tailors are very underutilized. When I lived abroad, I had every single one of my dress shirts and pants tailored to fit exactly how I wanted for a couple of bucks apiece. If you have thick thighs, unusual calves, or a gigantic butt, find a pair of jeans you like and take them to an old-time tailor. They can shorten them, take in the waist create a totally different leg shape (e.g. bootcut to straight), fix the crotch fit, and more!
Many people are suggesting that custom-made jeans may, in fact, be the best jeans for men with big thighs but, looking at the prices, getting a pair tailored makes much more sense.
There are companies such as Barbell Apparel that make jeans specifically for people with huge thighs (bodybuilders) but you might not want to dip into my savings to try them.
The Best Premium Jeans For Big Thighs: Barbell Apparel
If you've been around the fitness industry for any amount of time (or listen to Joe Rogan) you've probably heard all about Barbell Apparel. Not only did they start something of a revolution when it comes to jeans for men with small waists and big thighs but they also pioneered stretch fabrics that actually let you move around in your pants.
It took me a couple of years to convince myself to drop the money required to buy a pair but I finally took the plunge about a year ago. I now own three pairs (who needs more than three pairs of pants?) and feel like I can give a bit of insight about them.
Pros and First Impressions:
I typically vacillate between stretchy jeans and raw denim selvage. I chose Barbell's Athletic Slim Fit Jeans and, when I first pulled them out of the package, I wasn't overwhelmed. I thought they were super soft and stretchy but unlikely to last. I was wrong. So far, here are the positives:
They allow you to move. If I wear jeans without stretch I usually have the characteristic jeans-too-tight walk.
They allow you to be a man…if you know what I mean. Let's just say that I feel liberated when I wear them.
They last. Because of the proper fit and stretch, I have yet to rip the crotch out or tear a hole in them.
Cons
Limited colors. I'm not flashy but I could use a few more options in washes and colors.
Durability. While I haven't ruined them yet, there's no way they're going to last as long as some of my other denim.
Cost. Obviously. At this price, they better last a while.
Overall Verdict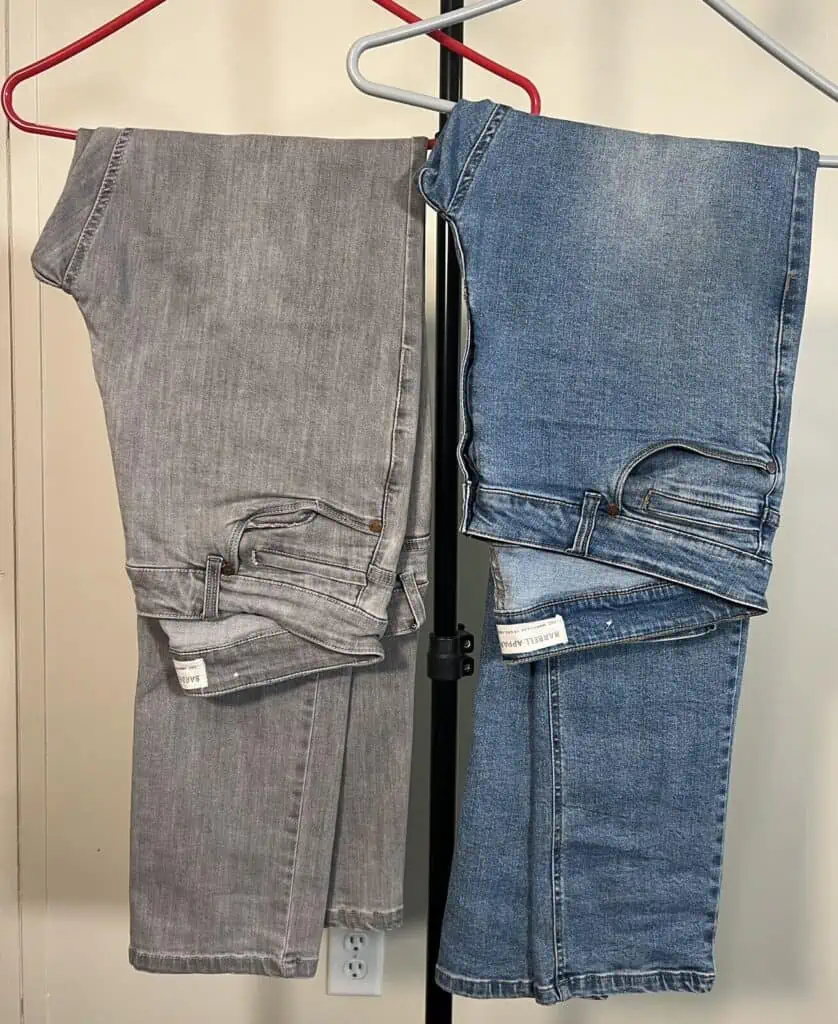 In the end, I firmly believe that Barbell Apparel (or just "BA" to me since we're chums) makes the best jeans if you have big thighs but aren't fat.
Despite the number of competitors and imitators that have sprung up I feel like the originals are still the king.
In fact, I'm so convinced that you'll love the jeans that I've got a deal with BA that will make the deal even sweeter. When you check out, use code DESIGNBIGGER and you'll get 10% off your order. How cool is that?
Other Brands Worth Noting
While I haven't tried these, there are a couple of brands that I plan to try during 2023 as they are generally considered to be a good option for guys with big thighs.
On my shortlist to try are:
Wrangler's Regular Taper Jean – I actually have two pairs of these on the way to try and they are affordable, look great in the pictures I've seen, and seem to work well for guys with larger thighs.
Everlane Athletic Stretch Jean – Everland supposedly makes some of the comfiest jeans around and this model, with loads of stretch, is considered the best. They don't come cheap but quality rarely does.
American Eagle Athletic Fit Jean – I wore American Eagle jeans in high school but wrote them off a long time ago as not being up to snuff. Apparently, they are well-suited for bigger butts and thighs so I'll probably drop $40 to try them again one of these days.
5 Tips For Choosing Jeans When You've Got Big Thighs
If you're looking for jeans that fig big thighs and a big butt you'll have to contend with a ton of jeans that will make you and your legs look like crap. Most clothing companies have no idea how to make clothes that fit a guy with big thighs (or any type of muscle mass for that matter).
So let's talk about the criteria I used to choose great jeans that actually fit (and you can move in):
1. Forget the Dad-Jeans
First off, let's talk about the elephant in the room. It happens to everyone, they get older, fashions move on and you either adapt or get steadily less fashionable.
Now, if you're a bit out of touch with current denim fashions, that's fine. However, I chose not to include jeans in every type of fashion era here. Instead, I chose jeans that are currently fashionable, meaning mostly straight-leg versions.
If you don't want anything fashionable, buy some Levi 501s and be done with it. Otherwise, let's talk about what looks good while still fitting great and maintaining a level of comfort!
Even f you have a great body (or muscular legs in this case) you don't get a free pass for dressing. If you dress like crap, you'll look like crap. If you wear dad jeans and ill-fitting polo shirts everyone will just assume you're a meathead who can't do anything but pump iron.
Also, if you are a big fluffy fellow, don't even think about wearing crappy denim. Dressing intentionally will make you look much more put together and can change the way that others view you. In short, clothes make the man.
2. Choose The Proper Denim Blend to Fit Large Thighs
One of the main problems with regular jeans for men with big thighs is that they don't allow you to move around and, if you try, you'll end up ripping out the butt and crotch.
Most men fix this problem by buying jeans with a waist several inches too big and just belting it. But that is an uncomfortable and usually ugly fix.
The best option is to buy jeans with a material that is meant to support both active motion and men with big thighs.
If you cringe a little bit when I say "stretch jeans" you're probably thinking of something like jeggings or yoga pants. Don't worry, no matter how big you get, I'll never tell you that leggings are actually the best jeans for men with big thighs.
Stretch jeans are really just jeans, except they fit better and are more comfortable. The only drawback is that they don't last quite as long.
Stretch denim is made by adding a very small amount (like 1-2%) of stretch material to the denim weave (usually spandex or elastane).
This allows the jeans to maintain the look and (almost) the durability of normal jeans but means you can still squat down, climb a tree, or even trip on your face without tearing your jeans. All of the jeans on this list have some level of stretch to them which is one of the characteristics I always look for in jeans for men with big thighs.
If you need jeans that are heavy-duty for work (or you simply hate jean shopping and don't want to do it) 100% cotton jeans will last the longest. However, they will also be the stiffest, heaviest, and less comfortable than jeans with any amount of stretch.
3. Comfort & A Flattering Fit Can Go Hand In Hand
I touched on this above but I wanted to say it here in a slightly more coherent and relaxed way. The best cut of jeans for big guys is a straight-leg cut. It is very difficult to look professional in skinny jeans (unless you're dressing up as a carrot) and it's hard to get anyone to take you seriously in boot-cut jeans.
A straight cut is the best fit for fat guys with big thighs because it can thin you out and give you more of an athletic shape. If you are a bodybuilder, avoid painted-on skinny jeans (unless you have calves like Dorian Yates) and get a pair of jeans that is both versatile and fashionable (meaning straight-leg jeans).
4. Best Colors Of Jeans For Big Guys
When it comes to choosing the best jeans for men with big thighs, color matters! So here's the quick and dirty guide for choosing a color of jeans for muscular legs.
Black and dark denim:
Dark denim is more slimming than light, so if you're trying to reduce the presence of your thighs, dark is a good option.
The darker the denim is, the more it can be dressed up. You typically want to wear something dressier than sneakers with dark denim and always wear a belt.
Dark denim can be worn with a shirt tucked in and, if you really have to, a tie.
The only exception to the "black/dark denim is dressier" rule is when the jeans are faded, stone-washed, or distressed.
Light/distressed colors:
Light denim is typically more casual and sporty. If you want an athletic look or you wear sneakers a lot, wear light denim.
Lighter jeans (including blue) are a much more classic look and are easier to pair with pretty much any type of shirt. Just don't tuck that shirt in.
When it comes down to it, you better have a couple of different colors of denim to wear. Personally, I'm not a fan of blue jeans and stick with faded black jeans for everyday wear. But do what works for you!
5. Measure For Proper Fit (If You Have Big Thighs)
If you've ever bought a pair of jeans without trying them on: you probably gave yourself a mental beating afterward. The reason is that the exact same style of jeans from the same brand can fit differently depending on the color, fabric, production run, etc.
The most reliable way to get well-fitting jeans is to measure your body and check the corresponding measurements on the manufacturer's website.
So if you want to know how to properly measure for jeans to get the perfect fit on big thighs (or muscular legs and a small waist) then here are the measurements you need to know:
The Waist: You probably know what waist size you normally buy, but you probably don't know what waist size you really need. The best way to measure waist size is to measure your waist where your pants sit, then get your favorite pair of pants, lay them flat, measure the waistband and then double it. That will give you the measurement you should be looking for. Just be aware that you can ask the seller for an actual measurement of the jeans because I've seen jeans tagged as a 34″ waist that measures anywhere from 31″ to 38″
The Inseam: Easy, lay your favorite pair of jeans flat and measure from the bottom hem to the crotch. The problem is that an inseam measurement is only useful when the rise measurement is also known.
The Rise: On pants, the rise measurement is taken from the top of the pants, down along the fly, to the crotch. As you can imagine, a pair of paints with more rise will be longer than one with a short rise but with the same inseam. This is the main reason that pants with the same tagged inseam length can be way too long or short. So figure out what rise you want and you can figure out the total length for future purchases. If you're looking for dressier jeans, avoid low-rise options.
The Thigh/Leg Opening: If you are lost and need jeans for men with big thighs, measure your own thighs (the largest part) and simply look for jeans with a measurement that will fit you. This may seem obvious, and it probably should be. Straight-leg jeans are especially easy to find because they're….straight. Sellers almost always give you the leg opening that you can use to figure out the real estate available to your thighs.
At the end of the day, you'll probably have to try on several different pairs of jeans to find one that works well for your body type and specific situation. With that being said, the following are jeans that I've personally worn and, according to lots of reviews, are generally thought to be good options for men with big thighs and big butts.
If you're looking to do more than just wear new jeans you can also check out our fashion tips for big guys.
Conclusion
When you're a muscled-up meathead looking to up your fashion game or a heavy guy with big thighs and butt wanting to leave the dad jeans behind, I hope you found what you were looking for!
Whatever you decide on, get them straight, get them stretchy, and get them in lots of colors! If you're lost, just get our #1 recommendation, Lucky Jeans 221s. They're affordable, they're classic, and most importantly, they'll fit your beefy thighs!