As an Amazon Associate I earn from qualifying purchases.
"Why would a grown man want a kick scooter?"
That is the question that my wife and wives everywhere want to know. Well, it turns out that there are lots of very legitimate sounding reasons (beyond "I want one") that justify getting a kick scooter as a heavy adult.
Although, if you need an answer to this question, you probably wouldn't be here.
But since you probably need to justify it to your spouse, here are some of the biggest perks of getting a kick scooter suitable for adults:
Scooters are fast! When I first got a scooter, I was able to cut my commute time to 1/3 of what it used to be! My 20-minute walk now took me significantly less than 10 minutes, and when I arrived I wasn't sweaty and breathing hard from my speedwalk.
Scooters can fold up and go just about anywhere. Under your desk? Of course. Next to your chair in the lecture? Yes. Strapped to your backpack? Why not?! Just try that with a bike…
They're great exercise! Having a scooter still allows you to get all the benefits of exercise while avoiding many of the drawbacks. Scooters are easier on the joints than jogging (not to mention more fun) and have the added bonus that you can keep up with your kids when they're biking or scootering themselves!
They're eco-friendly. They're good for the environment if you care about that sort of thing. If you don't (you should), get a scooter anyway!
Convinced that you need a scooter yet? I better be careful, I might just convince myself to buy another one…but since we've established how valuable they are, let's talk about some options!
The Best Kick Scooters for Heavy Adults
Best Overall
Strongest Option
Budget Choice
Best Overall
Strongest Option
Budget Choice
Affiliate links / Images from Amazon Product Advertising API
When I was in college, I walked around 5 miles a day to/from campus and between classes. While I enjoyed the exercise (mostly), there was one main problem with my walks. They took forever! There were 30,000 fellow students all vying for the limited parking spots at my school. This meant I always had to park 7 blocks away between the church and the creepy apartment building…followed by a 25-minute walk to campus. If I wasn't on time… forget it, I wasn't going.
Then one day as I was half jogging to class (only half jogging because running with a backpack sucks), I got passed by a guy on a kick scooter. My first thought was, "what a goober!" But my snap judgment quickly turned to jealousy as I watched him fade from sight in front of me. 20 minutes later when I got to class sweaty and out of breath, kick scooter-boy was sitting on the front row, cool as a cucumber.
It was then, perhaps, that I realized I needed to rethink my life. Not only did I need to get my hands on a kick scooter (before tomorrow if possible) but since I was a big guy it would have to be a heavy-duty kick scooter meant specifically for heavy adults! I actually spent that class shopping on my laptop and coming up with a list of what, in my mind, would make the perfect kick scooter:
What makes a kick scooter suitable for heavy adults? The truth is that most adult kick scooters are suitable for heavy people. While they might be tall enough, the weight limit simply won't support someone my size (and I wouldn't consider myself that big…).
So, here are the things that, in my opinion, make the best kick scooter for adults:
Has a weight capacity of 250lbs or more
Has a platform that is wide and long enough for adult-size feet
Has either large wheels or suspension for comfort while riding
Has a wide range of height adjustability
Is durable and will last for years
By the end of the class period, I had not only finished my research, but I had also actually ordered my scooter! Even though I've been out of school for a while now, the same scooter serves me well whenever I need to get around town (or my car breaks down). So, if you don't need the rest of the article and my long-winded reasoning to help you decide, here there are!
1. Hudora 230 – The Best All-Around Kick Scooter For Heavy Adults
For average-sized and slightly heavy adults, this is the best kick scooter to get. Not only is it the best-looking scooter of the bunch (in my humble opinion), it has a slew of features that makes it beat out the others:
It has the biggest wheels. This gives it the smoothest ride of all the scooters I tested (except the Schwinn, which doesn't really count…)
It comes with a kickstand. Without a kickstand, every time you get off your scooter you either have to hold it up, pick it up, or lay it on the ground.
It has the second-highest weight capacity. All but the heaviest riders will fit within this scooter's 265-pound weight capacity. If you need a kick scooter for a 300 lbs person or larger, then scroll on down!
Large deck size. Unless you have goliath-sized feet, you'll have no problem fitting them on this deck.
It folds in seconds. If you're taking your kick scooter on the bus, into the office, on campus, etc. you'll want it to fold quickly and well. This one does.
5 height adjustments. Most of the other scooters I looked at had only 3 height adjustments for the handlebars. If you have 3 adjustments you can probably find a usable one, but 5 gives you a much better chance to find a well-fitting and comfortable option.
Given the great price, excellent features, customer reviews, and overall awesomeness, this is the kick scooter you want!
My Experience With The Hudora 230
After loads of research, I ended up going with the Hudora 230. Although you probably could have guessed that since it's my #1 on this list.
While I'm really pushing the weight limit of this scooter it has protested and isn't showing any usual signs of wear after a couple of months.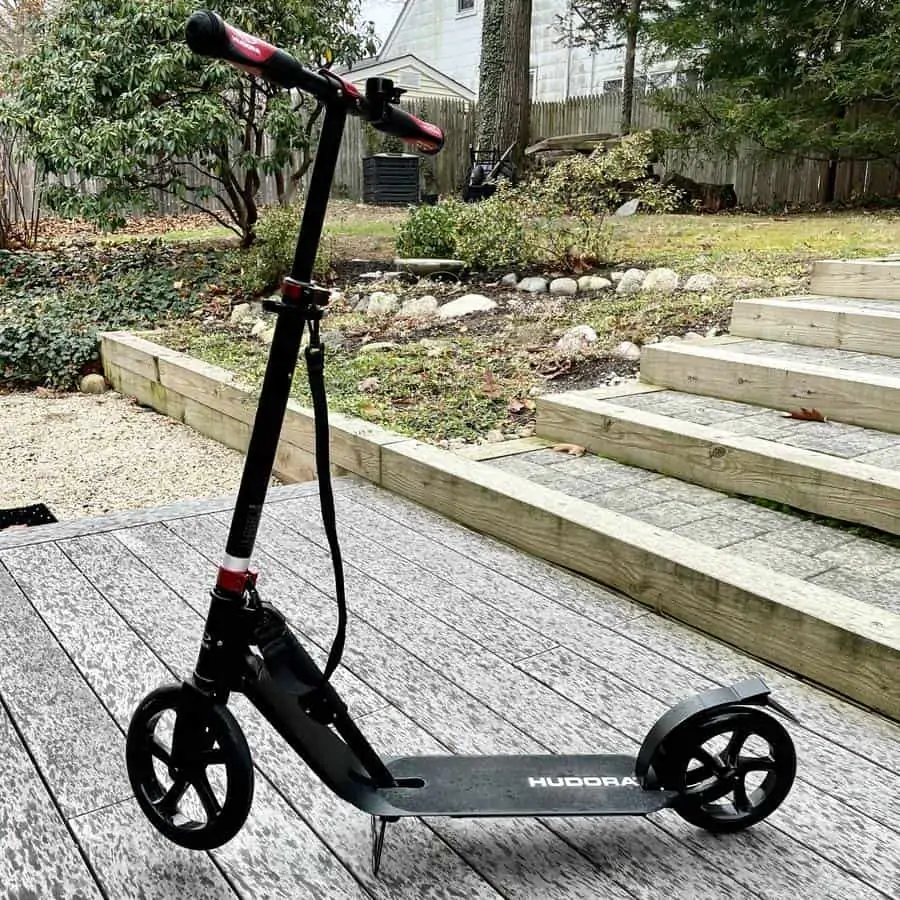 Want my honest feelings about it? Here we go: it's a scooter. I won't try and dress it up any further to try and sell you on it but, when it comes down to it, it does everything I'd expect (including supporting my weight) without any issues.
I have no significant complaints about it and see myself buying another if my wife ever "accidentally" runs it over.
I do appreciate how easily and quickly it folds when I'm headed to work or putting it in the trunk of my car though!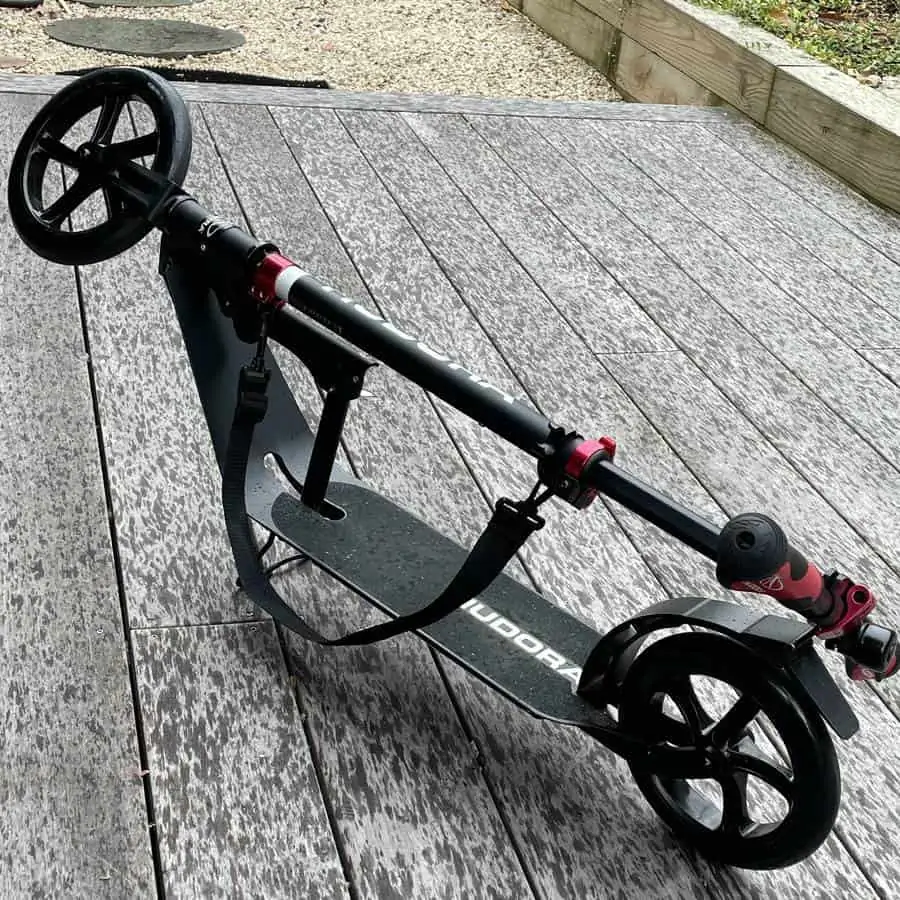 At the end of the day, I would recommend this kick scooter to any heavy adult. If you are significantly over the weight limit I did find a few other options but, for everyone else, the price is right and it'll do everything you could possibly expect it to.
2. XOOTR MG – Highest Capacity Kick Scooter (up to 800lbs)
Don't be put off by the name here, every XOOTR MG is hand-assembled in Old Forge, Pennsylvania. Perhaps the home-built quality and personal attention to detail is the reason that this scooter has the highest weight capacity on the market! It has all the usual features that you would expect, as well as a whopping 800+ pound capacity!
The fact is that the XOOTR MG is literally the only option if you weigh 400 or 500+ pounds making it a must-buy!
While I couldn't find anyone near the weight capacity that had actually ridden this scooter, there were several people in the 3-400 pound range (and up to 6'9″) that rode this scooter and reported that it felt rock solid to them!
While the XOOTR MG is the most expensive kick scooter on this list, the old adage that "you get what you pay for" is true here. It is a high-quality scooter, and even if you aren't obese, this is an excellent choice that will last forever.
3. Schwinn Shuffle – Best Kick Scooter for Commuting Long Distances
If you need to commute lost distances on roads or really crappy sidewalks then the Schwinn Shuffle may very well be your best option. Its monster bike tires will roll over everything except yetis and large boulders. What's more, the tires are pneumatic so you'll experience a smooth and comfortable ride. Also, this "scooter" features hand brakes, so if you're used to biking, you won't be stomping around at the back of your scooter trying to find the foot brake.
However, speaking of bikes, let's call this scooter what it really is. It's a bike without a seat or pedals. It's big, it doesn't fold, and (unlike a bike) it has no gears, so you're limited by the speed of a single leg.
At this point, I'm left wondering… is this a big wheel scooter or just a strange bike? Wouldn't bikes for heavy people be more comfortable? Either way, this thing has a 200-pound weight capacity, and if you want to commute long distances on a leg-driven scooter, you'll have to have it!
4. Hikole – Portable Kick Scooter for Heavy Adults on a Budget
If the scooters so far have been a bit too serious for your taste, you're in luck. Maybe all you need is something to get around during the weekend or cruise to the park with your kids. If so, then the Hikole scooter is the one you need. It has several beneficial features that not only make it adult-friendly but also very beginner-friendly!
This heavy-duty kick scooter has a high-profile foot brake which is very easy to find with your foot. No matter how fast you're going you should be able to get stopped in plenty of time!
It has suspension in the front and rear. Not only is this the only scooter we reviewed with suspension, but it also has it in both the front and rear! It has smaller tires than others, but with the added suspension, you should have a nice smooth ride!
It has a kickstand. Watching your kids at the park? Push down the kickstand and your scooter can stay right next to you, ready for action!
Its weight capacity will support most adults. This scooter's 220-pound weight capacity is adequate for teens, big kids, and most adults. While I wouldn't be comfortable getting too close to the weight capacity, it will be plenty durable for anyone small enough to ride it!
While the cheaper price does mean slightly cheaper materials, by all reports this scooter steers well, is durable, stable, and enjoyable to ride. Not to mention it's the cheapest adult scooter on the market that will actually last more than a month!
7 Characteristics Of The Best Kick Scooters For Heavy Adults
In my search for the perfect grown-up scooter, I considered dozens of factors in addition to the ones I mentioned above. There are literally thousands of scooters on the market, most of which are flimsy pieces of thin metal with crappy wheels…not suitable for serious use by anyone, let alone adults. Let's delve a little deeper into the main considerations which helped me narrow down the field.
In order of importance, they were:
1. Weight Capacity
Let's face it…everybody weighs more now than when they were a kid. That's not shocking. However, if you're anything like me, you weigh more now than you did even last year. Most "adult scooters" have the same generic weight limit of 100kgs (220lbs).
Almost every scooter we saw with this weight limit had several reports of it breaking on users who weighed far less. Because of this, we searched for scooters that would give most adults a significant extra weight cushion. Our theory is, the further you are from the weight limit, the less wear and tear there will be on your scooter.
2. Wheel Size
It's unusual to find any sort of suspension in a person-powered scooter. Not only does it add a level of maintenance, but it also decreases durability, and according to general consensus, is not very effective. Instead of suspension, most manufacturers of high-quality scooters opt to create scooters with larger wheels. Larger wheels are much quieter and smoother than small wheels, as they roll over bumps with much less resistance. Additionally, larger wheels tend to be more stable at speed and in wet conditions.
3. Deck Size
I did a fair amount of scootering in my youth, so when the boys at the therapeutic home I worked in heard of my skills, they took me to the skate park and challenged me. I had to borrow a scooter from one of the boys, and much to my chagrin, my size 13 foot was the size of the entire deck. Because of that, I was unable to ride comfortably, let alone quickly or aggressively. A comfortable scooter is one on which you can comfortably rest both feet on the deck, one in front of the other.
4. Bar Height and Adjustability
Scooter weight limits are based on what the deck can support. If the handlebars do not adjust high enough for you, you will end up putting too much weight on them. This will result in difficulty steering, instability at speed, a higher likelihood of breaking your new scooter, and a very sore neck/back. We looked for scooters with the greatest variability in height, meaning that they can easily support users up to 6'7″!
5. Size, Portability, & Weight
Nobody wants a log on wheels. One of the main draws of scooters is that they are lightweight and easy to transport when they're not in use. 3 of the 4 scooters we recommend fold up quickly and can stash under your desk or just about anywhere else if needed.
6. Deck Height
While deck height will not be a concern for most people, short adults may find that big wheels lead to a tall deck-height weight, which in turn, leads to really tired legs. Imagine, if your deck is too tall, you have to do a little mini squat every time you push off and stand back up. None of the scooters we chose should pose this problem.
7. Price
Price was of lower importance in our search. While we did avoid scooters that were out of reach of average people, the cost is not a major concern for most. A high-quality scooter is literally a vehicle that can take the place of a much more expensive option (car, bike, taxi, etc.) on short trips, and can provide years and years of service without needing gas, charging, maintenance, etc. Don't skimp, or you'll regret it very soon.
I guess I should also mention that I, to some extent, includes how a scooter looks in my decision. After all, no one wants to show up to class, a business meeting, or even the park, looking like they borrowed their 8-year-old's scooter.
So, if none of the scooters on our list is quite the right fit for you (if you have 3 legs, for example), then those guidelines should be able to give you a good checklist when looking at other options!
Protective Gear For Riding A Kick Scooter
If you're tempted to avoid this part, don't! Remember those safety assemblies you had in kindergarten about wearing helmets? In mine, they showed us the helmet from some kid who got hit by a car while riding his bike. The helmet was cracked in half but the kid was fine. As an adult, though, I often go without my helmet. Not because I'm smarter, stronger, or more capable. Although those things may be true…the real reason that I and other people go without helmets is because of laziness and stupidity.
One of my best friends was hit and killed by a car while riding a motorcycle. He wasn't wearing a helmet and smashed the back of his head on the asphalt. I'm not saying that he would have been fine if he was wearing a helmet, but it couldn't have hurt. Also, he could have been in the exact spot and riding a kick scooter. Don't fool yourself that you'll be fine because scooters are slow, because people die while walking. Get yourself a helmet and wear it.
If you're really serious, you can find a plethora of protective gear to cover your hands, wrists, elbows, knees, and even your butt. Find a good place to go and be safe out there!
Conclusion
Now that that is out of the way, trust me, kick scooters for adults are generally safe, great exercise, and tons of fun! Not to mention they are a fast and effective way of getting around that is portable and can fit just about anywhere. So get yourself a big wheel scooter and start gliding!