As an Amazon Associate I earn from qualifying purchases.
I've always been a big guy. In fact, I remember breaking my first bike when I was only 11 years old. Admittedly, I had just jumped it off a giant wooden ramp my buddy Drew and I had built (and I broke my collar bone at the same time) but it was still an omen of things to come.
Despite the height and average weight of men creeping up year after year, bikes have remained relatively unchanged for the past 200+ years. Many companies seem to fear making big man bikes because they don't want to be responsible for a fat out-of-shape fellow wrecking and rolling down a hill.
Or maybe they think we just shouldn't be in spandex.
Either way, it remains true that bikes for tall or heavy men are difficult to find. But here's a secret, some of the best bikes for big guys aren't directly marketed to them. They're just great bikes with overbuilt components that will take a beating!
And we also look great in spandex.
The only way to find bikes like this is to put in the hours to look at the specs, contact manufacturers, and track down the maximum weight capacity of each one. Well, we did it. It took lots of hours and even more saddle time but we tracked down 5 of the best bikes for big and tall guys with a 300lb capacity (or more)! Let's see the lineup!
Affiliate links / Images from Amazon Product Advertising API
3 Things To Look For in Bikes for Big & Tall Guys
There are two ways of conquering life: working on your strengths or working on your weaknesses. However, there is only one way to get a bike that is suitable for big guys. And that is to find a bike that has the weak points patched up.
Since most bikes have the same failure points when they are ridden hard by heavy riders, let's talk about what they are, what to look for, and what you can do if you find a bike that you love with an obvious weak point.
1. Strong Wheels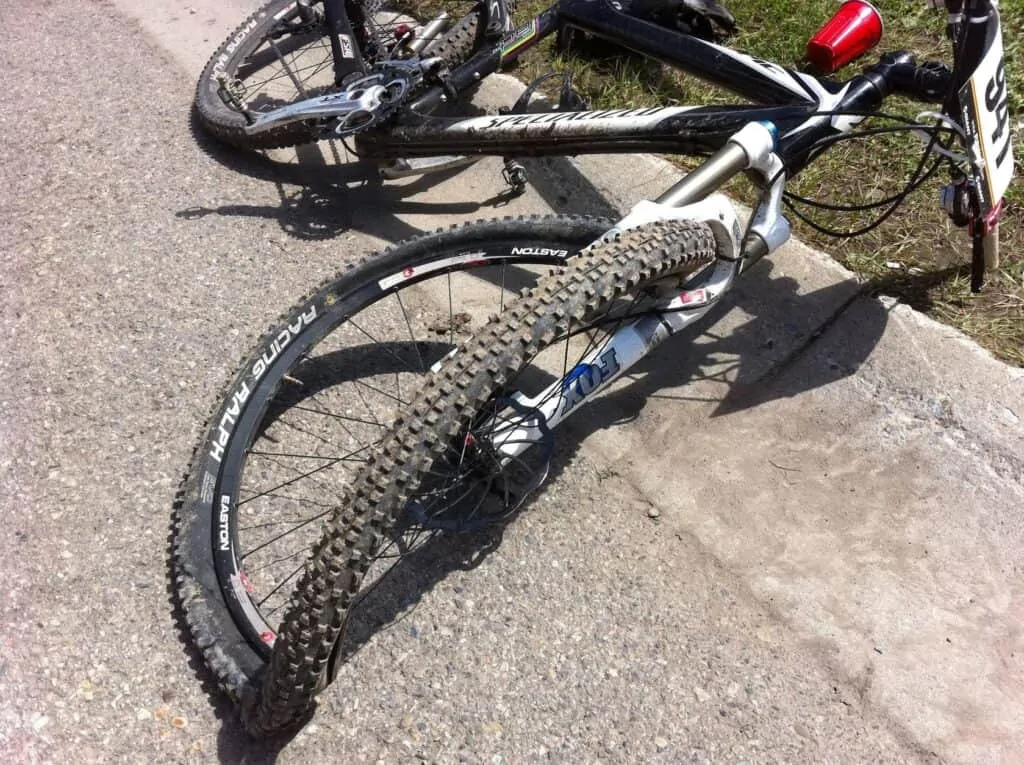 If you're a big guy and hop on a kid's bike, it will most likely fail where the rubber meets the road. Literally. Because of the small contact surface between your wheels and the road, you are counting on a couple of inches of the wheel (and tire) to support your entire weight. Luckily, bending wheels is a fairly common occurrence and so there are companies out there that make heavy-duty options!
If you weigh in the neighborhood of 300lbs, you'll want to look for a wheel with the maximum number of spokes. The spokes are what give a wheel its rigidity and strength so more spokes = high weight capacity.
While it differs slightly by bike type, the average bike typically has 28, 32, or 36 spokes. Bikes meant for aggressive riding or high-weight capacities (such as BMX bikes or tandem bikes) can have as many as 48 spokes per wheel. Bikes for big and tall guys should have a minimum of 36 spokes. If you love a bike that doesn't quite meet that standard, you can replace the wheels easily and fairly cheaply.
2. Beefy Seat & Seat Post
There's nothing quite like the feeling of bombing down a hill (or dropping off a city curb) and having your seat post bend in half. Or so I've heard.
While seat posts are far less likely to fail than wheels, it does happen. Most bikes come with adequate posts but, since you're going to want to upgrade the seat anyway, get yourself a heavy-duty post at the same time!
The strength of a seat post is typically dictated the by the thickness of the material used, so avoid ultra-light versions as they are shaved super thin.
3. Hefty Handlebars
Unless you have tried to cut away all unnecessary weight on your bike, your handlebars are probably fine, at least, if you don't lean on them. If you tend to ride with your weight forward (on the handlebars), ride BMX, or want to try mountain biking, it may be time for an upgrade.
If you're not into the idea of reinstalling and adjusting your cables after swapping handlebars, this is the kind of thing that a bike shop does all day long for cheap. Just take your bike in, tell them you are the hulk and need a real man's handlebars for a big man bike, and they'll set you up!
5 Best Bikes For Big & Tall Guys
Tommaso Gran Sasso 29er – Best Mountain Bike For Big & Tall Guys
Ever since I was a kid, mountain biking and BMX were the two types of cycling that attracted me more than any other. If you're a big guy looking for a mountain bike I'm sure you'll agree…cycling dozens of miles around cars on city roads isn't my idea of fun.
However, there are a significant number of issues that arise when shopping for big man mountain bikes. The first of these, of course, is the weight capacity.
Most bike manufacturers are reluctant to give a finite number for capacity because, "capacity will vary depending on the style of riding, terrain, etc." Because of this, it can be hard to figure out what mountain bike is actually the best for big guys. Luckily, given our above guidelines, we have a few things we can look for!
A mountain bike for big guys should have a strong frame, high-quality wheels and components, and (preferably) be a hard-tail bike (suspension only in the front).
The reason we don't want a full suspension bike is that it adds a layer of unnecessary complexity for big guys. Rear shocks aren't meant to take your weight, they add a significant amount of cost to a bike and typically need additional maintenance.
So, when we put all of those things together, what bike do we get? Tommaso's Gran Sasso! If you've never heard of Tommaso, don't worry, they are a legitimate bike manufacturer. I guess I'll take this moment to advise you heartily against buying any bike not made by a bike company. There are dozens of bikes online that are made by companies no one has heard of and you can't pronounce. Save yourself a month of nightmares and avoid them.
The Gran Sasso is the perfect bike for someone who doesn't have a ton of experience but needs a bike that will last for several years without holding them back. It rides great, it's strong, it doesn't need any upgrades right away, and it looks awesome bombing downhills! As Tommaso says, this is not a beginner bike that you will outgrow in a year. It is simply an affordable performance bike!
Tommaso Gran Sasso Highlights:
29″ wheels help smooth out the ride and make rolling over rocks and roots a much more bearable experience
Instead of mixing and matching components to save themselves money, Tommaso uses a complete setup of Shimano components that come with a 2-year warranty (provides you have the bike assembled at a shop)
The XL frame is suitable for riders up to 6'5, making this one of the best bikes for big and tall guys that I know of!
The Shimano hydraulic disk brakes are a massive upgrade over what you normally find at this price level and provide the stopping power necessary to slow you down, no matter your weight!
The ergonomics are designed for riders of many sizes and skill levels. From the Suntour front shock to the extra-wide handlebars this bike provides comfort and confidence
With a powerful 24 gear set-up at your disposal, you'll be able to find the perfect gear that will allow you to climb hills, conserve energy, etc.
In addition to being our pick for the best mountain bike for big guys, this is an excellent all-around bike. If you're an aggressive rider (or like the comfort of suspension) this bike will also make an excellent short distance commuter, campus transportation, etc.
So if you're a beefy guy in need of a beefy off-road bike, then this is it!
Raleigh Detour – Best Hybrid (Around Town) Bike for 300lb Guys
If you came here and are feeling a bit overwhelmed, I'm about to put those feelings to rest. If your brain is saying, "What the heck man, I just want a freakin' bike!" Well, here it is! Just a freakin' bike for big guys that will do just about everything you could want!
The Raleigh Detour is a great all-around bike with lots of gears, lots of comfort, and lots of fun. And, if you're past "big-guy" territory and are obese, there is a step-through version available that will make your mounting/dismounting much, much easier.
Raleigh Detour Highlights:
The aluminum frame provides strength and weight savings while allowing a comfortable (upright) riding position. If you have a belly, a bad back, or simply don't like scrunching over while riding this will be the best riding position for you.
Excellent components allow smooth shifting through the gear selection
This bike was one of our top choices in our bikes for heavy women article so if your wife wants to come along, pick up two!
The hybrid tires allow for easier riding on the street which still provides safe levels of traction on dirt, grass, etc.
Strong v-brakes front and back provide the excellent stopping power and won't fade, even if you are over 300lbs!
So if you are in the market for a great bike to get around on or help you get in shape, you can't go wrong here! The Detour will do just about everything (except maybe big hill climbs or jumps) and you'll be comfortable doing it, trust me, when you first start riding again you'll want all the comfort you can get!
Schwinn Phocus 1600 – Best Road Bike for Big Guys
If there was ever an industry that seemed to be scared of big guys using their products, it would be the road bike guys. I don't know if they're just trying to keep us from wearing spandex or what but some of us want to get fit and get to work at the same time, dang it!
One of the main problems with road bikes for big guys is that the frame strength necessary to support us goes contrary to the main mantra of road bike creation: cutting weight. Road bike makers are constantly pushing the envelope to make lighter and lighter bikes for guys who are built like sticks. Guys who aren't like us.
However, if you're a big guy in search of a road bike there are a couple of options that will get you on the road. Let's take a look at the best one, the Schwinn Phocus.
Schinn's Phocus has been around for several years and several model changes. Throughout all of that time though it has built a reputation as an excellent starter bike that is within the reach of a casual rider.
Schwinn Phocus Highlights
Aluminum frame (strong and light) with a carbon fiber front fork (even lighter)
The alloy crank provides a wide gear range to allow quicker starts and higher top speeds. As a big guy, give me all the gear you have!
Double-wall rims are lightweight and still provide the strength needed to support your weight. Just don't go riding off any curbs with them.
When it comes to road-biking (or any other type) as a big guy, you really just need to decide what your goals are. If you are looking to lose weight, most bike features (such as weight) don't really matter. You want a bike that is comfortable, fun to ride, and affordable. This bike is all of those and more and will get you anywhere you care to ride!
Mongoose Dolomite – Best Fat Tire Bike for Fat Guys
I don't know if it's just because it has the word "fat" in the name but every time I have looked for a bike for big guys everyone recommends getting a fat tire bike. Well, I finally decided it was time to get over my fat feeling and see what all the hype is about! As it turns out, the hype is well deserved.
Is A Fat Tire Bike A Good Choice For Fat People?
Well, probably! They do have a lot of attributes which make them perfect for big & heavy people.
For example:
They can be ridden anywhere. Try riding a hybrid or mountain bike through a mud bog and you'll sink right to the bottom. In addition to its mud conquering prowess, fat tire bikes also excel at sand and snow riding. The extra width of the tires provides flotation over all sorts of unstable surfaces which is even more important for big and heavy riders.
They are more stable. Just as the tires provide a stable platform in squishy terrain, they provide additional stability in all situations. Fat bikes are easy to balance on and keep upright so, if you haven't ridden a bike in years, a fat tire bike will help you feel at ease.
Those big fat tires provide squishy comfort. All fat tire bikes (and most other bikes for 300 lb men) don't have suspension. That's not to say that you're out of luck though! The larger tires can be aired down (all the way to 7psi depending on the tire) to provide extra cushioning on rough terrain.
All-in-all, a fat tire bike is an excellent choice for a fat guy. However, they're not all created equal. In fact, it may surprise you to know that most fat tire bikes won't even support a 300lb guy! So let's talk about one that will…
If you've ever been to or heard of a Fat-Tire Race (yes, they exist) then you'll know all about the advantages these bikes have. Mongoose has several different models and their name has become synonymous with fat-tire bikes there are well known for producing some of the highest quality bikes at an accessible price point.
For most big guys, the Dolomite is our Mongoose fat-tire bike of choice.
Mongoose Dolomite
The oversize aluminum frame will support well over 300lbs. There are reports of people up to 370 pounds comfortably using it but, when asked, the seller would not give an actual number for the capacity.
7 gears provide both speed and climbing power whether you want to ride on the street, on the snow, or on some mild mountain trails.
Mongoose has a unique frame design that improves rider comfort even when you're wearing bulky clothing to stay warm.
Last but not least, this bike looks incredible. If you're a fat guy, growing a beard or buying some nice shoes can instantly transform your persona. Well, this bike must have done both because it looks awesome!
The only person who wouldn't want this bike is somehow who is out of shape and needs to commute a long distance on their bike. However, even then, it would just be a better workout! I recognize that fit-tire bikes won't be for everyone but, if they're for you, you'll know!
sixthreezero Hybrid-Bicycles EVRYjourney – Best Heavy Duty Beach Cruiser
If you're less concerned with speed and fancy suspension and more concerned with getting down the boardwalk or to the next shop, then you need a cruiser. Whether you call them beach cruisers, single-speed hybrids, or just casual bikes this bike will get you from place to place in style and sure beat the socks off walking!
Not only does the EVRYjourney from sixthreezero boasts a 300lb capacity, but it has a strong frame, sturdy wheels, and 7 speeds designed to get your bulk down the road (or boardwalk).
This type of bike is mostly suited to city commuters and casual weekend rides (with your significant other?) but they are a total blast and will help you melt off the pounds in no time!
So if you aren't a speed demon and just want to cruise down to the farmer's market, don't pass up on this one!
Do Big & Tall Guys Need Special Or Custom Bikes?
So, yes, there are bikes for 300lb men that are tailed specifically to hold their weight. But do you really need one? Well, just like shoes, fat guys don't necessarily need a special bike, they just need one that fits them and is right for the situation.
If you're just cruising around town or want to coast down the boardwalk near the beach, you probably don't need a purpose-built bike. When it comes down to it, the best bike for big guys is the one that get ridden the most. So find yourself a bike that you like, get a helmet, and just realize that it might break on you eventually.
Now, if men don't need special bikes, what about women? Or, the better question, is there really a difference between men's and women's bikes? The short answer is, no. There are typically two types of bikes: step through and step over. The slanted top bar of step-through bikes has typically been associated with being a "women's bike" but, if you're looking for a big guy's bike, be less concerned about what gender a bike is marketed to and more concerned about finding a bike that is comfortable and fits you!
How To Get Back Into Cycling As A Big Guy
When I remember my days of flying off wooden ramps and breaking bikes, I have lots of warm fuzzy feelings. I'm even fond of the burning feeling in my legs that I used to have as I pumped the pedals in an attempt to reach 88mph on the way to grandma and grandpa's house. However, I no longer feel that way about burning thighs.
If you're getting back into cycling after several years (and a few thousand burgers) it may be shocking to you that it's not as easy as it once was. Luckily, I've been through that exact thing and have a few tips that will help you put your big man bike to more enjoyable use!
Make sure your bike fits you. If you're a big and heavy guy you're probably in for a bit of discomfort when you start riding. Knowing what size of bike is best for you will minimize the problems you have and help protect your joints. (Learn how to measure here)
Enjoy the journey. When you first get a bike, don't hop on it and try to commute to work. I tried it and was 30 minutes late and soaked with sweat when I finally got there. Take it easy and find fun in just getting around under your own leg power!
Try a stationary bike. If a bike for 300lb guys just isn't enough bike for your weight, there are other options. Short of having a custom bike made, I would recommend getting a high-capacity stationary bike (after talking to a doctor of course) and working to increase your overall fitness and BMI before hopping onto a pedal bike.
So, in summary, of a long article, get out there and get riding! You are now armed with the knowledge to pick out the very best bike for big guys so get that ball rolling. Even better, pick up a bike for your wife and some kick scooters for the kids so you can all enjoy a day together. Happy riding!