Sports cars have become synonymous with status and speed, and for a good reason. But they are also associated with nominal passenger capacity and little room for the driver. If you're a big guy who likes high-speed cars or simply wants to own a prestigious vehicle, don't let this connotation discourage you.
While you probably shouldn't go out and buy a Miata, there are plenty of sports cars that are suitable for big guys as they provide plenty of leg room, head room, and a roomy seat.
In my opinion, the 12 best sports cars for big guys are:
BMW M3 Coupe
Nissan 370Z Roadster
Mini JCW
Audi R8
Ford GT
Ferrari 599
McLaren 650S Spider
Chevrolet Corvette
Mercedes SLS AMG
Dodge Challenger
Porsche 991
Ford Mustang
In this article, you will learn more about the criteria we used, a deep dive into each of the best sports cars for big guys, and a few things to think about before signing that credit application.
The Criteria
Before you trust any particular online resource regarding any vehicle-related reviews, you must know the criteria based on which the product is judged. In this section, we go over the exact criteria that guided the curation of this article.
Vertical Seating Space
Let's start with the elephant in the room: vertical seating space.
Vertical seating space is also called headroom, though that term is best for shoulder-to-ceiling height, which is impossible to get a universal measurement for. Vertical space is the length between the lowest point of the seat surface to the lowest point of the roof.
We will refer to it as either vertical seating space or headroom. You can use a tape measure and get the vertical seating space reading of the car you currently have. This will give you a standard to compare with the choices we go over.
Maximum Leg Space
This measurement in a regular car tells you how much space you would have if you pulled the seat all the way back to the point where the rear passenger seat has zero legroom. In many sports cars, there are no rear passenger seats.
This measurement will cover the absolute maximum freedom your legs can expect in the vehicle. Sit on any chair the way you are most comfortable and measure the length from the edge of the chair to a few inches further from your toes. That's the legroom you should aim for.
Pro tip: many who read this article ultimately decide they need more headspace and/or legroom. If that's you, check out our article on the best SUVs for big guys.
Performance Specs ("Sports Carsiness")
If we use leg space and headroom as the only criteria to curate a collection of options, we would be saying fat guys should take what they can get. But we believe that big people deserve the best too. That's why we will also feature how good of a sports car any given sports car is based on metrics that weight-typicals use.
The Best Sports Cars For Big & Tall Guys (Deep Dive)
Now that you know exactly how we'll be comparing the cars, let's take a deeper look at each one's roominess specs before moving on to the cars themselves,
| Car | Vertical Seating Space | Legroom |
| --- | --- | --- |
| BMW M3 Coupe | 40.3" | 42" |
| Nissan 370Z Roadster | 52.3" | 38.7" |
| Mini JCW | 41.4" | 38.3" |
| Audi R8 | 38.8" | 41.4" |
| Ford GT | 35.4" | 44.6" |
| Ferrari 599 | 35.5" | 44.7" |
| McLaren 650S Spider | 38" | 53" |
| Chevrolet Corvette | 37.9" | 42.8" |
| Mercedes SLS AMG | 39" | 41.7" |
| Dodge Challenger | 39.3" | 42" |
| Ford Mustang | 38.5" | 42.4" |
Sportscar Roominess Chart
1. BMW M3 Coupe
Let's start with the measurements that either qualify or disqualify this vehicle for you. It has a vertical seating space of 40.3 inches and maximum legroom of 42 inches. If this space is enough for you, then you should check out what's cool about this sports car.
The BMW M3 Coupe has personality and specs to make it second to none in the mid-premium sports car market. It has 480 horsepower with a sole six-speed manual transmission.
In laypeople's terms, it has a high enough speed to take over four regular vehicle engines' maximum speed put into a single car. Still, it won't speed from 0 to its maximum automatically because it is a manual transmission.
2. Nissan 370Z Roadster
This car is a little short on the legroom, clocking in at a maximum of 38.7 inches. If you've already measured the legroom you need, you'll already know if this is enough for you or not. For people who find this enough, there's good news. The vertical seating space of this car is excellent at 52.3 inches. Plenty of freedom there.
The latest version of this sports car has a 332 Horsepower engine. That's stronger than two average cars but weaker than the engines of the high-end sports car by a minimum factor of 2.
2019, and prior models are convertibles, which means you can drive without the roof on, which is far more stylish than many overpriced coupes. Even if you do not acquire a roadster, you can use the convertible hack to get more space.
(More on this later.)
3. Mini John Cooper Works
It might seem ironic to position a "Mini" branded car as ideal for big guys, but the brand has expanded into regular-sized vehicles despite first being a sporty off-shoot of a larger parent brand. The legroom on this sports car is 41.4 inches, which is more than enough for a majority of big drivers. Its maximum vertical height is 38.8 inches with the roof on.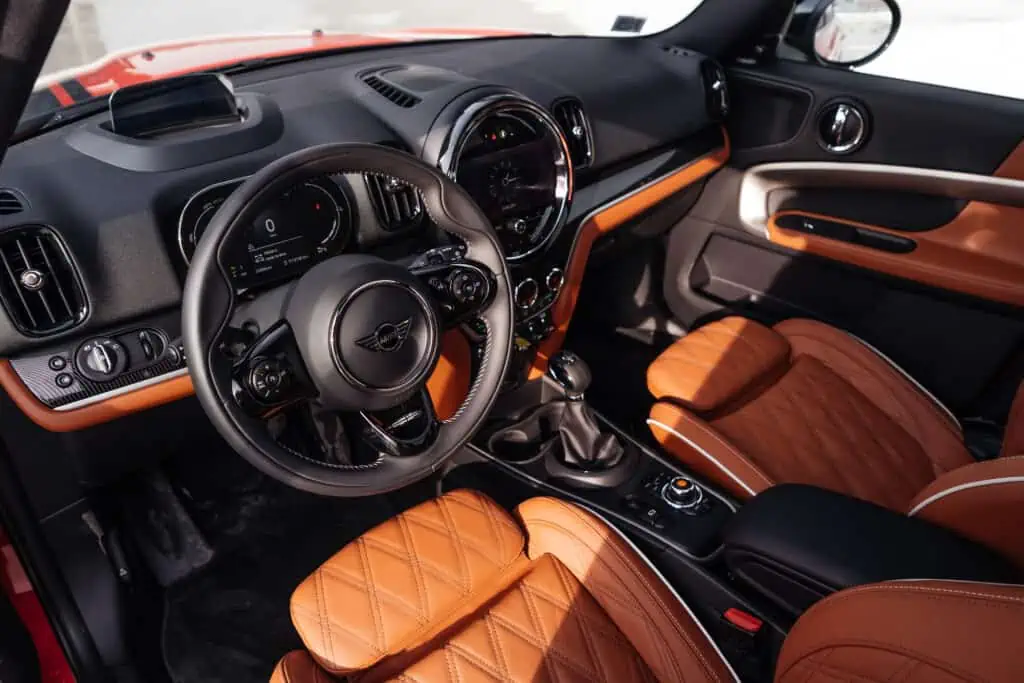 The Mini JCW is among the fastest Coopers on the market and has a horsepower of 228 hp. It is barely in the sports cars category off of specs alone, but its engine power is much higher than the maximum output capacity of the average passenger car.
It is ideal for a driver whose friends don't own sports cars and who is getting his first ever sports vehicle. It qualifies as an entry-level sports car in specs but a high-end purchase in terms of status, balancing flash with drive perfectly for a new sports car buyer.
4. Audi R8
If you find the space specs of the Mini Cooper Works ideal for your body measurements but its horsepower depressing, then Audi R8 is for you because this sports car has the same head and legroom. The vertical space is 38.8 inches, and the maximum legroom is 41.4 inches.
Audi R8 has an impressive 562 horsepower engine that is faster than an entire regular car's maximum speed over the maximum legal speed limit. In other words, it has more power than you'll ever need to wield.
The best color for this car is red but black and silver complement it as well. Owning it shows that you care about getting the best in everything. The appearance of the Audi R8 received a major upgrade in 2020, so it would be better to get a recent model.
5. Ford GT
If Audi R8's envy-inducing specs frustrate you because it doesn't have enough legroom for you even though it has everything you want in a sports car, worry not. Ford GT has better engine power and space specs. It has a 35.4-inch vertical space that might be ideal for most obese people under 6ft7. Its legroom is 44.6 inches.
What's even more impressive is the GT's 660 horsepower engine that yields a top speed of 215 mph. Owning this vehicle shows that you are someone with great drive and ambition who prioritizes performance above everything.
This sports car has the most track-like appearance of all the sports cars mentioned thus far and hence looks better with two colors. The best GT can look is if it is white and red, with the red forming stripes over the left and the right side of the front.
6. Ferrari 599
But enough with the Fords and the Nissans, right? If you're looking for one of the most recognized sports cars in the world, then look no further than the prestigious brand synonymous with the late Enzo Ferrari.
Even though the average Ferrari is notorious for having a small size, the 599 has enough headroom for a 6-foot guy who needs 44.7 inches of legroom. The vertical seating size is 35.5 inches.
If the specs fit and the vehicle is within your budget, there is no need to even cover the car specs. Still, the Ferrari 599 has a 612 horsepower engine that is worth talking about. It carries enough prestige to make even your affluent friends envy you, and it looks best in red, of course.
7. McLaren 650S Spider
If you want to maintain brand prestige without breaking the bank, a McLaren couple like the 650S Spider might be a good purchase. Its maximum legroom is 53 inches, far higher than a Ferrari. Its vertical seating capacity is 38 inches.
The Mclaren 650S has a 641 horsepower engine, with later versions having higher top speed and power. It looks excellent in navy blue, and owning the vehicle shows a combination of class and masculine taste.
It is slightly harder to acquire in many states, so the chances of coming across two in the same neighborhood are slim.
8. Chevrolet Corvette
Dialing back the horsepower and pushing forward the spaciousness is the 2020 Corvette from Chevrolet. It has 37.9 inches of vertical space and 42.8 inches of legroom. To make this sort of legroom possible with a mid-engine configuration, the manufacturer had to move the car's cockpit forward. And as long as that qualifies as enough space for you, you can afford to consider its specs.
The 2020 Chevrolet Corvette is in the ideal HP range for a public road sports car. It has a 495 horsepower engine, three times as powerful as the average passenger car. It looks good in Lamborghini orange and in black, and it signals your desire for all things speed.
One of the good things about this corvette is that you can source it with relative ease. Its 2020 got scooped up from the market for a while but is now back on the primary market and is also available on the secondary market.
9. Mercedes SLS AMG
Mercedes is a product of highly meticulous German engineering and qualifies as a "foreign" car, which can be a status symbol in itself. But more than that, its SLS AMG model should be of note as it has 41.7 inches of legroom and 39 inches of vertical space.
This car is among the speedier sports cars with a 583 horsepower engine with quicker acceleration than four cars combined. It speaks for your cultural awareness and pride in traditional efficiency.
This car is fit for a CEO who loves speed! And with all Mercedes vehicles, even the brand's sports cars look best in black.
10. Dodge Challenger Hellcat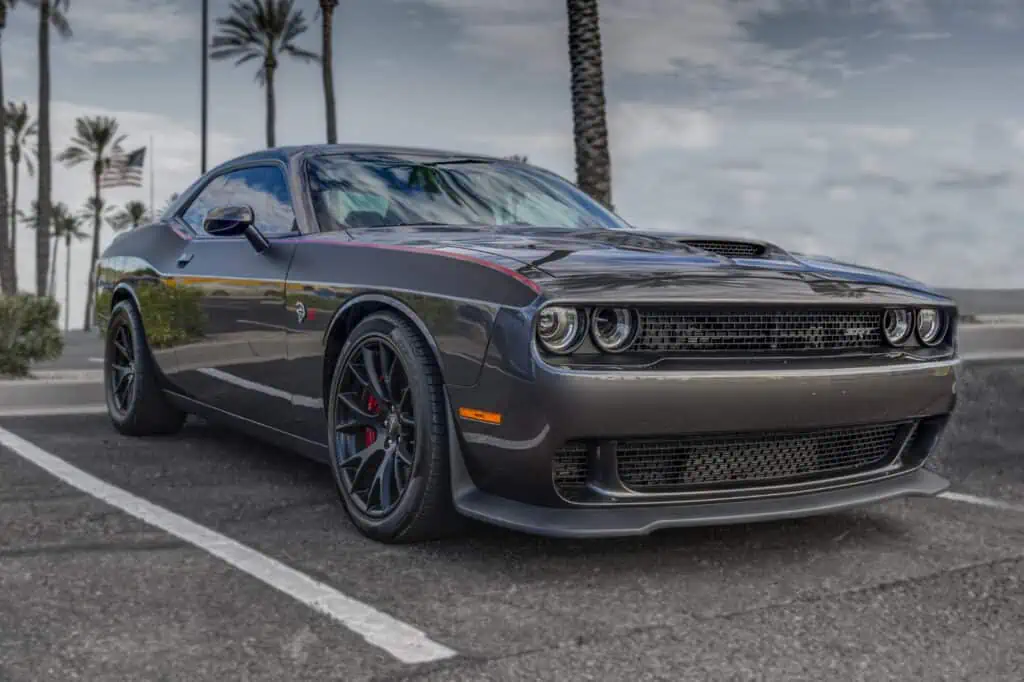 With 39.3 inches of headroom, The Challenger is a great sports car for big guys who are tall as well. It offers 42 inches of leg space, which is on the roomier end of the sports car leg space spectrum. This ensures that fitting in the Dodge Challenger will be no challenge for you. With the spaciousness addressed, let's look at what makes this one an excellent sports car.
Starting right away with a 797 horsepower engine, this sports car defeats many Ferrari vehicles that roam the roads today. It has a 177 mph top speed, which is achievable in track settings.
This car looks great in green, white, and black colors, albeit separately. It is available quite easily, and chances are you'll get a used Challenger within a month of looking. Owning a Dodge shows that you don't like excess at the expense of comfort. The Challenger is one of the most comfortable sports cars in the world.
11. Porche 991
The Porche 991 has 45.8 inches of leg space. It is one of the sports cars where you truly don't feel congested. However, its 38.8-inch headroom is not for guys over 6 feet. But even if the head and leg space measurements fall within your requirements, this car's going to be a little hard to acquire.
With a 690 horsepower engine and a 182 mph top speed, it is not the specs but the status that carries this car. Owning it means being on a different level altogether. The sports car has a sleek appearance that is further elevated by the red or yellow color. If you want to play it safe, this car also looks good in black.
12. Ford Mustang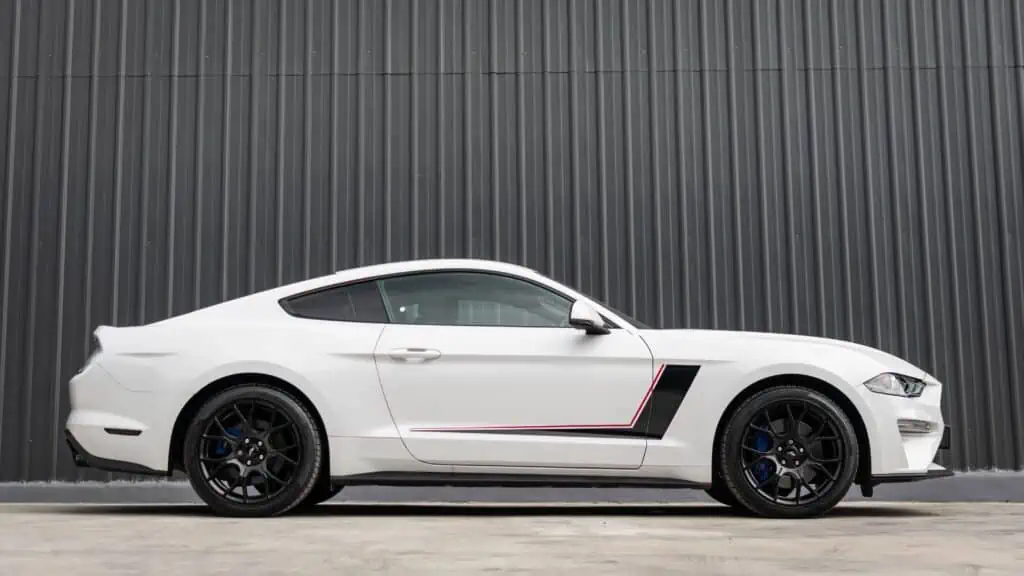 With 42.4 inches of legroom and enough vertical space to fit 38.5 inches, most big guys would fit in a Ford Mustang. It definitely has better space specs than Ford GT. Though the GT is more powerful, Ford Mustang is much better for big guys. What use is going at top speed when you are at the bottom tier of comfort.
It is a 450-horsepower car with a 180 miles per hour top speed. This is not as impressive as many options on the list. But if comfort does matter more than speed to you and you want to get a car with the iconic brand that represents the epitome of American automobile innovation, Ford Mustang would be a great car to get.
Things Big Guys Need to Know Before Buying a Sports Car
Now that we have covered the top-performing sports cars with enough room for big guys, you're in the right position to make your choice.
But before you buy the sports car you like, you must learn a few things to avoid making the common mistakes that come with a first-time purchase of a fast vehicle.
Horsepower doesn't always equal speed – Horsepower is the power of the engine. Still, if the car is heavy, its top speed will be lower than a lighter car with a slightly lower horsepower engine.
Acceleration matters as much as speed – Old sports cars could take several minutes to reach their top speed. If you want to impress your friends on an empty track, nothing's more impressive than a seemingly instantaneous 0 to top speed velocity change.
The legroom should be large, headroom not really – Big guys need cars with more legroom. The vertical space can change with larger hips but not by as much.
Prioritize lifestyle and comfort – Above all, you have to make sure you're not just physically but also financially comfortable enough with your purchase. More important than the car's speed (or how much it impresses your friends) is how much value it adds to your life in terms of comfort. The equation should always be worth it in the long run.
When in doubt, go for a convertible – If speed and space are your highest priorities, you can choose any convertible with a desirable top speed and check its legroom. This will be the quickest way to get a sports car that you can fit in.
Don't give up on the cars you love – When you spot a sports car you like in a showroom, don't shy away. If there is one lesson you learn from this post, it should be to investigate the legroom of any car you like. You might be pleasantly surprised.
Know what to say to the salesman – "I need a sports car with a top speed range of 182 to 220 miles per hour, 40 inches of legroom, and 39 inches of headroom," is an excellent example of what a confident big guy would say to a car salesman.
Final Thoughts: Best Sports Cars for Bigger Guys
The best sports cars for big guys are the Ferrari 599, Audi R8, and Ford Mustang. There are plenty of other sports cars with enough legroom and vertical space to accommodate big guys. Some of these include the MINI JCW, McLaren 650S Spider, and Dodge Challenger.
At first glance, it might seem like sports car manufacturers don't care about big guys.
But that's not true!
Very few people get to make a lot of money while focusing on looking like an underwear model. Guys with big bank accounts also have big waistlines, which is why there are plenty of sports cars in which big guys can fit. Ferrari 599, Audi R8, and BMW R3 Coupe are just some examples of such cars.