As an Amazon Associate I earn from qualifying purchases.
Too mature for a heavy-duty kick scooter but too poor for a Tesla?
Well, settle for the next best thing, a heavy-duty stand-up electric scooter!
Well, the next best thing might actually be a Prius, but if you're looking for electric transportation over a short distance, through a busy city, or to give you thrills, forget the Prius!
Heavy-duty electric scooters have progressed leaps and bounds lately and the flood of new options on the market begs the question, which is best? If you are an adult looking for a commuting option, there are several options that will support your weight and get you to and from work without an issue.
The truth is, most average scooters are capable of holding a 250+ guy but are not really built to do so. If I jumped on a scooter with a 200-pound capacity right now I'd probably get a range of 8-10 miles instead of the promised 18 and max out at 10mph instead of 16mph.
The solution, of course, is to find an electric scooter specifically build for fat guys that will be durable, affordable, and fun! Well, we found 4. While they're not all cheap, they are all fun!
Motor Output (Nominal/Max)
Motor Output (Nominal/Max)
Motor Output (Nominal/Max)
Motor Output (Nominal/Max)
Motor Output (Nominal/Max)
Affiliate links / Images from Amazon Product Advertising API
When it comes to scooters, you really have two different options. The budget option is suitable for most people who want to get around town, cruise the boardwalk, let their kids ride them, etc. However, those are not performance options. While they work for heavy people, you might be left feeling like you're doodling your way along the sidewalk while real traffic (and bikes) fly by.
The other option is a totally different animal. A performance electric scooter can support weights over 400 pounds while maintaining a massive range and high performance. The main issue here is that, because of the necessary motor and battery, they aren't cheap. If you are over 220lbs, you might just have to resign yourself to shell out the cash for a performance version. For everyone else, you really need to decide what you want to do with your electric scooter and how much you're willing to spend to get there!
My Criteria for Choosing an Electric Scooter
Weight Capacity. First and foremost, we need to know what weight range a scooter is designed for. I'm less concerned about a scooter breaking on me that just getting crappy performance, battery life, and longevity. If you are too big for your scooter you'll likely be underwhelmed and your scooter with die a quick death.
Battery Capacity. Nearly all of the electric scooters on the market use lithium-ion batteries. Since the brushless motors they use have a very similar level of efficiency, the bigger the battery, the farther you can ride on a charge. Don't be deceived by someone with the same size battery as everyone else but promising a much longer range. It just doesn't work. Charging less is always better in my books so we defaulted to larger batteries when possible. This is especially true for heavy people as it takes more energy to get your weight moving and maintain peak speed.
Motor Strength. The power of a stand-up scooter's motor is measured in watts. Like HP, it's a fairly objective measure and cannot be cheated. In general, big guys should look for motors of at least 500 watts as anything less will have to work far too hard to get you moving.
Reviews. During the research portion of this article, I read literally hundreds of reviews to narrow down our options. In my reading, I was looking for 4 main things that I couldn't learn from the spec sheet: durability, ease of use, ride quality, and quality of customer service.
Price. If you want a certain level of performance, you have to pay for it. With that being said, I did my best to steer clear of brands that overcharge just for their name and scooters whose specs simply did not justify the price. Because of this, you might not recognize a few of the brand names in our review. Just take that as a sign that you are paying money for the quality of the item, not a brand name.
Beyond those four items, you may be partial to a scooter because of looks/color or because one offers perks such as a seat. Whatever works for you, we did our best to find the best scooters that represent a wide range of all options including taste. Odds are, one of these will be perfect for you! So let's see the lineup!
Best Stand-Up Electric Scooters For Big Guys
1. Segway Ninebot F65 – Best Overall Choice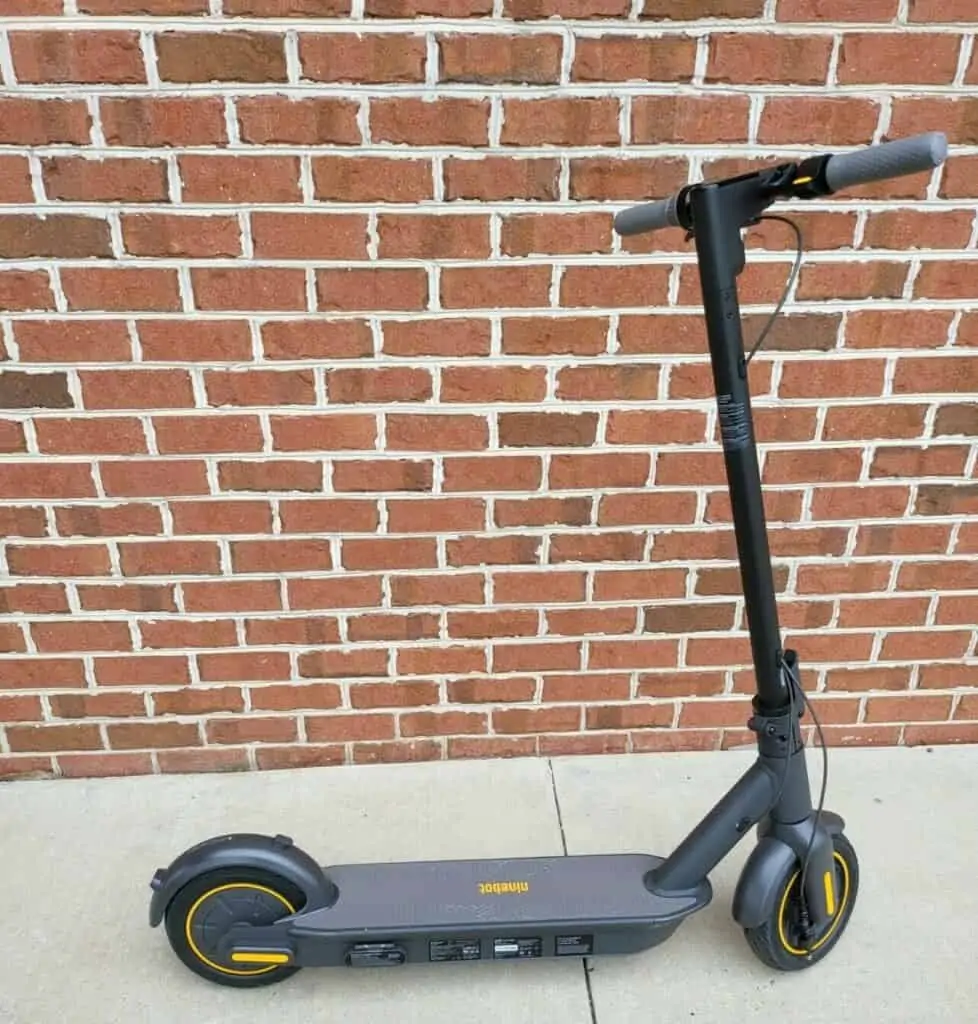 At first glance, you might think that this scooter is basic and it is…in the same way that a matte black stealth bomber is basic. Don't let this one fly under the radar though because it is packed with features that totally blew me away for the price (and won it a special place in my fat heart…).
The scooter folds up to reduce storage space. It's heavy enough that you probably won't want to fold it up and carry it to class but the option is there!
It has three riding modes "Eco, Standard, Sport" which make it more versatile for adults or teens and conserves battery when you're just commuting
Its highly adjustable handlebars allow it to comfortably fit riders from 3'11 to 6'6″
The detachable seat compatibility allows you to take a seat on long straight rides
The double braking system will make sure even heavy people can slow down quickly and reliably, a must in an electric scooter for large adults!
Customer service! Unlike many stand-up electric scooters, this one is from a major company that allows you to talk to real people, get replacement parts, and even apply a warranty if something goes wrong
The biggest bummer about this scooter (at least in my book) is that it only supports up to 265 pounds. While this is sufficient for most big guys, if you're really big and heavy (like I am) you'll be pushing the limit on this scooter.
It hasn't broken on me yet (after 300+ miles) but I don't expect it to last as long as it would for a lighter person. I also can only get it up to about 14 miles per hour but, hey, I don't know if I've run that fast in my entire life.
If you're within the weight limit, you can't do better than this one!
2. LAZYBOT Model X – Best Segway Alternative
If you liked everything about the Segway Ninebot T65 but it's a bit out of your price range, this might be the best electric scooter for you! It has a slightly lower capacity but is a bit faster.
However, the reason that it's faster is that it has a bigger motor (500W compared to the Segway's 400W). While this is great for big guys (in theory) it's not paired with a larger batter which gives it a significantly decreased range of around 28 miles.
With that being said, it will get the job done for most heavy people.
Its 250-pound weight capacity means that it is very usable for both adults and kids if you want to spend a day at the park, etc.
So if you are in need of a scooter for fun or commuting, this will do both!
3. Hiboy S2R – Best Budget Option For Big Guys
If you're a big guy with a skinny wallet, Hiboy is a solid scooter brand that won't set you back too far.
While it's the lowest-weight capacity scooter I'd recommend to a big guy, it does have some advantages.
Due to its smaller frame, motor, and battery capacity, this scooter comes in at just over 30 pounds which means that it's much less work to fold it up and carry it onto a bus, into work (or class), etc.
However, if you're pushing the weight limit it's unlikely that you'll even get to its promised 17-mile range before it shuts down.
However, if the price is your main limiting factor then you probably won't be able to do better than this!
4. Reddydy RD1 – Longest Range Stand-Up Electric Scooter (400lb Capacity)
Let's get the obvious thing out of the way right at the beginning. As far as heavy-duty electric scooters go, this is one of the most extreme. However, it has some of the best performance specs of any electric scooter and will carry you faster, farther, and be more durable than any other option. So if you are one of those fine people who need the best there is, let's go talk about what you'll be getting!
Oh and let's mention the other obvious thing…I don't own this scooter and have no intention of buying it. I have a friend with one and was able to ride it but, personally, I'd rather buy a used Vespa and cruise around in comfort before dropping almost 2 grand on a scooter.
However, since you might be way more loaded than I am, I'll tell you my experience with it and we can go through the specs.
For starters, the 6000w motor is way more powerful than the next closest scooter on this list. This gives it a top speed of 50 mph (depending on terrain and rider weight) as well as a claimed 55-mile range!
The scooter is also fitted with brakes and suspension to match (as well as the option of a seat).
The rider experience of this scooter is…intense. At least compared to other stand-up scooters. It's much bigger and heavy so it doesn't have quite the same nimble feel but it's torquey and fast which is what most buyers are after.
I've linked to the RD1 which is nowhere near the fastest, highest capacity, or most expensive scooter that Reddydy has for sale. However, I feel it's the most "practical" if you're going to be using your scooter to commute.
Just stay off the sidewalk with it.
Is an electric scooter the best commuting option for you?
When it comes to getting around the city, I've always hated not being in control of things. Not only do I have to rely on others to get me places, but I also have to pay them for it!
Being able to walk out my door, hop on my scooter and grab lunch at a place a couple of miles away without paying for a taxi or spending an hour walking is so liberating. I can honestly say that buying an electric scooter will be a game-changer for most people.
And if you just want to have a blast on one? Even easier! If you want to play around at the park, cruise around campus, or hang out on the boardwalk, an electric scooter can make everything easier and more convenient. And if you have a scooter that you can easily lock through the app (or with a fob) then you never have to worry about your investment.
Just be ready for your friends to be jealous when they're walking, on bikes, or trying to keep up on a longboard. So if you're ready to save the miles on your shoes, get a heavy-duty electric scooter today! Just don't forget the helmet…