As an Amazon Associate I earn from qualifying purchases.
I've always had a love for kayaking, paddleboards, and other watersports.
Unfortunately, I also have a serious problem.
I'm terrible in the water. I somehow suck at both swimming and diving.
I've seriously always swum like an obese duck that ate a large rock. You can usually find me with my head about 6 inches under the surface either trying to swim up or down (I get confused).
All of that is probably just a jumbled-up way of saying that I need a life jacket anytime I'm doing any sort of watersport. While I haven't resorted to wearing one in my backyard pool (yet) I firmly believe that they are life-saving devices and you are foolish to not utilize them.
However, there are a couple of common reasons why people don't use lifejackets. Sizing is a huge concern for big guys like myself. Looking stupid and having limited movement are a few other commonly cited reasons. However, let's calmly dismantle each of these excuses and look at solutions instead. With the number of plus-size life jackets on the market, the only reason not to wear one is that you don't want to.
We'll get into all of the criteria I used to decide from the dozens of life jackets on the market which ones were the best for overweight people but, in the interest of brevity, here are the 4 that I ended up choosing:
Flotation Material
Lightweight Flotation Foam
Lightweight Flotation Foam
Inflatable On-Demand (CO2 Cartridge)
Flotation Material
Lightweight Flotation Foam
Flotation Material
Lightweight Flotation Foam
Flotation Material
Inflatable On-Demand (CO2 Cartridge)
Affiliate links / Images from Amazon Product Advertising API
The Best Plus Size Life Jackets For Big People
O'Neill Superlite USCG Vest – The Best Plus Size Life Jacket for Boating
If you need a plus-size life jacket for tow-sports (wakeboarding, skiing, etc.) then O'Neil makes what is probably your best option. The Superlite Life Vest has a number of features that make it one of the best options (and the one that we keep on our boat):
It is a USCG-approved Type III device which makes it a great option for anything from wake sports to swimming
The extra-wide nylon belts have much more surface area than an average life jacket which makes it both sturdier and eliminated pinch spots.
The super sturdy buckles have quick-release buckles which make it easy to get on and off
The 60″ maximum size makes this an excellent option for big and heavy swimmers
The lightweight flotation foam is cut into a human shape (unlike many life jackets)
The polyester fabric is double coated which not only makes for a comfortable wearing experience but means that the life jacket will stand the test of time. We have had ours for two seasons now and they show minimal wear besides some light fading.
At the end of the day, this is my top choice for all-around use. It can do everything well. The only reason I would not choose this life jacket is it isn't available in a large enough size or you need something that will allow more mobility for either rowing or fishing.
If neither of those things applies to you, it is available in a ton of sizes as well as colors to please both genders.
There is a women's version as well but as it only fits up to a 43″ chest most plus-size women will probably be happier with the men's version.
Onyx MoveVent Dynamic – Best Oversize Life Jacket for Fishing and Paddling
If you are into fishing, paddle sports, or a combination of them (plus-size fishing kayaks, anyone?) then you'll want to pick up an Onyx life vest to keep you safe on the water. This is a Coast Guard-approved life jacket that is specifically designed to provide excellent comfort and mobility.
The things that distinguish it from a regular life jacket are:
Foam/Mesh Placement. Unlike our first recommendation, this vest has all of the flotation foam on the chest and high up on the back. This means that your arms have freedom of movement and that the vest won't conflict with backrests, sides of kayak cockpits, etc.
Pockets. This vest is purpose-built with expandable pockets. If you do happen to end up in the water they are all equipped with mesh fabric in the bottom to enable drainage.
Those advantages, coupled with a 56″ max size, make this an excellent plus-size life jacket for everything besides extreme sports. Or, as my wife says, it's the ultimate "dad-life-jacket."
Kent Elite Dual Size Commercial – Best Commercial Duty Life Jacket For Fat Guys
While I don't have any personal experience with this life jacket, I had to include it for one simple reason. In a world of plus-size life jackets, this one is the plussiest. It is well suited for big and heavy people with a maximum chest measurement of 60″!
If you are a big guy in need of an all-around vest, this has great reviews and is reasonably priced. From the pictures and reviews, it seems that this vest is probably more at home in a canoe, fishing, or on a boat (rather than being towed behind it).
However, the best life jacket is one that you will actually wear (and fits you) so if you are in need of a life jacket in this size range, this one comes highly recommended!
ABSOLUTE OUTDOOR Onyx A/M-24 – Best Auto-Inflating Life Preserver
If you are concerned with safety but want to preserve a non-life-jacket experience then we do have this one final option. For example, if you're a big guy and your wife demands you be safe and wear something, this will placate her.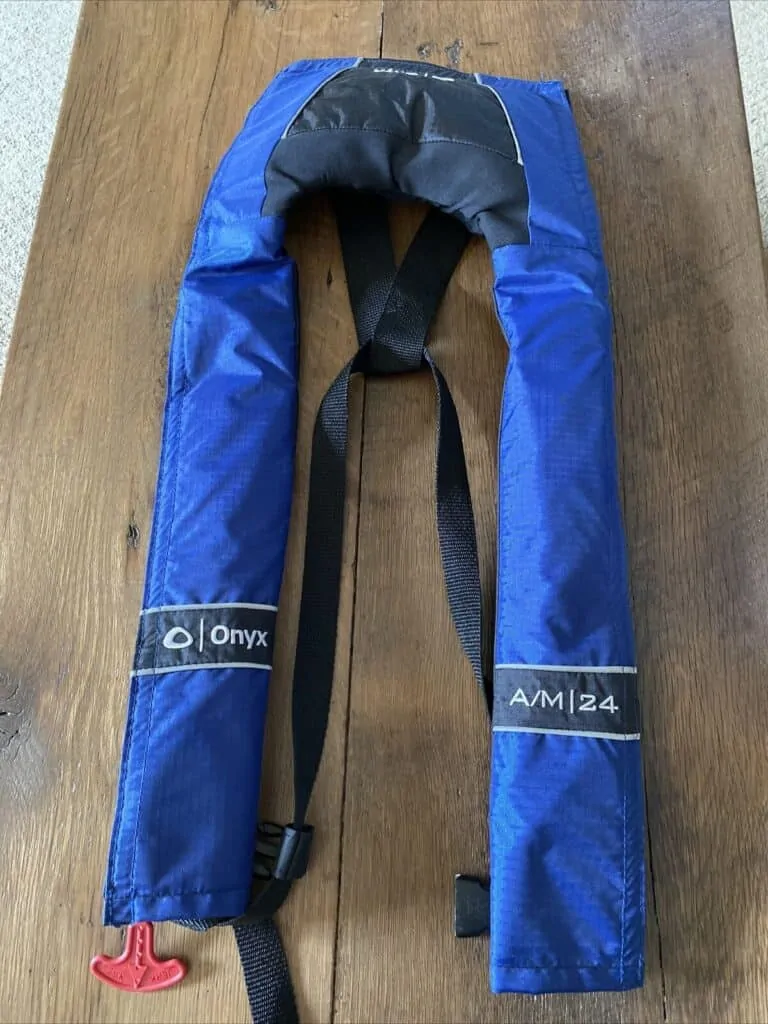 Another option from Onyx, this lifejacket has a bladder that can be inflated either automatically when you enter the water (as in, you fall off your boat or tip over your kayak) or manually by pulling the t-handle on the bottom.
When either of those things happens, a co2 cartridge inflates the jacket. If that fails, there is also a manual inflation option that can be performed in the water. You can also add air manually after you totally drain the co2 cartridge to provide a few extra pounds of buoyancy.
While it doesn't fit quite as large as the other options on this list (it has a 52″ maximum fit) it is a safe and effective option for a big man (or woman) who wants some help to stay afloat.
5 Things to Consider When Choosing a Plus-Size Life Jacket
1. Max Size
The maximum size of a life jacket is given as an inch measurement and refers to your chest measurement. To measure the fit you simply need to measure your chest at its largest point around. Most average life jackets fit chests up to 50″ or so while plus-sized life jackets are typically available to fit chests up to 70″.
2. Rating
The United States Coast Guard has a rating system that is the industry standard. Do not use a non-USCG-certified Life Vest. For most activities, you want a jacket that they have rated as "Type 3"
3. Buoyancy
How "floaty" a life jacket is given in terms of pounds. Most adults need an additional 7 to 12 pounds of flotation to keep their heads above the water. The Coast Guard has minimum requirements at each level that manufacturers must abide by to be certified so, as long as you buy a decent jacket, you should have to spend time worrying about or analyzing this number.
4. Usage/Movement
If you were traumatized as a kid by wearing those huge orange blocky life jackets (if you know, you know) then let me put your fears to rest. There are some really great options available that are unobtrusive and allow you to move pretty much however you wish. If you need a life jacket for a specific activity (paddle sports or fishing as examples) be sure to get a purpose-built option as it will function much better.
5. Closure Style/Number of Buckles
If you are going to be relying on our life jacket (as you should) be sure to get a closure system that you're comfortable with. Buckles or zippers are the most common and the options that I would stick to. Also, remember that the more closure points/straps that a life jacket has the more comfortable and secure it will be.
Are Plus-Size Life Jackets Built Differently?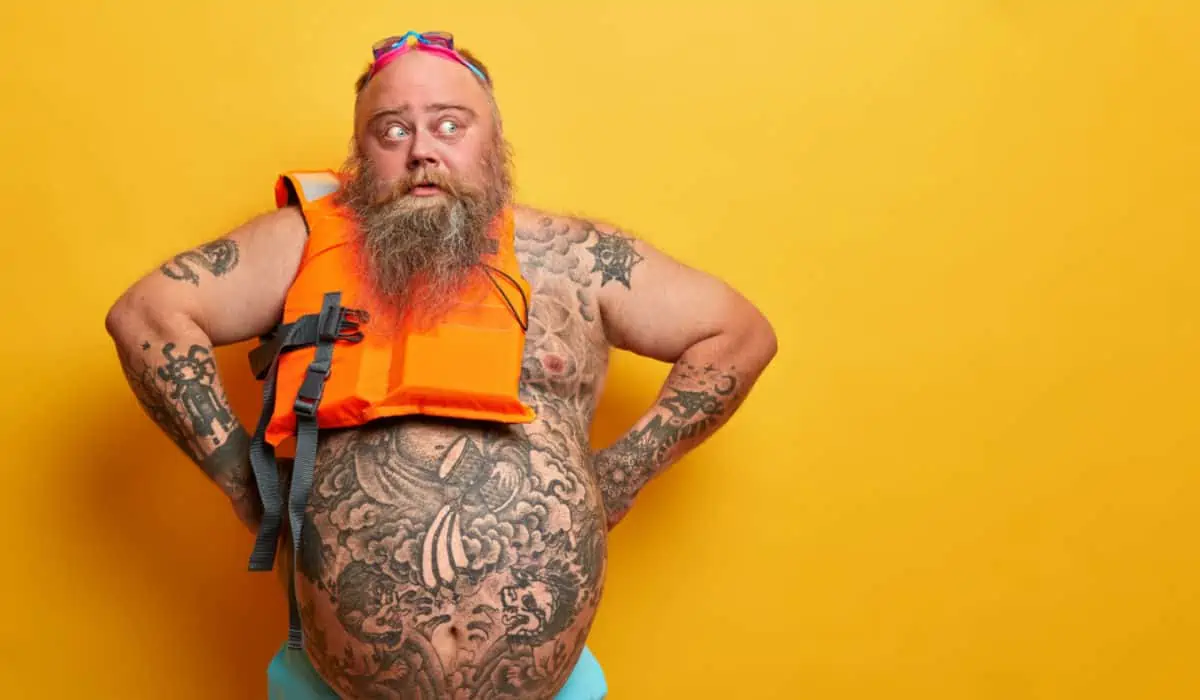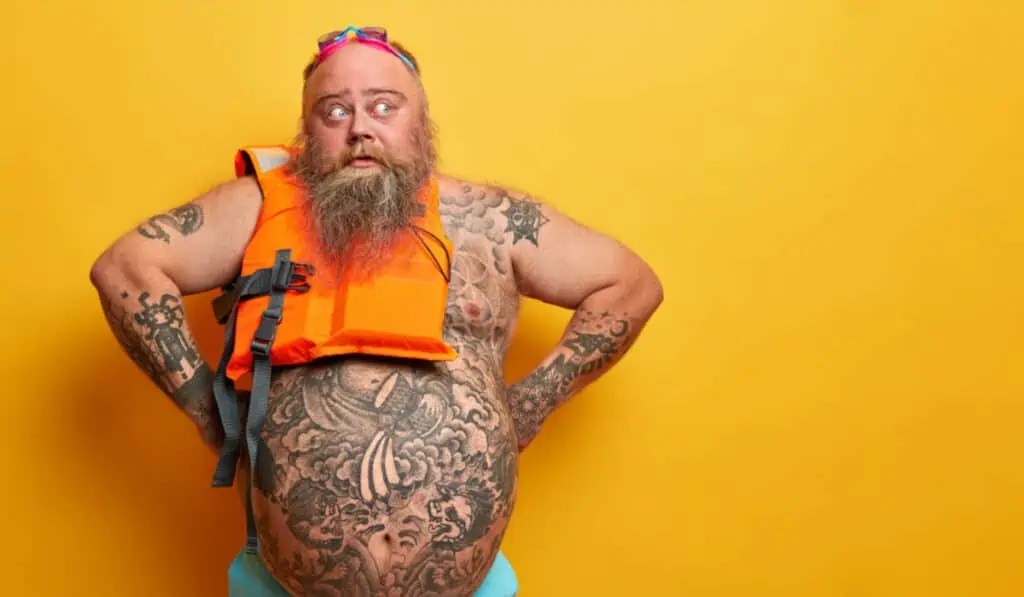 I've always been a big guy. I wish that meant I was just a scaled-up version of Adonis but it's not quite so. I'm actually a different shape than most people of average weight. People who make shoes or jeans have figured this out but the life jacket guys seem to be a bit behind.
Most plus-size life jackets are built the exact same way as their smaller counterparts. As you can imagine, this causes some issues if you have a large belly, a big chest, etc. The best method for finding a good fit is simply to make an educated guess based on your body type. If it doesn't work, don't keep it.
If you are particularly anxious about getting the right size and model on the first attempt you can go to a sporting goods store, try on several, and order the one you want for cheaper online. However, don't expect many of your local stores to stock plus-size life jackets. My local store tells me that they "have more on the way" but that's been the case for the last 6 months or so…
Types of Plus Size Life Jackets
When it comes to life jackets, there are three types for the average person to choose from. While there are actually many more (if you're a commercial fisherman for example) most people will fall into needing one of the following:
Paddle Sports/Fishing
If you are around water but not spending much time in it, a life jacket built specifically for paddling and rowing will maximize your movement as well as give you more storage options with pockets and clipping locations.
Boating/Board Sports
These life jackets tend to be the most secure but also the most restrictive. While they can be used for everything, you might find them uncomfortable. For example, if I wear a life jacket of this style while kayaking I end up with chafing under my arms and on my sides even though my life jacket is well-fitted.
Inflatable/One Size Vests
Everyone should wear a life jacket. If you can only bring yourself to wear something as unobtrusive as possible, choose a vest that will inflate automatically upon entering the water. I use this style of life jacket when fly-fishing large rivers or ice fishing (even though you should really limit their use in cold weather/water as they inflate much slower).
Is Life Jacket Fit Gender-Specific?
This is actually a simple question with a slightly convoluted answer. Let's just say that most companies make certain lines or models of life jackets that are marketed specifically to men or women. Typically the jackets are made with gender-stereotypical colors and have very slightly different cuts.
In general a well-fitting unisex life jacket will be a better option than a lower-quality option meant specifically for your gender. I have half a dozen life vests that are used by both men and women when my family gets together and no one has complained about the fit.
Don't Fat People Float Anyway?
As with everything else in the realm of obese and overweight people, there is a lot of confusion about plus-size life jackets. On one side, people think that "fat floats" and so plus size life jackets are superfluous. On the other side, we have people who think that fat people should be wearing larger life jackets which provide a huge amount of buoyance that is increased with their size/weight.
The truth is, the more water you displace, the better you float. In fact, we just wrote a whole post on this subject here. However, in the interest of brevity, I'll just say that if an amount of buoyancy is approved by the Coast Guard it will be sufficient for you as a big and heavy person.
Conclusion
If you are around water, you should be wearing a life jacket. Far too many people drown every year because they don't own a life jacket or simply didn't have it on. Don't use the excuse that there aren't well-fitting options available. There are so many life jackets for big people on the market that you should get one and wear it. Stay safe out there!