When I was younger, my family didn't have beach chairs. Or camp chairs. Or any sort of outdoor chairs. I don't know if my parents thought they were for lazy people (more likely: we just couldn't afford them) but we never invested in anything that would make our short beach trips more comfortable. We did have some heavy-duty recliners at home but they never made it to the beach.
What we did have was a crusty old blanket that we kept in the back of our 1993 Ford Taurus. Neither the car nor the blanket was comfortable or stylish. However, in defense of my parents, the blanket, while being ugly and uncomfortable, didn't have a maximum weight capacity. We were a big family (like…"big") and we could all plop down on it in the sand to eat lunch and it never gave a groan of protest.
Once I was a bit older (and a LOT more interested in being comfortable), I decided that the time had come for me to venture to the beach in a way I actually enjoyed. Now, all those shirtless fellas with rippling pecs think they're the kings of the beach, but the real rulers are people who invest in a high-quality, heavy-duty beach chair. Which is now me. These days, whether or not I take off my shirt, I rule in comfort.
I started shopping for chairs and writing this article months ago, but when I woke up to snow on the ground this morning I knew it was time to start planning for the beach! And planning for the beach means that we are back in the market for the best plus-size beach chair!
Affiliate links / Images from Amazon Product Advertising API
Should You Buy A Plus-Size Beach Chair?
First of all, let's say that there are two types of people who should be shopping for heavy-duty beach chairs:
Fat people like me. People whose size (weight and/or height) makes normal, cheap beach chairs inadequate
Every other person. People who want a quality product that will last for several years
In other words, I think everyone, whether a big person or not, should bypass the flimsy, lightweight options available at Costco or Walmart and make an intentional decision to buy a heavy-duty beach chair! After all, they last longer, are more comfortable, safer, easier to use, and are better looking. What's not to like?
If you are taking a trip to the beach, you owe it to yourself to get an oversized beach chair to make sure your trip is a comfortable one!
The 4 Best Plus Size Beach Chairs
1. Ever Advanced – Best Overall Plus Size Beach Chair
If you have a bad back, the idea of going to the beach probably isn't an overly pleasant one. Spending hours wandering around (or sitting in a hard, uncomfortable chair) without any real rest is a recipe for a miserable day. Luckily, there is a chair that will allow you to spend all day at the beach in comfort! Enter the Timber Ridge Zero Gravity Patio Locking Lounge Chair.
If you are looking for the best 250 lb capacity, zero gravity chair…this is not it. This chair has an amazing 350lb capacity as well as a 22″ wide seating area (measurement between the arm posts).
So what makes it great for plus-size people or those with bad backs? The Zero Gravity Reclining! This chair will recline (with minimal effort) to any angle all the way to flat. Once you've found an angle that is relaxing for your back, lock the mechanism and sink into relaxation. Just be warned that the mesh is extremely comfortable and you'll probably fall asleep. If you want an oversized beach chair or simply want an extra-wide, zero-gravity chair for heavy people, you know the drill. Go get one!
2. RIO Gear – Best Heavy-Duty Beach Chair On A Budget
If you are on a budget (or buying chairs for your whole family) then the RIOGear chair could be the heavy-duty beach chair you've been looking for. Not only is it the cheapest beach chair we tested (by a significant margin), but it also boasts a 300lb weight capacity!
The design is classic but basic, with hard armrests, backpack straps for carrying, and a drink holder. While I wouldn't recommend this chair if you have trouble sitting down or standing up (it sits low to the ground), it is a comfortable option that will get the job done for a plus-sized family!
If you're saving so much on beach chairs, maybe you should look into the best 500lb rated kayaks to spice up your beach trip!
3. Goplus Loveseat – Extra Wide Beach Chair for Extra Wide Bums
If you've never had a high-quality, wide-width beach chair before, you might be shocked when you take this one out of the box. Not just because it's big, but it's actually doublewide! In fact, it is big, it is wide, it is high quality, and boy is it comfortable. If you are a big guy (or gal), you will be amazed at the difference it makes to have a chair that is actually wide enough for you.
One of the biggest problems with heavy-duty beach chairs is that they're made for normal size people. They might hold 500 lbs but if my butt doesn't fit, I can't sit. Having a two-seat beach chair solves this problem. Obviously. The thing that makes this one special is that it doesn't have a divider in the middle like most. Most double chairs with this weight capacity have middle legs, making them totally useful for a single user. This one, on the other hand, allows even the largest of users to spread out and take full advantage of its width.
Some of my other favorite features:
Heavy-duty Steel Frame. The heavy-duty steel provides the strength and the coating makes sure that it can withstand salt water, sand, and corrosive exposure without rusting or failing.
Weather Resistant Oxford Fabric. Forget about chairs with laces or webbing holding them together, this thing is sewn with enough hefty fabric to support even the heaviest of beachgoers.
The large seat surfaces and high back are extremely comfortable and supportive for large people. Because it is a bench it also allows a slightly more reclined sitting experience than many other beach chairs.
While this seat doesn't recline, it has the next best thing: padding! Unlike many plus-size beach chairs, this bench has closed-cell foam padding to keep you comfortable on long trips to the beach.
Things you may not like:
It's heavy. While it's not quite twice the weight of a single-width chair, you'll be feeling it if you have to carry it any distance. While most big and tall beach chairs are heavy, this one is over 17 pounds. But, if you want/need something in this size range, you're not going to find anything much lighter. When it comes to a beach chair, heft equals capacity! Although if you're going to be walking far, you'll probably want to invest in a carrying strap.
It's on the more expensive end. While there are much more expensive options, the price of this chair may be a bit hard to swallow for those who are used to cheaper, low-quality versions.
Verdict: Obvious. If you need this width and weight capacity, this might be your only option. Luckily it's a great one!
4. LivingXL – Best 1000lb Beach Chair For Big & Heavy Person
If you are going to be spending time on a rocky beach (or simply want a chair that would be at home camping as well), then this might be the cream of the crop when it comes to plus-size beach chairs. It will hold up to 1000lbs comfortably and will never leave you worried that you're going to end up on your head. Its wider-than-normal feet will spread your weight out well, so you can remain stable on almost any terrain!
The chair comes with all the features you would expect from a basic, but comfortable chair -including dual drink holders and a pouch to hold your book/magazine/phone/etc.
As far as I know, it is the absolute strongest heavy-duty beach chair for sale anywhere!
5 Things To Consider When Buying A Plus Size Beach Chair
When it comes to choosing a plus-size beach chair, you've got a few decisions to make: but luckily most of them are easily decided by your size and how you're going to use the chair!
1. Leg Type
In this, as with most things, the choice is not "which is better," but "which is better for what you're doing?"
My wife grew up on the Northwest coast (in Washington) and we spend as much time as we can up there. I absolutely love the beaches. but they are not exactly the quintessential beach from a postcard. They have tidepools, rocks, logs, little hills, etc. When we visit the beaches there, the traditional beach chair is an absolute failure.
The one-piece leg design of the typical beach chair does an excellent job on smooth, flat surfaces (such as a sandy beach) where it will keep you stable and on top of the sand. Camp chairs, on the other hand, have a tendency to sink in the sand, but really shine when it comes to sitting anywhere that has an uneven surface (campsites, rocky beaches, etc.).
So which leg design makes for the ultimate oversized beach chair? Well, it depends on your beach!
While there are several other areas in which types of chairs differ, none are important enough to warrant their own section, so let's sum up:
2. Fabric
In theory, a quality beach chair is made of more breathable fabric than a camp chair. Look for a chair that at least has some mesh inserts or else you may be sweating up a storm.
3. Stitching
While the fabric is important, it is typically the stitching that fails if you exceed the weight capacity of your beach chairs. Look for reinforced double stitching if you want the highest capacity possible.
4. Seat Height
In general, camp chairs are taller and easier to get out of than beach chairs. In our test, we did our best to have a variety of heights to choose from, and only one of our chairs could be considered "low."
5. Seat Angle
What angle do you like to drink your beer at? (Or Coke Zero in my case, no ice please). Beach chairs tend to have a more reclined back, as well as typically offer a reclining feature.
Now that we (and hopefully you) know what to be looking for, let's get onto it and find the ultimate plus-size beach chairs for a big and heavy person!
Heavy-Duty vs. High-Quality Beach Chairs
When you start shopping for heavy-duty beach chairs, one thing comes to light almost immediately: some chairs have a high capacity because they are well made and use high-quality materials, and others are high capacity simply because the manufacturer used heavy tubing so they could mark up the price. The second type of chair may look normal, but is almost always uncomfortable, packs poorly, and doesn't last. For example, a steel park bench may have a 2,000lb capacity, but it would make a pretty disappointing beach chair.
So how do you know the difference? Well, the good news is, you don't really have to! We've put in the work for you to figure it out! (Beach chair testing is so exhausting…)
Instead of simply searching for high-capacity chairs, we searched out the best beach chairs we could find and dropped those with low capacities from our review. This left us with the best-made and most comfortable plus-size beach chairs, which also just happen to have a high capacity!
Why would you want a heavy-duty beach chair?
If you run down to Costco right now, I can guarantee you'll find a beach chair. So why in the world would you want one of these? Well, honestly, you might not. If you want a chair for a once-a-year trip to the beach, then the Costco chair might be your best bet! If you are like us, however, and want to visit the beach as often as possible, take the chairs to your kids' soccer game, sit in it at a BBQ or around the campfire, etc. then you will want something a bit more hardwearing than your average chair. (Did you know that most beach chairs are only rated to 200-250 lbs? And that's usually a stretch.)
5 Ways Oversized Beach Chairs are Superior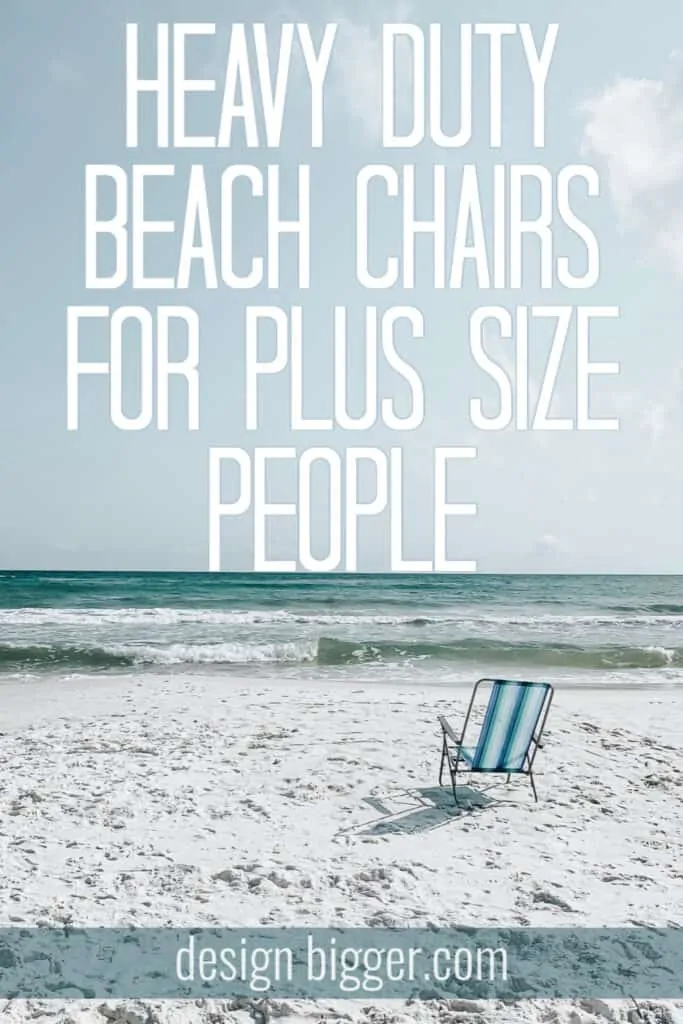 Increased Stability: The increased footprint of a large chair ensures that you won't be taking a tumble anytime soon. Sure, beach sand usually isn't very hard, but you still don't want to be sitting in a spindly-legged chair that will dig into the sand and tip (or collapse) anytime you sit down, shift around, or try to stand up.
Less Saggy and More Supportive: If you are a big guy, you are probably familiar with the creaks that a camp chair normally releases as you sit on it. The frame creaks in protest and the fabric whines as it stretches further than it wants to. To make matters worse, the fabric often sags enough that you are left sitting on the frame…not a comfortable position. In addition to the increased frame strength, all of the chairs that we recommended use heavy fabric that will not stretch too far! Instead, they provide firm comfort and support. Imagine that!
Greater Comfort: Let's face it, having more room is almost always more comfortable. Having room to stretch out (and a spot to put your feet) can make all the difference in beach chairs. Not to mention how pleasant it is to have an extra-wide seat that you don't have to squeeze your backside into!
More Features: Because plus-size beach chairs tend to be a bit more expensive and a bit heavier, manufacturers are much more likely to include features lesser chairs can only dream of. In several chairs on the market, you can find drink holders, built-in coolers, footrests, carrying straps, etc.
Longer Lasting: My wife is not a big and heavy person. In fact, I don't even think she's north of 150 lbs. If she sits in a chair with a capacity of 500lbs the chair probably doesn't even notice. In fact, she and I could sit together in some of these chairs and not exceed the limit! If you are not a large person, you can expect your new chair to last forever. It's meant to work much harder than you are making it, after all. If, however, you are a big and heavy person, you can be sure that an oversized beach chair will last much longer than the average convenience store variety.
Conclusion
So what are you waiting for? We hope this buying guide was helpful in helping you pick the best plus-size beach chair for you! If you are serious about comfort and support, scroll right back up and choose from among the 4 heavy-duty beach chairs we discussed.
Just make sure you put on plenty of sunscreens (and probably a swimsuit/swim shirt) as you'll be spending a lot of time in the sun!