Finding the clothes that best suit your body type and then figuring out how to style them to flatter and accentuate your natural shape can be difficult.
This can especially be a challenge in the plus-size market, where the clothing choices can be more limited, and where everything seems to only be available in black.
Well, let me tell you, there are more ways to style your clothes as a plus-size woman other than just wearing black. Sweats come in many colors!
Just kidding, but not really, I love my sweats.
However, for too long, there have been myths and rules about plus-size fashion that have left women hiding their bodies away under unflattering outfits. We want you to embrace your body, whatever size. We know how difficult it can be to dress to hide a big belly, so we have put together a plus-size fashion style guide with our top tips to get you started.
10 Tips To Help Plus Size Women Hide A Large Belly
1. Don't Be Afraid of Color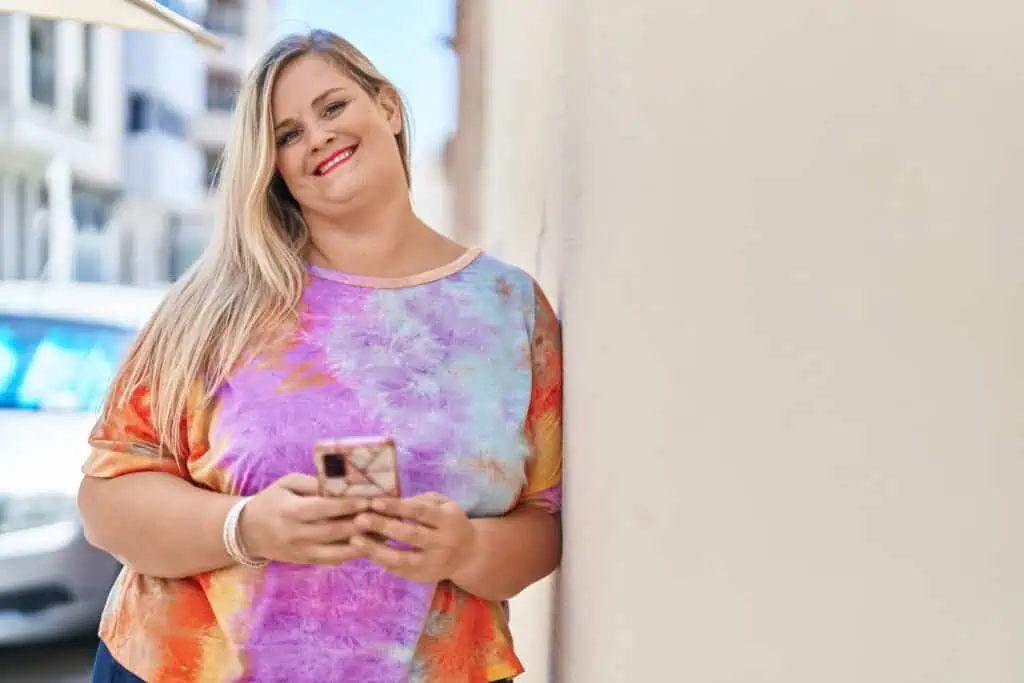 There is an age-old belief that in the world of plus-size fashion, you have to wear black to hide your fat. For years, the plus-size sections of department stores have been full of nothing but black trousers and tops, without any color or print insight. While black can be slimming, it doesn't give you the happy confidence boost that you get from wearing your favorite color. In today's industry, plus-size fashion has expanded to include prints and every color of the rainbow, with just as much choice as in the traditional womenswear ranges.
Experiment with colors and find the ones that best work with your complexion and skin tone, and begin implementing them into your wardrobe.
If you're nervous, start with small accessories and work your way up to your statement pieces. Coats and jackets are a great way to start experimenting with color and can brighten your overall look.
You shouldn't be hiding your body away under layers of black and grey, which can often dampen your entire mood. Wearing colors can not only improve your mood and self-confidence but can also brighten the day of those around you.
When choosing the perfect color for you, keep in mind not only your complexion but also your hair color. Red hair works exceptionally well with emerald greens, while blonde hair compliments pastel shades.
Speaking of color, it's also a myth that you can't wear stripes if you are over a certain size. Stay on the lookout for smaller-sized stripes, as these do not give the illusion of making you look bigger.
Vertical stripes work best for elongating your overall shape and for making you appear slimmer and are a must-have for plus-size fashion looks. Dresses that feature vertical stripes are a great choice for plus-size women, especially in lighter colorways.
2. But, Make Monochrome Your Go-To
Not only is monochrome great to help you dress to hide a big belly, but it is also a simple way to elevate any look. Dressing in one solid color creates the illusion that you are taller and leaner, as there is no breakup between the colors of your tops and bottoms. Contrast the look with some statement gold or silver jewelry to bring attention to your face and neck, and keep the focus away from your belly.
These monochrome looks do not have to be black and white; neutral tones and pastels are a great choice for plus-size fashion. When you have found your perfect color, pick up a skirt and blouse to achieve this monochrome look. You can use this styling method for everything from formal events to your gym outfits.
If you want to add a versatile monochrome outfit to your wardrobe, consider adding a colored pantsuit that you can wear together or as separate pieces from other outfits. To make pantsuits a plus-size fashion-friendly outfit, pair them with platform heels or wedges to elongate your figure, and choose a blazer with a longer cut that is slightly oversized with statement shoulders to balance out your outfit.
The monochrome trend can even be incorporated into your beachwear looks, by pairing your swimsuits with a matching colored cover-up to wear at the beach or the poolside bar. It is a tried and tested styling method to help hide a big belly and draw attention to your favorite features.
The Kardashian sisters are famous for their monochrome looks, particularly Kim Kardashian-West (no longer "West", I guess) who incorporates the trend in everything from her travel looks to her fashion week outfits. The monochromatic trend can make even the most simple of athleisure looks appear like an expensive outfit.
3. Know (and flaunt) Your Assets
One of the best ways to dress to hide a big belly is to know what else is an asset for you. This could be your waist, legs, or your cleavage. Take attention away from your belly by focusing on these assets and features instead, and tailor your outfit accordingly.
If you want to show your legs, opt for dresses with slits as these create a vertical line that elongates your body without showing a ton of skin or bearing all your legs. Sheer tights with prints and logos are one of the biggest trends, with brands like Gucci and Chanel selling pairs with their signature logo, and they can be a great way to show off your legs and draw attention away from your belly. To complete the look, select a pair of your favorite statement shoes; these could be sparkly heels or pastel loafers.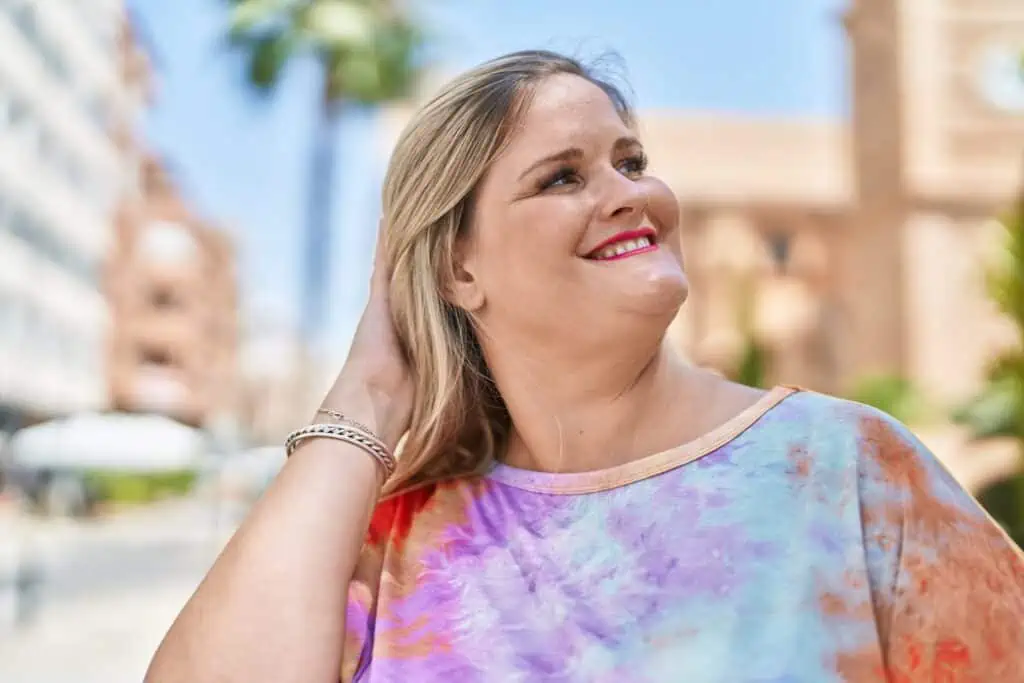 For those lucky enough to have an hourglass figure and a waist that they want to accentuate, accessorize your favorite outfits with a statement belt at your waistline to bring attention to the smallest part of your body. High-waisted skirts and trousers are another great way to not only bring attention to your waist but also tuck in your belly and slim down your overall appearance.
If you want to bring attention to your cleavage or upper torso, v-neck necklines are the most flattering choice of tops to wear. For special occasions or to give your look an elegant feel, consider wearing an off-the-shoulder top that is sure to bring attention to your neck and décolletage.
4. Prioritize Great Underwear
There's nothing worse than seeing a visible panty line through clothing, even more so with a big belly when these lines can create unflattering bumps in your clothing. You must have a well-fitting bra, as this can help improve your posture, as well as how your clothes sit on your body.
If your cup size is too big, it can result in excess material and leave unflattering bumps and gaps under your tops and dresses, as well as being uncomfortable to wear.
Likewise, if your underwear is too small, it can leave unflattering lines and dig into your skin. Take time to book a bra fitting, and don't be afraid to try new styles to find the type of underwear that is perfect for your body shape.
Brands like Uniqlo specialize in lightweight and size-inclusive bras that put comfort first. Your straps should be comfortable and supportive, and not dig into your skin. Don't just prioritize style when it comes to your underwear, but focus on the comfort aspect as well. You'll only feel confident in your plus-size fashion when you feel comfortable.
In plus-size fashion, there's nothing more important than investing in good shapewear. That is, if it aligns with your goals.
If you're trying to find what works for you, start with black and nude sets for ultimate versatility and to wear under any outfit. Shapewear comes in many shapes and sizes, with everything from shorts and traditional underwear to swimsuit-style pieces and singlets.
Consider what your daily wardrobe is like when choosing what style is best for you. Not only will this shapewear hide any visible panty lines, but it will also help to give your body a more smooth hourglass figure and provide a solid base for your clothes.
After all, you wouldn't do your makeup without a proper foundation, and your clothing should be the same. Shapewear can also help you feel more comfortable and confident in your outfit by giving extra support for your belly and legs.
–> Best Shapewear for Hiding Lower Belly Pooch
If you're buying a piece of shapewear specifically for an event or special occasion, bring along your outfit with you when shopping for the perfect piece to make sure it works with your clothes and isn't visible through the material.
5. Stock Up On Dark Wash Jeans
Dark wash jeans are a great way to dress to hide a big belly, as unlike traditional denim jeans, the color can hide lumps and bumps. When choosing your jeans, look for high-waisted pairs with tummy control in mind to define your waist. Finding jeans that flatter your body can help you build an essential look for every day. Style with a peplum top if you want to dress to hide a big belly, or pair it with an oversized sweatshirt to embrace the athleisure look for autumn and winter.
6. Experiment With Jackets, Coats, and Blazers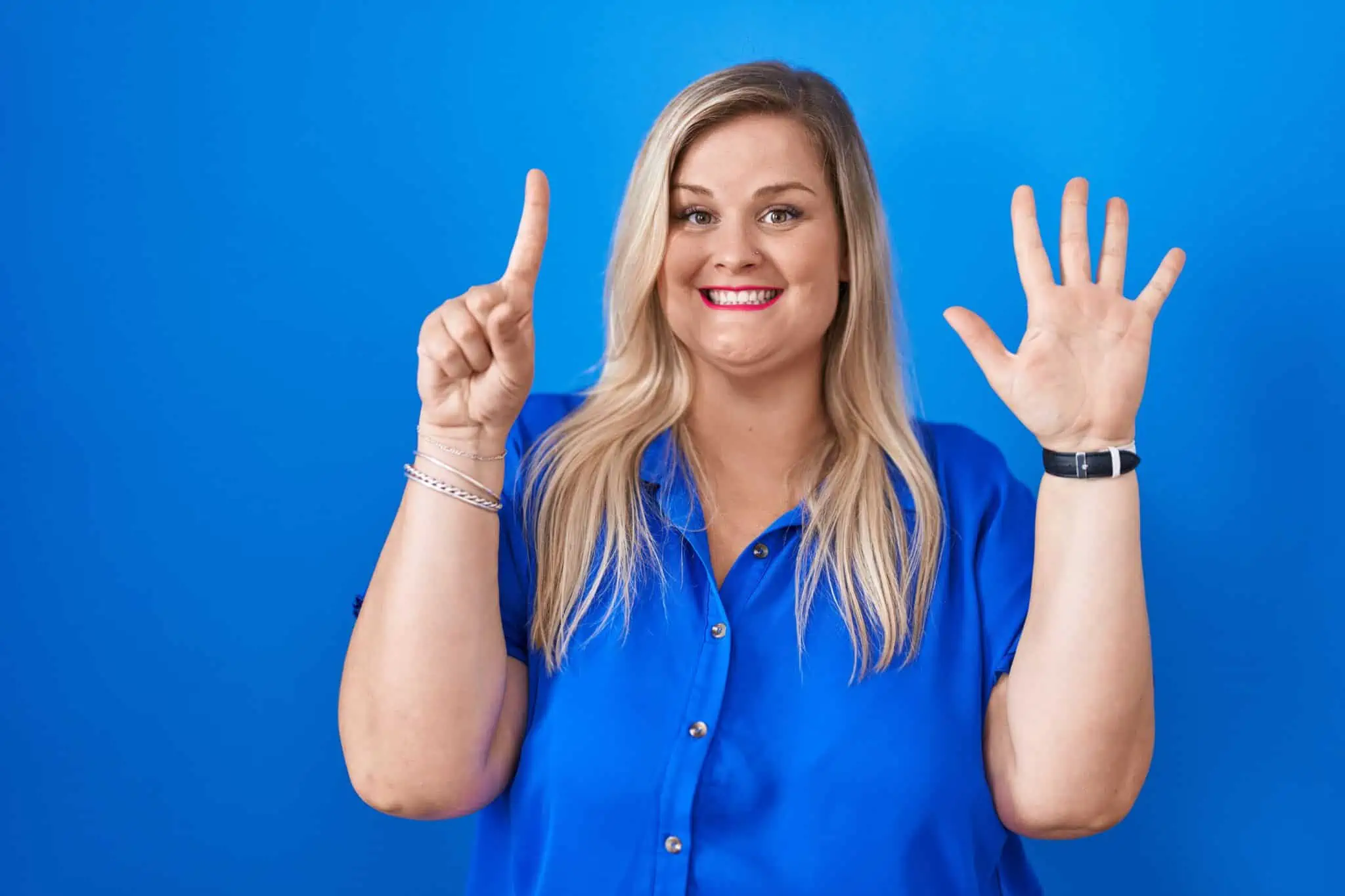 Jackets and coats are the best way to dress to hide a big belly, and you can change them up depending on the season. The most versatile are tailored jackets, as they are essential for workwear and can be dressed up or down. Pick up blazers and jackets in your favorite colors to wear all year round, and to layer over your favorite outfits. These can be paired with anything from your gym wear for running errands or for being worn over a formal dress for a special occasion.
Longline coats can hide just about anything, including a belly. This style is best for autumn and winter, but you can find lighter coats that work for spring and summer. These longline coats can be paired with everything from dresses to jeans and a t-shirt, and instantly elevate any look. With a vintage feel, longline coats can make you appear taller and come in every style from trench coats to bomber jackets and denim jackets.
Belted jackets help to define your waistline and create an hourglass silhouette, and can be paired with jeans or shorts depending on your desired look. You can either shop for a specific jacket with a belt option or layer one of your belts over a jacket to get the look for less.
7. Consider Hiding Your Belly With Menswear
For plus-size women, it can be a nightmare to find button-up shirts and blouses that don't gape or stick to all the wrong places. Consider looking through the menswear section at your favorite store, as men's shirts are usually designed with a more oversized fit and with more sizing options available than traditional womenswear shirts. The same is true for jumpers and sweaters, particularly if you want to style them with skirts for a chic and comfortable look.
In today's fashion trends, style is becoming even more gender-fluid, and you shouldn't be afraid to consider looking at menswear options to dress to hide a big belly.
8. Keep Looking For Your Perfect Fit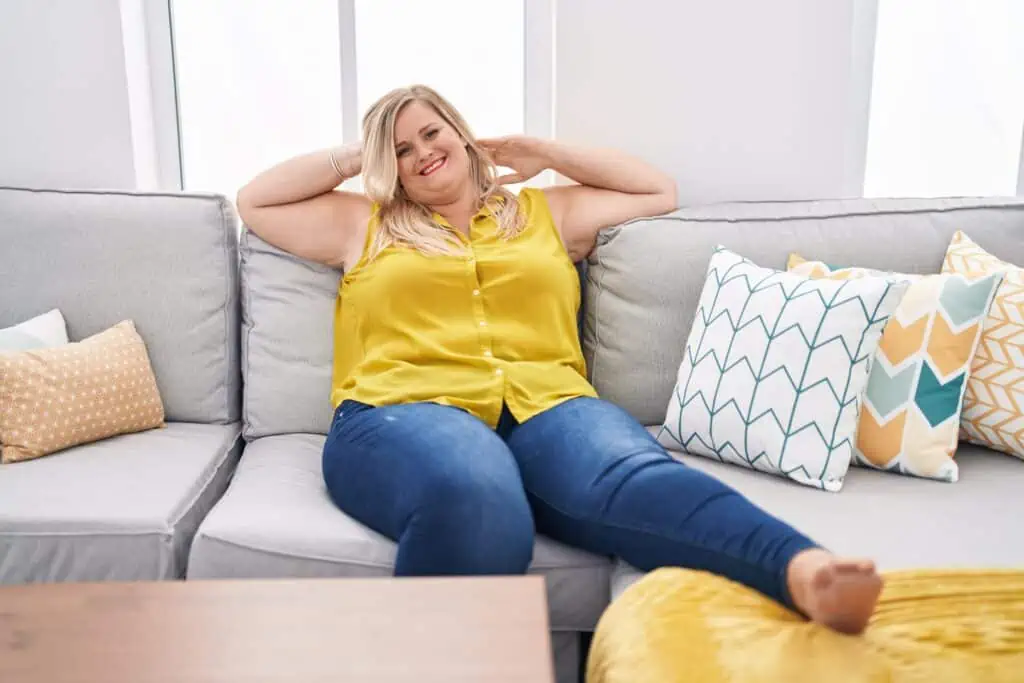 This can only come with trial and error, but it's important to find the perfect fit for your body type. Figuring out what your body type is first is a great place to start, and can help you find products curated to your proportions. The key to styling plus-size fashion is finding your perfect fit and sticking to it. If you want to dress to hide a big belly, then finding clothes that flatter your natural shape is important. Look for pieces that work for your curves and that fit them just right. Dresses are a great plus-size fashion essential, and finding your perfect dress style is important.
When shopping for occasion wear, focus on finding dresses in your perfect fit with a v-neck and a solid color. If you have a full figure, opt for the a-line dresses that accentuate your hourglass shape. If you have a rectangular or oval body shape, then the peplum style of dress will help your waist to appear smaller. The empire waistline dress is often considered to be the best dress to hide a big belly as it emphasizes your upper body and bust, and directs attention away from your stomach.
If you don't like showing off your legs, consider sticking to the trendy midi-length style dresses. Particularly for shorter plus-size women, floor-length dresses that trail on the floor can make you appear short and stout. The midi-length dress is great for lengthening your figure when worn with heels and can emphasize your body's natural curves and create a more narrow appearance for your waist.
Once you have found your perfect fit, don't be afraid to have investment pieces tailored to fit your exact measurements. You can easily take a piece of clothing from a high street retailer and make it look more expensive through simple tailoring to make the item look as though it was made just for you. With tailoring, you can have the item adapted to suit your body shape and accentuate your best features.
9. Break Up With Leggings
There is much debate about whether leggings are everyday clothing. While it's not a hard and fast rule, women who are looking to hide their belly should think twice about wearing leggings as everyday pants.
The exception to this rule is to find leggings that are specifically meant for plus-size women and are thick-knit. "One-Size" fits all leggings don't seem to include people with thighs the size of mine so they end up pretty sheer.
Another great way to embrace the no-fuss nature of leggings is by investing in a pair of jeggings, which can give you the look of normal trousers but with the comfort of traditional leggings. Jeggings are great as you don't have to worry about the possible embarrassment of normal leggings leaving everyone seeing your underwear through the thin material.
That's not to say that leggings can't work though. I wear them around my house, to the gym, and anywhere else when I feel like it. You do you!
10. Add Fun Accessories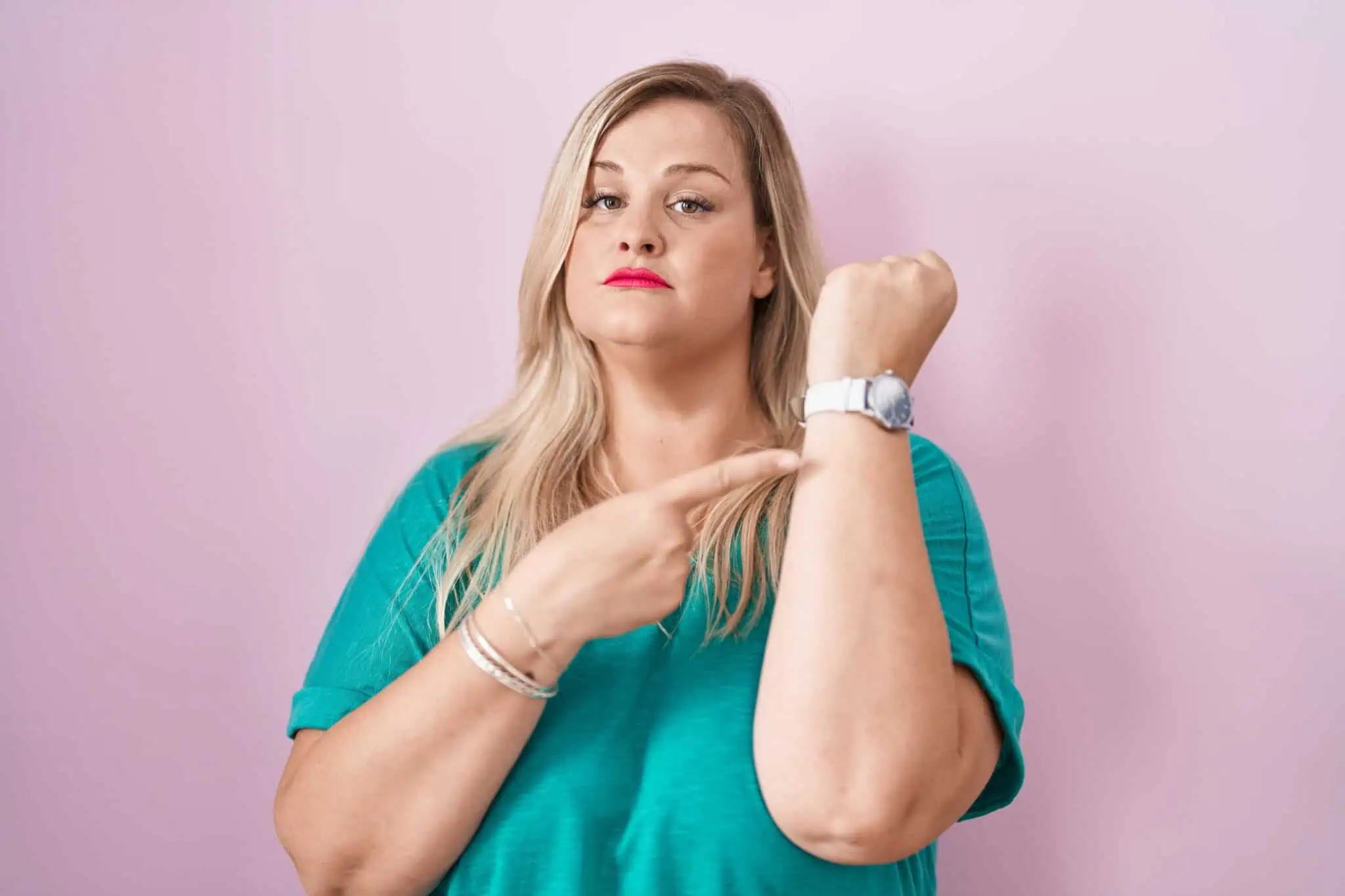 One of the best ways to dress to hide a big belly is to add accessories to your outfit. Accessories are a great way to draw attention away from your least flattering features and to take eyes away from your belly.
Wearing statement jewelry, carrying a new handbag, or adding a trendy hair accessory will divert attention away from the rest of your outfit and will be the first thing people see when they look at you. Headbands have been one of the biggest accessories in recent seasons, and the retro-inspired piece is a great way to draw attention to your face and away from the rest of your outfit.
Conclusion
Today it's easier than ever to get stylish plus-size clothing, with many brands now carrying a dedicated plus-size fashion range, including Anthropologie and Mango. With our style guide in mind, you can create a curated closet of outfits that will carry you through life feeling confident in yourself and your body.
Remember, your size is only a number, and what matters is how you feel about the clothes you're wearing. Plus-size fashion doesn't mean your choices are limited to oversized black clothing, and we hope that this style guide has shown you what is possible with your outfits.