As an Amazon Associate I earn from qualifying purchases.
Summary
Plus size heels are easier to find and cuter than ever! If you are heavy, look for pumps that are available in wide widths with a low chunky heel and wide straps.
High heels are an area of fashion where larger women…tread lightly (sorry, pun intended).
Being "too fat" for high heels seems to be a universal truth that goes unchallenged. What the reasons are for it, no one really seems clear. Is it a concern that there aren't wide enough pumps available? That the heels might break off? Or perhaps that it might make other people feel funny to see you happy and confident no matter your size?
Well here's a shocking truth brought to you by yours truly…you are never "too fat" for high heels. Wear whatever you want, no matter your size!
Plus size heels are actually in plentiful supply and are cuter than ever! However, since it can be hard to find options that suit every weight, taste, and budget, I decided to put together a list of the best (cutest and most comfortable) high heels that big women can get! And, even beyond that, I have created a 3 step process that will enable any overweight woman to wear heels again.
Are you ready for it?
Here is the process for wearing high heels when you're overweight:
Find heels that you like.
Put them on.
Wear them. Fiercely.
That's all there is to it! No matter how big you are, you are entitled to wear whatever you like (you just might be super comfortable). However, as with most things, it's easier said than done. Since I assume you already know how to put on shoes and walk, let's discuss that major hang-up for most people: finding comfortable heels that you like. Because as you may know, it's hard to feel sexy when you're uncomfortable!
Just a reminder…if you like them…buy them and wear them! Your liking them is enough permission!
My Favorite Heels For Plus Size Women: LifeStride Parigi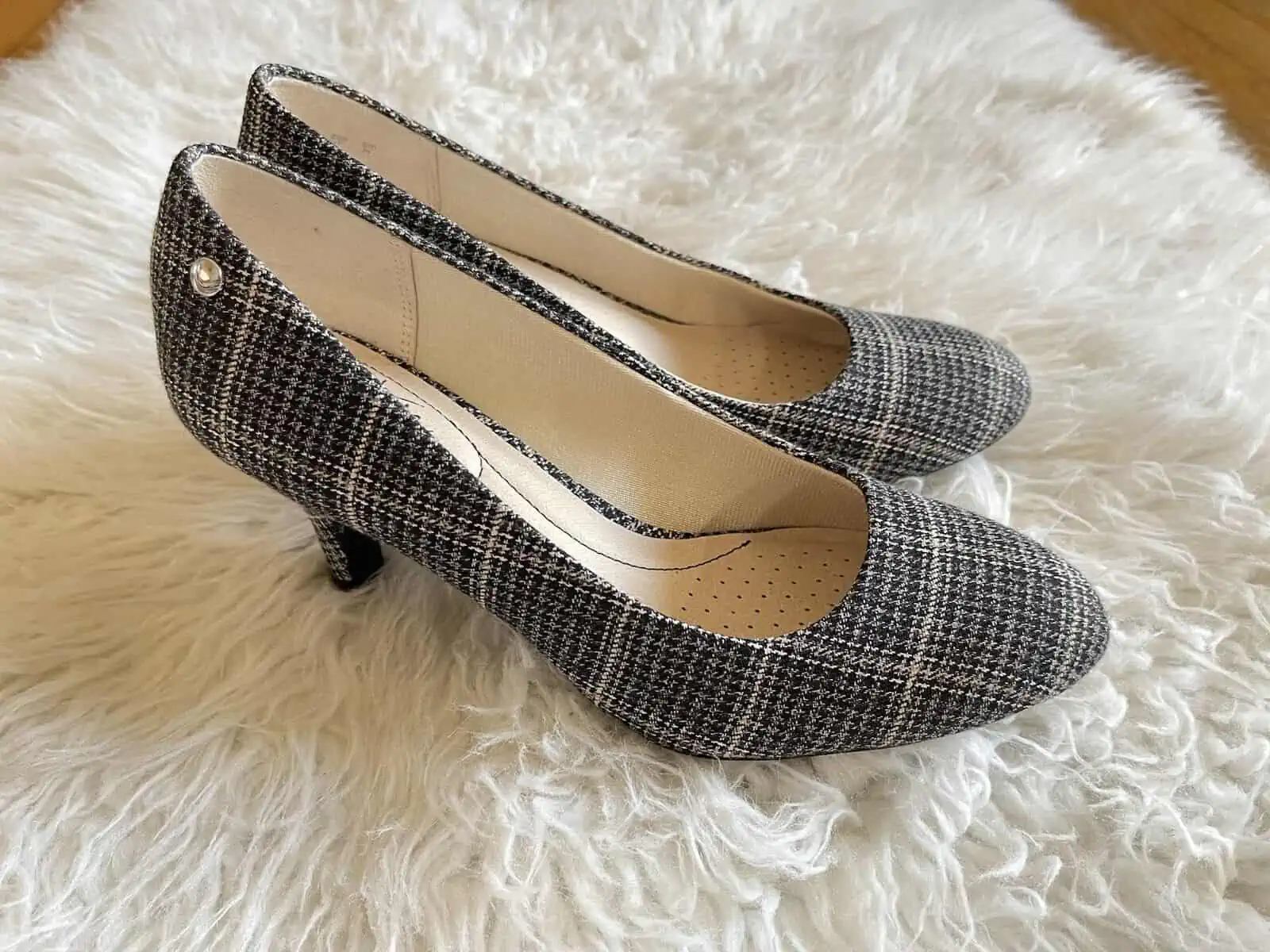 They say every girl needs a great pair of heels…and that is true. However, when it comes to high heels for overweight women, it is truer to say that every girl needs a dozen pairs of basic heels for everyday wear. Fierce heels are fun but, when I need heels for a casual date, work, or just going out, the heels I reach for are the Parigi from LifeStride. Or at least, I reach for one of my 5 pairs in different colors.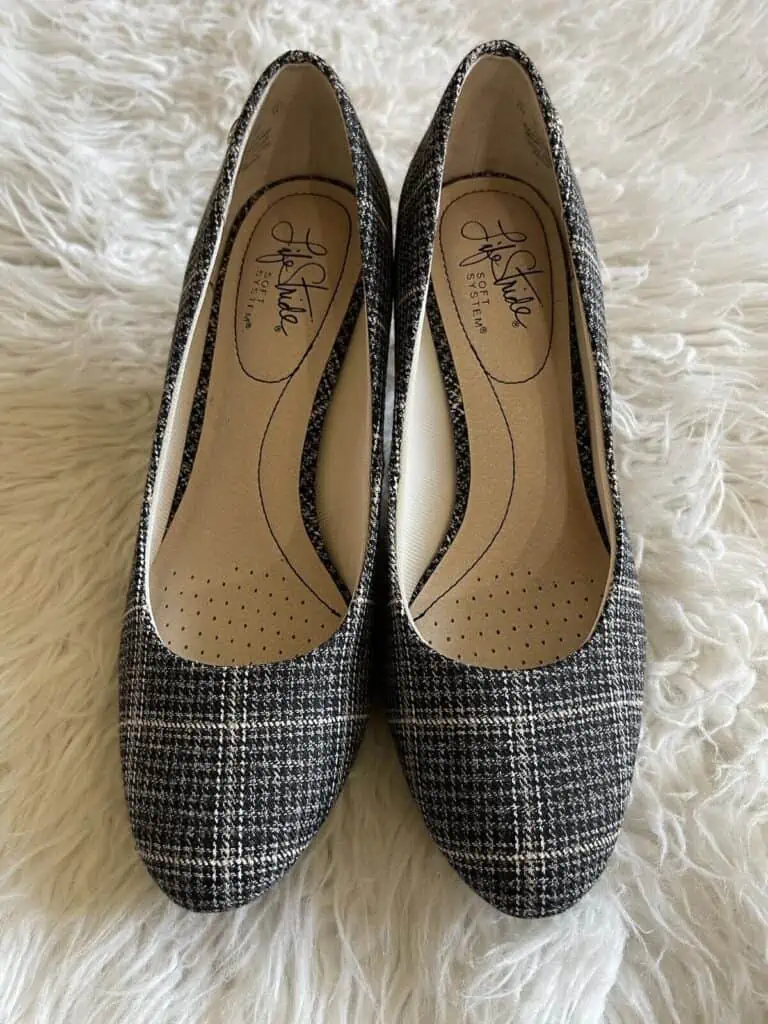 Finding high heels for overweight women can be quite hard so, when I found some that were comfortable to wear for hours, I bought them in several colors to go with just about anything!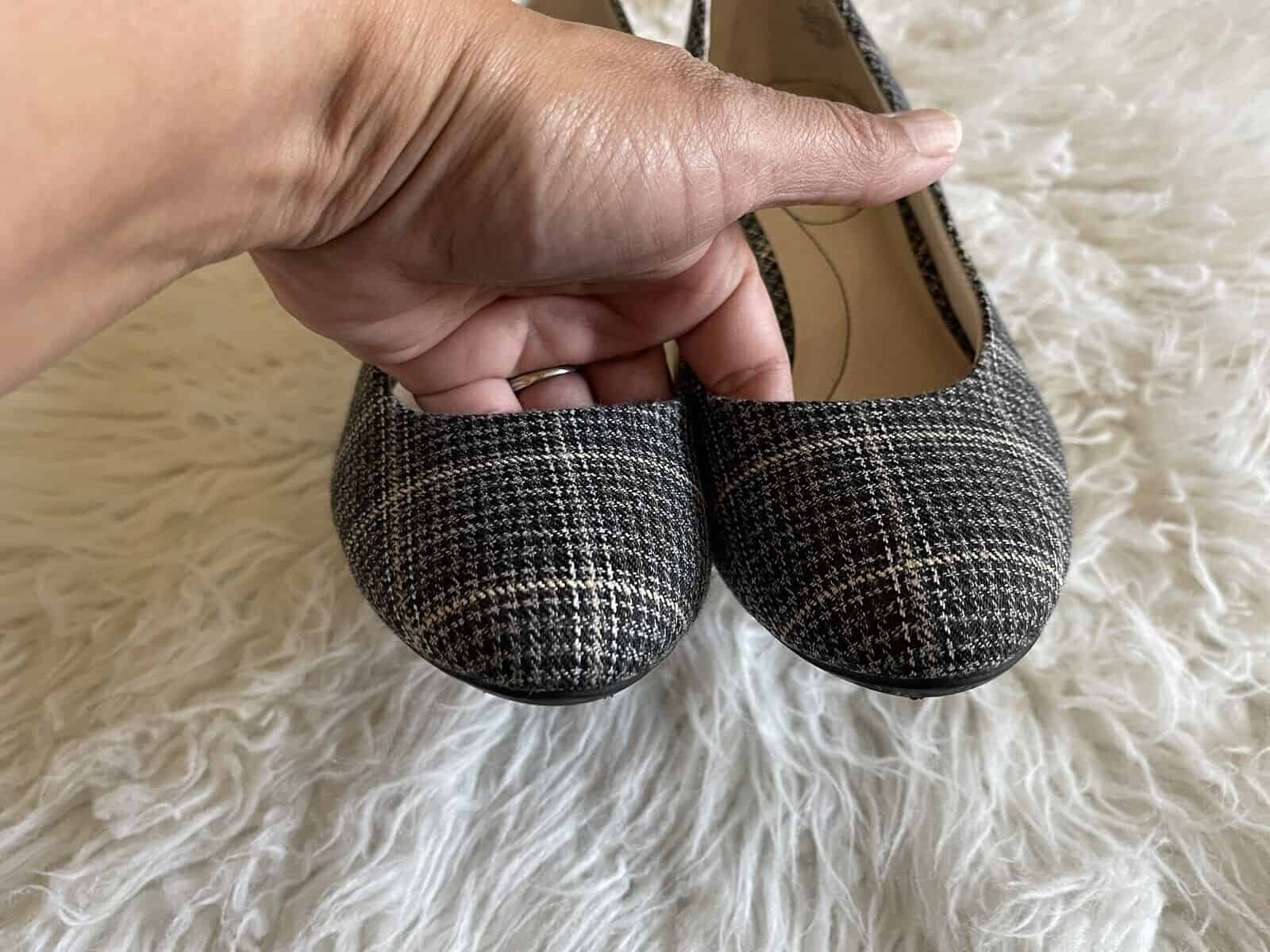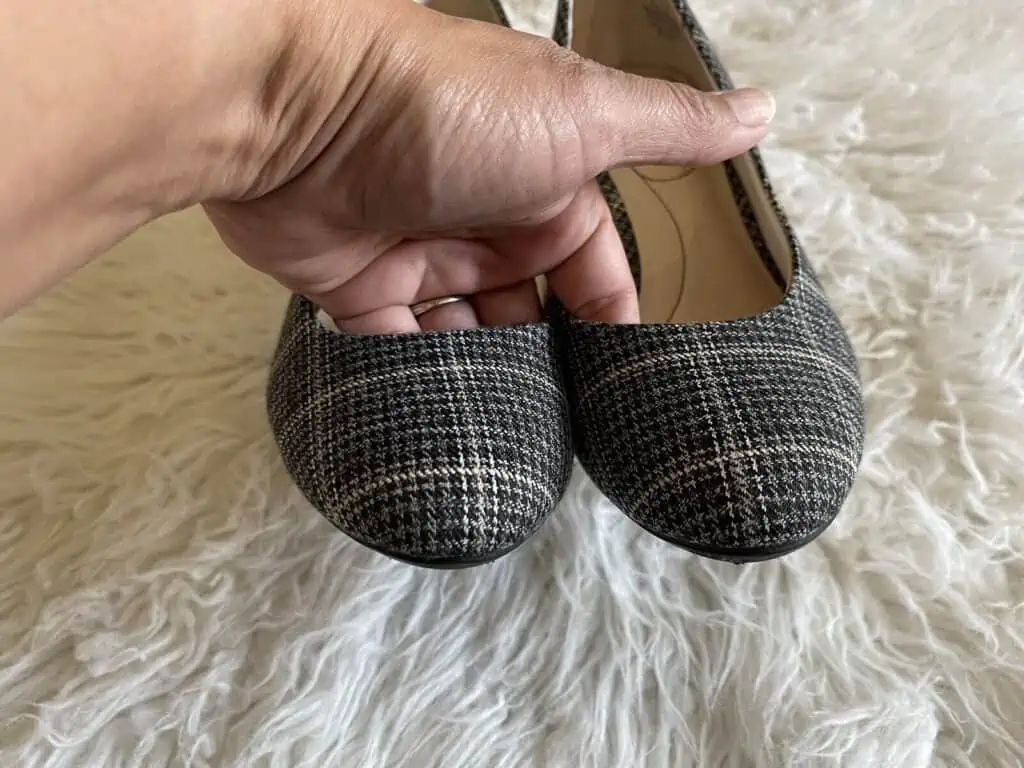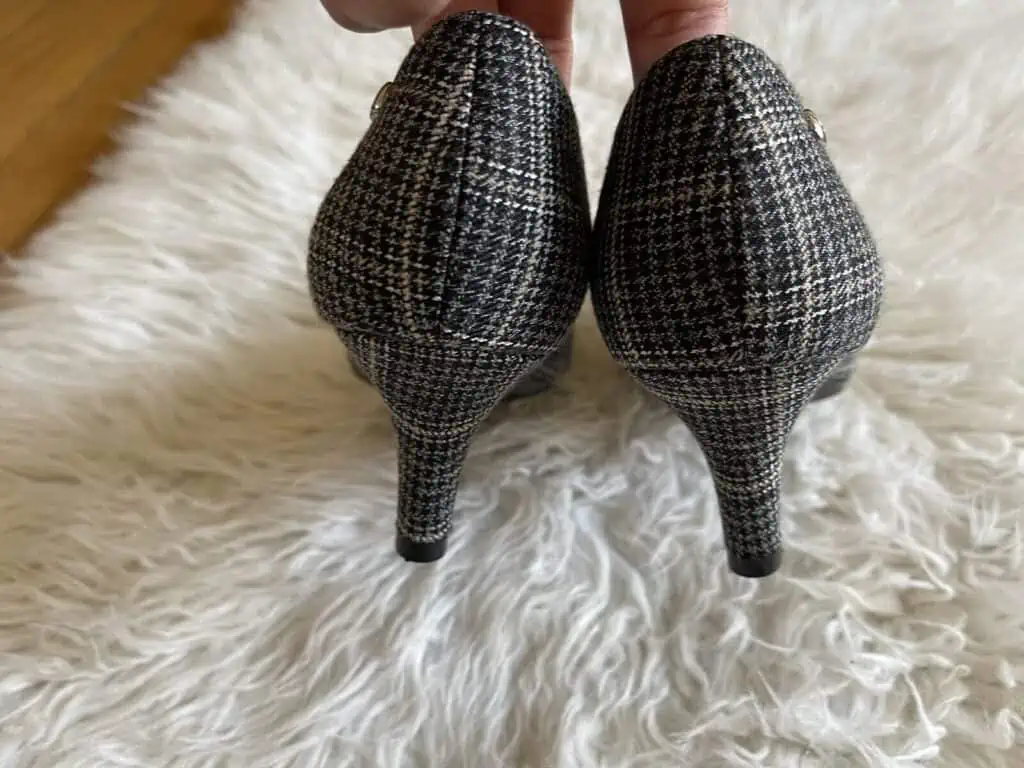 I have to say, with so many colors available finding one to match just about everything wasn't hard. So if you are looking for some great heels ) then stock up your closet with these!
Who says you can't find great heels for fat women with chubby feet?!
Can You Be Too Fat For High Heels? (Six Common Problems)
Some people can't wear high heels at 150 lbs, while others are comfortable at 250+ lbs. It all depends on your personal preference, foot type, and luck. While you can never be too fat for heels, wearing them will often get less comfortable as you get heavier.
In general, you cannot be too heavy to wear high heels. However, wearing heels often gets less comfortable as you get heavier. High-quality heels of the right style are able to support heavy women without danger.
At some point, wearing them will be unpleasant enough that it simply won't be worth it. If you're buying high-quality plus-size heels, this point will usually be well before you are in danger of breaking off the heels of your pumps.
There is a small but flourishing industry that produces high heels for overweight women that try to address the common issues that stop people from wearing heels. So here are the problems plus-sized ladies usually run into when trying to find heels to wear – and some fixes!
Unfortunately, there are going to be shoes that just won't work for you, but there are still so many options in the wide world of fashion! Here are our tips for finding heels that will be comfortable for wide feet, or for heavier women!
1. Your Heels Are Too Narrow
Solution: This is a serious problem for overweight women like me who just happen to have hobbit feet. My extra-wide feet dictate that I must buy wide-fit heels if I want to stand any chance of being comfortable. And when I was pregnant? Forget about it.
While most brands do have a wide option you'll be hard-pressed to find them in-store. Online shops simply have a much larger/more diverse selection and the filter options mean you can simply see the shoes that will fit you without suffering disappointment over the ones that won't.
Don't let your wide feet stop you from wearing sassy heels!
2. The Heel Isn't Strong Enough
Solution: Have you seen Kinky Boots? It's a musical about drag queens having issues wearing shoes made for women because the heels break off under their weight. While my husband isn't likely to don heels anytime soon, seeing the play made me appreciate how difficult it is both to find and make heels with a high weight capacity.
Luckily, many companies have gotten the clue that heels for bigger women need to be figured out! Companies like Torrid and Lane Bryant make heels specifically for plus-size women, but you can also find stronger heels from "regular" brands. It's simple – look for shoes with a chunkier heel! Stilettos probably won't provide enough support, and any shoe with a thicker heel will be able to hold more weight and be sturdier. Luckily for us, wedges and chunky style footwear are back and all the rage again!
3. You Have Balance Issues
Solution: This is an issue that anyone who wears heels (overweight or not) can relate to! And to anyone who feels unstable in high heels, we say find lower ones! Believe me, finding some heels that you can walk well in will look far sexier than walking like a flat-footed duck in the tallest pumps you can. The easiest pumps to walk in will be those of a comfortable height (3″ or less) that have a chunkier heel. The lower and chunkier a heel is, the more naturally you'll be able to walk in them.
If you have to stand for long periods of time, wedges and chunky heels tend to be more comfortable for fat feet. If I have to use a bunch of mental energy to stay balanced on some pointy heels it's hard for me to relax and enjoy myself.
4. Foot And Toe Pain
Solution: I wish I had more of a solution here, but heels aren't usually comfortable, period. However, there are some things you can look for that will make your heels more comfortable.
Round Toe: this will automatically give you more room in your toes than super pointy heels. Less toe pain! Rounded-toe heels are especially beneficial for big women with big feet as they are typically shorter for the same size as pointed/narrow-toe heels.
Wider Toe Box: Some shoes are designed with more room where the toes go than others. If your toes are less cramped, you'll have a comfier experience. Look for shoes with more space!
Lower Heel: High heels put your feet in an awkward position, which puts pressure on lots of different points of your feet (as well as ankles, legs, back, and lots of places!). Wearing lower heels will automatically put less straight on your feet and ankles.
Wider Straps: If you choose heels with super thin straps, you're more likely to have them digging into your feet. I know that when I wear heels with thick straps my chubby feet try to consume the strap. A wider strap distributes pressure more evenly, and will be more comfortable!
5. Ankle Pain
This problem is similar to foot pain, but the ankles really take a beating when wearing shoes that aren't stable, even if they are wide enough or don't hurt your actual feet.
When shopping for plus-size heels, pretend that you have stability or balance issues. The less you have to work to stay upright in your heels, the less strained your ankles will be. (Meaning look for the same things that I mentioned above)
Platforms are another great option if you find your ankles hurt when you wear heels, but don't want to wear lower ones. Platforms have the advantage of extra height without foot strain. A "platform" is any shoe that has extra space beneath the ball of your foot/your toes, instead of them being flat on the ground. This extra platform offsets the height of the heel, so you can wear a higher shoe without your feet and ankles needing to do so much work!
*With all of this being said, wearing heels places a great deal of pressure on the ankle and ball of the feet, so you may be at a point where it is simply not comfortable to wear heels, especially not for a long period of time. But there are lots of options out there, so you may be able to find yourself a comfortable pair to wear on special occasions!
As a plus-size woman, I find it totally acceptable to wear heels somewhere and then slide them off underneath the table or during the movie/show. Do what works for you!
6. You Can't Find Plus Size Heels You Like
Boy are you in for a treat…it might take more time searching, but there are lots of heels for big women. And the best news is, we've taken some time to search for you! Plus size heels are getting more plentiful by the day so I'll do my best to update this article as the market grows!
So, if you're not wearing high heels, now is the time. You're out of excuses. So let's see some of the options you can choose from (beyond my favorite pair, which you saw above)
---
9 Of My Favorite Plus Size Heels Heavy Ladies
LifeStride Women's Carla Dress Pump
Affiliate links / Images from Amazon Product Advertising API
Easy Street Women's Vibrant Dress Pump
Affiliate links / Images from Amazon Product Advertising API
Naturalizer Women's Hoda Pump
Affiliate links / Images from Amazon Product Advertising API
These shoes are, without a doubt, one of my favorite pairs of high heels for overweight women, As long as your feet aren't too chunky (and squeeze out of the peep space) you'll look smashing in these at any size!
Naturalizer Women's Joy Sandal
Affiliate links / Images from Amazon Product Advertising API
These are more of a sandal/strappy option. They have a small platform, thick heels, and wide straps, so they should be a much comfier version of this style of shoe!
Trotters Women's Candice Dress Pump
Affiliate links / Images from Amazon Product Advertising API
These have a shorter chunky heel, sturdy (but still cute!) mary jane style made with 100% leather.
Comfortview Women's Wide Width The Amie Sling
Affiliate links / Images from Amazon Product Advertising API
These cute sling-backs have an adorable bow detail, short, super chunky heels, and are a very stable option.
Rockport Women's Total Motion Salima 2-Piece Pump
Affiliate links / Images from Amazon Product Advertising API
Trotters Women's Camila Peep-Toe Pump
Affiliate links / Images from Amazon Product Advertising API
This is a super versatile style of shoe, with a low platform and a slightly thicker heel for stability.
Rockport Cobb Hill Women's Angelina Dress Pump
Affiliate links / Images from Amazon Product Advertising API
100% leather t-straps? Sign me up! T-straps are among the best high heels for overweight women. Not having a bunch of thin straps running over the sides of my chubby feet is not only comfy but makes my feet look way less fat.
So, in conclusion, there are tons of high heels for overweight women! Never let a bit of insecurity or foot pain put you off from wearing what you want. Find something that doesn't cause you pain and stride out in style because you are awesome!
Why Should Fat Women Even Wear Heels?
Because we want to!
Forget all the claptrap about high heels making you look like you have longer legs, like you're skinnier, etc. (although those things can be true…) The main reason you should wear heels as a plus-size woman (or any woman for that matter) is that you want to. Not because it fits someone else's idea of what would make you better looking.
On the other hand, the only reason you shouldn't wear heels is that you don't want to! But since you're here, you know you need a pair of cute heels. If you've been told that you're too fat, overweight, or heavy for heels you now know that that is baloney. Just get yourself a pair and love them! Now go have a beautiful day!