As an Amazon Associate I earn from qualifying purchases.
Affiliate links / Images from Amazon Product Advertising API
Despite being very well off, my grandpa has had the same furniture on his patio for over 40 years. His kids have given him new patio furniture which has come on and gone but the same few items have been there since before I can remember.
During that time, the chairs and the swing frame have been repainted at least 4 times (white, blue, red, and rust are the colors I remember…). So why does he keep them around? Well, because they simply won't die. They just outlast everything else that comes along. New "heavy duty patio chairs" come in, last a few seasons, and are tossed, while the original chairs sit there in all their multi-colored glory.
Finding furniture like that can be hard. Finding proper heavy-duty patio furniture that is also comfortable and looks great is even harder. Well, luckily for you, my wife and I had to go through this exact journey this year. We spent hours looking at Big Lots, Home Depot, and local furniture stores (even Walmart) to find some plus-size patio furniture that would support our weight.
Long story short, we failed. Despite the number of overweight people in the US today, you will still be hard-pressed to find any sort of heavy-duty patio furniture at a local store. So we took to the online world, read thousands of reviews (literally), asked manufacturers about materials and weight capacities, and ended up with just a handful of choices left. Here are the few that made the cut:
The Best Plus Size Patio Furniture: 3 Heavy Duty Options
1. Sophia & William – The Best Plus Size Outdoor Furniture Set
Sophia & William have tons of experience creating heavy-duty patio furniture. In fact, if you've purchased patio furniture from Overstock, Wayfair, or Amazon, it's likely that you've had one of their sets.
All of this experience adds up to the creation of beautiful sets that are not only functional but typically have a high weight capacity.
This beautiful set is a perfect example of that. While not specifically marketed to heavy people, this set ticks all the boxes for great plus-size furniture. These pieces have a steel tube frame covered by PE rattan (which looks like wicker), firm cushions, and durable fabric that is resistant to rain, sun, and big rear ends.
The main drawback to this set is that, while it is a beautiful and comfortable patio set, it is not really made for lounging. It is plenty comfortable for nights on the deck, houseboat, around the fire, etc. but if you are looking for something to sleep in, it might not be for you.
The seats in this set have a weight capacity of 330lbs apiece which is perfect for the majority of plus-size users (including me). If you need a set that will fit in a small space, look great, and last for years, this set is a great option!
2. Solaste – The Best Plus Size Patio Set for Big and Tall People
If you live in a wet area but still want strong and attractive outdoor furniture, we've got you covered there too. Solaste provides this heavy-duty 4-piece set (2 chairs, a loveseat, and a table) which will support a combined total of 1300 lbs!
The single chairs support up to 350lbs and the loveseat is good for up to 300lbs per side. If someone wants to sit on the table I'm not sure of the weight capacity but it is sturdy!
The powder-coated aluminum frames are extremely weather and rust-resistant (not to mention strong). Unlike the 2″ cushions you find on many "cheap" sets these boast cushions that are nearly 5″ thick which is perfect for heavy users. So if you want plus-size patio furniture and don't want to break the bank, this set is for you!
3. Purple Leaf – The Best Heavy Duty Patio Swing with Canopy
I can't imagine a properly set-up patio (or yard for that matter) that doesn't include a great swing. Heavy-duty swings are much harder to come by than heavy-duty patio chairs and, if you do find one, the cost is almost always prohibitive. Not so here!
This heavy-duty patio swing (with a canopy) can support over 750 pounds!
The main drawback here is one that is easily remedied. The designer seems to have spent his entire development budget on the robust frame and canopy and forgot that they needed some space left over in the budget for great cushions. The included ones are passable and will last a season or two but most users find them thin and uncomfortable. If you plan on keeping the swing for years to come (which you should, it's that nice) then you'll probably want to invest in some thicker and more durable cushions.
4. Festival Depot – Bistro Patio Chairs (350lb Capacity)
If none of the above options have the needed capacity for you or your guests, we might have to think a little bit out of the box. Patio chairs for fat people are hard to come by for two reasons: they have too low of capacity, and the seating area is too narrow for plus-size comfort.
If you are willing to be a bit unconventional and source pieces from different places, you can find individual pieces that meet your needs. If that's the route you want to take, these chairs a solid starting point.
While they aren't the most lounge-worthy patio chairs in the world, they have thick cushions and are extremely comfortable. If I were in need of a chair with this capacity, I would get these chairs for my outdoor table and acquire a plus-size rocking chair for after-dinner lounging.
These chairs would also be an awesome choice for a wedding or outdoor function where you think that heavy-duty seating might be required.
In the end, finding the best heavy-duty outdoor patio furniture for big people wasn't so much a problem of availability but just a huge time commitment. Wading through thousands of reviews and sitting on lots of local patio furniture wasn't the funnest thing I've done but I hope it was helpful for you!
My wife and I ended up going with the smallest option above as anything bigger would have been ridiculous on our tiny cement patio. We love it so far and have not had any issues with it! So quick, order what you want before the season comes to an end!
Choosing Heavy Duty Patio Furniture: 5 Things To Consider
If you're in the market for plus-size patio furniture, you're probably aware of the ridiculous number of types of furniture there are, let alone the materials they use to make them.
In general, however, any furniture that is considered heavy-duty will have a few commonalities. Since the typical patio chair has a weight capacity of 200-250 pounds, if you're a big guy or plus size in any way, you'll want to be sure that all of the following apply to any furniture you buy:
1. Frame Material (Metal Is Better)
The strongest patio chair would be one that is made from one solid piece of aluminum. It wouldn't rust, it would look modern, and it could be lightweight while remaining incredibly strong. Since such a chair is impossible to find within a normal price range, we have to look for the next best thing.
Stick to patio furniture that is either made of metal (preferably aluminum) or has a significant metal frame (for example, wicker over metal. If metal isn't an option, look for all-wood construction. Avoid anything with an all-fabric back or seat as these don't have a high weight capacity and typically don't weather well (especially in the sun).
2. Minimal Bolts Or Screws
The majority of failures that happen with patio furniture occur because the bolts or screws break, twist, or pull out. The fewer such connections there are, the fewer failure points your furniture will have. Most heavy-duty patio furniture is typically one-piece metal furniture without any "weak points."
3. Manufacturer's Stated Weight Capacity
If a manufacturer doesn't specifically state that their outdoor furniture has a high weight capacity, it probably doesn't. High-capacity furniture is built specifically for that reason and it is nearly always mentioned as a selling point.
4. Firm Padding
Squishy fluffy padding may be a bit more comfortable to start off with, but use and exposure to the elements break down the foam and it will not have any sort of durability. Firm cushions typically soften within a few months of use, meaning they will be comfortable while still maintaining their shape and integrity.
5. Durable Fabric or Wicker
If your plus-size patio furniture is going to be exposed to the sun you'll need to get a cover, remove the cushions when you're not using them, or just accept that the blazing might of the day star is eventually going to have its way with the cushions and fabric. The more water and UV-resistant that a cushion (umbrella, canopy, etc.) is, the longer it is going to last.
If you stick to the above options, you're probably going to do well with picking out some patio furniture suitable for plus-size people. However, you'll be surprised at how hard it is to find something that meets all of those criteria.
Plus Size Patio Furniture Inspiration for Big and Tall People
One of the problems with big and tall patio furniture is that it tends to take up a lot of space. If you have several thousand square feet of deck space, this isn't an issue. However, living in the city, my backyard is smaller than many people's decks or patios. So we have to make the best of it.
For that reason, I've included some smaller-scale set-ups for your plus-size patio furniture that can provide you with a comfortable and attractive lounging space no matter how much area you have available: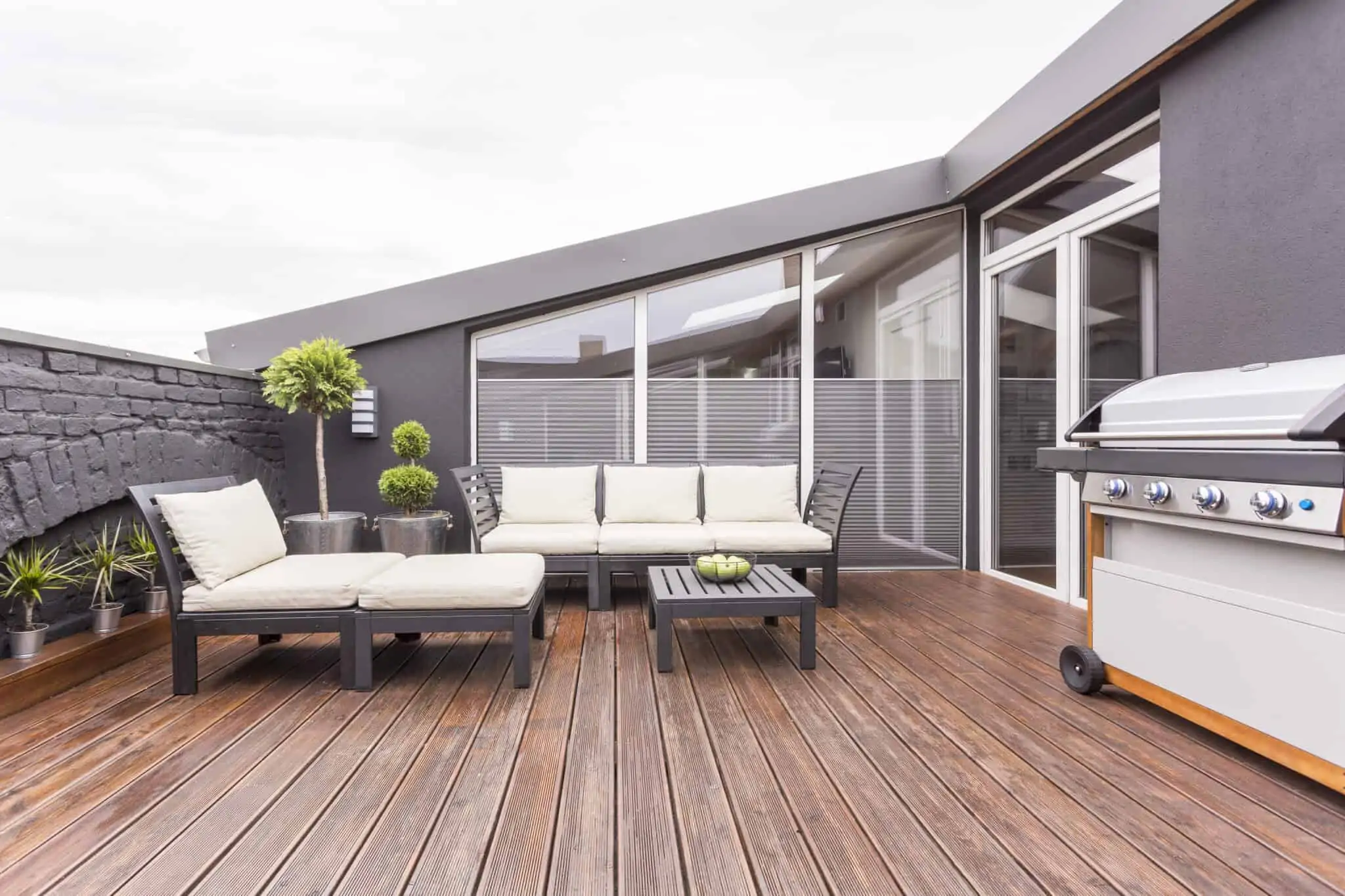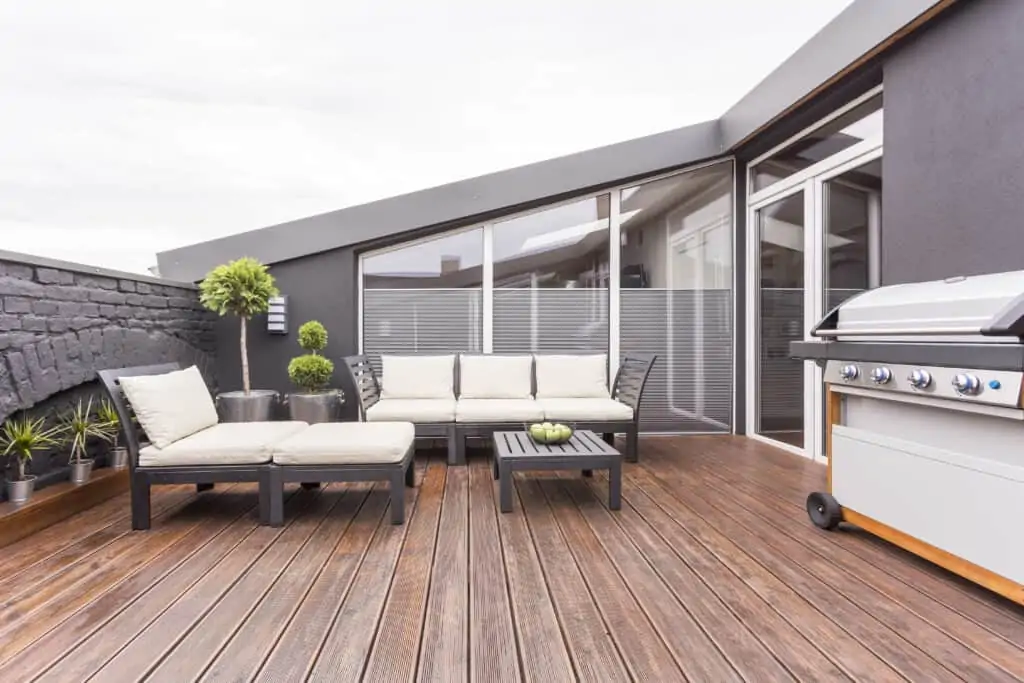 Despite having only two-seat, this set-up can easily provide space for 5 large adults. Ottomans are a particularly versatile piece of outdoor furniture because they do two things: provide an additional seat when needed and turn a regular patio chair into a decadent lounging experience. Get one.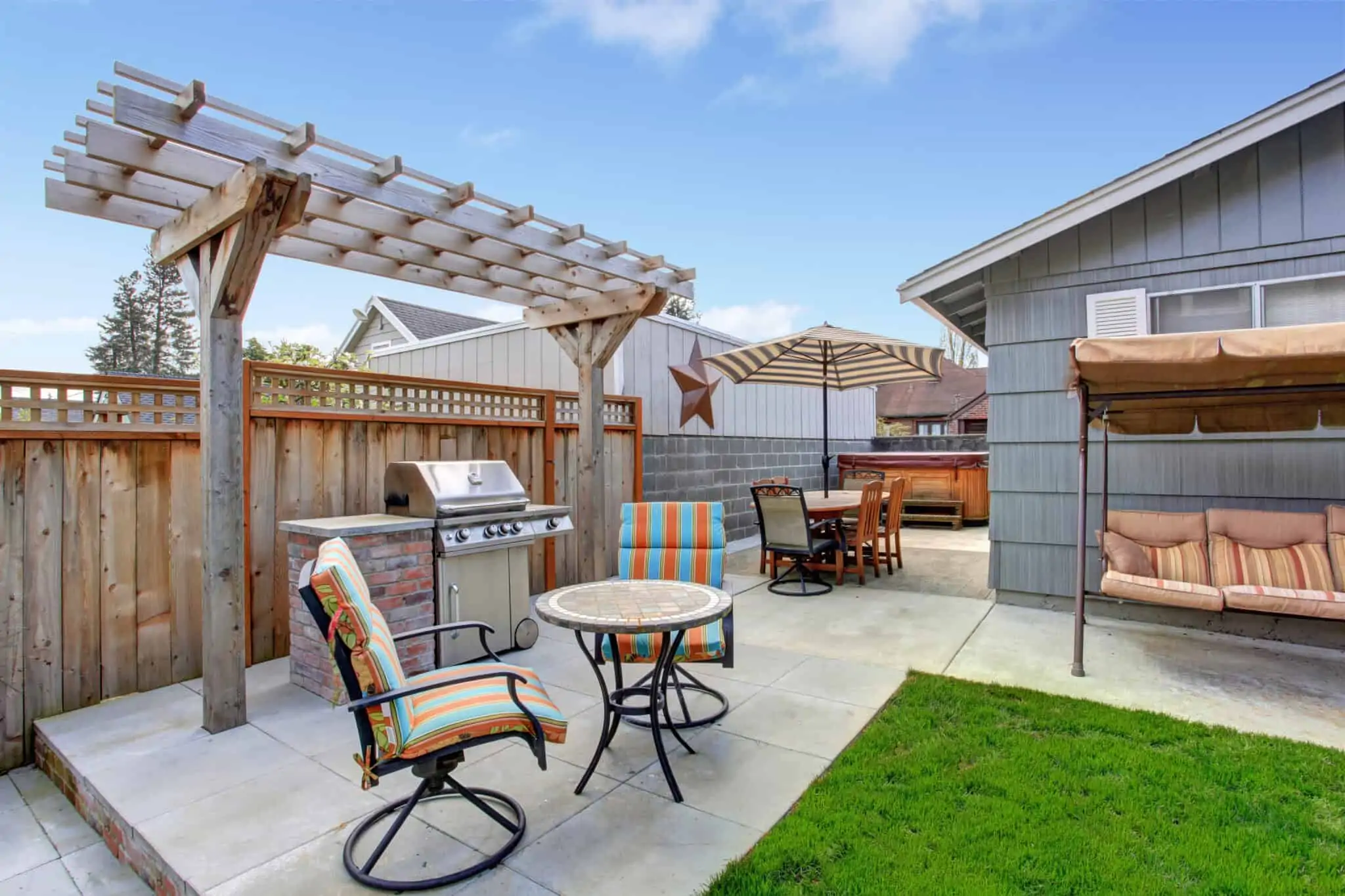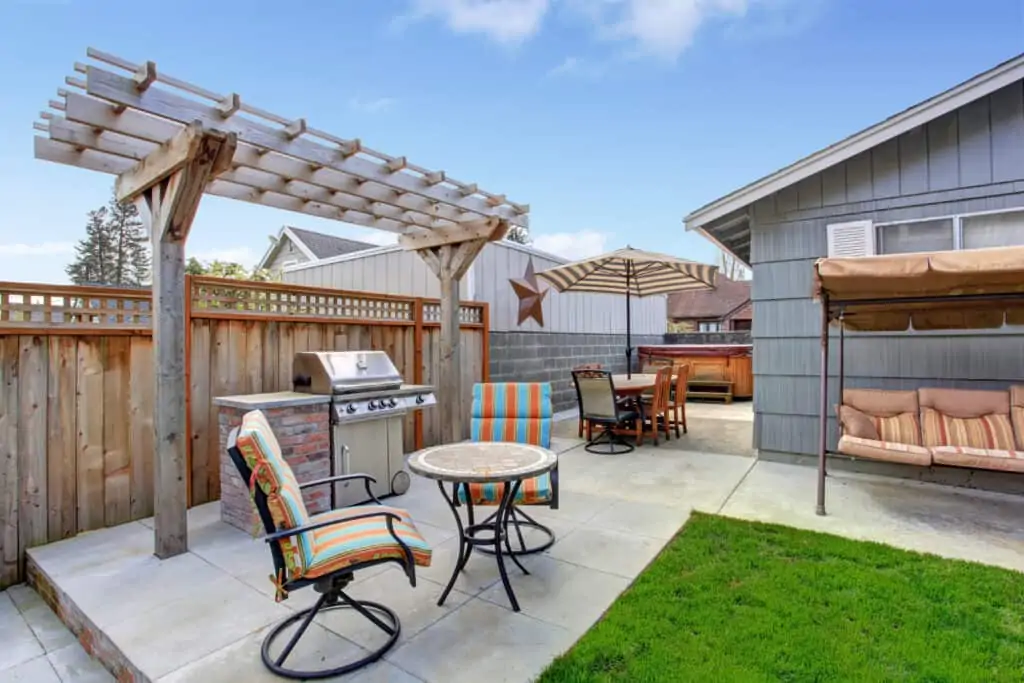 When my wife and I finally have a bigger house (or at least yard space), this is how I envision our patio: smaller pods of furniture that allow small groups to sit together.
Smaller pods like this have a slew of benefits such as:
Being easy on the wallet. Using what you have and adding more down the road is much easier than convincing your spouse to drop a whole paycheck or two on an 8-piece heavy-duty patio set.
It gives a space for my wife and me to enjoy dinner together (alone) without having another 4 empty seats around the table.
It allows adults a separate space at parties which the younger ones can enjoy the "kids table"
Patio furniture for heavy people often has a large and blocky presentation. Your best bet is to simply accept this and work with the aesthetic. This can be hard in a small space but creating a "living room feel" by having all the furniture face a central focal point is one way of doing it.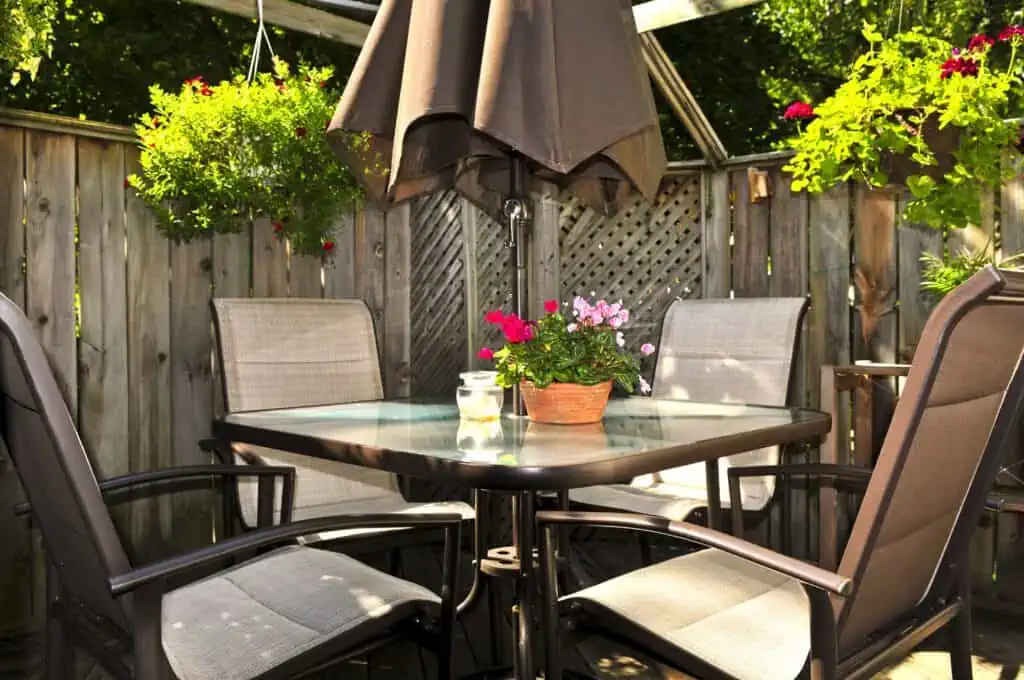 This is the extent of what I'm working with at my house right now. Yes, we have to pull the table out a little bit if any bigger adults want to sit on the far side of the table but it beats having nothing!
No matter the amount of space you have, you can make the most of your outdoor patio and enjoy the time. Just make sure you get one of those mosquito zapper lights, they changed our lives when it comes to nights on the patio.
Take care!