As an Amazon Associate I earn from qualifying purchases.
I never wanted to be the "guy in flip-flops." Maybe it's just where I live but dudes who wear flip flops around town are considered weirdos (probably because we usually have a couple of feet of snow). Whatever the reason, this has left me unprepared every time I take a trip to the beach or even to the pool. I typically end up buying a pair of flip-flops from Walmart or Old Navy and my feet just suffer through.
The problem is, most generic flip fops only go up to a size 12. Every time I've tried to pick up some extra wide flip flops at Walmart I'm told, "Well we've got flip flops…and these fit a men's size 10-12."
Too bad I need a 13 wide or extra wide to avoid dragging my toes on the ground.
Well, the time came that I figured I should just invest in a pair of flip-flops that didn't suck and actually fit me. To my surprise, the reason I didn't like flip-flops is that I hadn't given them a fair chance. I simply needed to get some extra wide flip-flops that actually fit my feet!
During my search for the perfect flip flops, here are the four options I considered (including the pair that I bought and love):
Affiliate links / Images from Amazon Product Advertising API
What Makes A Flip Flip Suitable For Big Guys?
During my younger days, I spent two years in Keyna doing humanitarian work. Everyone there (or at least all the working-class guys) makes flip-flops out of old tires. As you can imagine, they were heavy and a bit uncomfortable but they had great traction and would literally last forever!
On the other end of the longevity spectrum, we find the flip flops you get at Old Navy for a dollar a pair. Lightweight foam footbed and rubber straps. These are just as uncomfy, not flattering, don't last a week, and, worst of all, they aren't available in wide sizes. I need some extra wide flip-flops to contain my toes at the beach!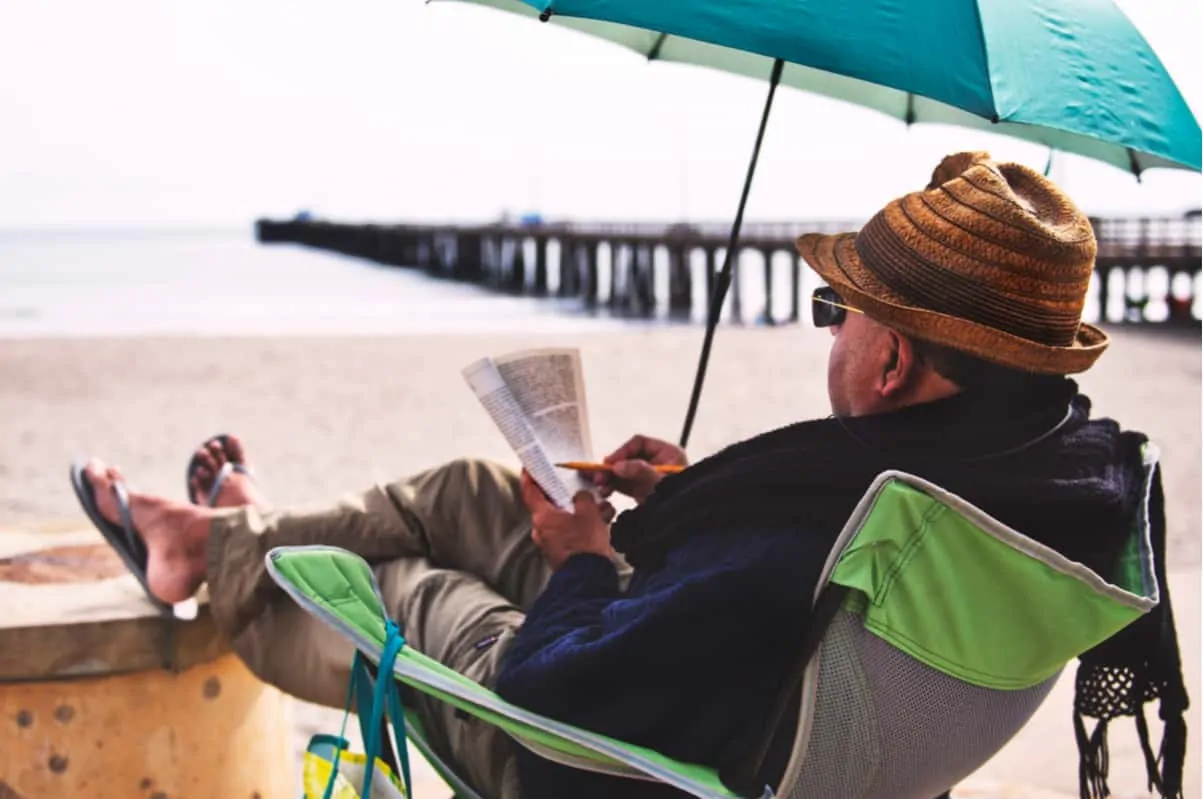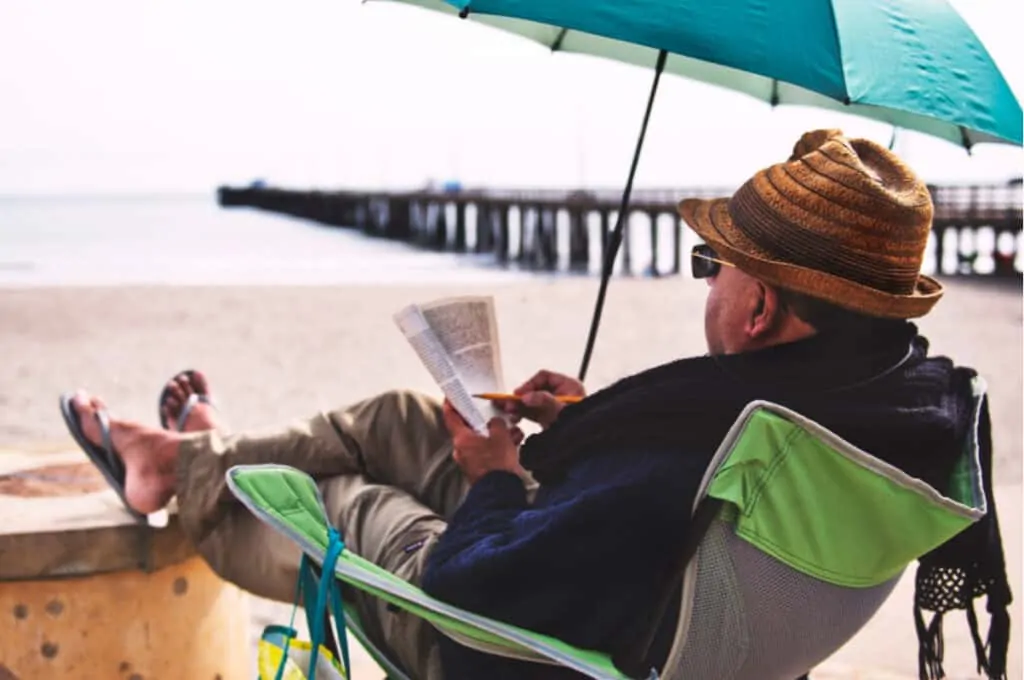 Given the wide spectrum of possibilities I knew I needed to narrow things down to a few characteristics that would give me the best wide flip flops for men. Here's what I came up with:
Footbed. I wanted a footbed that was actually shaped something like a foot. Even in gym shoes, I get insoles with arch support to keep my feet happy so a flat piece of foam wasn't going to cut it.
Sole. Forget foam, I wanted traction and longevity. If the wide flip flops I chose didn't have a "true" sole then they at least needed to be made out of natural rubber or something similar. Foam soles might be fine for the shower but if I'm going to be walking around a market or down to the beach I don't want to end up with sore and bruised feet.
Straps. The straps on regular flip flops tend to be both too tight and loose enough to give me blisters all at the same time. I needed something that wasn't too rigid and was soft enough to take care of my sheltered feet.
Sizes. While I only wear one size of shoe (shocker…) I couldn't recommend anything to be the king of extra-wide flip flops if they had a limited range of sizes. I only need a size 12-13 but I did my best to find options that had sizes ranging from 6 to 16!
Width. Above all, my flip-flops had to be noticeably wider than the average store offering. I've bought "wide" shoes before only to find that they fit like regular shoes. I wanted some legitimate extra space for my feet and looked for sandals with both extra wide and extra wide fit.
With only 5 requirements, I figured it wouldn't be hard to find some options and expected to spend most of my time trying on flip flops and walking around. I was wrong. Even with my loose standards, I spent hours to even find 4 options that didn't have issues of some sort. However, it came out even better than I expected in the end and most of these actually really rock! Let's check them out!
The Best Wide Flip Flops for Big Guys
Dunham Men's Carter Flip Flop
Affiliate links / Images from Amazon Product Advertising API
If you're the type of big guy who needs everything to have leather, these are the flip flops for you. Not only do they have extremely durable (and comfortable) leather straps, but they are well-matched with the EVA footbed which provides both comfort and traction.
Dunham makes this flip flop in "extended sizes" which means they come as big as you could possibly need! Not only are these flip flops perfect for just hanging out or heading to the pool, but the sole ensures that even if you have to put some miles on them you'll still be comfortable at the end of the day.
So if you're a big guy with wide feet, pony up and get these flip flops. You'll thank me later.
Kingsize Island: Extra Wide Leather Strap Flip Flops
Affiliate links / Images from Amazon Product Advertising API
Most people would consider this design to be a quintessential flip-flop and I'd have to say that I agree! While the design may not overly innovative, the sizing is. Kingsize Island specializes in clothing that "makes big guys feel like they're on vacation" and these are no exception. They feature an easy-to-wear slip-on design but are still able to hug your feet due to their innovative strap design.
The leather straps and sturdy footbeds mean that you'll be able to walk distance in these without any issues, probably for years on end. If they appeal to you they are available in a wide range of sizes and widths.
New Balance 100 V1: Extra Wide Slides
Affiliate links / Images from Amazon Product Advertising API
If you've read any of our other footwear articles you'll know that I adore New Balance. They are one of the few companies that make an inclusive range of sizes in all of their shoes and their sandals are no different.
Because I've always had chunky feet and funky toes I've favored slides over flip flops. When I wear flip-flops I always seem to end up with blisters between my toes. Not to mention I always feel like they're about to fall off my feet.
While the sole on these is not quite the same level of rugged as the other options on our list, they still are cushioned and comfortable. And besides, any shoes that are actually available in your size are going to be more comfortable than one with a hard sole that doesn't fit!
New Balance 200 V1
New Balance Men's 200 V1 Slide Sandal, Grey/Grey, 5
Strong and Versatile Slide Sandals: These New Balance sandals feature strong, durable and comfortable outsoles,...
Comfortable Casual Sandals: With a plush top bed foam for supreme cushioning, these sandals offer a great underfoot...
Slip Into Comfort and Style: With a convenient design, these slides can be quickly and easily slipped on and off so...
Versatile Sandals: These ergonomic sandals feature a strong, one-piece fixed upper which offers all-day support so...
Affiliate links / Images from Amazon Product Advertising API
And again, New Balance. Their line of extra-wide slides is just too good to only share once. These are the updated version of the above slides with a bit more cushion and space. If you fancy being a little comfier and looking a little taller, get these ones instead.
I did.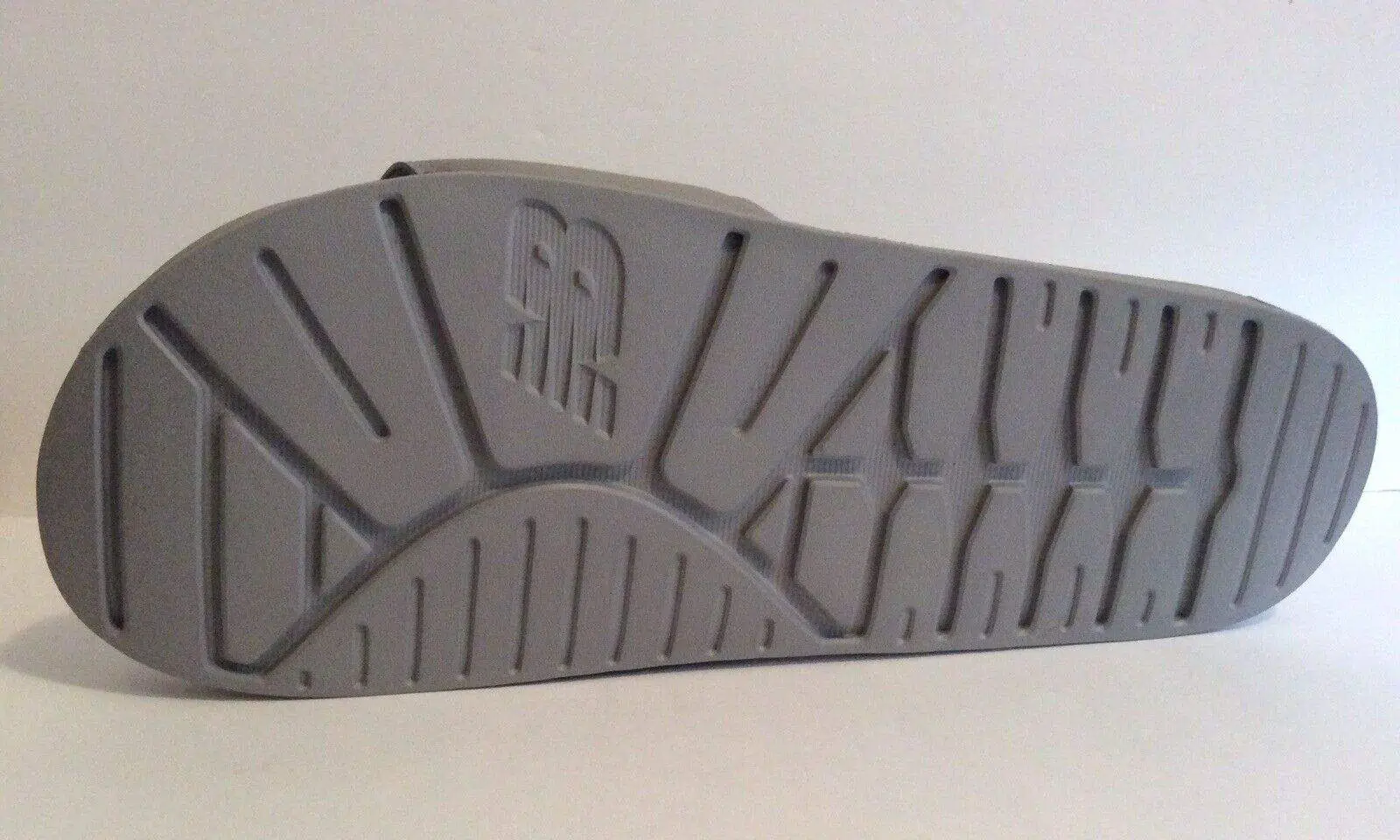 While I don't wear them very far from the house they are my favorite shoes to slip on before I take out the trash, grab something from the garage, etc.
Now Go Buy Yourself Some Extra Wide Flip Flops!
Let's cut to the chase, I'm a guy, you're a guy (probably…or you're shopping for a guy….) and you just need some wide flip flops. Any of the above is a huge step above what you'd find at a box store and you'll probably be happy with any of them. So scroll back up, pick your favorite, and close the deal!