Fashion For Big Guys – Stylish Tips & Options For Fat Men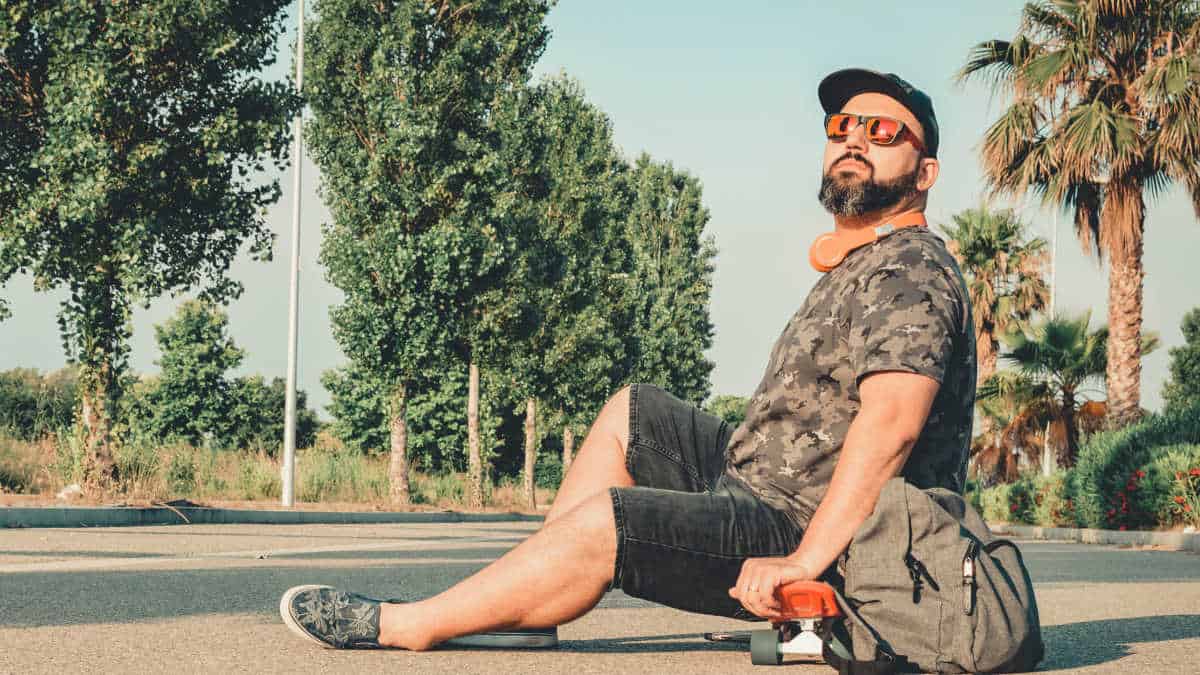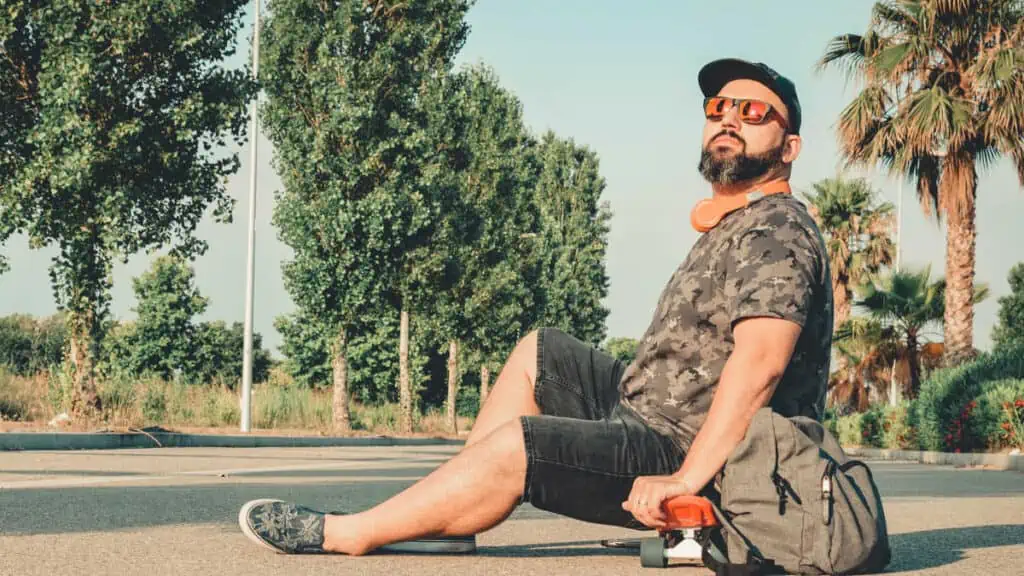 Pretty much any magazine or fashion blogger now is full of tips for plus-size girls. Not to mention the huge influx of designers catering to larger bodies.
But what about us big guys? Well, we're left out in the cold.
Fat guys are just fat so there's no point in trying to help them, right? Wrong.
There is a vast difference between fat dudes who know how to properly put clothes on their bodies and those who just bumble through life in ill-fitted jeans or sweats.
I know it's not entirely our fault since no one seems to care about fashion for big guys but imagine being twenty, thrifty, or forty years old and not knowing how to properly choose clothes for your body so you don't look like a slobby doofus.
That's why I'm here. It has taken me years of being the slobby doofus to figure out exactly how fat guys should dress, what we should avoid, and how we should present ourselves to get the best possible reactions from people.
Dressing well as an overweight man can be a bit of a challenge, but it doesn't have to be. With the right approach and a few key style tips, you can look sharp and feel confident in your clothing, regardless of your size.
In this article, we'll explore some essential tips and tricks for the big guy who wants to dress well and make a lasting impression. From finding the perfect fit to choosing the right colors and patterns, these strategies will help you transform your wardrobe and feel great about the way you look. So sit back, relax, and get ready to learn how to upgrade your style game as an overweight man.
Table of Contents
Understanding Your Body Shape & Proportions
Okay, let's start off by addressing the first myth of dressing as a fat guy – that your main goal is to hide your body.
The actual goal we have to is enhance our best features and minimize any flaws. Since everyone's body shape is different, I can't give you many hard and fast rules but I can give you some guidance based on your body shape.

In general, the main body shapes for men are circle/oval, rectangle, pear, hourglass, and inverted triangle. If you are overweight, you may very well fall under the oval body shape category. This means that you have a fuller midsection with a rounded stomach and slim shoulders and hips. Your legs may also be slimmer in comparison to your upper half.
Personally, I'm shaped like a giant rectangle.
Now, if you're an oval (just as an example), then your main focus will be on balancing out your proportions.
Stripes (both vertical and horizontal), for example, are a great choice as they can help visually elongate your torso and make it appear slimmer. Similarly, you can opt for dark-colored clothing and avoid any bold patterns around your waist area.
You'll want to invest in well-fitting clothes that are not too tight or too baggy. Contrary to popular belief, baggy clothes don't fool anyone into thinking you're skinny. They just make you look like a giant sack. Tailored clothing, on the other hand, will give you a polished and sharp appearance, accentuating your best features while hiding what you feel insecure about.
Here are a few specific things you oval people will want to keep in mind:
Choose V-neck shirts that will draw attention to your chest and away from your stomach.
Layer with jackets or blazers that have structured shoulders to help balance out your upper body.
Opt for straight-cut trousers or jeans that provide enough room for your legs without adding bulk.
Now this list is obviously specific to ovals (although there is a good bit of crossover) but you'll want to take a good look at your body and figure out where you want to draw people's attention (even if it's just your hair).
Finding the Right Fit
When it comes to dressing well as an overweight man, finding the right fit is crucial (and bigger is usually no better).
The idea is to find the perfect balance between being comfortable in your clothes and also looking polished and put-together.
So let's talk about how to walk that line.
First and foremost, avoid the temptation to hide behind baggy clothes. They may be comfy, but they tend to look sloppy and can make you appear larger than you are. On the other hand, clothes that are too tight can be uncomfortable and unflattering.
If you're inexperienced in the arena of fashion you'll want to focus on well-fitting clothes made from quality materials. Invest in some wardrobe staples, like a tailored blazer or pair of trousers, that are specifically designed for big guys. Higher quality items will be more comfortable, look better, feel better, and last longer.
In summary, the secret to dressing as a big guy lies in finding the right fit. By focusing on quality, well-fitting basics and playing with colors and patterns, you can create a wardrobe that is stylish, comfortable, and tailored to your unique physique. Keep it casual and have fun with it — because looking good should never feel like a chore.
Building a Wardrobe
Now we get to start talking about the nitty-gritty of what you should actually be wearing and how to style it.
Contrary to what the "cool kids" tell you, just about anything can be worn in a way that is fashionable and flattering for your body size/type. So, if you want to be comfortable and confident, stay in your lane and experiment with outfit combinations and different fits until you find something that suits your taste.
Shirts For Big Guys
Dressing well as an overweight man starts with choosing the right shirts. Odds are you're trying to hide a belly (or a buffalo hump) and will want to choose something conducive to that goal.
You probably don't want to hear it but dress shirts are a great option for even less-than-formal occasions. Look for button-up shirts with spread collars, which can help create a more balanced appearance. The wider distance between the collar points will draw attention away from your neck and give a more proportionate look.
For more casual settings, v-neck shirts are your friends. Creating a vertical line with a v-neck or a row of buttons can draw the onlooker's focus to the center of the body instead of your gut. Also, v-neck shirts can elongate your neck, giving an overall slimming effect.
When choosing the colors for your shirts, try to stick with darker shades for areas such as your belly, butt, or thighs.
Dark colors can help create the illusion of a slimmer figure. However, don't be afraid to experiment with colors, just avoid going for too bold colors that might make you feel uncomfortable.
If you prefer not to wear dress shirts in casual settings, you can opt for button-up shirts with a collar. These can be dressed up or down, depending on the occasion, and provide a versatile option for your wardrobe. Button-up shirts are especially helpful if you're planning on layering to break up your lines and reduce your blocky look. I regularly wear long-sleeved unbuttoned flannels over T-shirts and find them quite flattering and comfortable.
Read More: Should Fat Guys Wear Tight Shirts?
Bottoms: Choice and Fit
When it comes to bottoms for overweight men (most people call them "pants" but we're being inclusive here…), there is a variety of options like jeans, trousers, shorts, and chinos. The key to dressing well is finding the right fit, fabric, and style that complements your body shape. Not just putting on sweats or basketball shorts.
Jeans are a versatile wardrobe staple, and there are countless styles available. In general, bigger guys should opt for medium to dark-wash denim, as it tends to be more slimming and forgiving. Try to avoid excess embellishments or distressing, which can draw unwanted attention to specific areas.
Trousers, specifically low-rise trousers, can be more comfortable for those carrying extra weight around the waist. Seek out well-structured materials in trousers, like a wool blend or cotton twill, which will help to give shape without clinging to your body. While some people consider them to be dated, you may want to consider incorporating pleats into your trouser choices, as they can provide added comfort in the waist and draw the eye vertically, which can create a slimming effect.
Shorts can be a bit trickier for larger men, but with a few tips, you can make them work. You'll just want to go shorter than you're probably used to. For the most flattering effect opt for mid-length shorts that fall just above the knee, as they create a proportionate look. Avoid cargo pockets or other bulky features to keep your silhouette streamlined.
Suits, Blazers, & Jackets for Overweight Men
First things first, fit is king. Whether it's a suit or a blazer, make sure it fits you well, without being too tight or too baggy. You're already adding another layer and it will dictate your overall shape. A poorly-fitted suit that is a big stiff square will make you look like, well, a bit still square.
A well-fitted suit will properly accentuate your shape without drawing attention to your size. Always consider getting your suit or blazer tailored, as it's the best way to ensure a perfect fit.
When choosing the style of your suit or blazer, opt for lightweight fabrics. This is particularly helpful for keeping you comfortable during warmer seasons if you sweat as much as I do. Darker colors are also a great choice, as they have a slimming effect and can help create a balanced look for heavier-set men (and again, cover up sweat). However, make sure to avoid patterns that are too bold or large, as they might make you appear bigger.
In terms of blazers, a single-breasted style is the way to go for large men. Double-breasted blazers tend to add bulk to your chest, which can make you look wider. Single-breasted blazers, on the other hand, create a slimming vertical line, which is more flattering for any body that isn't just skin and bones.
Accessories to Enhance Your Look
Let's talk about some essentials that can help you look sharp and put-together.
First up is the belt. This underrated accessory is a game-changer, trust me. It not only keeps your pants in place but also helps you create a neat silhouette. You'll want to find a thicker belt (especially if you have a big belly) with a versatile buckle to get the most out of this piece. Stick to neutral colors like black or brown so it'll work with any outfit.
Now, let's discuss ties. Unlike a lot of the fashion advice out there I'm going to advise you to stick with slightly wider ties. Like, still slim, but no super slim (and definitely no bolo ties…). Slightly wider ties not only do they balance out your frame but they also allow for larger necktie knots, keeping your face proportionate. Stick to simple patterns and colors that complement your outfit.
Moving on to the world of lapels. If you're wearing a suit or blazer, the size and style of your lapels can really influence your overall appearance. As a bigger guy, opt for wider lapels to create harmony with your frame. Just make sure they don't overwhelm your outfit.
You'll also probably want to consider a hat, watch, or other accessories that can add to your outfit but since they really don't affect your overall proportions we don't need any fat-guy-specific advice for them.
Patterns and Colors
Beyond that actual fit of your clothes, the color and patterns you choose probably make the biggest difference to how flattering your clothing is. So let's talk about how to do it right.
Firstly, solid colors are a great starting point. Wearing darker shades, such as navy blue, charcoal, and black, helps create a slimming effect while also maintaining a sense of style.
In terms of patterns, simplicity is key. Heavyset men tend to look best in medium-sized patterns, as they can enhance an outfit without drawing unwanted attention. Avoid clothing with busy patterns or graphics that might overwhelm your frame. Some examples of simple patterns are light stripes, checks, or minimalist prints that complement your shape. If you decide to go for large-scale patterns you'll want to check yourself in the mirror very carefully to make sure that the pattern doesn't do weird things that accentuate your chest or belly.
When choosing patterns, like stripes and checks, pay attention to their size and direction. Vertical stripes can give the illusion of a slimmer frame, while horizontal stripes can emphasize your width.
Choosing the Right Fabrics
If you're a big guy, lightweight materials are your best friend; they let your body breathe and prevent you from feeling too hot or constricted. Not to mention the face that they tend to be less bulky which at least doesn't add to your size.
Some popular lightweight fabric choices include cotton, wool, and cashmere.
Cotton is an excellent choice as it's widely available, comfortable, and comes in a variety of styles. It's a natural fabric that's breathable and can keep you cool while looking good. Plus, it's easy to care for and durable.
Wool might be surprising to see here, but lightweight wool (such as merino wool) is soft, breathable, and comfortable. It can be worn in any season and wicks away moisture from the body, keeping you dry. Wool is also an excellent fabric for dress clothes, such as suits, where structure and form are essential.
Cashmere is another fantastic option due to its luxurious feel and ability to regulate body temperature. It's lightweight and ideal for sweaters and pullovers that are both comfortable and stylish.
Avoid heavy fabrics, like thick wools and most synthetics, that tend to trap heat and make you feel more uncomfortable. Natural fabrics are generally better as they allow for breathability and comfort.
In contrast, silky materials, like satin or silk, can cling to your frame and accentuate areas you might want to downplay. Aim for fabrics that drape well and don't draw attention to trouble spots.
How To Dress For A Slimming Effect
When it comes to dressing for a slimmer look, there are a few casual techniques that big guys can utilize to their advantage. Most importantly, you should focus on finding clothes that fit properly, as wearing the right size can make a huge impact on your overall appearance. But you already knew that. So let's talk tactics.
First and foremost, tuck in your shirt. It's a simple step, but it can go a long way in giving your outfit a cleaner and more streamlined look. This, in turn, creates a slimming effect, making you look leaner and more put-together. If you feel like it accentuates your belly…it might. But it's still better than having a tent drape down from your belly.
Suspenders can also come in handy for achieving a slimming appearance. Not only do they help maintain proper pant fit, but they also have a natural vertical line that draws the eyes upward, creating the illusion of a longer and slimmer body.
Another important aspect of big men's fashion is the art of visual trickery. Select patterns and colors that guide the eye along the body's natural lines. For example, vertical stripes or monochromatic clothing can elongate the body and give you a leaner look.
Another trick here that isn't exactly slimming is to make style choices that enhance your masculinity. This can make being "big and heavy" more forgivable. Look for clothing that accentuates your shoulders to create a V-shaped silhouette, which can make your torso appear narrower and more toned. Look for jackets or blazers with structured shoulders, or consider wearing layered tops to add volume in the right areas.
A key consideration for creating a slimming effect is to avoid wearing overly tight or loose clothing. Tight clothing can highlight bulges, while loose clothing can add unnecessary bulk. Achieving the right balance between comfort and fit is essential. You're probably tired of hearing it but just about everything in fashion for big guys comes down to balance.
Style Tips for Overweight Men
So, while we're closing in on it, let's hit a summary that you can put on your wall to remind yourself of how you should be dressing on a day-to-day basis. If you hit these points you'll be doing alright for yourself.
1. Wear Properly Fitted Clothing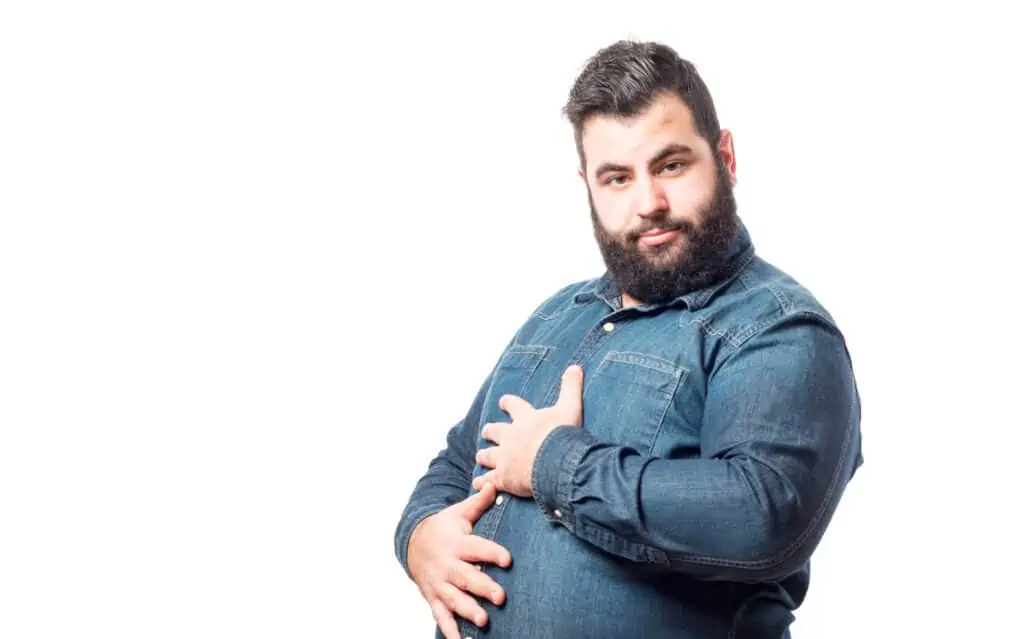 The most flattering thing anyone can do for themselves is to buy clothing that is actually properly fitted.
Wearing big baggy clothing in an attempt to cover up your body shape or type doesn't fool anyone and just leaves you looking like a lump.
Opt for well-fitted shirts, tailored suits, pants, jackets, etc.
If society is already judging our body type there's no reason to agree with them and dress down.
The types of things that look good on average individuals are a good starting place for big guys.
I will mention that "well-fitted" does not mean tight. Shopping for clothes that are too small is not flattering. Buy tailored or fitted clothing that is the proper size for your body.
2. Consider A Haircut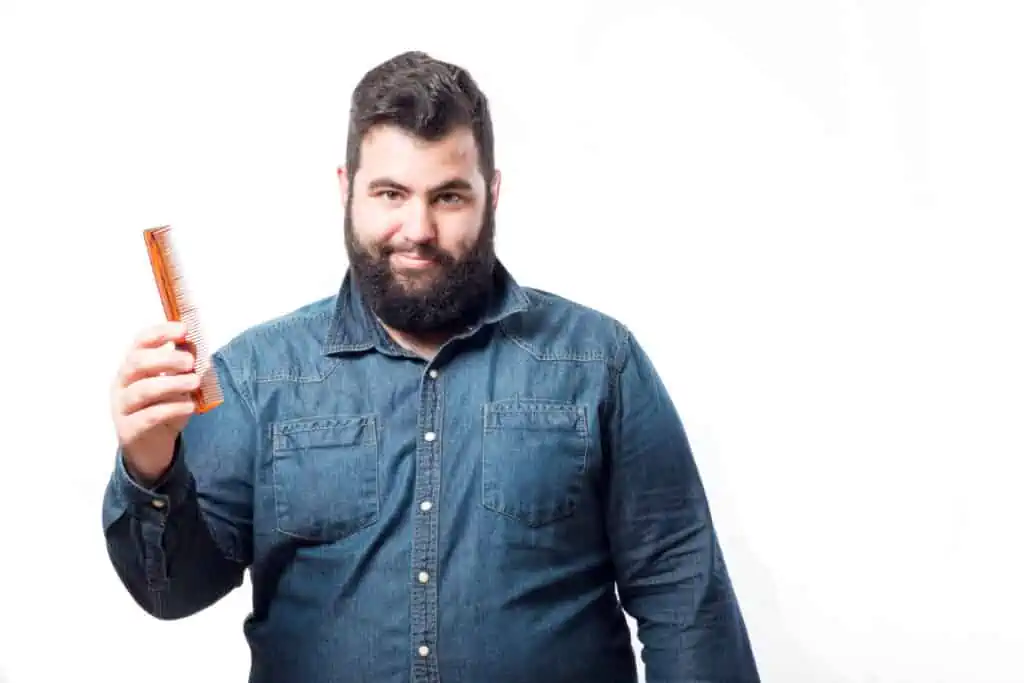 Outside of clothing, one of the best fashion tips for big guys is to have impeccable hygiene.
I'm sure this will anger somebody but I'll just have to speak for myself: fat guys tend to sweat more and stink worse. I've always been determined not to give people more ammo to use against me.
So I'm well groomed.
Having a great haircut can make your face look thinner while accentuating your best features. Since I'm balding I opt for a shaved head and a beard but having a little more on top can lengthen your face if you haven't started losing your hair yet.
3. Overdress
If in doubt, always overdress. This doesn't always mean that you should be wearing a suit and tie, but rather you should be dressing nice than people would expect.
For example, if you're headed to the gym, wear nice running shoes, shorts, and an athletic tee rather than a stained tank top and the shoes you mow the lawn in.
Overdressing is always better than undressing but we'll just have to distill it down to "wear better clothes that you think the situation warrants".
4. Choose Great Accessories
It's often said that you can get the measure of a man just by looking at his watch and shoes.
Choosing nice accessories (shoes, hats, wallet, hats, etc.) can make sure that you stand out from the crowd.
5. Choose Your Colors & Patterns Carefully
You've probably heard a hundred times that "black is slimming" but it's true for big guys as well.
Wearing dark or patterned clothes has a ton of benefits: it hides your rolls, it doesn't show sweat, and it's easy to pair with great accessories.
Wearing all-black pants and shirt with a nice shoes and a watch means that very little attention will be on your body.
6. Carefully Groom Your Facial Hair
Having whispy or unmanaged facial hair is a really great way to give up basement-dweller vibes.
Many big guys choose to grow their beards as long as they can because they think it will lengthen their faces, cover their chins (multiple), and give them lumberjack vibes. Unfortunately, this is only true for the small subset of big guys that also have incredible beards.
Longer is not necessarily better. Better is better. If your beard looks best when it's trimmed, trim it.
If you are able to grow a long and thick beard, get it professionally shaped at least once so you know what best suits your face shape.
7. Wear Slim Fit Suits & Pants
If you are an overweight middle-aged manager at a call center that owns a suit for his quarterly meetings with corporate, I can guarantee that you look super unfashionable at least once a quarter.
Suit fashions have changed drastically over the past 5 years or so and if you have an old suit — dressing up might actually be dressing down.
Having baggy pants and an oversized jacket makes big guys look like amorphous tree trunks. Like, do you have calves, or are you just one size from your waist to your ankles?
Even if you can only afford a mall suit, wait for a sale and have them tailor it for you. Opt for a slim-fit jacket and straight-leg pants that end just above your shoe.
If you've gained or lost weight, know that clothing tailors are underutilized in the U.S.
Take your suit to a small seamstress or tailoring shop and they'll be able to fix it up for you. I wore thrift-store suits for years and never felt out of place before I bought them for $10 and then paid $40 to have to perfectly tailored for me.
8. Wear The Right T-Shirts
Some big guys have yet to discover that there are any shirts besides polos. Turns out there are!
There are many types of shirts because they all fit different aesthetics and occasions. Except for turtle-necks, they only exist to make fat men look fatter.
Choose a shirt that isn't clingy and doesn't show sweat.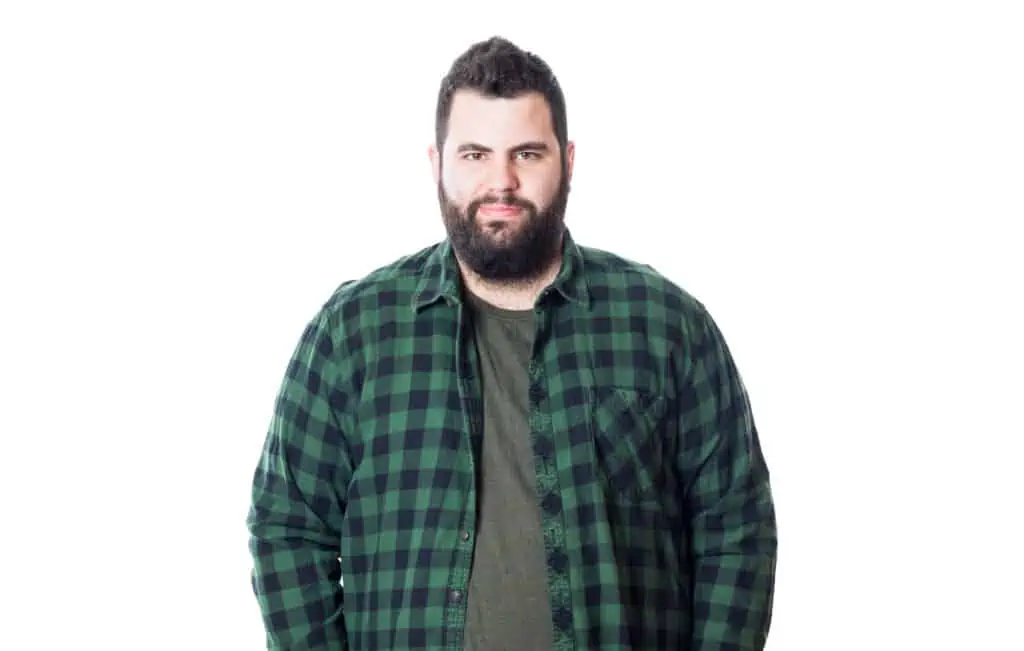 Many big guys choose to layer shirts because it breaks up their body lines and covers sweat. If you're in a cooler area, a long sleeve flannel over a black shirt is a great example of a fashionable shirt combo for heavy guys.
9. Wear thick belts and skinny ties
Looking fashionable as a big guy is all about messing with proportions and perceptions. The right belt for big guys is not only more comfortable but can make you look taller and your gut look smaller
Interestingly, a thin tie does the same. Wide ties give an overall impression of width while a moderately slim tie (not a string tie) can make you look thinner.
10. Up Your Shoe Game
Dress shoes are an integral piece of a big man's fashion arsenal. After all, you're feet are probably pretty average and so that part of your body can look just as good as anyone else's.
Pick up some dress shoes and high-quality athletic shoes for casual wear. As with most fashion, but once and cry once. Leave the Walmart tennis shoes that need replacing every few months at the store.
11. Practice Impeccable Hygiene
50% of the fight for fashion involves wearing clothes that are fresh. Don't be lazy and put on that stained t-shirt again. Make sure that your clothes are clean & wrinkle free.
Oh and make the extra effort to smell great. Investing in a quality cologne will greatly improve people's perceptions of you.
12. Consider Taming Your Man-Boobs
If you're having gynecomastia or are very self-conscious about your chest, consider wearing a compression tank or shirt under your normal clothing.
While I would encourage you to accept your body how it is and learn to dress accordingly, a compression top is a good short-term measure for something like a wedding, fancy dinner, or family pictures.
13. Accentuate Your Best Features
Got a great face? Flaunt it. Got a face like mine that was made for radio? Wear short shorts!
But seriously, a good part of fashion is really just deception. Put your figurate best foot forward. If you've got big arms, show them. If you have a broad chest and shoulder, accentuate them. Great butt? Wear jeans meant for big guys that make it even better (probably not skinny jeans though…)
It's not vain to make yourself look as attractive as possible.
14. Pull Up Your Pants
While this tip will vary slightly based on your body type, you need to figure out where to actually wear your pants. For most big guys, this means you should not wear them under your belly. It makes you look fatter and does weird things to the fit of your pants.
In general, wear pants at your waist instead of around your hips. This will help hide those love handles and make you look slimmer overall. Oh and it's fine to tuck in your shirts.
15. Avoid Thin or Silky Fabrics
Every time I see a fat guy with his man-boobs poking out and his shirt pulled tied around his belly I want to pull him aside and tell him that it doesn't have to be like that.
Choosing the types of fabric you wear carefully will mean that you don't have to display your least favorite features to the world.
In general, opt for shirts with fabrics that are thicker and drape better, like Oxford cloth shirts, twill dress shirts, and flannels. These types of shirts have structure so they do not hug every curve of your body.
16. Wear Trendy Clothes
Many big guys today are stuck in the fashions that were popular when I was in high school. Big baggy pants or shorts that reach halfway down their calves and an oversize jersey or t-shirt. Maybe you should add a gold chain, bro?
If you are trying to be fashionable in any sense you should opt for "fashion" over trying to hide your body. You won't fool anyone into forgetting you're fat but you can convince them that you look good anyway.
This means that you'll want to get some shorter shorts, not baggy shirts, pants, jackets, etc.
17. Practice Self-Love (Get Confident)
Confidence in dress and presentation will go a long way in making you appear more fashionable, no matter your size.
If you chose to wear something truly ballsy to work tomorrow (gingham skinny jeans, for example) nobody would be brave enough to comment.
If you don't respect your body enough to dress it well then everyone will just take a page out of your book and think you're not worth considering highly as well.
Practicing self-love is something that you should make a priority no matter your body shape or size.
Outfit Ideas for Every Occasion
When it comes to dressing as an overweight man, having a variety of outfits for different occasions can make all the difference. Here are some outfit ideas to keep you looking stylish and comfortable, no matter where you're headed.
Woodland Strider: Embrace your inner lumberjack with this look. Pair a flannel shirt with dark jeans or cargo pants, and finish it off with a jacket and some sturdy boots. This casual outfit is perfect for outdoor activities or a weekend getaway.
British Elegance: For a more refined look, opt for a suit but lose the tie. Choose a well-fitted suit in a darker color like navy or charcoal, and wear it with a crisp white shirt. You can also add a pocket square for a touch of extra style.
Let It Loose: Summers call for lightweight, breathable outfits that let you feel comfortable and cool. Go for a relaxed-fit button-down shirt in a light color, paired with khaki shorts or linen pants. Slip on some loafers or boat shoes to complete this laid-back summer vibe.
Streetwear Denim: Rock that casual, street-smart look with a combination of denim and well-fitted t-shirts. Try a red t-shirt with black jeans or a blue hoodie with light-wash denim. Add some stylish sneakers for a fresh and easygoing outfit.
Brown Elegance: Bring some warmth to your wardrobe with shades of brown. Pair a regular-fit pink shirt with brown chinos or dress pants, and finish the look with a brown leather belt and dress shoes. This outfit is suitable for both work and casual outings.
Concealing Patterns: For times when you want to draw attention away from your size, opt for clothing items with concealing patterns. Stripes and small-scale geometric prints can create a slimming effect. Combine a patterned shirt with solid-colored pants or vice versa.
Blue on Blue: A monochromatic look can be both stylish and slimming. Try a blue dress shirt with darker blue jeans or trousers, and add some accessories like a watch or a belt for a polished finish.
Feel free to mix and match these outfit ideas to suit your taste and the various events you attend. Remember that confidence is key – rock these looks with pride, and showcase your personality through your wardrobe choices.
Tailoring and Customization
Last, but not least, let's talk about the crowning jewel of fashion – having your clothes tailored to fit. If you're buying nice clothes already then you'll be happy to learn that tailoring them really isn't that significant of an expense.
A tailor can help you adjust the waist, pleats, and legs of your trousers to create a more flattering silhouette. They can take in a shirt at the waist, creating a more defined midsection and giving your outfit a polished look. These alterations are generally affordable, usually ranging from $10-20, and can make a huge difference in how your clothes fit and feel.
Conclusion
In conclusion, fashion for big guys is not only about finding the right fit or merely settling for what's available. It's about embracing personal style, understanding one's body, and making deliberate, informed choices to enhance confidence and comfort.
So, to all the big guys out there, don't be afraid to step into the spotlight and make some choices that bring attention to yourself (in a good way). Confidence is the biggest factor in how good you feel and how other people think you look so embrace your size. Good luck and happy shopping!